Like most people, Eric Cramer was drawn to medicine because he wanted to help people. But when he made the decision not to go to medical school, he set himself on a new path in the restaurant industry, one that would lead him to an extraordinary brother and sister who were poised to be catalysts for change in their San Diego community. Through a small gesture, he was able to provide a technology solution that enabled them to focus on what was really important to them—building community and bolstering opportunities for Black-owned businesses.
After graduating from the University of California, San Diego (UCSD) with a B.S. Physiology  & Neuroscience in 2018, Eric Cramer was charting a path toward medical school when he had a revelation: he'd be well into his 30s by the time he got out of med school, buried under a mountain of hundreds of thousands of dollars of debt. "I want to help people, but that's expensive!"
At the educational crossroads between undergraduate and graduate school, Cramer thought, what if, instead of fixing people, he could use his exuberant personality to connect with them . . . and maybe even help them connect with each other?
What if, instead of working in restaurants on the side while he pursued a career in medicine, he pursued a career in the restaurant industry?
It made sense. Since he was 15 years old, and all through college, Cramer had been working in restaurants. From AnQi to Bertrand at Mr. A's, Top of the Market, and Ayesha Curry and Michael Mina's International Smoke, Cramer had worked a variety of roles. Leveraging a decade of experience on the service side of the industry, Cramer shifted to the technology and sales side, taking an Account Executive role with SpotOn providing software and payment solutions tailored to help smooth the pain points of running a restaurant he had experienced first-hand. He now sits on the SpotOn Restaurant Demo team as a Sales Engineer.
"I have an innate desire to be a connector, a synapse, if you will," Cramer says. "One of the greatest benefits of working with SpotOn is meeting businesses that play an integral part in creating community, who are committed to not just making money, but making a difference. Like The Hamlett."
Brother and sister duo Shacole and Zachary conceived of The Hamlett, a café, apothecary, and business incubator, as a way to foster community in their Lemon Grove, San Diego neighborhood and amplify the work and creations of Black start-ups. In the weeks leading up to their opening, the shop's window was vandalized not once, but twice, dealing as much a physical blow as an emotional one.  
"After I heard about the broken windows, I saw Zachary and Shacole's GoFundMe and was just heartbroken for them," Cramer recalls. "So I sent them an email that said, 'Your story is incredibly inspiring and I think I may be in a very unique position to help.'"
In addition to donating a SpotOn Restaurant POS system to The Hamlett, Cramer provided on-site training to The Hamlett owners and staff, working closely with the team leading up to their opening to ensure everything was working smoothly.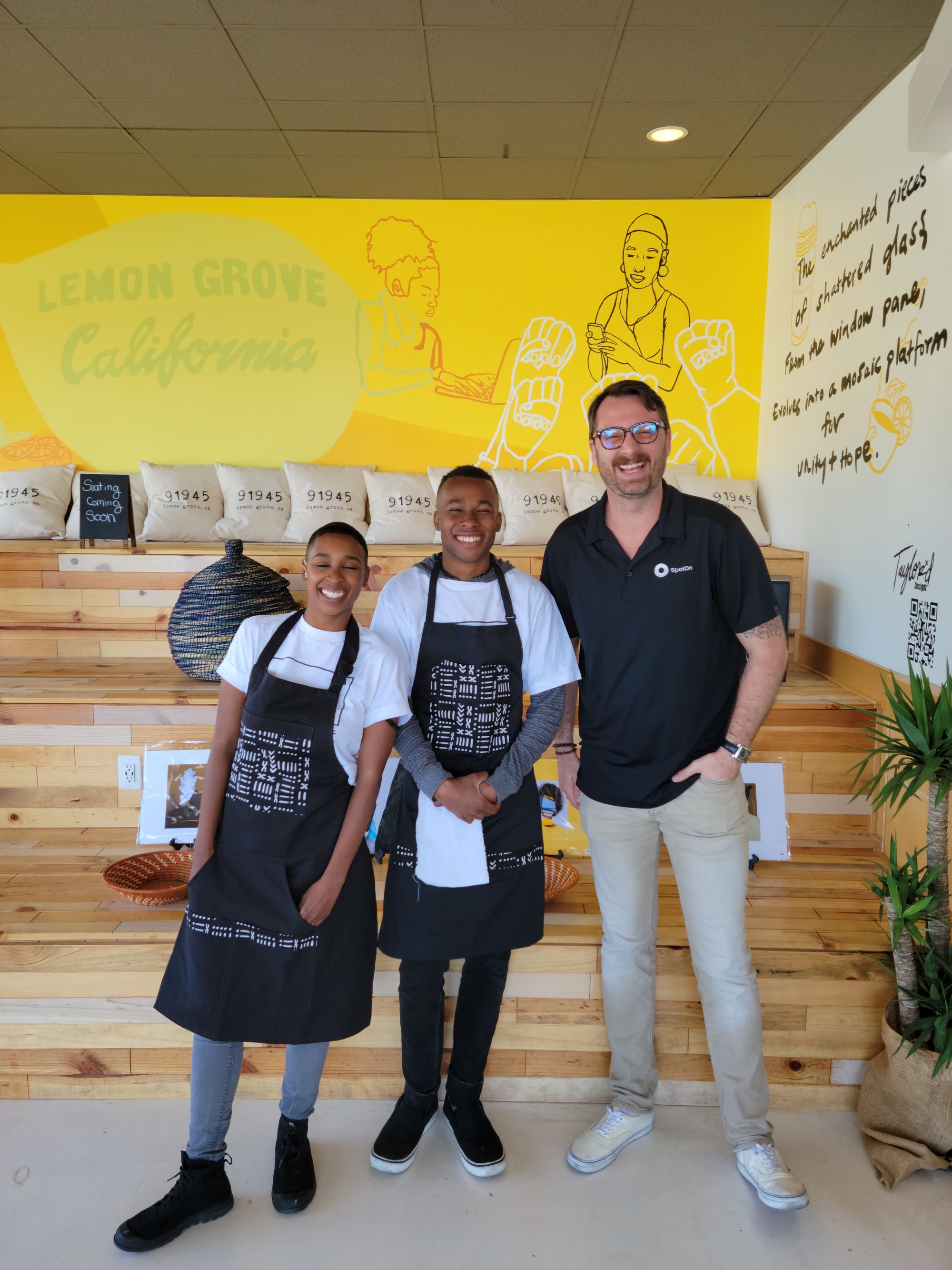 "Eric kind of came in like I'm part of the family, I'm here all the time, whenever you need me," explains Zachary Hamlett. When Zachary and Shacole were talking about how they needed a DJ for their soft opening, Cramer—who DJs in his spare time—volunteered to help out.
"You can feel the power of Shacole and Zachary's positivity, and how passionate they are about playing an integral part in creating community and opportunity for other Black-owned businesses," Cramer says. "Not only are they making an impact on these business owners through their incubator program and apothecary, but the ripple effects of their positivity will extend, hit other shores, create other ripples, and continue having an impact forever. That's incredible. What could be more healing than that?"