Did you know that in a recent Visa study, nearly two-thirds (65%) of consumers say they will prefer contactless payments post COVID-19?  Yes, you read that right. Contactless payments and self-service tech used to be a 'nice to have,' but that all changed when coronavirus decided to rear its ugly head and scare everyone away from PIN-pads, cash, coins, and checkout lines.
One thing that we all need to remember before having a tech-induced anxiety attack is that digital transformation has always been an integral part of running college athletic venues and campuses. The only difference is that this time it needs to be done faster, more efficiently, and better. Why? Because the safety and satisfaction of your students, guests, and staff depends on it.
Let's take a deeper look at why college campuses and stadiums should use self-service technology to reinvent guest experiences and increase margins in 2022—it's a lot simpler than you think!
The impact of Covid-19.
Before we get into the fun stuff, let's go back in time to the period of history that we now refer to as ugh, lockdown. Campuses and stadiums were especially hard hit, and although the harshest of the lockdown regulations have been lifted during 2021, a lot of stadiums and campuses are still struggling to keep up. It isn't just federal mask mandates, it's now about ensuring that students and customers stay safe (and feel safe) by social distancing, providing sanitizing stations,  and—you guessed it—contactless payments.
Before 2020, college campuses and stadiums were slow to adopt forward-thinking tech. Now, it's a mad dash and scramble to find ways to keep guests and staff safe without impacting the guest experience. Beyond safety, self-service tech offers…
Convenience.
While a contactless campus helps increase safety and reduces friction, it's also extremely convenient. Think about it: lines can be diminished or completely obsolete. In addition to this, mobile orders and self-service kiosks in high traffic areas can make up for staffing shortages, and students don't have to worry about carrying (and potentially losing) their wallets at a tailgate.
Arizona State University is a great example of the benefits of a contactless campus. With SpotOn, they deployed 88 POS terminals throughout their campus and reported a total of 937,093 transactions over the course of three months. This is largely due to the modern and scalable IT infrastructure, adaptive and responsive functionality, and speed of training for front-line staff.
In addition to ASU, we've provided the same services for schools like Vanderbilt University, Stanford University School of Medicine, University of Mississippi, University of Texas at Arlington, Oklahoma State University, University of South Carolina, and more.
Not your average self-service tech.
So, a contactless campus helps increase safety by reducing friction and touchpoints, and student satisfaction with faster service and shorter lines, but not all contactless platforms are built the same—and choosing the right one for your campus can be overwhelming.
If you want more than just a simple POS solution, one that feels like it was designed with the college campus in mind then we've got you covered. SpotOn partners with campus card management solutions like Compass and Atrium to provide contactless dining and retail transactions through a campus card. The integration allows schools to increase revenue, decrease labor costs, receive actionable data, and provide safer, more convenient ordering and payments in campus dining halls, restaurants, stadiums, and retail stores. And that's not even the best part. Our advanced inventory management and analytics allow campuses to always be one step ahead of unprecedented busy seasons or stock shortages.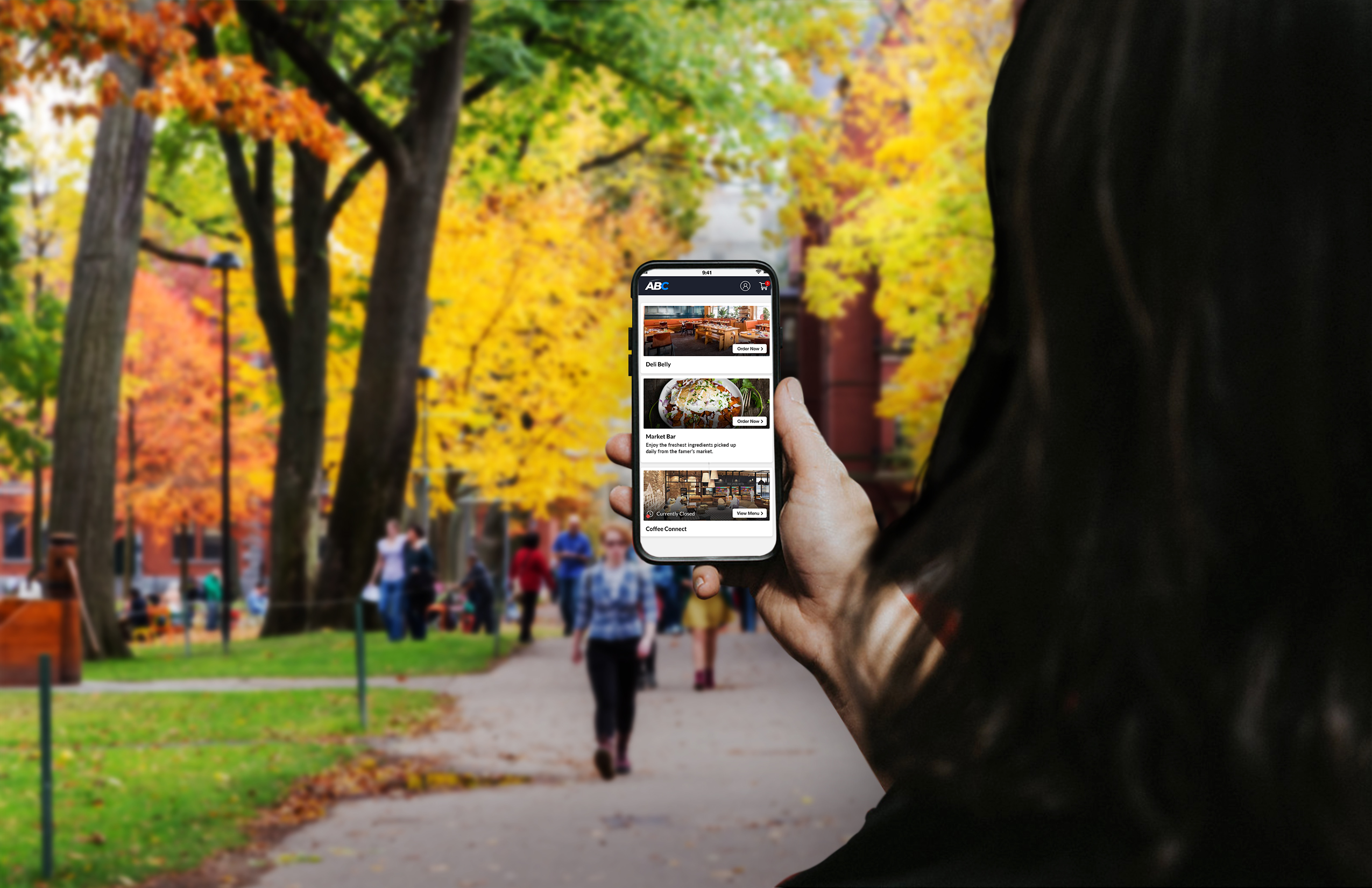 SpotOn is dedicated to innovation and helping colleges future-proof their campuses. Want to learn more? Contact us to speak with an expert.