The green flag waves over Daytona International Speedway for the start of the Lucas Oil 200. After a strong qualifying, Derek Griffith is sitting at the six spot. It's the biggest race yet in his career and Derek rises to the occasion, working the outside lane in the SpotOn car to overtake the rest of the pack and take the lead.
But then, in lap 27, another car runs into him from behind, sending his car spinning and knocking him out of the race. It's a disappointing early ending, but Derek doesn't let it slow him down.
Just hours later, he's behind the wheel again, this time in his self-owned and operated Super Late Model as part of the seven-race World Series of Asphalt at New Smyrna. He'll finish in the top ten that night, securing the World Series title after winning 3 of the previous races and becoming the first driver to win back-to-back titles in 20 years.
And perhaps most impressive of all—in the midst of running 8 races in 9 days—Derek is also running a successful auto import business more than 1,200 miles away, leveraging technology and his partnership with SpotOn to stay connected with what's happening at his dealership in real-time.
As with his racing career, Derek got started young in the automotive business, driven by a passion for cars and a desire to win. He started helping out at his dad's dealership when he was just 11.
"Cleaning, filling up gas tanks, detailing cars, whatever needed to get done, I'd do it," Derek recalls.
His passion for cars continued into high school, when Derek bought a Nissan Skyline, a car most people in the United States have only ever seen in Fast & Furious movies or video games like Gran Tourismo. Derek went on to sell the car and make a little money, enabling him to buy another car from a Japanese importer. And then several more—until he came up on the short end of a scam and paid for a handful of cars that never arrived.
It was a major heartbreak for him, but as always, Derek kept moving forward. He used the setback as a lesson and dedicated himself to learning all the ins and outs of the industry and putting in the arduous work of becoming a professional importer. Less than a year later, he started his own auto import business, and from there everything took off.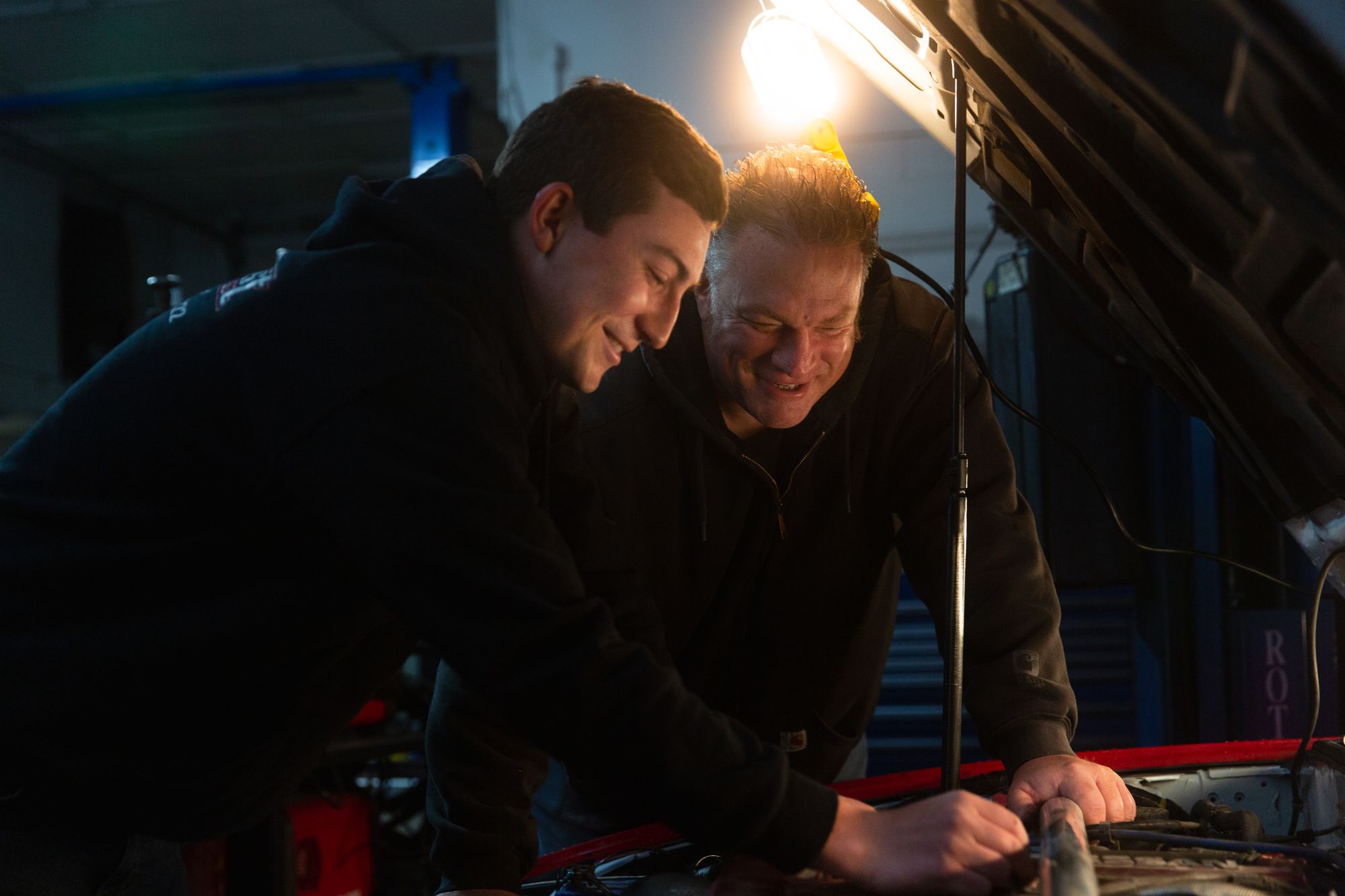 Located in Hudson, New Hampshire, Northeast Auto Imports is New England's premier importer of Japanese Domestic Market (JDM) vehicles. From camper vans to Japan's hero cars, they have it all.
By the time a customer takes the keys to their new car from Northeast Auto Imports, it has undergone a rigorous servicing and detailing process to make it road-ready, and comes with all the necessary paperwork for registration with the DMV. It's a process that Derek Griffith and his small team of employees make look easy.
"From my first interaction with Northeast Auto Imports, the passion and hard work of his employees made me want to do business with them," says Brooke Forgetta, Derek's SpotOn Account Executive. "His shop runs so well."
When Brooke first walked into Northeast Auto Imports, Derek was on the road for a race. It was his longtime friend and shop manager Tyler Bergeron who Brooke met with to discuss how Northeast Auto Imports could grow their automotive business, reach new customers, and introduce innovative technology to meet their customers' needs. Tyler felt SpotOn was a great fit and arranged a meet-up with Derek upon his return.
"On the day she came back, I had to get on a Zoom call with the racing committee," Derek recalls. "Brooke was waiting at my shop while I was on the call, so I was late, and ended up telling her about my racing stuff."
Brooke, who played Division 1 softball at Bucknell University, immediately felt a kinship with him. "Here was this young business owner with a chamber of commerce plaque on his desk, great attention to detail, and a passion for his sport," says Brooke. "He knew that as his racing career evolved, he would need to implement new tools, and I knew that SpotOn could help."
After their meeting, Derek signed up with SpotOn, impressed by the combination of savings, local support, and the ability to monitor sales remotely and keep tabs on his online reputation while he was at the track.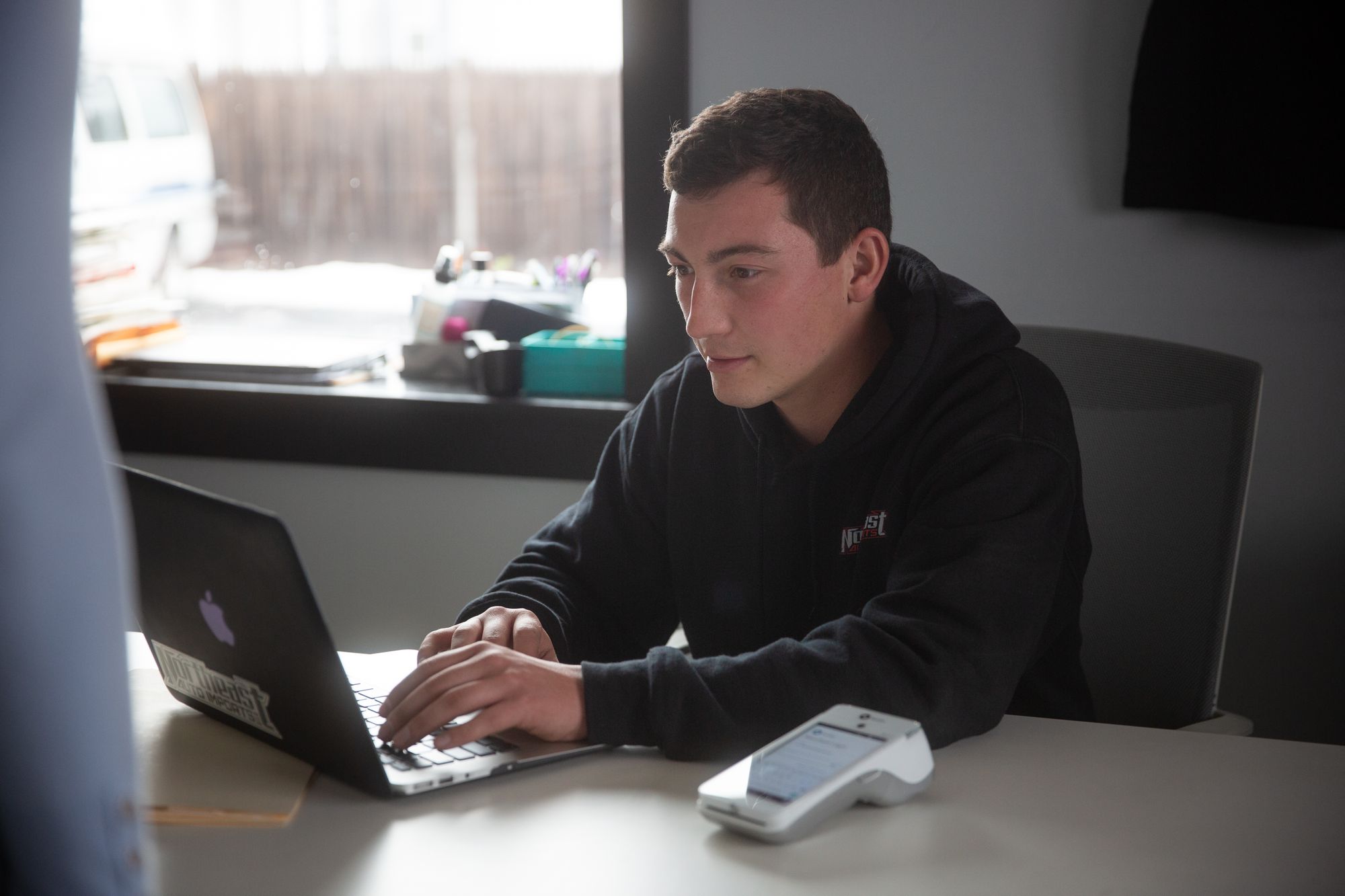 Getting set up with the SpotOn platform was far from the end of Derek's relationship with SpotOn.
Brooke stops by Northeast Auto Imports regularly to make sure everything is running smoothly and to help Derek's automotive business incorporate new technology to streamline operations and keep costs low. At Brooke's suggestion, Derek has begun using SpotOn Appointments, making it easier to book test drives with customers, even with his busy schedule.
"His business continues to get better even as his racing career has taken off," notes Brooke.
Derek is also part of a fast-growing community of automotive businesses partnered with SpotOn in the Hudson area. In particular, Northeast Auto Imports regularly utilizes the services of First Choice Tires, Complete Collision, and Ryan Automotive, and Derek's father owns nearby Tyngsboro Motors.
"The local automotive business community that Derek is part of is exactly what SpotOn is all about," says Kevin Bryla, SpotOn's Chief Marketing Officer and Head of Customer Experience. "Small businesses are the heart of our communities, and we're here to forge long-lasting relationships in those communities and bring real value to our clients' businesses."
Then, of course, there's the unique relationship with SpotOn sponsoring Derek's racing career to participate in the ARCA Menards Series for the Venturini Motorsports racing team.
"I love Derek's story," Kevin says about the decision to sponsor him. "He works hard. He built his business and reputation from the ground up by doing things the right way. And he has great values and high integrity. All of that carries over to the racetrack, and we couldn't be prouder to have him representing us."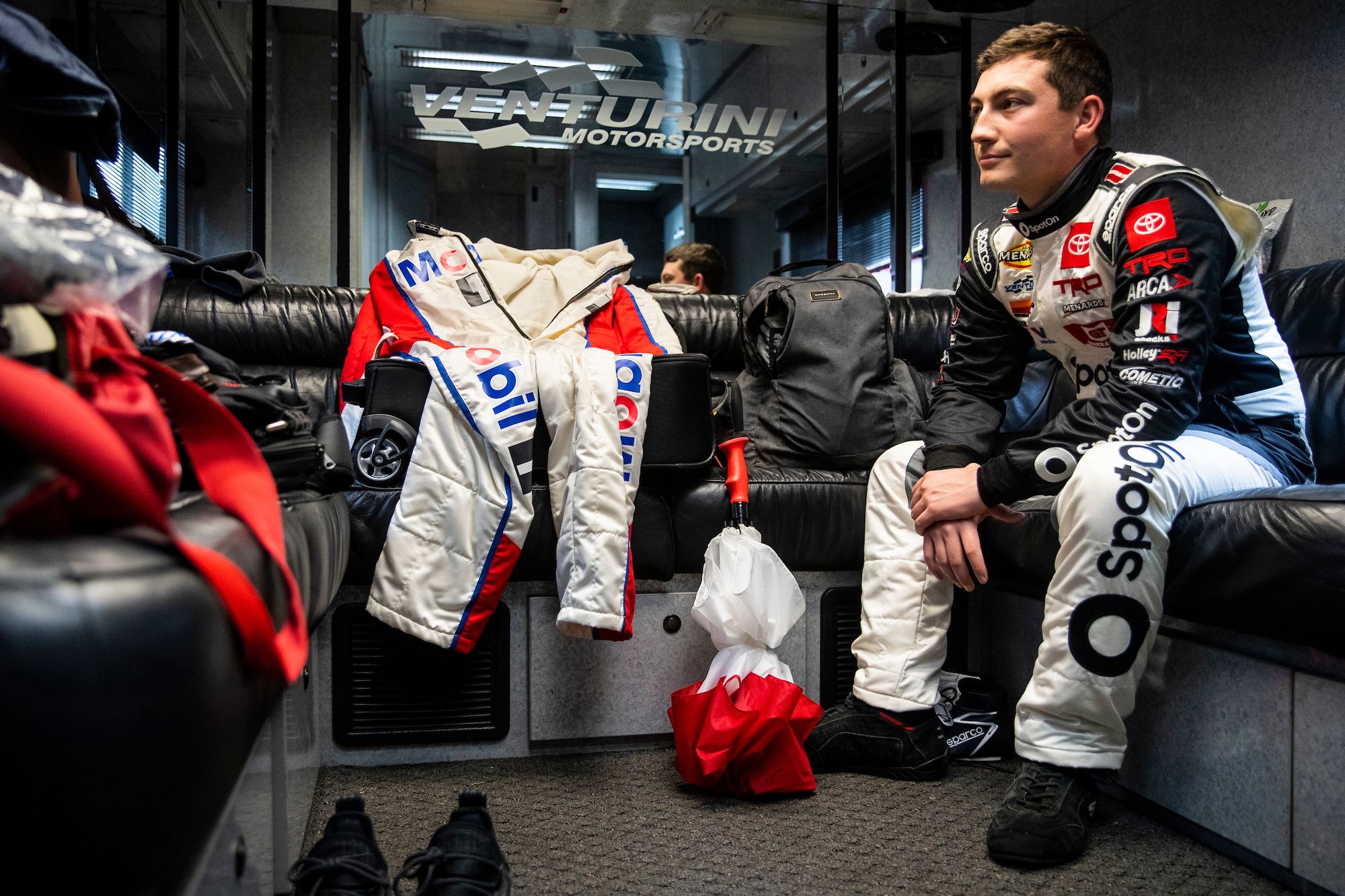 On May 1st, Derek will race the SpotOn car in the Dutch Boy 150 at the Kansas Speedway. It will be an opportunity to race under the big spotlight with a national audience on FS1, and a chance to take his racing career to the next level. No matter the outcome, he'll keep working hard and moving forward, because that's how he's built.