Getting a bad haircut in high school can feel like the end of the world. For Jose Moya, it was a new beginning. The next day he invested in a pair of clippers and started practicing on his own head, figuring the final product couldn't be worse than the town barber's asymmetrical craftsmanship. Soon, he was cutting his classmate's hair by popular demand. After high school, he decided his hobby could be a pretty good way to pay the bills. He enrolled in barber school—a much better fit than college, Moya found—and launched a career path that has let him do what he loves and provide for his family. Now the owner of two booming barbershops in Santa Cruz, California, Moya sees that bad haircut as a stroke of good fortune.
Moya's hot shaves may be smooth, but his journey to owning a booming barbershop has been anything but. Moya barbered for 10 years slowly building up his own clientele and making a name for himself working at various barbershops in the Santa Cruz area. He had 15+ years to hone his clipper skills, but starting Get Faded Barbershop meant jumping headlong  into the deep end when it came to marketing, inventory, and managing a team. Moya the barber became Moya the businessman, which meant more responsibility and more work, like figuring out the necessary permits and navigating the boomeranging restrictions of the COVID-19 pandemic. He made mistakes, hired barbers who didn't match Get Faded's vibe and threw off the team dynamic. But over the past 5 years, he has learned where to look and who to ask. He has added "problem solver" to his long list of skills alongside trimming and tapering.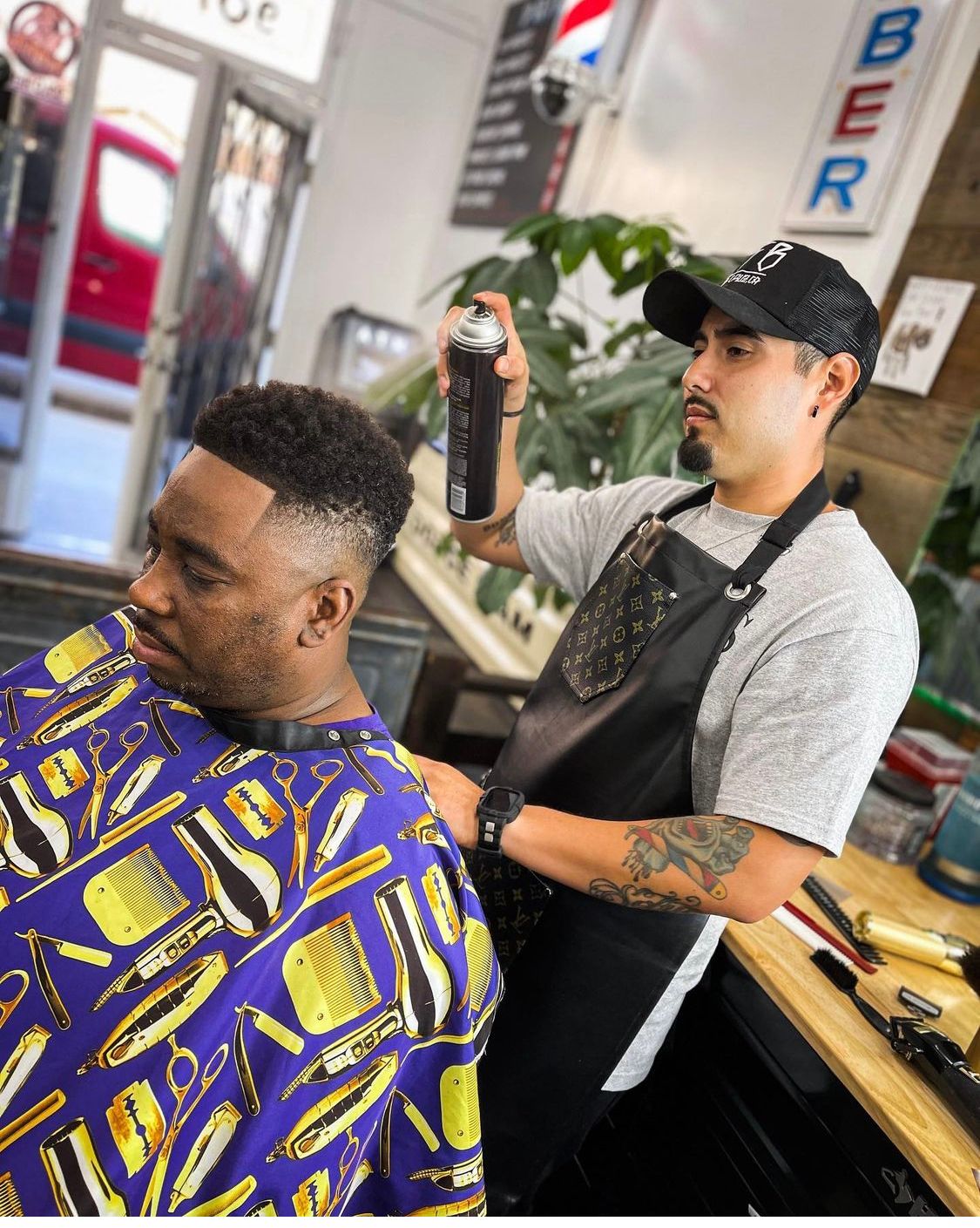 While business may be something new, creativity is woven into Moya's DNA. He carries a notebook with him for ideas-on-the-go and fills the pages with new concepts for Get Faded merch, potential business collaborations, and ideas for social media posts. What started out as a barbershop has quickly evolved into a recognizable brand, with t-shirts, a custom pomade, and frequent collaborations with other local businesses, such as Buena Vista Brewing Company, where Moya helped develop the "Bien Faded" beer as a cross-promotion strategy.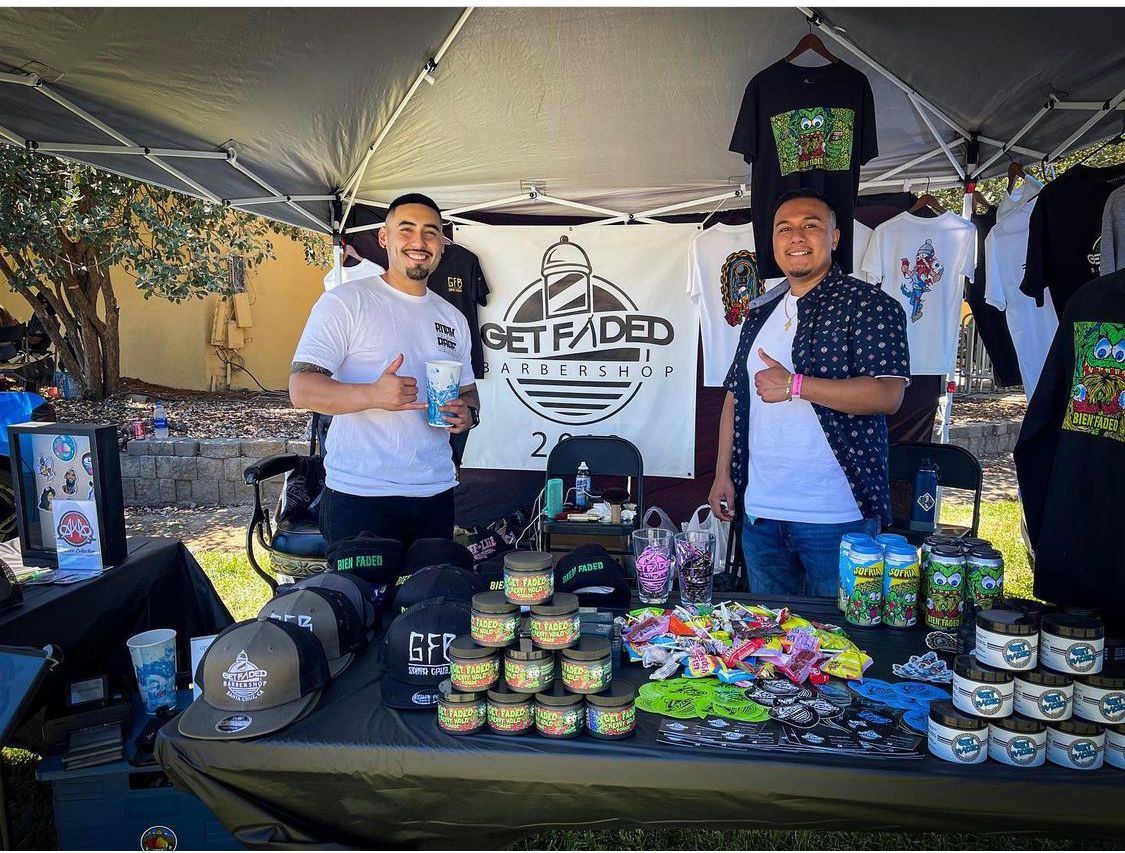 For most entrepreneurs, the challenge is wrangling sprawling creative energy and channeling those ideas towards an actionable business plan. Thankfully, Moya has enough ambition to fuel a small rocket ship. "I have an invisible switch that I put on when I'm working with my clients and working around all the barbers and stylists," says Moya. "When it's time to get down to some paperwork or creating social posts, I get into my own creative space. I still have the energy and ambition from when I first started cutting hair from day one."
He's inspired by his upbringing, on the East Coast and Jalisco, Mexico, and providing for his fiancé and daughter.
"I went from five families living in a one-bedroom apartment to using that as energy to always want more. It's been a rough past for me. I don't ever want to be there again and I don't want my family to struggle the way I did. So because of that, I always say to myself: I feel like 24 hours in a day is not enough."
As Moya's business expands to new locations and more product offerings, Moya's ability to shift gears between his solo creative work, everyday admin, overseeing stylists, and delighting clients has helped him succeed. In order to keep all his respective fires burning, he needed an intuitive retail point-of-sale system that his staff could learn quickly.
"SpotOn Retail has a lot of cool features that help business owners out," says Moya, "I like the fact that you can add pictures to the catalog, so people working the register know exactly which item to click on, and you can sell gift cards too. Everything's in one place."
Faster processing and an accessible user interface has helped Get Faded Barbershop save 3-5 minutes at checkout, so customers can get out the door and start showing off their fresh cuts even faster.
Before SpotOn Retail, Moya sold haircuts and merchandise using different systems, which slowed down the checkout process and scattered the valuable data that Moya needed to see what products and services were most popular and identify sales trends. "Having products and services in one POS system makes it easier to keep track of everything and make sales," he says.
For Moya, who longs for the 25+ hour day, any time he can save time pulling reports and updating his catalog is a gift he can spend creating his new line of hair products, spending time with his daughter, or hanging out with his clients and making Get Faded Barbershop the chillest place in the exceedingly chill state of California.
Whether as a barber, a businessman, or a father, Moya sees limitless possibilities when deciding which path to take. He has his sights set on opening a cosmetology and barber school, potentially a taproom, and expanding his custom range of hair care products with Get Faded shampoos and conditioners. Thanks to SpotOn Retail, Moya can expand wherever his creativity takes him with the peace of mind that he has a trusted tech provider to help make it happen.