In 2004, Desperate Housewives, a television series about the drama-filled lives of four suburban women premiered on ABC, winning over an audience of over 23.7 million. It had little to do with southern cooking, but that didn't matter to chef and restaurateur Jason Hill. The housewives lived on Wisteria Lane, giving his 3-year old southern restaurant, Wisteria, a little free name recognition. It was a stroke of luck, but one that Hill didn't take for granted in the hardscrabble early years of owning a restaurant. Every little helps.
When he was 25, Hill set out to open a southern cooking restaurant that would delight his grandma and group of friends in equal measure. He was working multiple jobs, scouring Atlanta for potential locations, and saving money that the bank wouldn't loan to him, mistakenly equating his age with financial irresponsibility. But Hill's vision was as crystalline as the ice cubes clinking in a glass of sweet tea. "People would say to me, 'Wait, you're going to make white tablecloth Southern food? You're not going to make it,'" recalls Hill. He filled his days crafting a detailed business plan, recipe-testing batches on batches of cheddar mac and cheese with broccoli rabe, and poring through plastic-bound cookbooks for gravy-doused inspiration.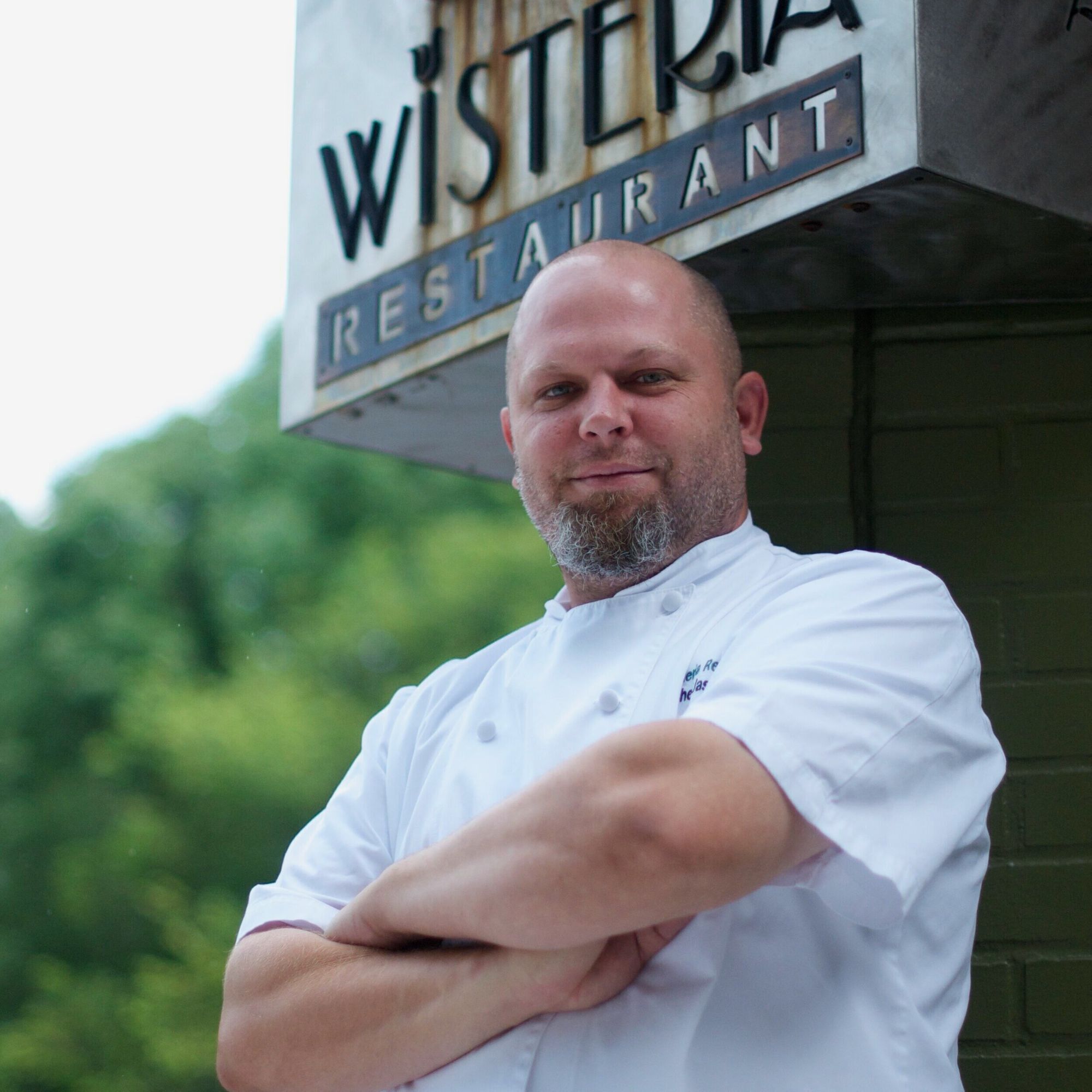 Though to outsiders it seemed like a drawback, Hill's youth was as essential to his success as the Tillamook cheddar in the early mac and cheese recipes. "Restaurants are a young person's game," reflects Hill. His game plan was a gamble, and failure meant an uncertain future of multiple jobs to pay off his restaurant loans. So when he noticed towers of Southern cookbooks prominently featured in Barnes & Noble, it was another auspicious sign that Wisteria was poised for success.
Since opening in 2001, owning a restaurant hasn't been all gravy (or rather, red wine beef jus, as Hill's menu tailors Southern classics with fine-dining features). Inflation has forced price changes and menu tweaks and the COVID-19 pandemic put new pressures on their dining room capacity.
"What has kept Wisteria successful is the camaraderie between the staff, and the staff and the guests," says Hill. "Making money helps. If you're busy, people like the place, and you're nice to people—that's the key to success."  
To combat the highest levels of inflation in Wisteria's lifetime, Jason Hill and General Manager Christian Collins turn to the detailed POS reporting included with SpotOn Restaurant point-of-sale to get an accurate read on what is selling and avoid extreme sticker shock.
"SpotOn Reporting gives me solid proof that a product is selling well or not selling well," says Collins. "Then I can decide if I need to educate my staff on this, or drop the product."
Hill and Collins also turned to SpotOn's commission-free online ordering to add an additional revenue stream (they didn't need a tech partner to be nice to people—that came naturally). They implemented SpotOn Delivery to reach more off-premise guests without sacrificing staff bandwidth. Unlike with their previous provider, now their online orders feed seamlessly into the POS, saving time and sidestepping nightmare scenarios where guests arrive for orders the kitchen never received.
Delivering the hallmark hospitality that Southern restaurants are known for means providing your team with time-saving tech, so they can spend more time with guests and less time repeatedly tapping at the POS. "With SpotOn, our staff don't spend that much time putting in orders," says Collins. "It's simple to use, so they have more time to spend with their guests, actually getting food and drinks out, making sure that everyone's getting everything they need as quickly as possible.
Even for General Manager Collins, extended screen time is no fun. The ease of SpotOn Reporting helps him cut down the time it takes to make operational decisions like staffing and inventory. For Wisteria to deliver stellar customer service, it helps to experience the same care from their tech provider. Great customer service trickles down, like the bourbon caramel over their gingerbread pound cake.
"Customer service with our previous provider was a nightmare," says Collins. "If I can't get through immediately with SpotOn, they call me back when it's convenient. So it keeps me from waiting and I can do other things. Then I can get back on the phone and it's usually taken care of within like five minutes." Don't underestimate what the GM of a bustling restaurant can do with those five minutes.
In their 21 years of doing business, Wisteria has helped make "white tablecloth southern cooking" a sought-after date night plan. But Jason Hill didn't work this hard and dream this big to prove people wrong. He did it for his grandma, who inspired his love for southern cooking in the first place, and the chance to put Atlanta on the culinary map. He plans to open up a patio for Wisteria to accommodate more diners as well as the outdoor dining trend that is here to stay. Whether guests are indoors or al fresco, on-premise or placing a delivery order, every dining experience comes with a hefty serving of SpotOn efficiency and Wisteria hospitality.