Walk into Bar Sprezzatura in the heart of San Francisco's Financial District and the casual elegance is inescapable.
There's the marble bar top, brass light fixtures, and leather bar seats. Floor-to-ceiling windows showcase downtown San Francisco, complete with golden lounge chairs and baby blue couches to enjoy the city view. The staff is adorned in maroon suede suit jackets, embroidered with lions in gold stitching.
Behind the bar, Partner and Lead Mixologist Carlo Splendorini personifies Bar Sprezzatura's elegance, greeting each guest with an unmistakable Italian accent and a warm welcome, complete with a splash of prosecco.
"With every soul who walks in here, we have a chance to leave them with a memory," Splendorini says. "Our goal is for everyone to make a new, positive memory."
Splendorini sees cocktail making as an art. Each guest's body language and tone of voice serve as indicators as to what a guest may be in the mood for. He's mastered using his senses to his advantage, with his resume as proof.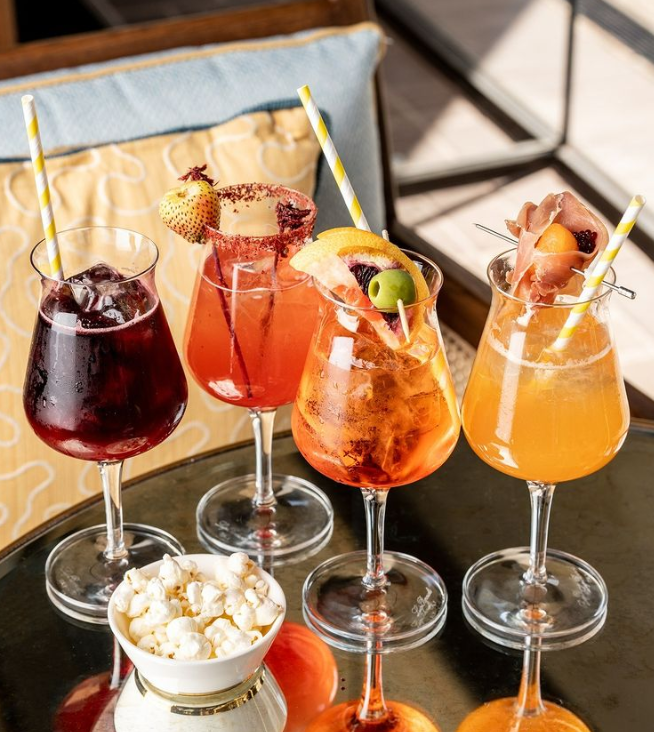 The proverbial feathers in Splendorini's proverbial hat are plentiful—he's been named a San Francisco Chronicle Bar Star, Zagat 30 Under 30, and is a former winner of the Bartender of the Year World Competition in St. Martin—to name just a few of the accolades he's earned. But it's the four bracelets on his right wrist that really tell his story.
The baby blue beads are from his mom, as a reminder to make every day a "blue sky day." The smaller black bracelet is strung with volcanic stones, representing overcoming adversity. One he received as a gift from his dad after one of Carlo's cocktail competition victories, and the other is not unique to Bar Sprezzatura, as he's given each member of the bar staff the same bracelet.
"You can have a great sports car, like a Ferrari," Splendorini explains, "but if it only has three wheels, it would not go anywhere. Same applies to bar or restaurant staff. Everyone is equally important because we need the whole team working together to get where we want to go."
Their intended destination for Bar Sprezzatura? The World's 50 Best Bars list.
This journey has been decades in the making. Splendorini grew up on soccer pitches in Perugia, Italy, but at 17, Splendorini's father drove him nearly 10 hours to Stuttgart, Germany, where he began working behind the bar. Hospitality—not soccer—was the future he envisioned for his son Carlo. That eventually led the younger Splendorini to London, with a stop back in Italy to attend hospitality school.
Splendorini first visited San Francisco in 2007, while on vacation from bartending at London's Nobu. He was quickly captivated, wondering how a city with a population of San Francisco could have so many great bars. Two days later, he called overseas and gave his notice.
Splendorini honed his skills creating Gitane's bar program. It was at Gitane that Carlo was first recognized for his talents creating classic cocktails made with seasonal ingredients. Carlo became Lead Bartender for the Michelin-starred MICHAEL MINA San Francisco, where he oversaw a continually evolving cocktail program with classic cocktails that incorporated unique flavors and syrups, hand pressed juices, and market fresh ingredients. His role eventually expanded to Corporate Bar Director, ensuring that the same level of cocktail would be experienced at Michael Mina's restaurants across the country.
And to think, it all almost never happened. When Mina—a member of SpotOn's Restaurant Advisory Council—first called Splendorini offering a job, he was hung up on.
"I hung up since I thought it was a joke when Michael Mina called with a job offer—this would have been like if somebody from Real Madrid or Barcelona had called wanting me to play soccer for them," Splendorini laughs about it now. "When he called right back, I thought this might be real, and once I realized it was, I profusely apologized."
Splendorini, Mina and anyone who's had the pleasure of having Splendorini bartend for them at Bar Sprezzatura is grateful he stayed on the line the second time.