SAN FRANCISCO — October 3, 2023 — SpotOn, the top-rated software and payments partner for restaurants, today released the Restaurant Tech Assessment Checklist, a guide for restaurant owners and operators to evaluate their current technology and streamline their tech investment in 2024. Launched as part of the National Restaurant Association's Tech Month, SpotOn's Tech Checklist was designed to help operators assess the costs and effectiveness of their current technology stack, level-set their technology needs moving forward, and find the right technology partner for their business.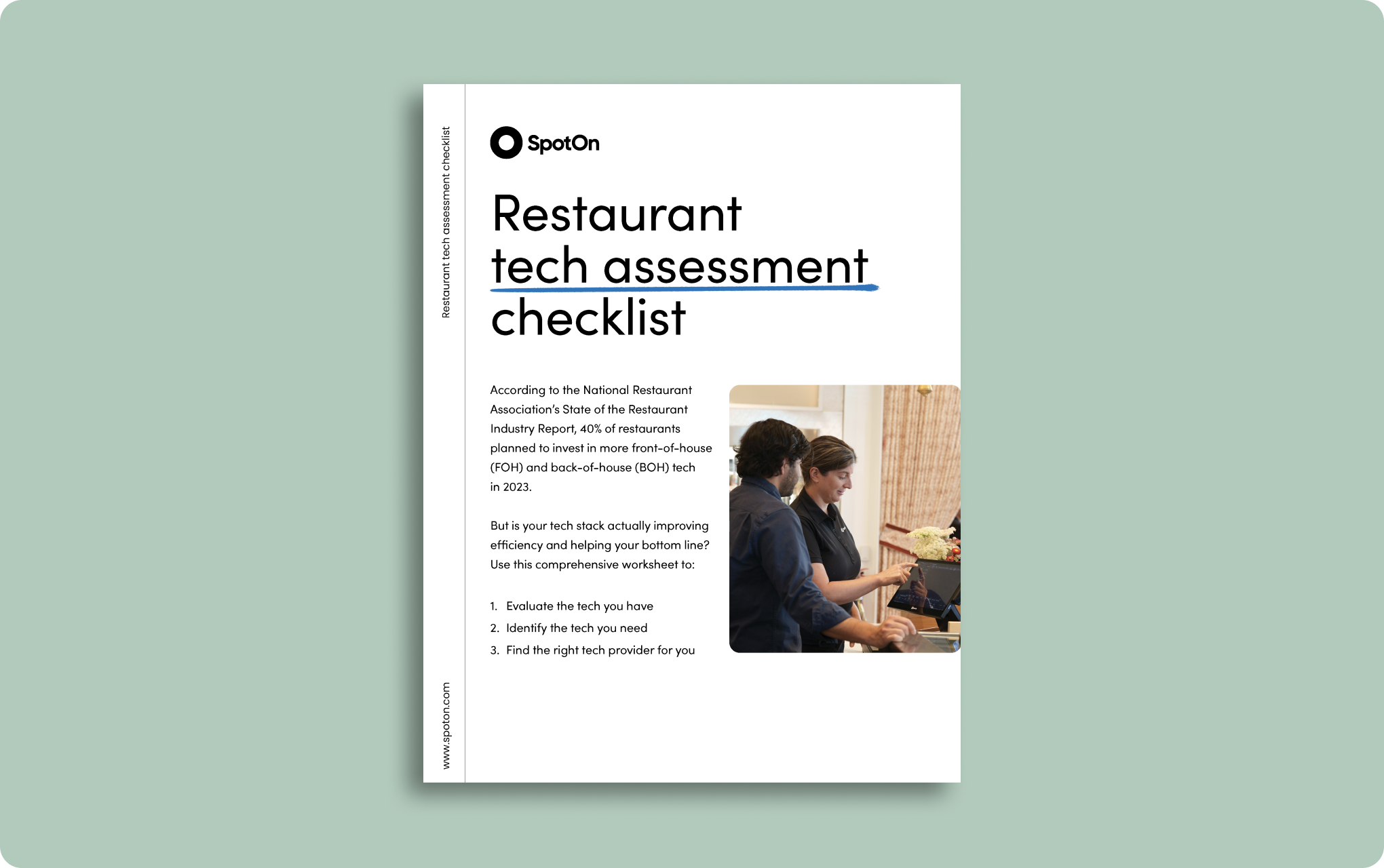 Restaurant tech assessment checklist
Is your tech stack actually improving your efficiency and helping your bottom line? Use this worksheet to find out.
Download the checklist
Over the last few years, the restaurant industry rapidly adopted new technologies to meet changing circumstances and guest expectations. Still, most have not stopped to ask, "Is this tech helping or hindering my business?" Restaurateurs must ensure their technology truly works for their evolving business and find ways to consolidate all the disparate tech pieces they've accumulated - from online ordering and third-party delivery to scheduling and payroll - to have a clearer view of their overall business. As the presenting sponsor of the National Restaurant Association's State of the Restaurant Industry report, SpotOn has designed this checklist to take the technology insights and inspire action in operators as they prepare for a new year.
"With 90% of operators reporting rising costs as a concern for their business, reducing their restaurant's tech bloat will help streamline workflows and cut costs while staying flexible for whatever comes next," said Kevin Bryla, Chief Marketing Officer at SpotOn. "Now is the perfect moment to evaluate their technology - what they have and need - to find what will take their team and business to the next level in 2024."
Evaluating Your Current Tech Stack
Regular assessments of current technology allow restaurant owners and operators to ensure the technology they're using in day-to-day operations is genuinely helping them achieve their business goals. Using a bunch of technology systems with long-term contracts and fees can cut into a restaurant's profit margins, making evaluating each piece of technology in use and considering the potential for consolidation a vital stop on the road to profitability.
Most recent innovation has been guest-facing, including new ways for diners to order, pay, and personalize their experience. Yet, some of the most impactful restaurant technology is employee-facing, driving efficiency, and cutting costs in both the front and back of the house. Restaurateurs must ensure their technology truly works for their evolving business and find ways to consolidate all the disparate tech pieces they've accumulated - from online ordering and third-party delivery to scheduling and payroll - to have a clearer view of their overall business.
"I encourage every restaurant owner to write down every technology your teams are using daily," explained Emma Blecker, Director of Business Systems at Boqueria and a SpotOn client. "While there are exciting, new technologies, having 100 different platforms that each do one thing adds to training, workflows, and becomes taxing for employees and unsustainable for a growing restaurant."
Assessing the Tech You Need
Selecting the right technology starts with a deep understanding of a restaurant's unique requirements and the people using that technology - guests want fast, easy ways to order and pay, staff want tools to do their jobs more easily while making more money, and operators are looking to automate processes and derive more insights to drive their business forward.
In front-of-house operations, considerations should be made for technology that makes steps-of-service run smoothly, including point-of-sale systems, reservation and waitlisting systems, and enhanced table service capabilities. Considering the growth in off-premises dining, it's essential to invest in in-house and third-party delivery and takeout solutions to enhance profits. Opting for direct online ordering, like SpotOn Order, allows restaurants to serve the 55% of delivery customers who would prefer to order directly while reducing costly commissions and fees from third-party ordering and delivery apps. In the back-of-house, technology should streamline tedious tasks like expediting, inventory management, costing, and labor management. Lastly, effective marketing efforts to stay top of mind depend on technology. Operators can leverage solutions for loyalty programs, review management, and email and social marketing programs.
After NYC sushi restaurant Momoya introduced SpotOn Handhelds to help servers increase sales, enhance the guest experience, and make patio dining more efficient, they found a 4% increase in average tips and a 10% increase in daily orders. With SpotOn, operators can receive instant data reports straight from their point-of-sale system to their phone at any time of day.
"SpotOn makes my job much easier; I don't have to be at the physical location to access data—I can be anywhere,"  said KwangHo Lee, Owner of Momoya. "This kind of system is a must for anyone with multiple locations, making our closeout process much easier than before."
From enhancing front-of-house operations to simplifying back-of-house tasks, embracing off-premises dining solutions, and streamlining labor management, technology is the driving force behind modern restaurant success. Embracing these solutions is not just an option; it's a necessity for restaurants looking to thrive in today's competitive dining landscape.
Choosing the Right Technology Partner for Your Restaurant
Selecting the right technology partner is critical to a restaurant's success. Beyond just a provider, restaurants need a partner willing to help make technology and their work life more manageable. A technology partner should be agile and able to work with operators when they need to adapt to changing environments and requirements or pivot their business entirely.
Restaurants can learn from those with experience by seeking referrals from industry friends and utilizing user reviews to gain insights—operators who engage with colleagues utilizing similar technology in a comparable restaurant setting offer practical performance feedback.
"One of my rules for bringing on new technology is that it has to take away at least one platform, ideally more, so that we can be net neutral regarding our tech stack and our tech is sustainable and scalable as we grow," explained Emma Blecker, Chief of Staff and Director of Business Systems at Boqueria.
To address technical issues promptly, operators must ensure their partner offers robust customer support. Operators should determine who operates the company's support lines and their responsiveness during critical situations. Introducing new technology can be a complex process; SpotOn recommends operators inquire about their technology partner's support for implementation and training to facilitate a smooth transition for staff.
"Our job is to help restaurants find efficiencies so that a manager can do a two-hour closeout report in five to ten minutes with the right systems in place," said Bryan Solar, Chief Product Officer of SpotOn. "SpotOn technology is designed to make an operator's life easier, ensuring that the technology gives restaurants peace of mind, not headaches."
As operators plan for 2024, finding a true technology partner is essential. From a lightning-fast, cloud-based point-of-sale to labor management tools, SpotOn's robust hardware and software solutions are built for restaurateurs by restaurateurs with input from industry leaders like Simon Kim and Mads Refslund. Complemented by 24/7/365 support from Restaurant Success Managers who know restaurants, SpotOn technology is built to drive restaurant efficiency, boost profit, and improve the employee experience. SpotOn's Points of Profit guide helps operators increase revenue and lower costs with a restaurant profit calculator to discover how technology can help boost margins point-by-point.  
About SpotOn
SpotOn is one of the leading software and payment companies providing the technology and support that helps local businesses—and the people who run them—to succeed on their own terms. Known for its flexible, cloud-based technology and personalized support, SpotOn offers an end-to-end platform to accept payments, boost revenue, streamline operations, and create exceptional guest experiences. From seamless and efficient point-of-sale systems to integrated restaurant management solutions, SpotOn builds technology that "works the way you work" and backs it up with a 24/7 team of experts that make sure it always does—with fairness, flexibility, and a personal touch. For more information, visit www.spoton.com.
###
Media Contact:
Megan Palmer
mpalmer@spoton.com
410-262-7349
---