If life moves fast, restaurant technology is at hyperspeed. In the past few years, the restaurant industry has demonstrated amazing resilience to rapid-fire changes in consumer preferences and unforeseen challenges—as well as the ability to adapt on the fly. From online ordering to digital waitlists and mobile apps for staff, restaurants have incorporated technology into nearly every aspect of their operations. As presenting sponsor of the National Restaurant Association's State of the Restaurant Industry report, SpotOn is committed to helping restaurant operators streamline their tech investments in the new year.
Here are seven signs that show it may be time to reassess your restaurant technology.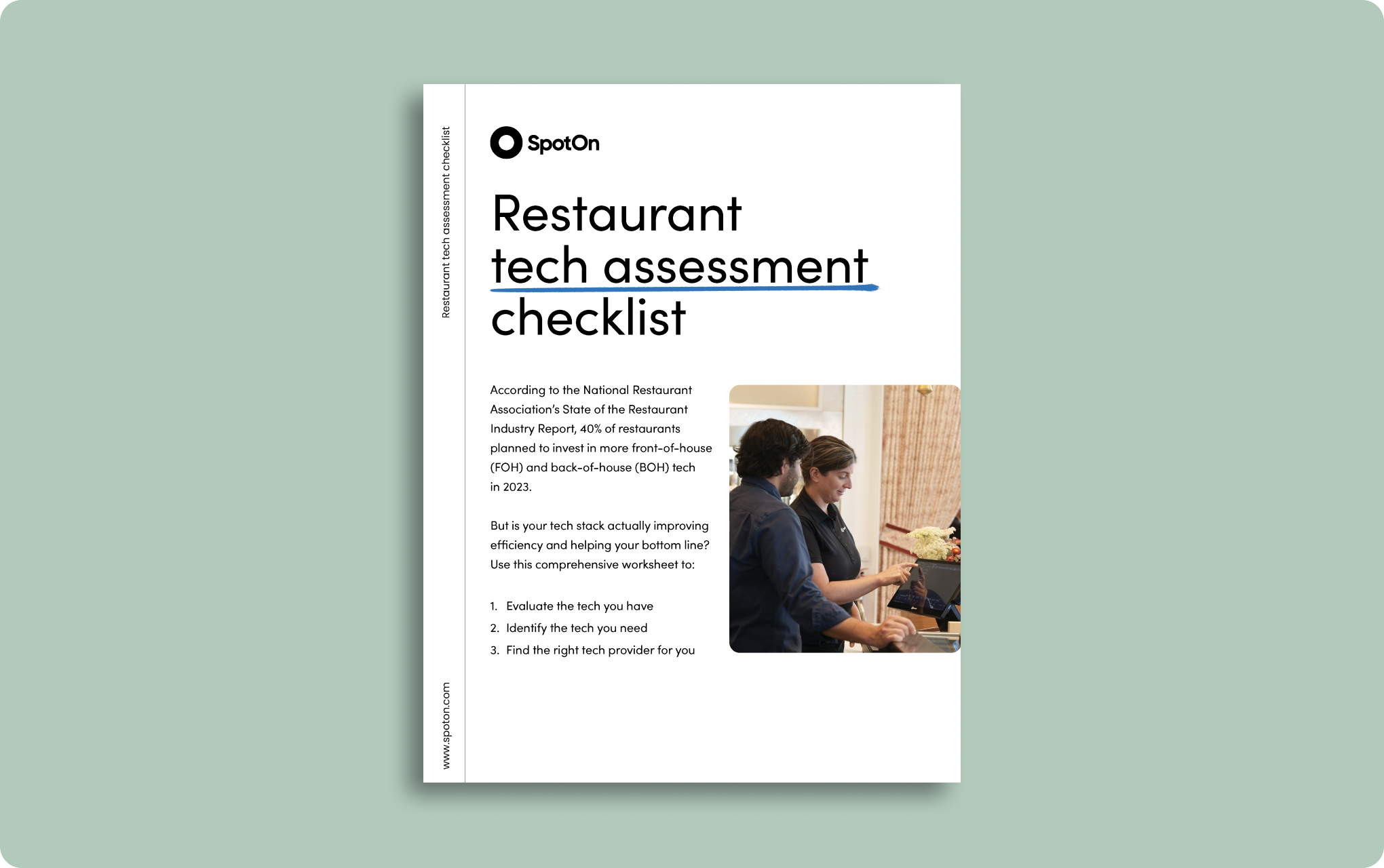 Restaurant tech assessment checklist
Is your tech stack actually improving your efficiency and helping your bottom line? Use this worksheet to find out.
Download the checklist
1. You're drowning in fees
There's no such thing as a free lunch. If you run a restaurant, you know this more than anyone. Just as you keep track of what you pay for the San Marzano tomatoes, you should monitor your tech fees. Technology should help your restaurant run smoothly—it shouldn't be accompanied by convoluted contracts and junk fees.
Niche technology and overlapping platforms can make your restaurant's tech stack balloon over time. If you're paying excessive amounts of money for software and platforms that you're not even using or aren't moving the needle at your restaurant, it's time to reassess. This could mean looking for an alternate, more affordable tech solution, finding a workaround, or tapping into your existing technology partnerships to fill the gap.
2. Staff training goes on (and on and on…)
Your team is on the front lines every day, representing your brand and creating the customer experience that people come back for. If the technology isn't working for them, it's not working. Take a look at your staff training, whether that's a formal employee handbook and training process, or the informal walk-through for new hires. If tech onboarding is taking up a significant portion of training, or the technology aspect seems to be a major hurdle, it could be time to reevaluate.
People in the restaurant industry come from all walks of life, including different levels of tech-savviness and comfort with new technology. When you're implementing new tech—whether it's a new restaurant POS, an employee scheduling app, or anything in between—it helps to prioritize ease of use for your staff. That way, you're not adding extra time before they can get into the weeds of their job.
This goes for General Managers, too. While you want to equip your general managers with the best possible tools, you don't want them to feel bogged down in tutorials. If your staff training is mostly focused on the tech, you might want to prioritize more intuitive systems to ensure you're not overcomplicating your staff members' day-to-day.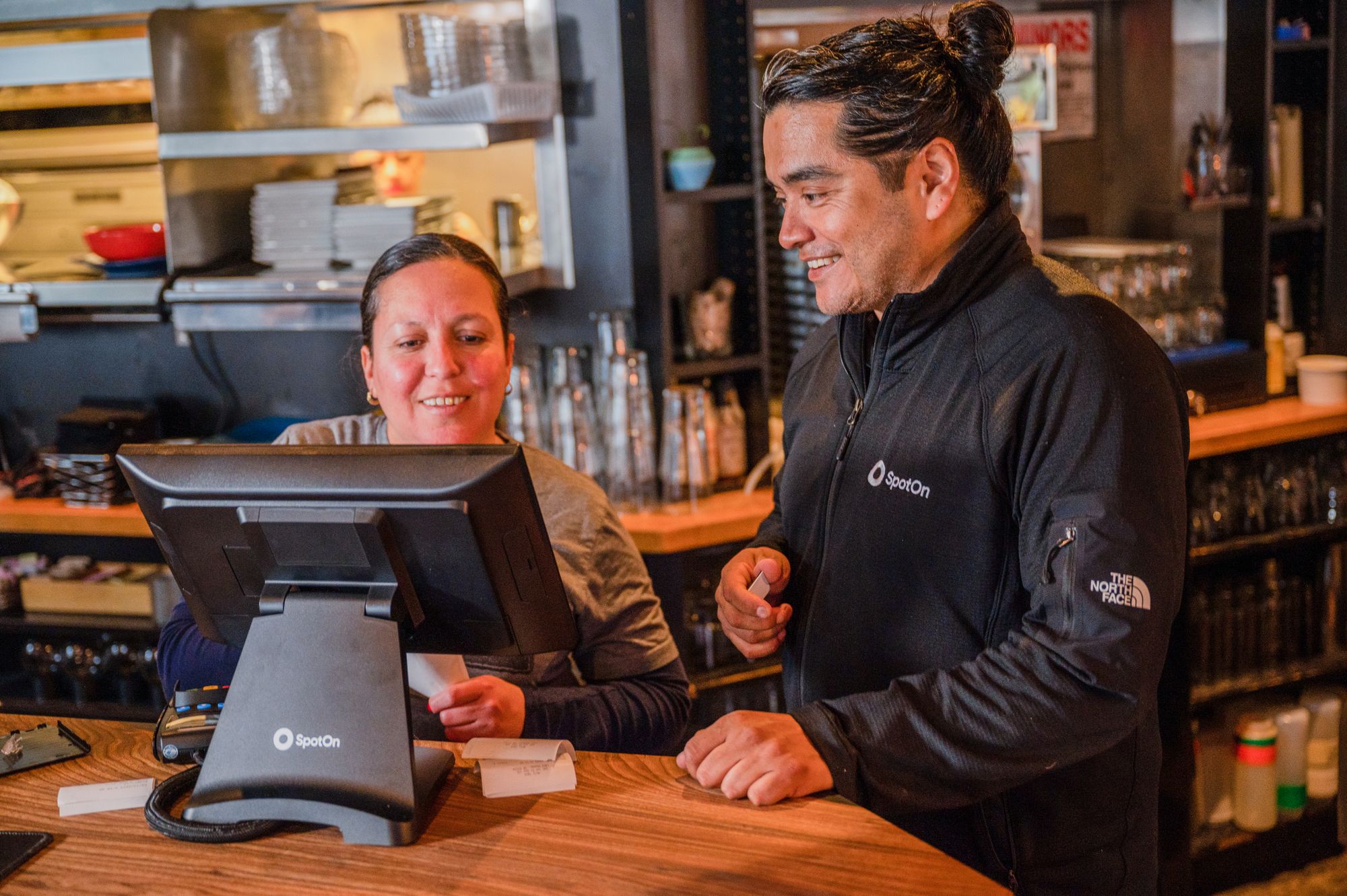 3. Guest feedback is telling a story
Restaurant technology has transformed the guest experience. The right fit for one restaurant's guest profile might not apply to another's. QR code ordering at a fine dining spot? Probably not. QR code ordering at a beer hall? Great idea.
To learn more about what technology will have a positive impact on your guest experience, you need to hear from guests directly. This could mean consulting online reviews, or talking to loyal regulars, or sharing a quick online survey with your marketing list. However you get the feedback, if the message is consistent, it could be time to rethink your front-of-house tech strategy.
Are your guests looking for more online options, like online booking and online ordering? Or do they want more on-premise technology so they can order while they wait for a table? Consider flexible technology that helps you adapt service style based on the customer volume and specific needs. Customization is in; one-size-fits-all was never true to begin with.
4. Your team needs back-up
After your guests, your team is the second most important group to talk to as you assess your restaurant's tech needs. They bring a wealth of experience not just from your specific restaurant but can illuminate what was successful and not successful at other restaurants.
If your team is finding inefficiencies in the ordering process or bottlenecks in the kitchen, it could be a sign to consider solutions like handhelds or kitchen display systems. On the other hand, if tech is getting in the way of their ability to do their job well, it's worth considering a more streamlined approach. Your prep station sharpens knives on a regular basis—it could be time for you to enhance your tech stack.
5. You're going on instinct instead of data
It can be tough to break old habits, and there will always be toss-up business decisions where you'll need to go with your gut. But accessing accurate, to-the-minute data on a daily basis helps you and your team make staffing and menu decisions faster, with more reliable outcomes.
Reams of paper and making estimates with pen and notepad make it difficult to see the bigger picture. So do tabs upon tabs of spreadsheets that don't translate into meaningful insights. If you don't know the role data is playing in your restaurant, the right technology can help. It's not about monitoring all the information that exists, it's about easy access to insightful reports that tell a story about what's making you money and saving you time.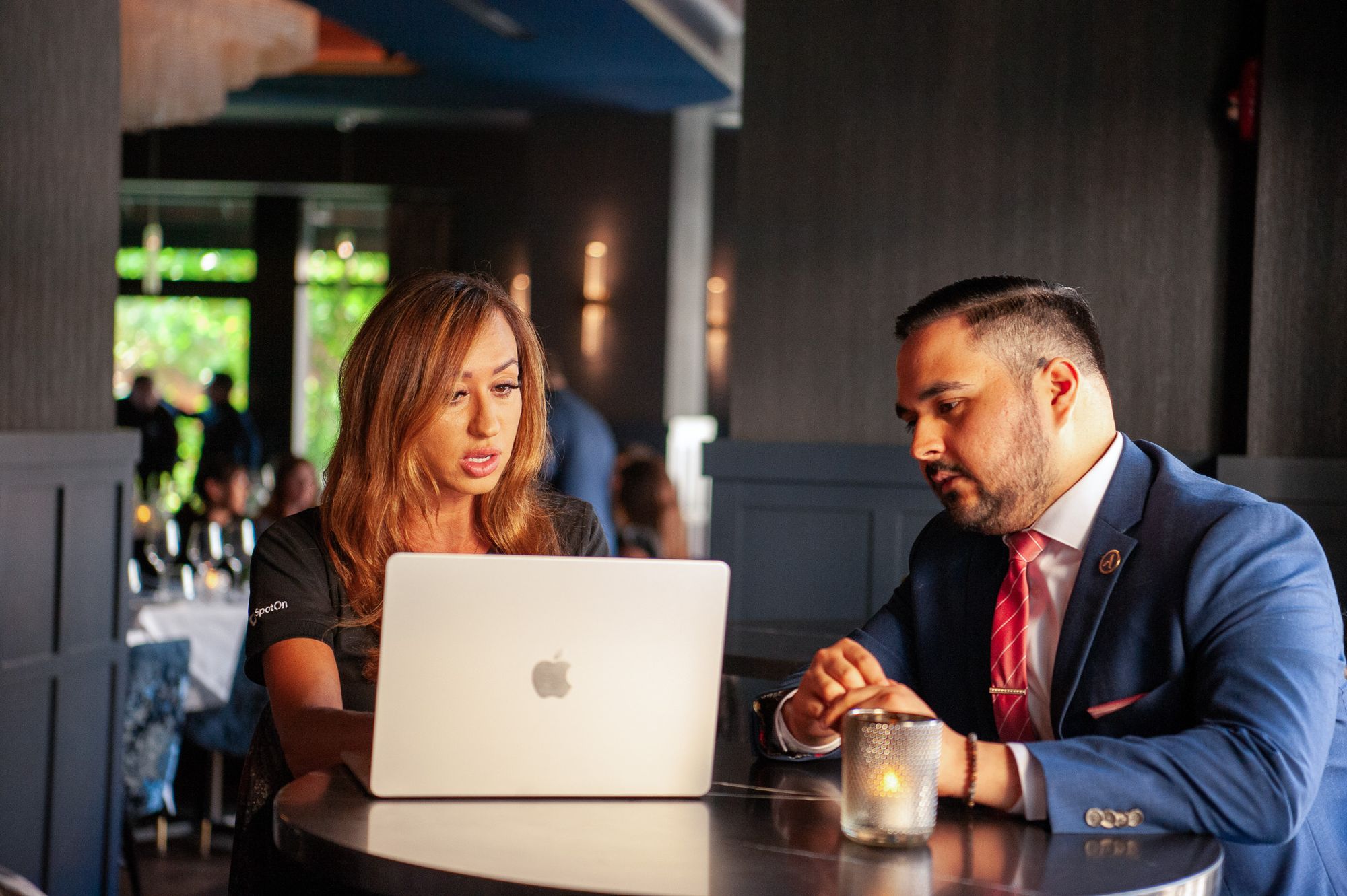 6. Simple tasks seem to take all day

In the restaurant industry, not all shifts will be fulfilling. Some will be riddled with chaos, where the real work—creating an excellent guest experience—is interrupted by broken freezers and spilled milk, be it literal or metaphorical.
To see where tech could improve the daily rhythms of your restaurant, consider the simple tasks. If they're taking way too long, or creating a drain on your restaurant's resources, explore a solution to save time and headaches. It can't guarantee fulfillment, but at least you'll be spending less time in the windowless back office.
7. Profit margins are feeling the pinch
Whether you're looking to grow, expand into new locations, or ensure sustainability for the near future, you'll need to keep profit margins healthy. Many tech platforms can eat into your restaurant's profitability by taking exorbitant commission fees and offering minimal benefit in return.
You want technology that is actively working to boost your profits, not take a bite out of them. This could mean encouraging faster table turns, larger order sizes, or helping you accurately determine menu prices and keeping labor costs under check. While many forces factor into profit margins, consider the role that tech plays and make certain it's net positive. You can't control the weather, but you can control your tech stack.

To learn more about the role that tech could be playing in your restaurant and determine whether it's time for a reassessment, check out SpotOn's Restaurant tech assessment checklist.
Let's see how we can help
Meet one-on-one with one of SpotOn's tech experts. No high-pressure sales tactics. Just a casual conversation to find out if we make sense for your restaurant.
Get a demo