The third trip to the emergency room was the final straw for Ardith and Jay Peper.
Jay's job as a plant manager in the automotive supplier industry had again taken its toll, with job-related stress and anxiety sending him to the hospital with heart palpitations. This was particularly concerning given Jay's family history—his dad died of a heart attack at the age of 47.
After doctors determined work was the sole cause of his health issues, Jay and his wife, Ardith, decided it was time for something new. The question was what that'd entail. The answer was found in an American Airlines in-flight magazine.
Ardith and Jay both grew up in Ohio, where county fairs were a perennial summer highlight. Young Jay would most look forward to the "car smash"—for a few dollars, attendees could take a sledgehammer to a junk vehicle. That stress relief stayed with him as he got older, and he sometimes would tell Ardith they should open their own "smashing" business, where guests could destroy anything from a printer to a car. Those overtures always fell on deaf ears, until they came across a story on their American Airlines flight to Ohio for a family reunion about the increasing popularity of smash rooms.
"When he would talk about it, it would seem wasteful. But then when I read the article, it was eye-opening," Ardith recalls. "Opening one of our own was at least worth considering."
After returning to their home state of Nevada from the family reunion, the couple attended a convention in Las Vegas. While there, they spent an afternoon at Sin City Smash, with Jay focused more on destroying Ardith's doubts than the discarded items in Sin City's wreck room.
Is it sustainable? They asked themselves on their eight-hour drive home. A five-year lease is not a short period of time. Are locals going to do this?
"Eventually, we realized financial concerns were all that still held us back," Ardith says.  "When you start making decisions based on money rather than health, you have to do something different."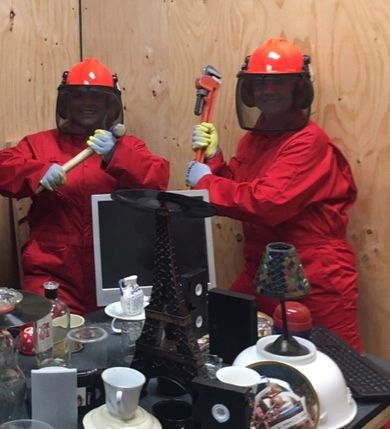 Jay quit his job at the plant, Ardith quit hers as an administrator in dementia care, and suddenly, Smashin' Good Time was born.
The Pepers received the keys on December 1, 2019, just months before the COVID-19 pandemic. The only way to remain open during the pandemic was to serve food, so they offered small bites like nachos and allowed guests to bring their own food. They stayed open and weathered the storm.
Business is booming these days, with the additions of a bar and eight axe-throwing lanes in addition to the smash room proving to be a differentiator for Smashin' Good Time. So is their SpotOn tech, which they adopted a year ago.
I need a system that's easy to use across locations for everyone. SpotOn offers that.
"The big reason we switched was because we wanted to incorporate a rewards program, which SpotOn Loyalty allows us to do," Ardith says. "We've come to love many of the other offerings as well—I can control everything from the register, I get reports from the online scheduling system, plus the SpotOn Marketing email campaigns are easy to create and effective. With the success we've had, we're looking into franchising. To do that, I need a system that's easy to use across locations for everyone. SpotOn offers that."
Aridth and Jay are both healthy and enjoying spending their time at work together.
"It's scary as heck, going from a regular paycheck to this," Ardith said. "We still have the butterflies in our stomach but we continue to move it forward."
All that's missing is a little down time—they regularly work 12-hour days at Smashin' Good Time and haven't traveled since opening the business. A family vacation with their nine-year-old son and 26-year-old daughter is on the to-do list.
It's sure to be a good time, but odds are, the in-flight magazine won't be quite as impactful as the last one they read.