On Veterans Day, we honor those who have served our country for their courage and selflessness. We also recognize the struggles that many face when they return home, and commit to doing our part to support our troops as they begin the next chapter of their lives.
Veterans are 45% more likely to be self-employed than civilians—a reflection of both the difficulty of navigating civilian employment, as well as the value of leadership and entrepreneurial skills developed in service. We're committed to helping our military members nurture fulfilling and sustainable civilian careers, which is why we've made a donation to Warrior Rising, a veteran-operated nonprofit organization that helps our veterans launch and grow small businesses. With educational programs, mentorship, and funding opportunities, Warrior Rising has helped over 2,500 veterans in all 50 states start their own businesses.
We're also offering an exclusive offer for veteran business owners to get started on building their own business: save up to $500 on a new cloud-based point-of-sale from SpotOn through the entire month of November. To learn more, please visit our special offer page here.
Last but not least, we took this opportunity to chat with our veteran employees to learn more about how their experiences in the military have shaped their lives, their careers, and their approach with clients and teammates here at SpotOn. Here's what they shared with us.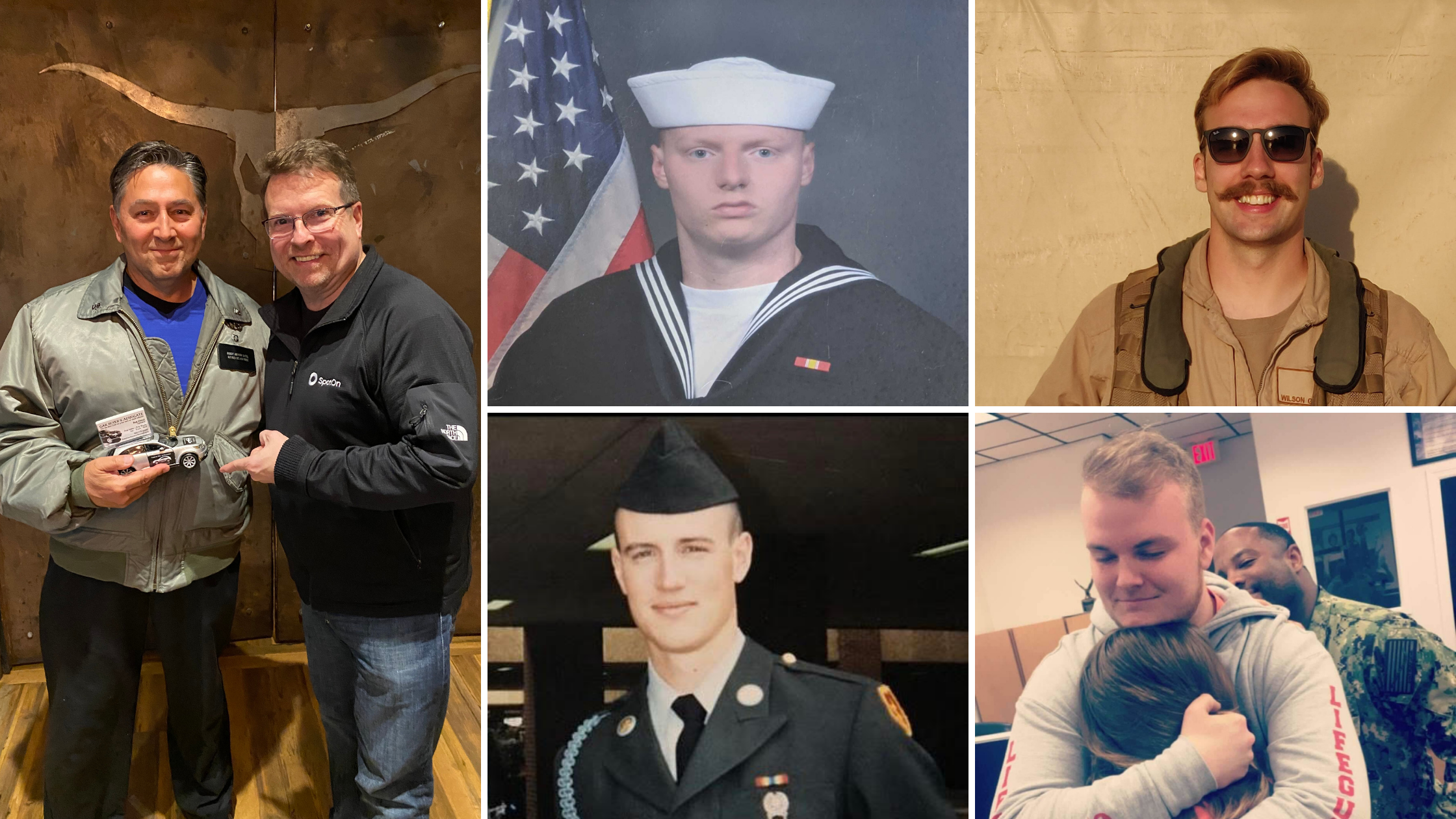 Jamie Watson
Regional Area Sales Manager, SpotOn
Former Boatswain's Mate, U.S. Navy
"My 'why' is to motivate other people to achieve greatness. I came from nothing, a small town in New Hampshire, and I always wanted more from my life. SpotOn has given me more. It has allowed me to become more. This is not a job to me, it's a business that I build everyday. And one that has fundamentally changed my life. How could I not want to show other people how it can change their lives, too?
"I've done four deployments, I've worked 40 hours straight on certain evolutions, I've been out at sea for two and a half years out of my four years and this by far is the most rewarding thing I've done. Every single day I'm challenged to be the best version of myself, and that's one of the reasons I come to work every day. If I wasn't being challenged, I wouldn't be here."
Wilson Gauf
Associate Software Engineer, SpotOn
Former Cryptologic Technician Interpretive Second Class, U.S. Navy
"I didn't really know what to expect when I started at SpotOn because 99% of my work experience came from my nine years in the Navy as a linguistic specialist. This really is my first civilian job, but the analytical skills you use as a linguist and a software engineer are more related than you might think. Really, in both roles, you need to be a good problem solver. As a linguist, I needed to listen to or read conversations and search through that content to find where the problem was. With coding, it's similar. I'm reading a line of code to understand the implicit and explicit implications. Coming from the military, I'm not only used to being part of a team but a valuable contributing member of that team. My first week at SpotOn I was able to contribute a line of code to a new product, which felt really good. I'm excited to learn more from my team, take on bigger tasks, and continue to contribute to our overall success. Who knows what I'll be able to do, what I'll be capable of doing."
John Bristol
Account Executive, SpotOn
Former Staff Sergeant, U.S. Air Force
"I spent 11 years in the military in a medical capacity. When you're out in the field trying to help someone who's been injured, you have to earn their trust before you start poking and prodding them. You have to have a good bedside manner. It's the same in sales, if you're going to ask someone to perform the equivalent of a transplant by changing their POS, you have to be able to listen, ask the right questions, and demonstrate that you are uniquely equipped to solve their specific problem. More than building trust, it's about building a relationship around the shared commitment to growing that person's business. When I can solve a problem—especially a problem that someone didn't even realize they had—I feel helpful and that makes me happy. I have this one client who has a pretty unusual business helping people through the process of buying a car. For a flat $500 he guarantees you'll get the lowest price. So, no haggling, he does all that for you. When we met, he didn't have any way to accept payment on the spot, but we not only got him hooked up with a handheld, but with marketing tools. He was doing about one car a week when I first met him and now he's doing 6 to 8 cars a week. Bob is also a veteran, so the fact that I was able to help get him the tools he needed to be successful means a lot to me."
Daniel Dunn
Account Executive, SpotOn
Former light infantryman, U.S. Army
"I have a non-verbal 15-year old autistic son. I have to build enough money to where after I'm gone, he has something to support him. SpotOn gave me the opportunity to build that nest egg. So it's really been kind of a godsend. It's given me a chance to provide for my family. Even without a college education, which is a required point of entry for many jobs, SpotOn trusted me to build something for our clients and for my family. I think it's kind of cool that this job gives people that haven't gone through the initiation of a college program the opportunity to work at the executive level. This job is like a great equalizer. It gives people a chance to discover, and to demonstrate, that they can be really great. Beyond that, it's just really fun. Honestly, it doesn't feel like work because we are allowed to be creative. It doesn't matter so much how you get the job done, as long as you get it done right. That's an attitude we had in the service. "
Cameron Bonner
SpotOn Sales Lead, Georgia
Former E3, U.S. Military
"I was raised very poor on a dairy farm. My mother was a single mom working three jobs every single day but sometimes I came home and the electricity was off. My experience in the military gave me the discipline, the ability to understand that if I keep grinding, if I keep pushing through, I can make my own success. My job with SpotOn means that at 22 years old, because I work hard, I can take care of my mom. Beyond that, SpotOn helped me find what I'm good at and sure, it's sales, but it's managing people and helping them learn how to believe in themselves. Managing other people, I really appreciate that I get to lead people to the moment when they realize, "whoa! I'm good at something!" With SpotOn, I get to help people see for themselves what they're truly capable of, it's like looking in a mirror. It's amazing."
We're grateful for this opportunity to learn more about the journey our veteran employees took, for their service, and for the incredible value they add to our country and the SpotOn family.
To learn more about the Warrior Rising work SpotOn is supporting, or to find out how you can get involved, please visit their website. And if you know of a veteran entrepreneur or aspiring entrepreneur who could benefit from our Veterans Day discount offer, please share this page with your community.