Liz Guzman has to think for a few seconds before rattling off the different jobs she's had. McDonald's drive-thru. NYC yellow cab driver. Aviation storekeeper in the Navy. Owner of a cleaning company. Hostess at Red Lobster. Caterer for The Times Square Alliance.
She recites stories of these jobs from inside her current office, a ghost kitchen in Harlem, New York. At age 51, Liz finally has her dream job—she owns and operates a to-go food business called Krazy Kravings.
There's just one problem: She opened Krazy Kravings in the midst of the COVID pandemic, then got hit with record inflation causing her costs to skyrocket. Her business is struggling.
---
Liz Guzman grew up on Manhattan's Lower East Side, in a house that wasn't a home. Familial drama drove her to move in with one of her McDonald's co-workers at the age of 16. They slept six to a bed in a tenement apartment. She recalls the move being an upgrade.
Still, she remembers staring out the window across the FDR, knowing there must be more out there for her in the world. So perhaps it's no coincidence that inspiration came from the skies, in the form of the original Top Gun movie. Captivated, Liz enlisted in the Navy as a means of seeing the world and finding more purpose in her life.
Mission accomplished, on both fronts. Liz served as an Aviation Storekeeper, and her journey took her across the country and the world. Her time in the service helped instill the relentlessness that Liz pours into her business and her family, decades later.
"The Navy teaches you to persevere and keep going," Liz says. "If you want to have a timeout, fine. Cry your tears, get back up, and get moving because movement is life."
---
It's a sunny, autumny morning in Harlem. Liz is running late to the ghost kitchen she typically operates out of, which is serving as the setting for an on-camera interview with SpotOn and the installation and training for her new SpotOn point-of-sale system. Or so Liz thinks, anyway.
When she arrives, she encounters the first surprise of her morning: the SpotOn camera crew has been joined by a NY1 cameraman.
Liz is thrilled at the thought of sharing the Krazy Kravings story to a larger audience. It's her first time on camera, but you wouldn't know it given how passionate she becomes when talking about her food.
"Not everyone can afford Restaurant Week," Liz says, "so I'm trying to give a little bit of what could be considered a culinary experience to someone who can't afford it."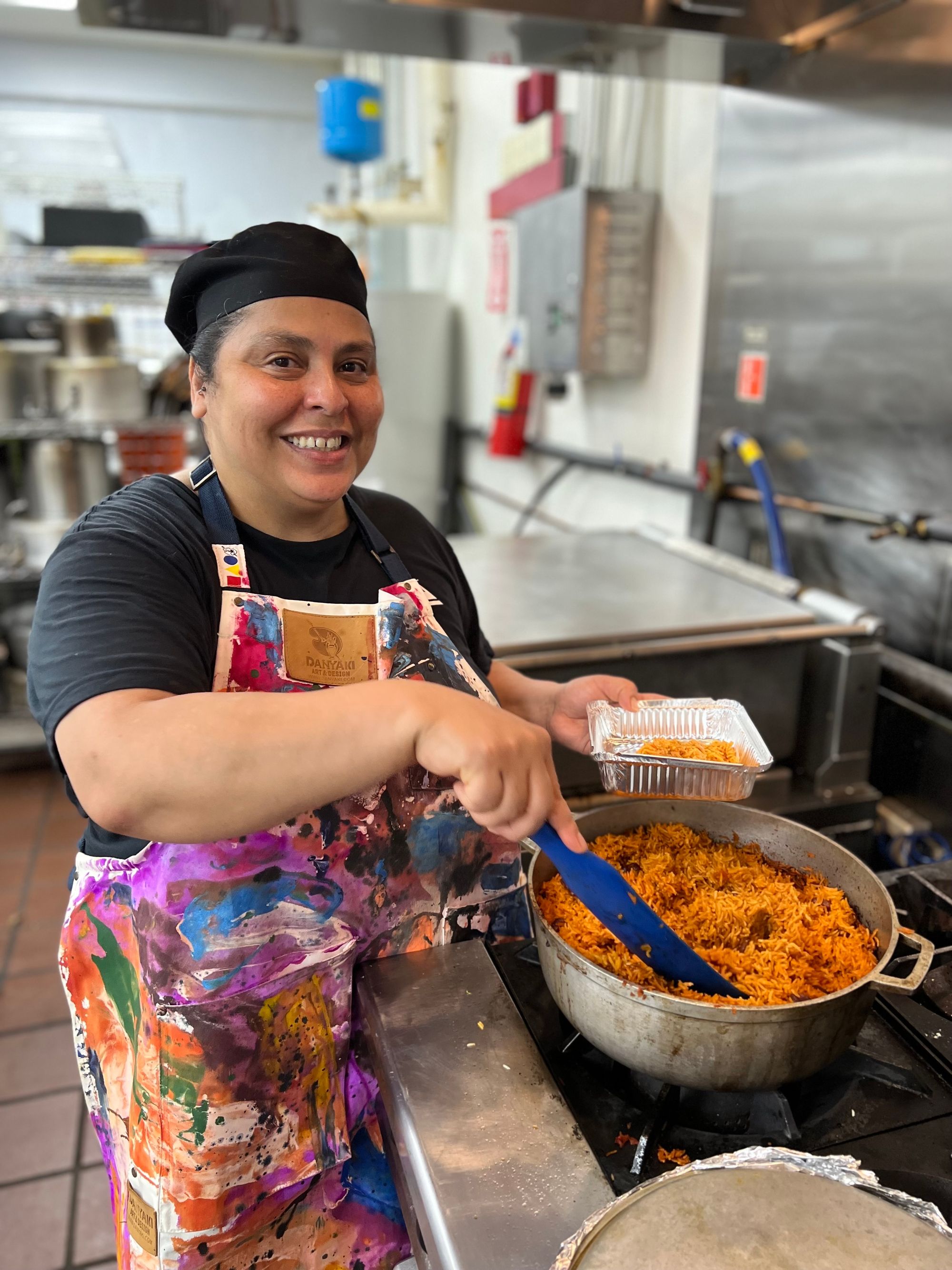 Her specialty is Spanish fusion. Whether it's the customer favorite "Spalal," short for Spanish Halal, a chicken and waffle empanada, the oxtail with gravy empanada, or the curry chicken dumpling. She takes yellow rice, beans, various Halal proteins, all of which she combines with tomatoes, cheddar cheese, and crushed Doritos. She then tops it all off with three different sauces.
"Once that happens, it's magic in your mouth," Liz says.
Want more magic? The deliciously creative twists on traditional food are on par with her brand, which she describes as a cross between the Cheshire Cat and Willy Wonka.
---
SpotOn Sales Manager—and fellow Navy veteran—Cameron Bonner arrives and unboxes a SpotOn Sidekick, a handheld point-of-sale device specifically made for food trucks and mobile kitchens that Liz sees as a gamechanger for Krazy Kravings.
"I'll have movement. I'll have freedom. I won't have to worry about cash, or mobile phone apps that create confusion," Liz says. "With SpotOn's handheld, I can be here in Harlem, I can go downtown, I can go to Brooklyn. It's all there with the network and the Wi-Fi. It's a one-stop shop for my customers."
Then Cameron says something unexpected. He sets aside the handheld and shows Liz an invoice, turning her day—and business outlook—inside out.
"I did not come here to show you how to use this," he says, setting the Sidekick on the kitchen counter. "We don't want to charge you for anything."
$0 in hardware. $0 for tech implementation and training. No software fees for a year. The only number on the invoice? A $1,000 donation from SpotOn as a "thank you" for her service and a boost to get Krazy Kravings back on its feet.
No one in the kitchen was chopping onions, but you wouldn't know it based on Liz's reaction.
On Veterans Day, we honor those who have served our country for their courage and selflessness. We also recognize the struggles that many face when they return home, and commit to doing our part to support our troops throughout their lives. See our special offer here for Veteran-owned businesses.
---