A point-of-sale system, also known as a POS, is a suite of technology vital to any successful business. More than just a way to complete a sale with a customer, today's modern POS systems are designed to streamline nearly every aspect of running a business, while also collecting data for you so you have the insights you need to make informed decisions about everything from operating hours to inventory and employee scheduling. In short, the point-of-sale is a vital piece of technology to stay competitive for any restaurant, retail, or service-based small business.
While there are similarities between restaurant POS and retail POS systems, we'll get into how each system contains a different combination of software and hardware components to complete customer transactions and optimize other aspects of your operations.
After going over the basics, we'll then take a deeper dive into restaurant POS systems, specifically, since they can be more complex. We'll look at which POS system works best for restaurants, the benefits to different types of modern POS systems in the marketplace today, and some important questions to ask when buying a POS system.
Table of contents
What are the different parts of a POS system?
To get started, we'll cover the two main components that make a POS system work: POS hardware and POS software. While there may be some gray area between the two at times, we've categorized these different aspects of a POS system with examples and explanations to help solve any confusion that may pop up for anyone opening a restaurant or retail business.
POS hardware
When opening a restaurant or retail business, you might hear people talk about POS hardware. They're referring to the physical components used to complete a purchase order and transaction. The hardware components of restaurant and retail POS systems are anything that can be physically held, moved, or manipulated to function properly and complete a transaction.
For example, the physical components of a car would all be considered hardware since they're all objects that need to be physically positioned in a certain place and ordered with other components to function. In the same way, most POS hardware needs to be placed and connected to the other components in order to function and complete a transaction.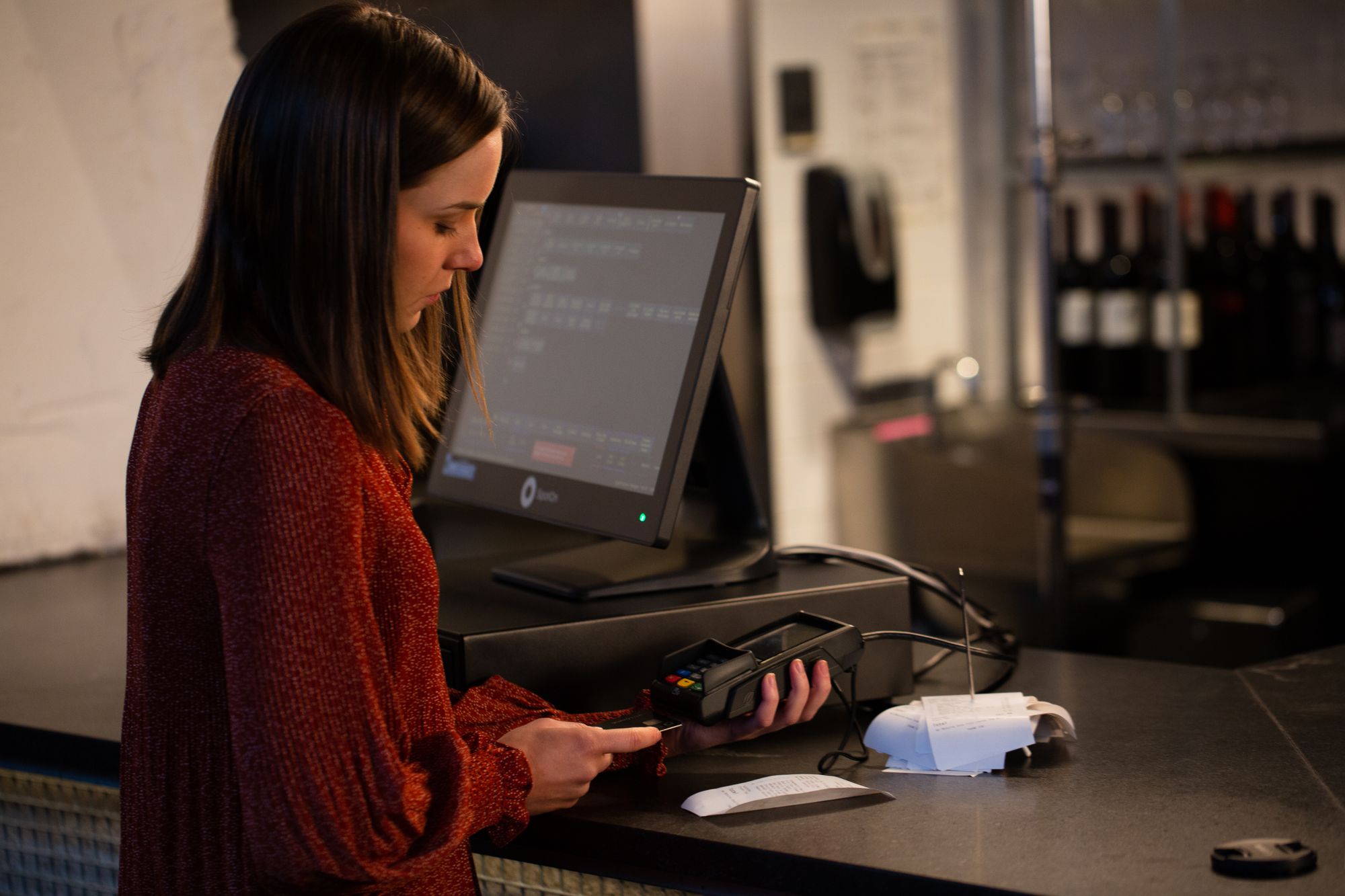 For a restaurant POS system, everything from the payment terminal (aka credit card reader) to the touchscreen display and cash drawer are considered physical hardware since they can be moved to different places such as a countertop or desk. Some other common types of POS hardware are a receipt printer, customer-facing display, and a barcode scanner that can read a QR code, coupons, or check-in code for a loyalty rewards program. There are also handheld POS devices that enable servers to input orders at the table and remote seating areas such as patios and parklets.
Retail POS systems have similar hardware offerings, and can include a payment terminal, touchscreen display, cash drawer, receipt printer, and optional scanner for product barcodes and promotional QR codes.
POS software
POS software includes all the tools integrated into the POS hardware to complete transactions and other daily tasks necessary to run a business. Since they're integrated within POS hardware, POS software consists of the components of a point-of-sale system that you can't physically move—it includes all the components seen on the screen or device of your POS hardware, along with any extra back-office tools.
Restaurant POS software typically includes your employee clock-in & clock-out system for restaurant staff, table layouts for restaurant table management, menu ordering screens, checkout and payment functions, and certain reports such as close-out reports. At the end-of-the-day, restaurant POS software is meant to streamline operations and facilitate a faster workflow, not act as an obstacle getting in the way of daily operations.
POS software for retail stores and other small businesses is similar, but will have a product or services catalog or a simple quick-transaction screen.
Today's modern point-of-sale systems also typically include cloud-based back-office software, which owners and managers can access from a laptop, computer, or even their mobile device. This can include a dashboard for updating employee profiles and menus or product catalogs, as well as employee management software, instant sales data reporting, tip-pooling applications, and even a customer database.
How does software on a POS system work? Think of point-of-sale software as something similar to the apps on your smartphone. These apps allow you to accomplish a task as soon as you access it. POS software is meant to make the daily tasks easier by making them faster to complete.
Benefits of a point-of-sale POS system
Perhaps the biggest benefit of a POS system is the ability to streamline time-consuming tasks all while creating easy-to-read visualizations of your various sales data. When your restaurant sales data or retail data is stored and calculated in one place, you win back valuable time to your day instead of sitting down and calculating every single detail on your own with a pen and paper.
Jose Merchan, owner of El Fuego in Nashville, found the perfect POS solutions for his restaurant thanks to SpotOn.
Another benefit of a strong POS system is its ability to manage operations anywhere thanks to a cloud based, central hub. It won't matter if you have a restaurant or retail POS system. This is doubly true when you run a business with tech in multiple locations, since it can get a bit tedious and messy keeping track of all the different sales data. Thankfully, the best POS system can keep everything in one place so you aren't double checking your inventory management on each individual piece of tech.
Creating a smoother customer experience is the last major benefit that everyone should consider when buying a point-of-sale. Since guests will either be interacting with the tech itself or with a staff member using the tech, an intuitive POS interface will make the ordering and checkout process easier and faster than ever. We'll dive deeper into how a point-of-sale system can help your customer relationship management later in the blog as well.
Thanks to the built-in task automation and data insights, you'll be able to make better informed decisions that increase profitability. Retailers will gain better intel into what products are selling well, for example, while restaurant managers will be able to streamline staff scheduling and fine tune their menu for profitability.
Cloud-based systems, mobile, and legacy POS
When searching for modern POS systems to use in your restaurant or retail business, you will most likely encounter multiple forms of the tech. We've distilled the different types into three main categories: cloud-based, mobile POS, and legacy systems.
1. Cloud-based POS systems
A cloud-based POS system is the most popular type of modern POS system currently on the market. These systems use an internet connection and a suite of various software integrations to complete transactions, manage employee scheduling, and more tasks typically delegated to other software and tools.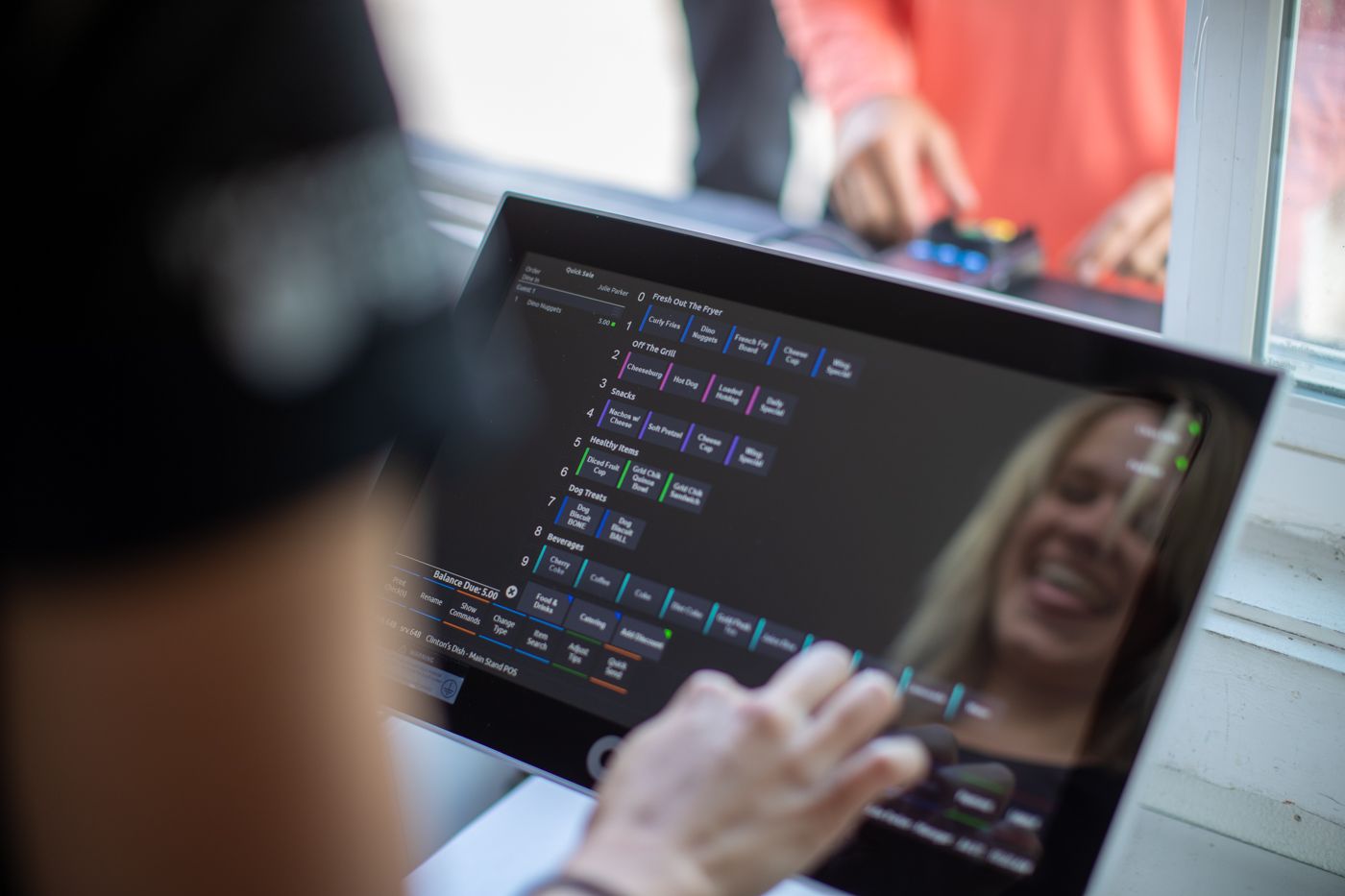 A cloud POS system is the best option for restaurants and small businesses looking for an effective point-of-sale that can be accessed from any device with an internet connection. Thankfully, a modern POS solution utilizes cloud-based systems to help manage customer data, accept payments, and other payment processing needs—meaning the data is securely stored off premise, not on a hard drive inside your POS hardware.
2. Mobile POS systems
Mobile POS systems are small handheld devices that can be used to complete small tasks, such as placing orders, and basic payment transactions. Since a mobile POS is typically no larger than a smartphone, they have extra value for any small business or restaurant with a simple internet connection.
Similarly, there are mobile payment apps and credit card readers that allow you to use your smartphone or tablet as a mobile POS system. A mobile POS system is a great choice for restaurants looking to streamline their ability to complete orders or food trucks that don't want to carry around large POS devices.
3. Legacy POS systems
Legacy based POS systems is a term that describes the older "on-premise" POS tech that was used for years, but which isn't as functional as the contemporary cloud-based systems. These traditional POS systems typically require an on-site server to access different sales data and make updates, compared to the other modern POS that can be accessed by any device with access to the internet.
While they may be able to accomplish some of the same tasks as newer systems, legacy POS systems often require much more POS hardware and equipment to function. Repairs for legacy POS systems cost much more than other types of POS systems, and in many cases the original providers no longer provide updates.
What is the difference between a point-of-sale POS and a cash register?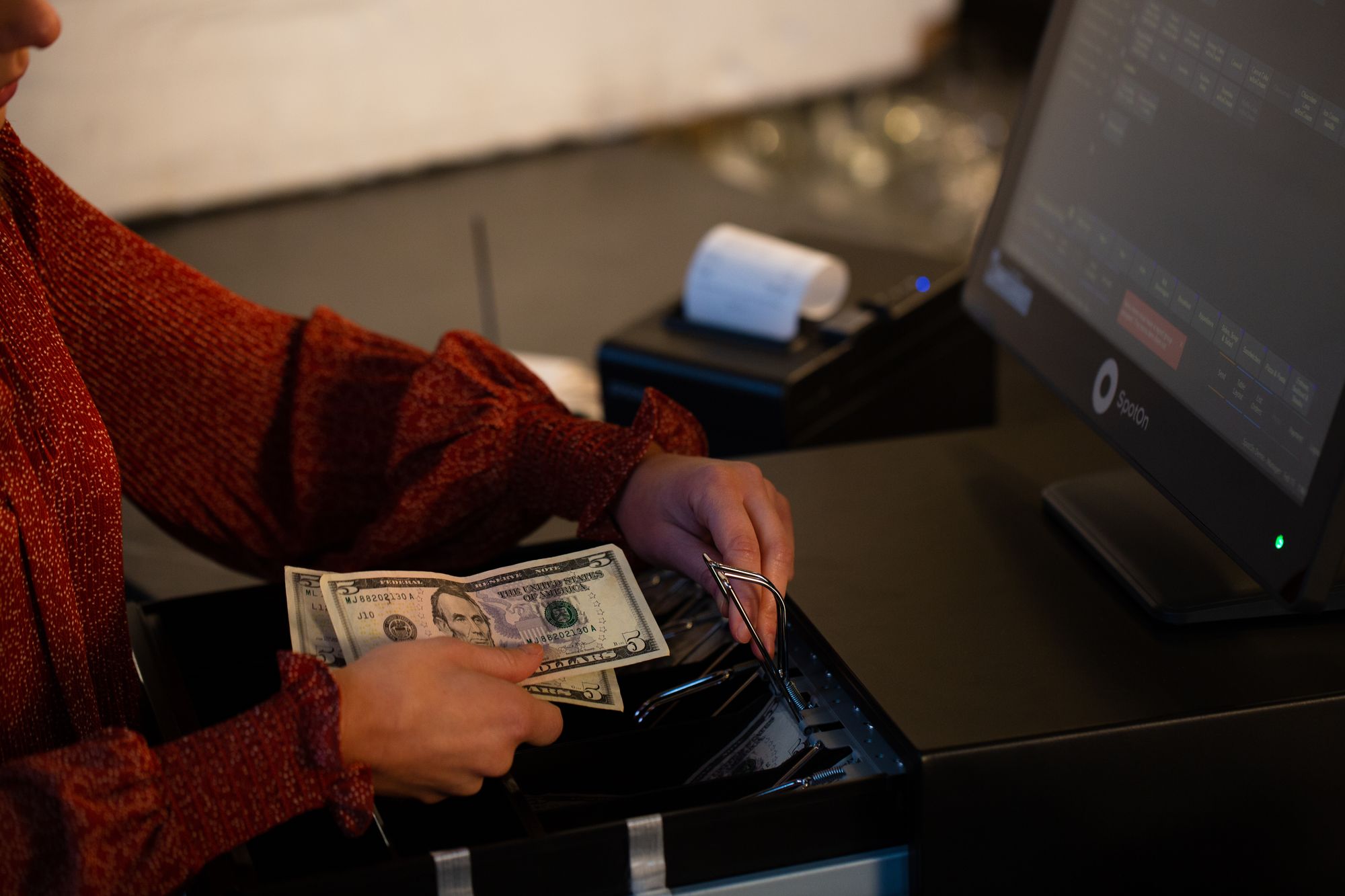 While some may view POS systems as a glorified register with a cash drawer, both are pieces of hardware that accomplish a different range of tasks. A cash register is a simple piece of hardware that allows a business to record sales information, carry cash, and dole out change for various transactions.
A POS system does so much more than simple payment transactions. In fact, most POS systems include a cash register and cash drawer as one of the many tools in their toolbelt to help restaurants and retail stores succeed. A restaurant POS like SpotOn Restaurant also allows you to place and customize orders on the menu screen, collect a variety of sales data for different report visualizations, and utilize various integrations to possess more control over your business sales and success.
What are the different types of POS systems?
In the current market, there are three primary types of point-of-sale being sold to local businesses: restaurant, retail, and enterprise POS systems. While there are some similarities between the different types of tech, they all function differently to meet the specific needs of that business type.
What are restaurant POS systems?
A restaurant point-of-sale system is a specific type of tech allowing restaurants of any size complete guest orders all while streamlining the restaurant's daily operations. A strong restaurant point-of-sale features technology that allows efficient communication to complete guest orders between the front-of-house and back-of-house.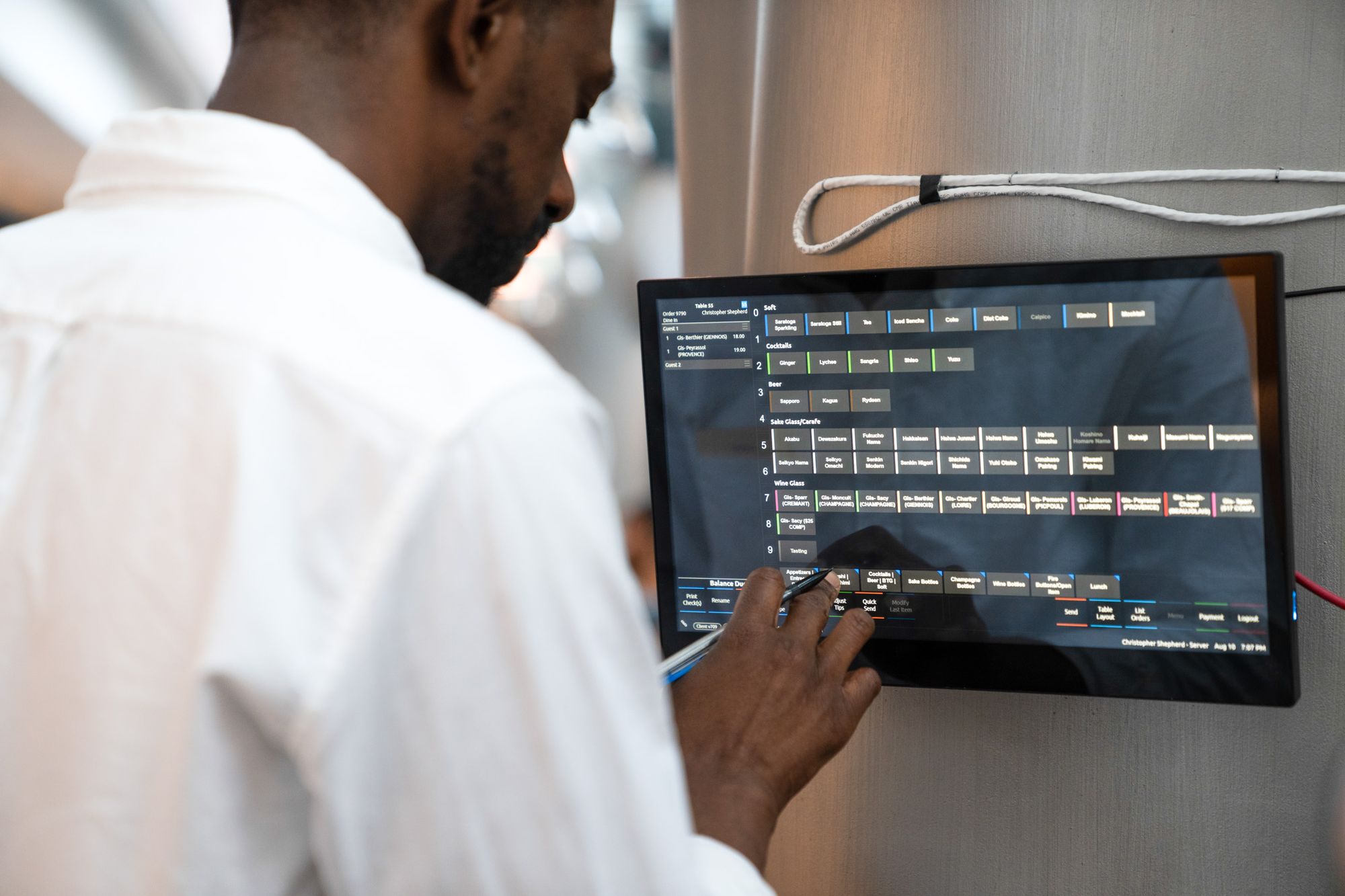 Restaurant point-of-sale systems are primarily designed to be used by multiple restaurant staff and servers since there's usually more than one transaction occurring at the same time. Alongside being able to handle multiple orders by different restaurant staff, a restaurant point-of-sale is also designed to work with different types of restaurants as well, such as counter-service restaurants and full-service restaurants, by having various customizable menu options that can be changed at a moment's notice.
Versatility is an important factor that differentiates restaurant point-of-sale systems from other types of technology. A restaurant point-of-sale should include a range of built-in tools, integrations, and other features to assist the restaurant's operations. For example, SpotOn's POS system allows for table management, inventory management, employee management, reservation and waitlist organization, online ordering integrations, and instant reporting available at the busiest restaurant hours.
Although some restaurants use older legacy point-of-sale systems, most restaurants utilize cloud based POS systems due their ease-of-use, its relatively lower cost, and range of tools offered not found in other systems. Depending on their size and restaurant type, some restaurants also utilize mobile point-of-sale handheld devices to help streamline orders and strengthen the guest experience.
What is a retail sale POS system?
Similar to restaurant tech, retail POS systems are a specific type of tech used to facilitate customer management and transactions at retail businesses. However, unlike a restaurant point-of-sale, a retail point-of-sale has a few different features that allow them to be a better option for retail operations and customer transactions.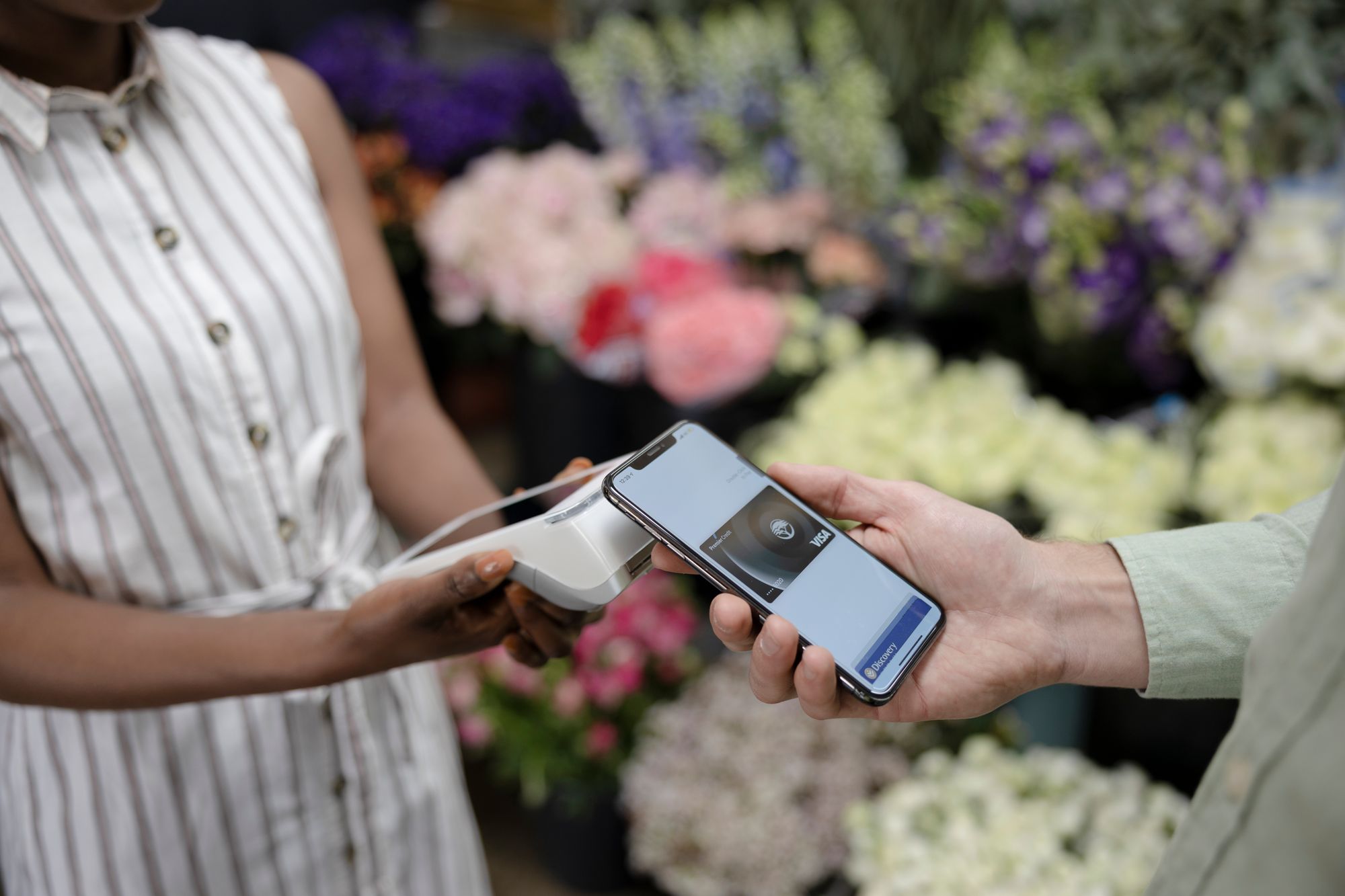 A retail point-of-sale system has a much simpler design since they're usually a single POS terminal used by only a few people, compared to restaurants that need more terminals and a larger platform to navigate multiple order transactions. Since the overall POS terminal is simplified, there are only a few specific tools that cater to retail operations, such as product cataloging, inventory management, and more. Of course, the variety of tools and integrations for retail depends on the business type itself. SpotOn recommends assessing your own demands as a business to assess which point-of-sale is right for you.
What is an enterprise POS system?
An enterprise point-of-sale system is the technology used in larger venues, arenas, and stadiums to complete food, retail, and other types of transactions at any time. Even though the tech in enterprise is similar to the types of hardware and software as restaurants and retail, such as cloud-based systems and handheld POS devices, they have a range of other tech and features to help facilitate their transactions on a much larger scale. These features should be able to cover mobile ordering, self-pay barcode scanners, in-seat ordering, suite ordering, and general purchases from storefronts.
One main feature of any enterprise POS is an omnichannel platform to provide a unified purchasing experience for guests across the different types of POS in the venue. Since there are so many different touch points, such as buying soda from a vendor, hotdogs from a hawker, or a baseball hat from a retail storefront, the omnichannel primarily acts as the software glue keeping together every type of transaction happening at any moment. And since most venues operate under a seasonal basis, all enterprise tech should be easy to understand and pick up on the fly for new and seasoned workers.
How much do POS systems cost?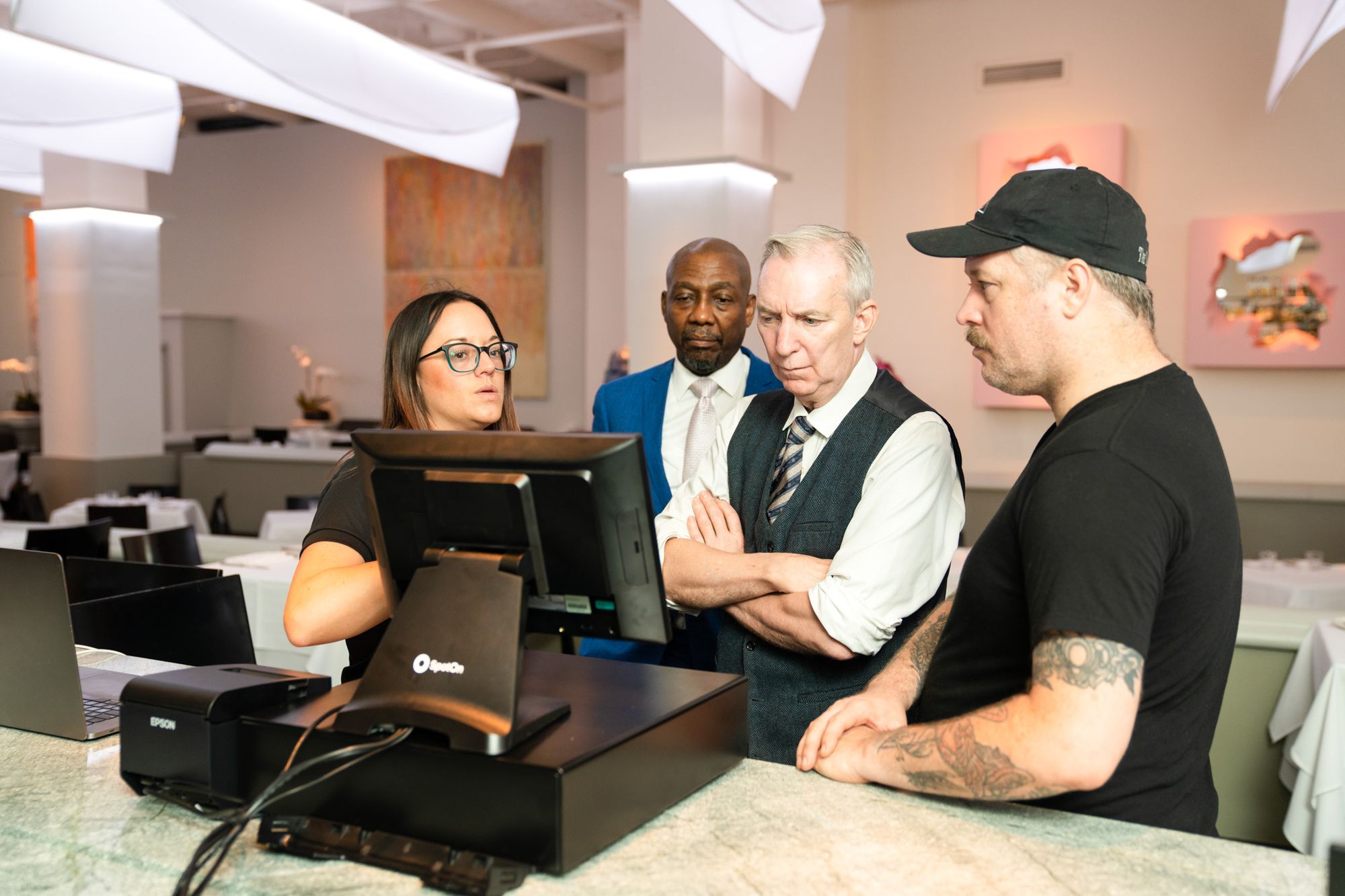 Most retail and restaurant point-of-sales usually fall within the price range of $60 – $300 per month for POS software (per station) and $299 – $1,700 for the POS hardware. There can also be upfront implementation costs. Keep in mind that additional services, such as integrated online ordering and digital loyalty programs, may have additional costs as well.
At SpotOn, we understand the importance of affordability and flexibility for anyone opening a restaurant or other type of business. That's why we offer cost-effective pricing options and personalized configurations tailored to your specific requirements and costs. Get in touch with our team today to discover more about our POS solutions and receive a customized quote that suits your needs.
Key features of a restaurant POS system: what to look for when buying a point-of-sale
Even though there are many factors to consider when buying a POS system, we've distilled these features into four main questions to help make your decision easier. Instead of asking, "what is a POS system," you should ask yourself these four questions when exploring the best restaurant POS system to use for your daily operations:
Which POS system will speed up operations?
How can a POS system boost my revenue?
Which POS system will help manage my restaurant staff?
Will this POS system improve the overall guest experience?
Streamline restaurant operations
No restaurant should let their operations slow down due to a faulty, legacy POS. However, with the right cloud-based systems, restaurants can see a boost in the daily tasks that might have taken hours to complete otherwise.
Did you know?
Rick's Jerk Chicken
, located in Honolulu, used SpotOn to speed up the ordering process by 25%, resulting in a 20% increase in sales.
For example, with a strong POS, restaurants can speed up the ordering process by harmonizing their front-of-house and back-of-house tech. And when every piece of tech, from the kitchen display system to the thermal receipt printer and credit card reader, works together to create a single POS ecosystem, restaurants have a better grasp on the different aspects of the business that might slow them down.
Increase restaurant revenue
Alongside providing a streamlined ordering system, a restaurant POS should also possess a range of tools to help any restaurant see a boost to their revenue stream. As we mentioned above, SpotOn Restaurant is equipped with a variety of different reporting options for any restaurant operator to use.
By making the most of the instant reporting feature alongside other software such as inventory management, restaurant operators can get a stronger awareness of all the hidden dimensions driving operation costs higher and higher, such as sneaky fees from various third-party integrations and apps. A strong restaurant POS should also allow different ordering options for guests. With online ordering and QR code menus, guests spend more when they have more ways to complete a transaction beyond the usual cash register & cash drawer experience.
Organize your restaurant staff
Managing your staff is an important aspect of running a successful restaurant. Thankfully, a labor management tool typically integrated right into the point-of-sale can help make it easier than ever by helping your and your staff collaborate on their shifts and working times without dealing with any extra paperwork or hassle.
With SpotOn Teamwork, you can also easily complete tip-payout and payroll integration in one single platform. SpotOn Teamwork even allows you to remain transparent with your employee scheduling thanks to an app specifically designed with restaurant staff in mind.
Improve the guest experience
At the end of the day, it's important to remember that many POS systems should do more than help restaurant profits grow and experience a faster workflow. While it may depend on your restaurant type, guests directly interact with your point-of-sale by ordering right from the customer-facing display to complete a transaction or indirectly by engaging with one of its integrations or features such as QR code ordering or handhelds.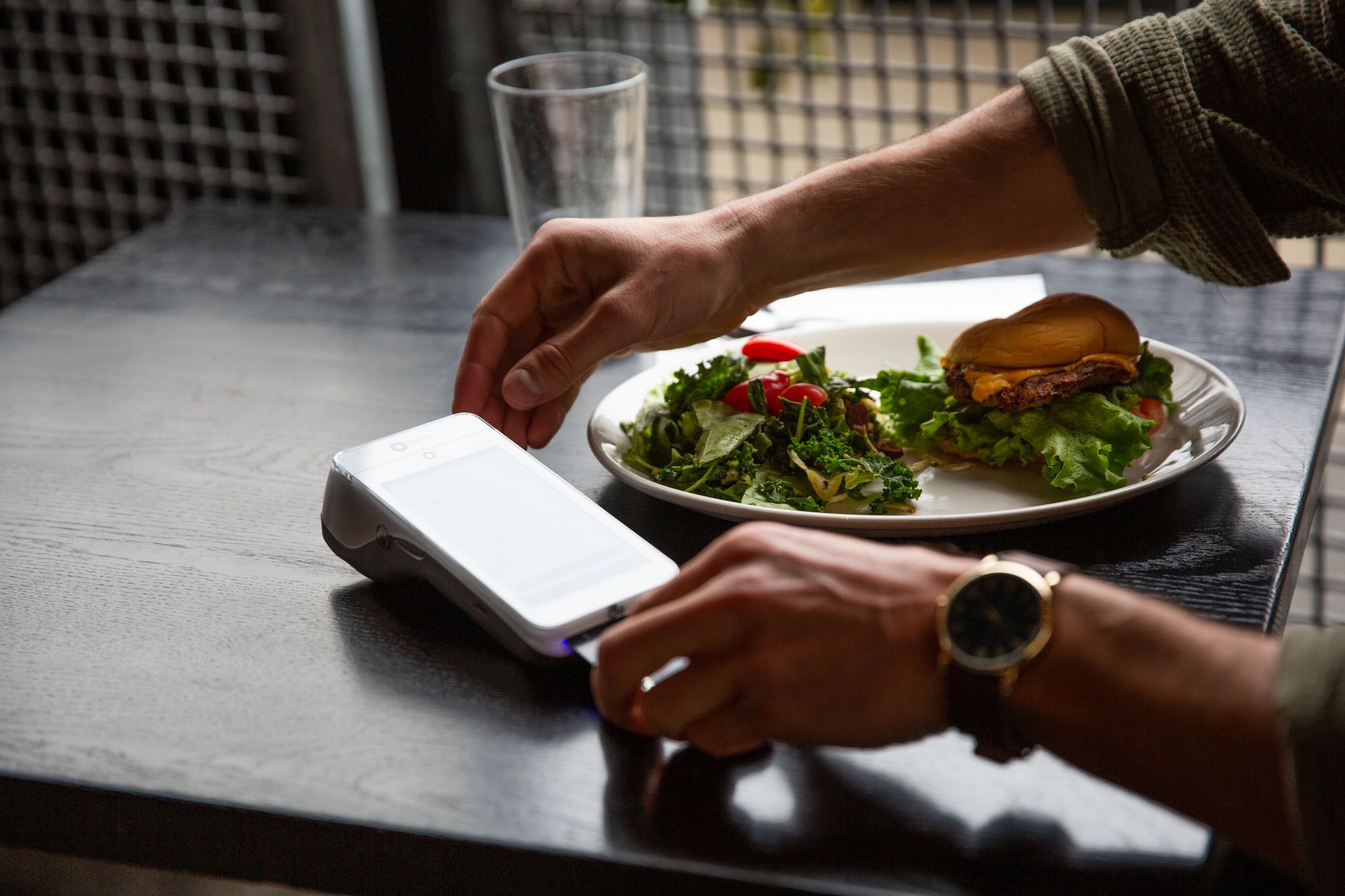 An integrated loyalty rewards program can also help promote a positive guest experience for guests since it lets them feel valued when dining at your restaurant, all while reducing the extra effort needed for customer management. By then ensuring guests can easily use every aspect of your POS machine without any extra headache or stress on their own, they'll feel a stronger sense of appreciation for their patronage and visit more often.
For example, SpotOn Restaurant was designed to make it as easy as ever for guests to make a reservation, place an order, and more. And with SpotOn Restaurant, you also receive review management software to help navigate review sites like Yelp, Google Business, and Facebook—to not only manage your reputation, but also keep on top of real guest feedback to make operational improvements.
Tips for choosing the best restaurant POS provider
There are plenty of factors to consider when choosing the best restaurant POS solutions for your business. Before making a purchase, SpotOn recommends exploring the general cost you're willing to spend on an overall POS and its features. By knowing your budget, you can explore which POS suite would work best for your restaurant needs.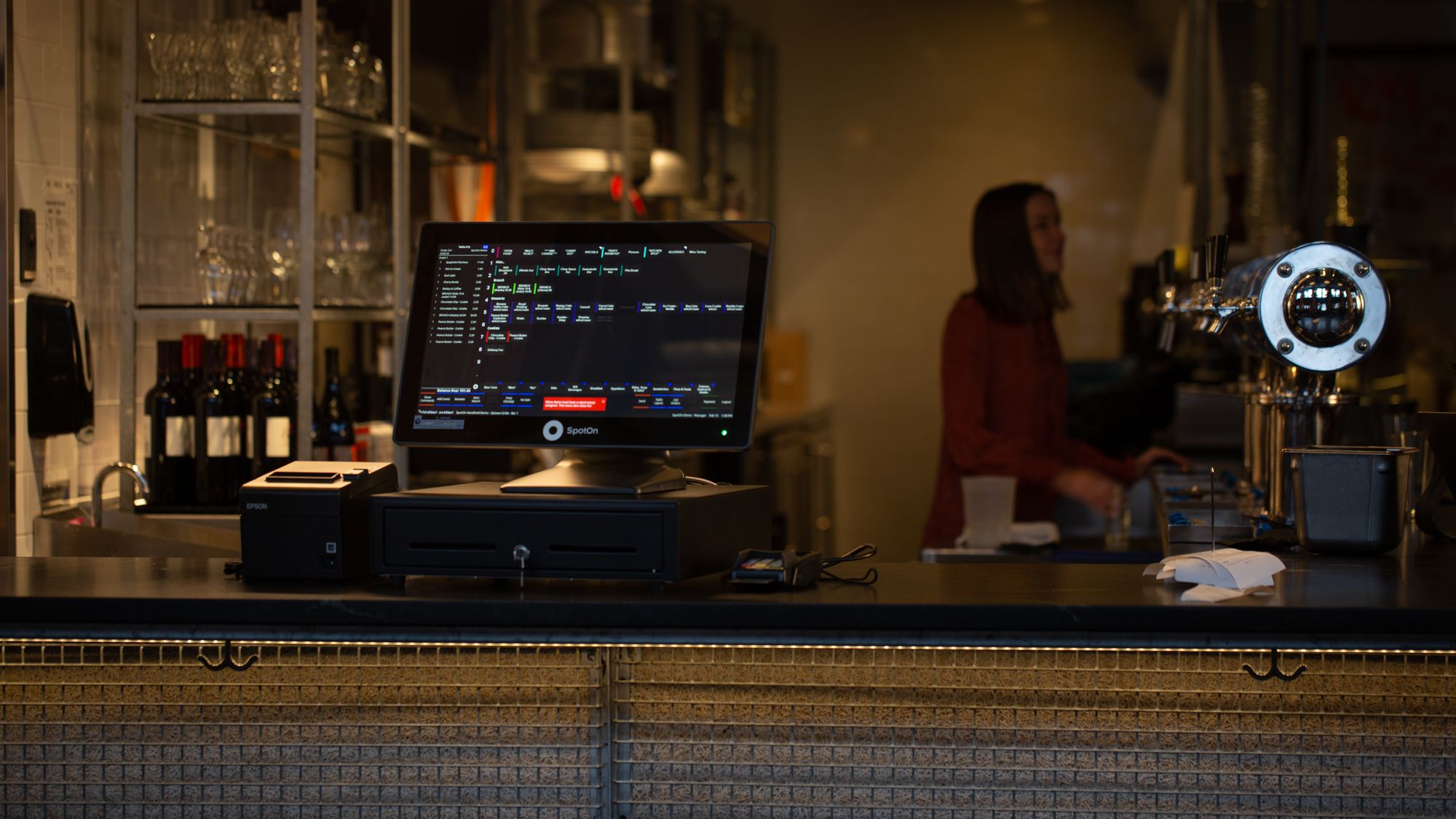 After determining a price range for your restaurant POS, remember to consider the number of staff working in your restaurant. Since they'll be using the POS for tasks in your restaurant's front-of-house and back-of-house, you will get a good idea as to which restaurant POS would work best for their working situation. That also means you should consider how easy it would be to train your restaurant staff on a new POS system. If you've got entry-level staff working for your restaurant, they might have a harder time figuring out the basics to a more advanced POS than a restaurant server with a lot more work experience with different point-of-sale tech.
Lastly, before choosing the best restaurant POS system, make sure you know which software, features, and third party integrations would be best suited for your overall restaurant structure. Are you a restaurant that would benefit from a comprehensive online ordering system? Would you feel more comfortable giving handheld POS devices to your various restaurant staff?
Knowing your needs, pain points, and more as a restaurant will help you see which POS system would make each day easier in the long run and which would feel as useless as two cash drawers stacked on top of each other.
What is a POS system example?
There are currently plenty of POS companies on the market that offer a variety of features for restaurants and businesses. Thankfully, we've compiled a list of blogs that examine the benefits of different types of restaurant systems used today by analyzing real user reviews from Capterra, a trusted online service that helps organizations find the right restaurant solutions for their operations.
In each POS system review, Capterra has created user-review scores for SpotOn and other POS system companies based on functionality, ease of use, value for money, and customer support. Check out the blog below to learn more different POS comparisons, how SpotOn compares to a restaurant POS vendor like Toast or Square, and more.
Need help finding the right POS system?
The SpotOn team is here to help. With a range of hospitality industry veterans and experts that know what it's like to run a restaurant, we know that opening a restaurant can feel like the scariest thing in the world. Thankfully, you don't need to do it alone. Click on the banner below to get started on a tech demo or contact a SpotOn rep.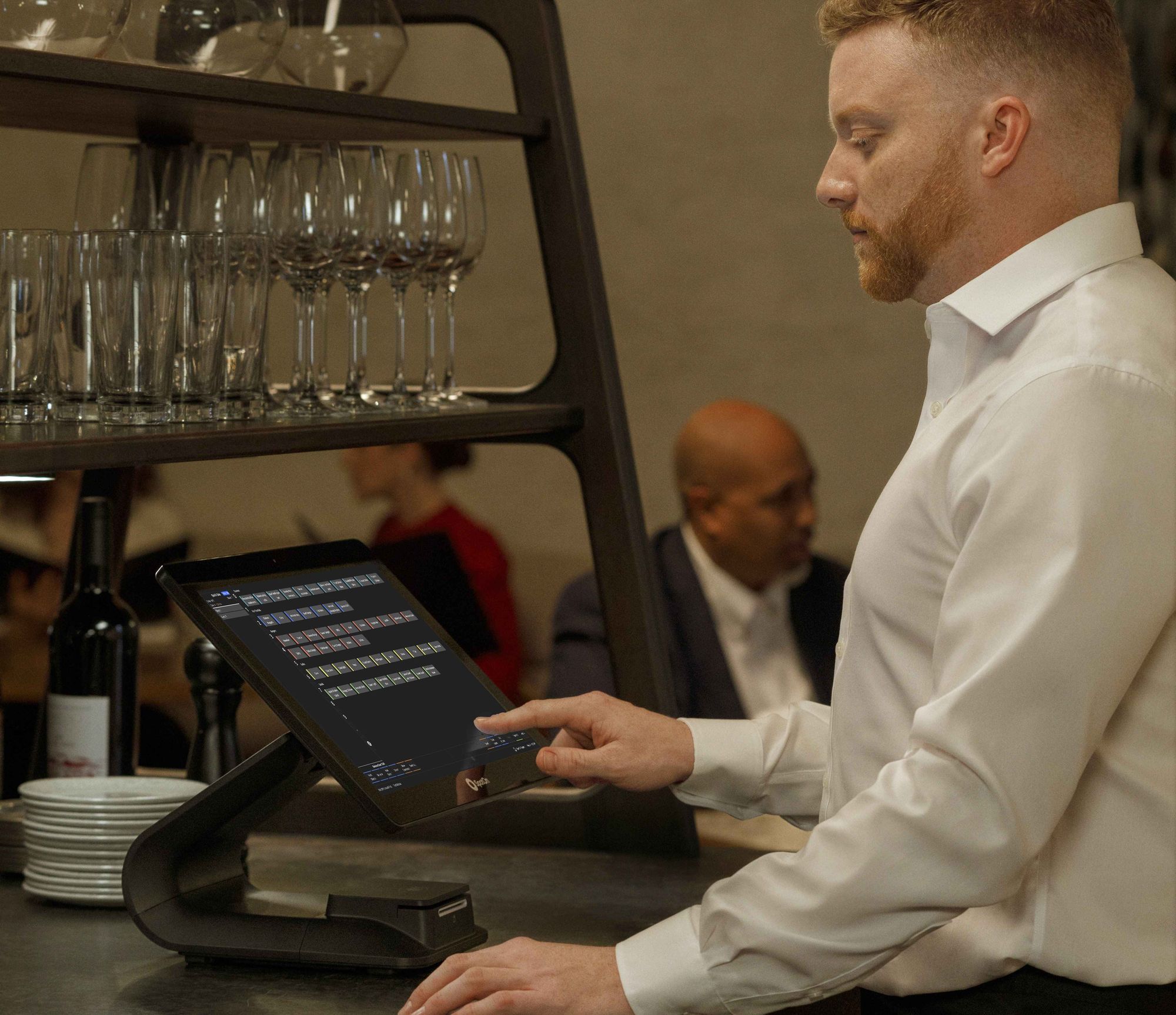 Let's see how we can help
Meet one-on-one with one of SpotOn's tech experts. No high-pressure sales tactics. Just a casual conversation to find out if we make sense for your restaurant.
Get a demo