While dining Al Fresco has always been popular, cities and main streets have seen a boom in sidewalk dining and patios in the past few years. From the rise of the "streetery" to the old style beer garden, there is no better place to gather in the summer months than outdoors with good friends, great hospitality, and delicious food.
Outdoor dining lets guests feel comfortable and safe and can help boost your restaurant's sales during peak summer months. According to the National Restaurant Association, 56% of casual dining and 62% of fine dining establishments have dedicated more resources to outdoor dining over the past two years. It's more than extra seating—patios have the flexibility that the indoor dining space might lack and, when used effectively, can be a huge revenue booster. Plus, they're pet-friendly. Win-win-win (for your guest, your business, and Fido).
Here are 6 strategies to help get the most out of your outdoor spaces.
1. Staff smarter. Increase efficiency.
Just because you're increasing your restaurant capacity doesn't mean your labor costs need to skyrocket. Equipping servers with handheld devices, like SpotOn Serve, can decrease order and close-out times by eliminating steps to the POS station. No Wi-Fi? No problem. SpotOn Serve has cellular capabilities that ensure every corner of your patio gets the same fast service. And thanks to contactless payment options and a built-in receipt printer, guests can close-out swiftly without the back-and-forth of running to server stations to swipe a credit card.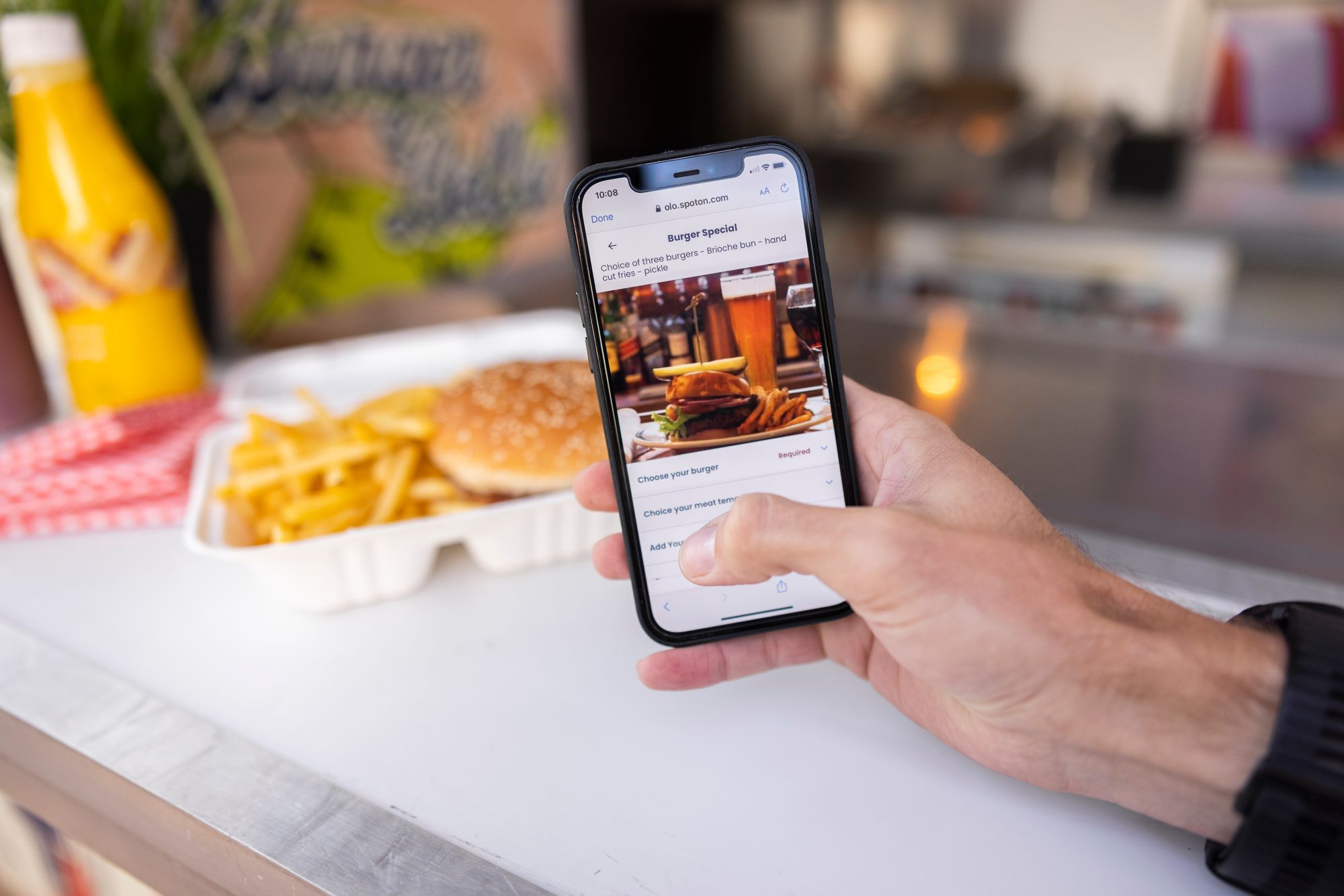 Simply don't have enough wait staff? Another option is to implement QR codes so guests can order and pay from their phone. From there, all you need is food runners. A more efficient patio means a less overwhelmed culinary team and an increase in tables turned by the end of the night.
2. Create a thoughtful floor plan.
Outdoor dining comes with new considerations: what's the back-up plan in case of rain? Where to place the service station? How to ensure paper menus don't fly away? Providing at least partial coverage, with umbrellas or three-walled structures, can sustain outdoor dining in case of poor weather. Digital menus accessed via QR code eliminate the risk of paper menus swept away in a much-needed cool summer breeze.
Another key to a thriving patio, per SpotOn Restaurateur in Residence Hillary Holmes, is reducing clutter. This ensures servers have a clear path to the POS and service stations, and guests have space to move around and make themselves at home. Communal tables help create a casual, fun atmosphere. The shared space gives you the flexibility to serve more guests—and maybe even encourage some new friendships in the process. Sharing is caring, after all.
3. Flex the space.
An outdoor dining space is a blank canvas where spirited bachelorette parties and intimate family dinners feel equally at home. Switching up the table layout or ordering process can help accommodate more guests and reach new ones, too. Special events like trivia or live music can give the space a festive atmosphere and draw in new people week after week. Offer a brunch seating with full service and food runners who can ensure the table is ready for the next seating as quickly as possible, then switch to a bar setting where guests can order via QR code and have a leisurely drink. Same busy environment, less labor cost.
4. Offer a special patio menu.
A buzzy patio space doesn't have to mean a stressed out kitchen staff. A special patio menu can help you turn more tables and minimize food costs in this preferred space. Make quick changes with a QR accessible digital menu to highlight different offerings at certain times of day. For high volume establishments, choose quick serve items (with high profit margins) that you can get to the guests within minutes and delight as many guests as possible.
5. Host private events.
Renting out your patio space for private events can be a powerful tool for boosting sales and expanding your marketing presence when your guests share their memories on social media. A private outdoor space carries a premium cost because it's considered an exclusive space. Plus, it's easier to divide than an indoor dining room where noise might disturb other diners. Set a minimum based on your normal sales volume, plus any loss you might incur from displaced guests. With private venue sales, you also get a lower cost of goods because there's less waste.
6. Engage your guests.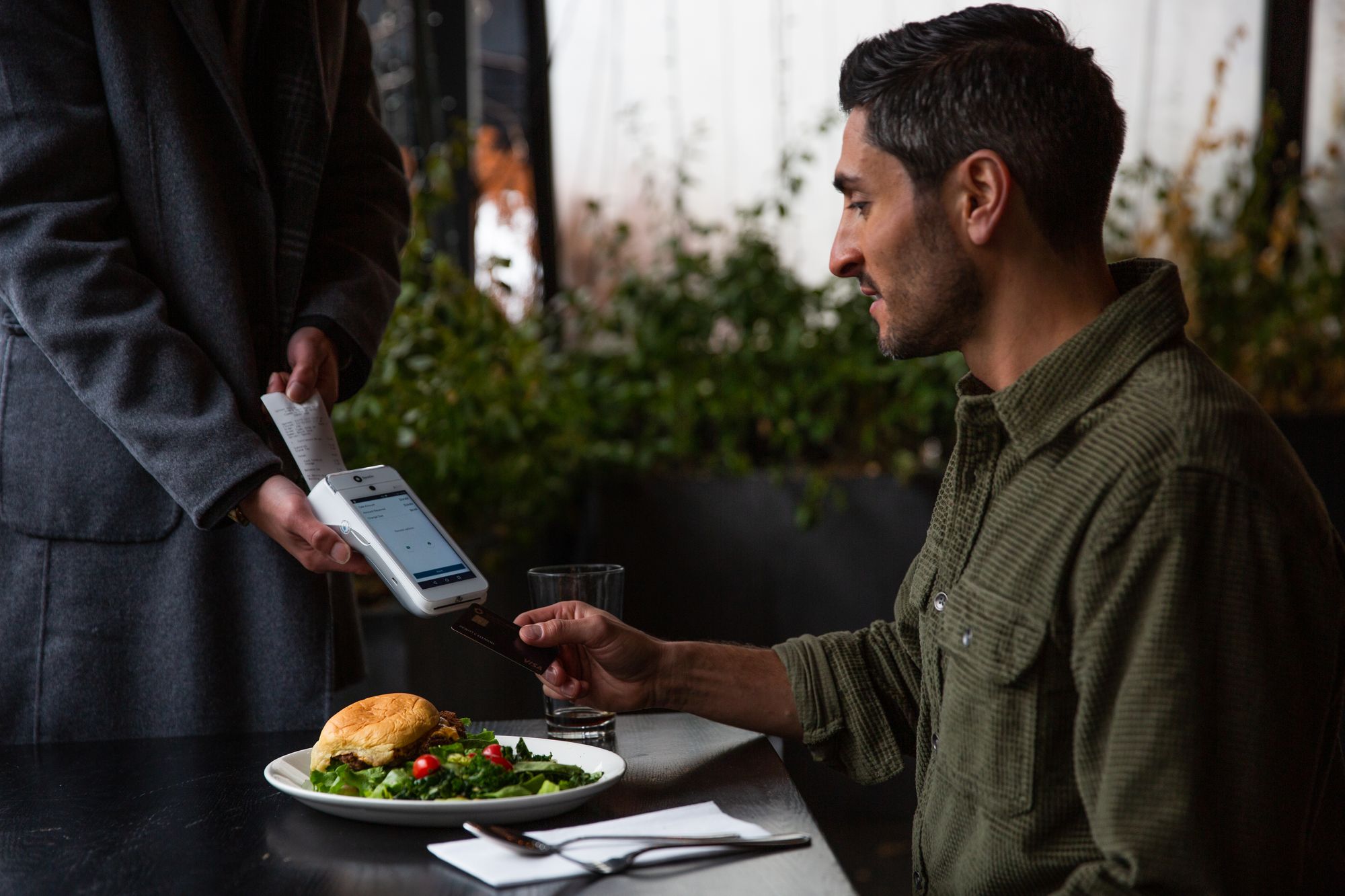 The guest experience doesn't just happen within the four walls of your dining room. With guests willing to wait over an hour for outdoor tables, it's crucial to ensure your servers deliver an experience worth waiting for. With a handheld POS, your servers can take guest orders swiftly without losing the personal connection. Encourage your team to take orders with the device behind their back or held against their chest so they can maintain eye contact and let the tech fade into the background.