The holidays can be the season of boom or bust for local businesses, so what can you do to give your business a boost and spread joy? One of the easiest ways is selling custom gift cards for your small business or restaurant. Studies show that 65% of gift card holders spend an extra 38% beyond a gift card's value, meaning you're creating revenue twice—once when a customer purchases a gift card, and then again when it's redeemed. Whether you own a restaurant, retail store, beauty salon, automotive business, or another type of business, you can quickly implement a gift card program and benefit from the instant infusion of cash while giving your customers a reason to come back and visit.
Why are gift cards always a great idea?
Your loyal customers are your best advocates, and when they give someone a gift card from your business as a present, they're helping you attract new customers without having to spend a dime on advertising. On top of that, gift card sales create instant revenue with little to no labor costs, helping you improve cash flow, particularly during the holiday season with people actively looking to help support local businesses.
All that said, it takes a bit of planning to make your gift card program a success. Here are six strategies to help you sell gift cards successfully.
1. Train your staff
Make sure you train your staff both how to load a dollar amount to gift cards from your payment terminal or point-of-sale, and also how to promote gift cards to your in-store customers. Oftentimes, the best way to sell gift cards is to simply ask customers if they would like to purchase a gift card when it comes time to pay their bill.
2. Spread the word by email and social media
Use every channel available to let your customers know that you are now offering gift cards. Post it on social media and send the great news to everyone on your email list. If you have a lovely card design, make sure everyone sees it!
💡
Already using SpotOn? Log into your
SpotOn Dashboard
now to send a quick email or Facebook campaign telling your customers about gift cards.
3. Display gift cards prominently
Make sure your gift cards are visible and even use them as decoration! Display them near the register or at the host station. It may prompt your customers to remember that one last relative or friend who they still need to buy a gift for.
4. Go digital with e gift cards for restaurants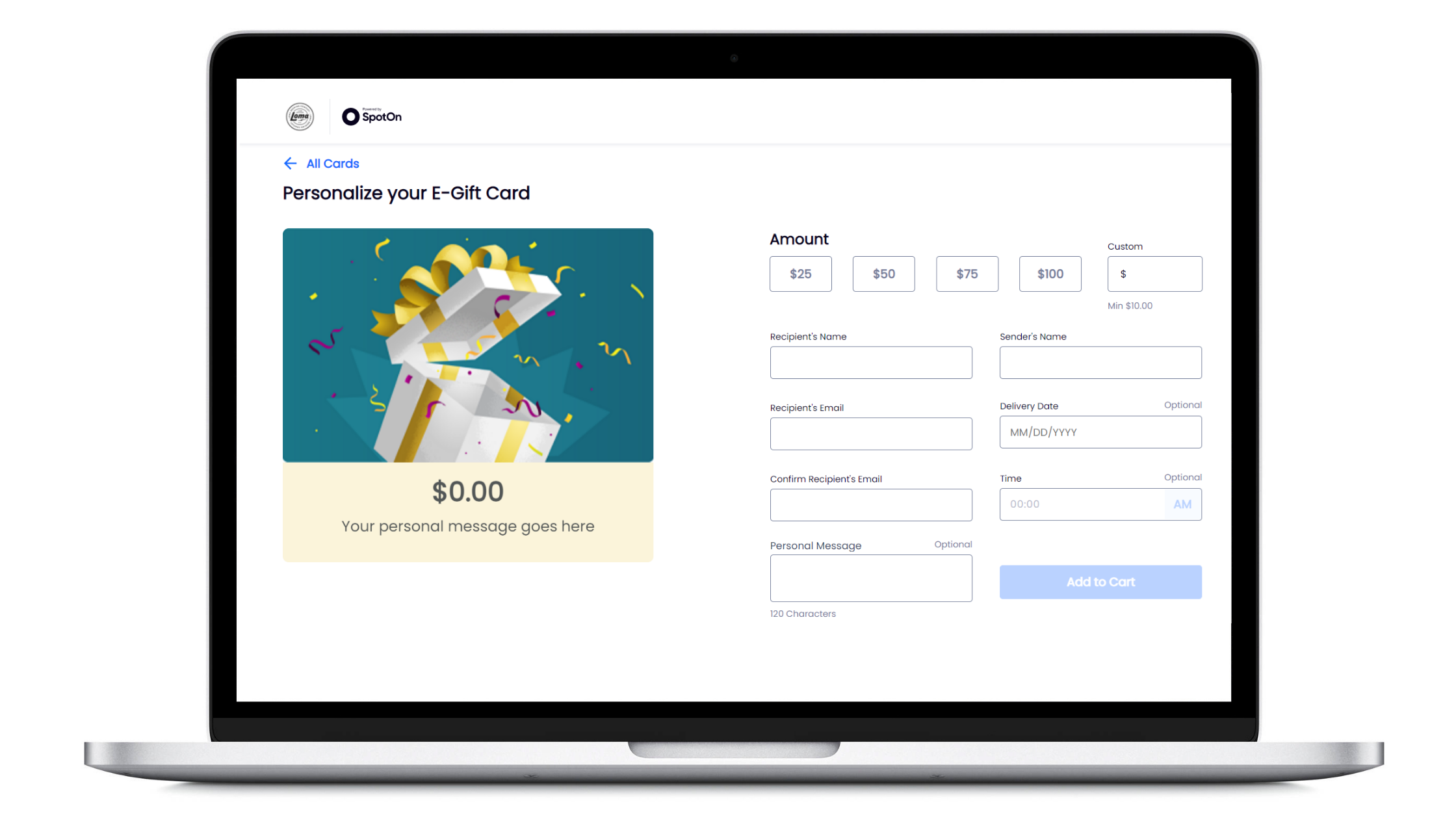 A solid online presence is the hallmark of a successful business. Particularly if you run a restaurant, you can sell e-gift cards right from your online ordering platform. It's a great opportunity to drive traffic to your website, increase online orders, and help your webpage show up higher in local search results.
5. Create gift lists
People often buy gift cards when they aren't quite sure what else to get, so make it easy for them! Take the opportunity to keep promoting gift cards on your social media profiles and mailing lists by sending gift ideas or wish lists with products or services that they can get with the gift card.
6. Make it fun
Everyone gets excited by a freebie, so run a contest on social media and give away gift cards to generate social shares and comments that can generate interest and demand in your gift card program. Along the same lines, add gift cards as a reward for your loyal customers.
Gift cards make life easy for everyone—you, your employees, and your customers—so take advantage of them this holiday season.
How to create gift cards for your business
If you're already a SpotOn client, simply email our gift card team at giftcards@spoton.com to order your physical gift cards and/or e-gift cards (restaurants only). Our team will do all the heavy lifting to create your custom gift cards, which you can then easily sell right from your SpotOn point-of-sale.
Not yet partnered with SpotOn. Click below to get started.