For guests and operators alike, the idea of large group dinners can evoke equal parts fear and delight. Coming together, sharing a meal, and not having to do the dishes is a beautiful thing. A larger party garners a bigger check, benefitting the restaurant's bottom line and the server's tip payout. Group dining can also be chaotic, overwhelming for the kitchen, and demanding for the server. It's not all harmony and shared plates.
Urban Roast, a cocktail bar in Washington D.C., is well versed in the art of large parties. Started in June 2020 by Kamal, Anthony, and Joseph Azzouz as part of the Azzouz Hospitality group, the concept's true north has always been a place for friends and family to gather. At its inception, this meant adapting to COVID-19 restrictions and creating an outdoor space that was safe, inviting, and adaptable. As times have changed, the Azzouz brothers—who identify as "hands-on operators" and are ready to jump in as a server or line-cook at a moment's notice—have continued to innovate, creating and re-creating a place where locals and out-of-towners want to spend time.
Through trial and error, the Azzouz brothers realized that excellent group dining experiences involved much more than extra tables and chairs. Gathering at a restaurant almost always guarantees a higher price point than a dinner party at home. At Urban Roast, the Azzouz brothers created an experience that would justify the expense. Putting up seasonal decorations is a family affair, with the whole Azzouz family pitching in to put up outdoor bonfires or a massive Christmas tree. Neon signs and floral walls provide ample Instagram fodder, promising unique and memorable group photos. Much of the Urban Roast menu is designed to be shared. Charcuterie boards, tapas-style dishes, and easy-to-split salads, mean there is something for everyone. DIY s'mores boards satisfy even the most insatiable sweet tooth. Espresso martinis come in flights and many different forms.
Urban Roast wasn't always meant to be the group dining hot spot that it is today. It began as a grab-and-go coffee and sandwich shop, aimed at local office workers and tourist foot traffic. The change in concept required a rethink of Urban Roast's operations. The best group dining guest experiences—the sauce splattered table cloths, anecdotes projected across never-empty wine glasses, and friendly competition over the last crab cake—are made possible by a fine-tuned restaurant operation.
To accommodate their concept's evolution, the Azzouz brothers implemented easily customizable restaurant point-of-sale software. They empowered their servers with handheld pos devices to help orders get to the kitchen faster and ensure servers with large tables wouldn't get tied up at the fixed point-of-sale.

Servers can do three things at once, instead of going back and forth to the point-of-sale.

"The handhelds are a dream come true for our servers," says Kamal. "It keeps servers on the floor for most of their shift, which is amazing. It helps turn tables faster, without rushing our guests. Servers can do three things at once, instead of going back and forth to the point-of-sale."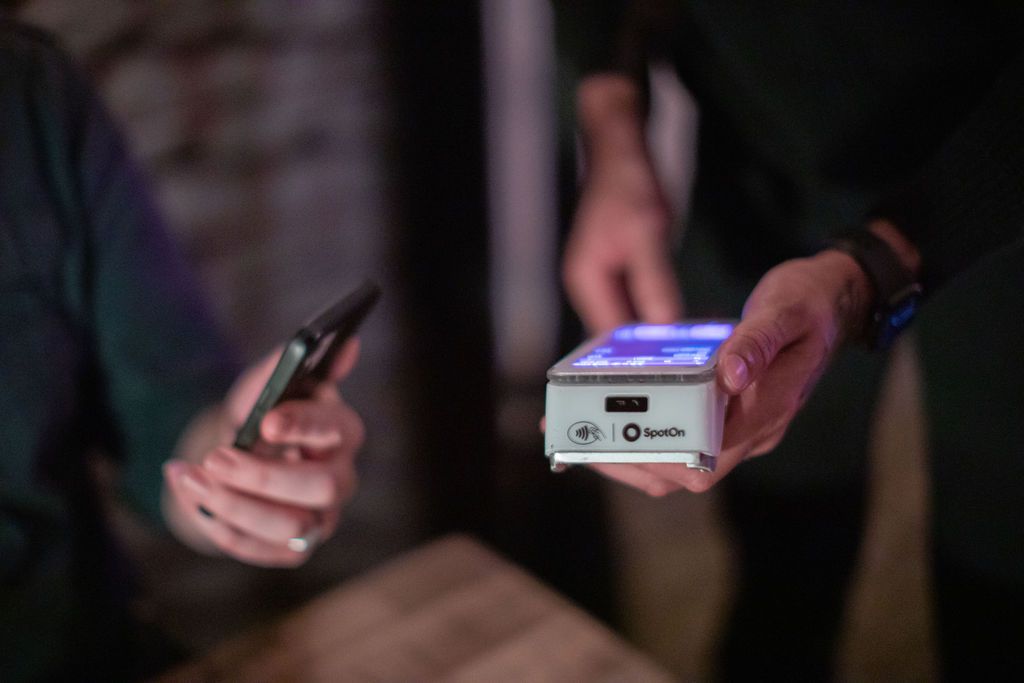 Behind the scenes, Urban Roast optimized their small kitchen with a menu that can be largely prepped pre-service. The Azzouz brothers' hands-on experience on the line informed their tech needs. They installed a kitchen display system with a big board in addition to the typical station displays so line cooks can see the final picture, not just their piece of the whole. The easy customization of the point-of-sale means orders aren't cluttered with add-ons and multiple modifications that slow down the kitchen. The line cooks can work faster and food comes out at the right temperature, at the right time.
"I always tell everyone: work together as a team," Kamal explains. "You're not just your station. Everyone understands that better when they see the bigger picture of the order. With a large screen KDS, everyone can see what they have to do individually. You can also see who needs to catch up and go to their station to help them get out of the weeds."
Even for a venue designed for the group dining experience, Urban Roast doesn't forget about the two-tops and introverts searching for a more intimate spot. Their rose room, a dimly lit space with flowers from floor-to-ceiling, offers a respite. What began as a hallway connecting two rooms of the restaurant became a sought-after proposal destination (they've had 30 proposals so far, and luckily they've all been yesses). The rose room speaks to Urban Roast's holistic view of the guest dining experience, which begins before the guest sits down.
Joseph Azzouz, Kamal's brother, is often behind the bar, shaking, stirring, and garnishing Urban Roast's highly photogenic cocktails. He believes that while the aesthetic and ambiance gets people in the door, the quality of service and product keeps them coming back. As the Azzouz brothers embark on their next venture—an experience driven cocktail and dessert bar ideally located on the wharf in Washington D.C.—they're doubling down on the art of cocktails. Drinks are made tableside. Photos are fun. And large groups are welcome. After all, at an Azzouz hospitality venue, sharing is always encouraged.
---