While Portland, Oregon isn't known for blue skies and tan lines, this March Monday is a particularly wet one. It's a good day to be a raincoat salesperson. But heavy clouds and drizzle are par for the course for Portland's foodies. It's not yet 8 am, but a construction crew and front-of-house team are ducking into a grey brick building. Nestled alongside retail boutiques and cafes in picturesque Lake Oswego, Oregon, sits Holy Taco. In a few short hours, they reopen after a week-long closure for remodeling. Rain be damned. Portland foodies rejoice.
With three hours until the grand re-opening, a carpenter is putting the final touches on the newly expanded bar. Behind the bar, Paul, a point-of-sale implementation expert from SpotOn, is moving a ticket printer so bartenders can pass food orders through the kitchen window.
It is the mise en place for chaos. But there is nothing but perfect calm. The construction crew is on top of their tasks, Holy Taco's team has showed up bright and early. Only warm welcomes from Hanna and Clayton Lee, the co-owners of Holy Taco, Jefe, and La Industria, three buzzy Tex-Mex restaurants in the Portland area. The Lees are not just business partners but life partners too—the couple married in 2021. As the restaurant staff trickle in, it's a homecoming of sorts. Hanna shows each staff member how to clock-in on their newly installed restaurant POS system from SpotOn, and together with Paul, trains each individual on the POS screen displaying the Holy Taco menu. Meanwhile, Clayton bounces between the back office and the kitchen, shapeshifting effortlessly between the kitchen prep cook and coordinating the construction crew.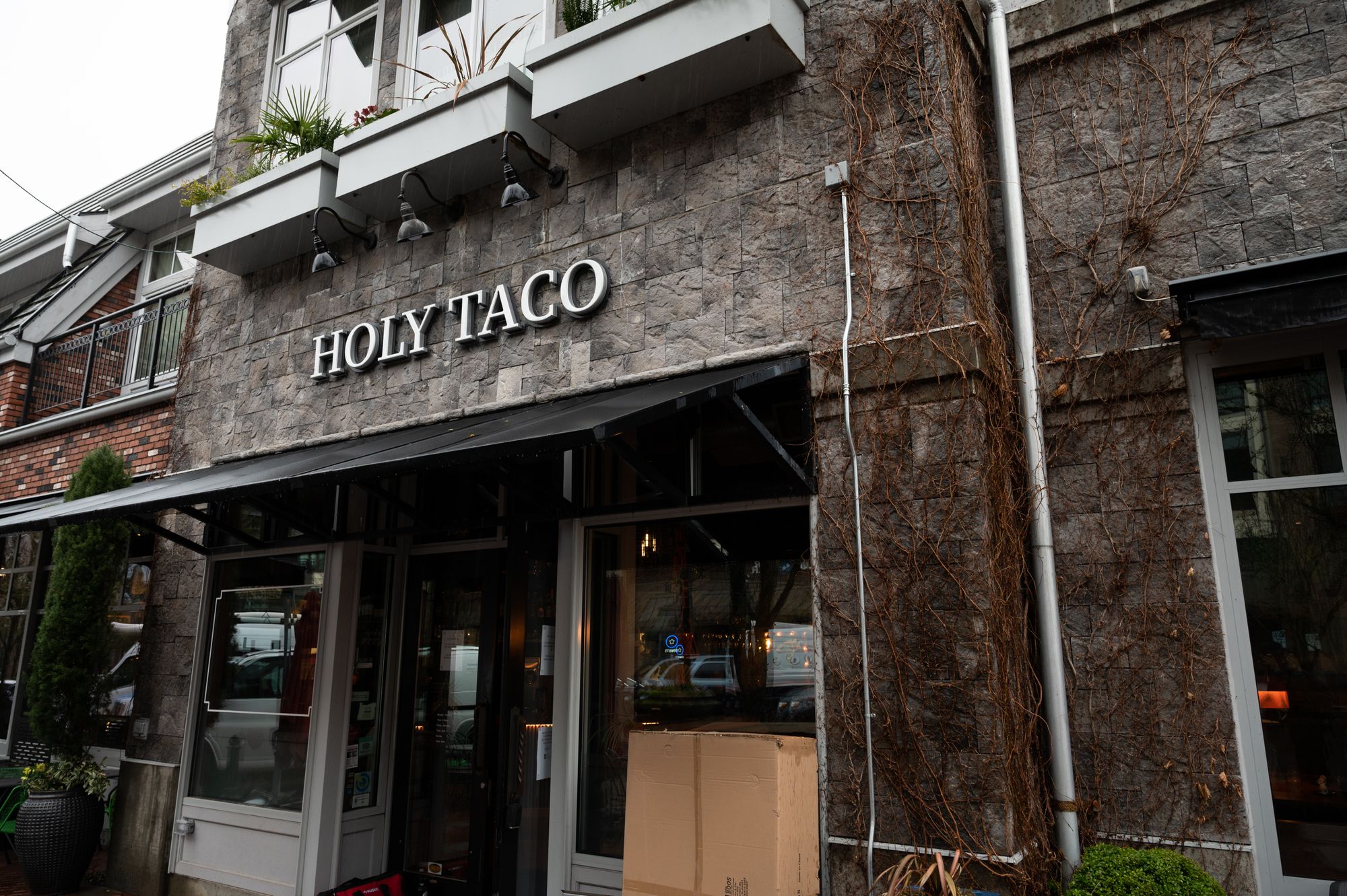 Hanna, Clayton, and team are a well-oiled machine, moving with the ease and efficiency that only comes with experience and deep familiarity with one another. "Our family has owned restaurants in Lake Oswego since 1988 and Holy Taco was started in 2016," Hanna notes when asked about their deep connection to not only their team but the greater Portland area.
Portland is our home.  We love being part of the local restaurant community because people really care about independent restaurants in this area. The food culture really drives the city.
The deep local roots and decades of hospitality experience is on full display as the Holy Taco team prepares for opening. But behind the scenes, something else is making life easier for the entire crew—technology. Specifically, the SpotOn restaurant management solution that Paul has been helping them set up for the last week.
Portland is a food city. For restaurants, that means two things: a large pool of potential guests and plenty of healthy competition. For every Portlander craving a seasonal, locally-grown menu and a muddled craft cocktail, there are 10 restaurants ready to answer the call. As seasoned Portland restaurateurs, this was not news to the Lees. To keep up—and potentially supersede—the competition, the Lees needed tools to run a smooth operation without the hassle of dealing with multiple tech providers. Then, they met Jim Seibert.
Jim was a chef before becoming a SpotOn Account Executive in the Portland area, so he's no stranger to chaos. For Jim, he's not just providing technology but a holistic service that helps local restaurants find the right solutions for their business. "Jim is really awesome to work with," says Hanna. "He was able to point out other SpotOn restaurants in our area. One was our neighbor, St. Honore, so he was able to bring us in during service and show us how their employees interact with the point-of-sale."
Hanna and Clayton have been absolutely incredible to work with. I've never been to a restaurant where an owner of three locations is handling the management aspect, but also serving and clearing tables. It's very impressive. –  Jim Seibert, SpotOn Account Executive
With Jim's help, they've implemented new technology across all three of their restaurants. The hosts are using SpotOn Reserve to manage tables and reservations. Bartenders and servers have multiple POS stations with personal logins to make orders and payments easy. Managers are now using SpotOn Teamwork to save time and make data-informed scheduling decisions. And for Hanna and Clayton, the fact that all these tools work together means they get a clearer picture of their entire operation.
"SpotOn has really helped empower our managers," says Hanna. "Everything is quick and easy for them to use so that they can then be out on the floor interacting with guests more. And then, as owners, we can focus on the data-driven aspects from reporting to increase sales and professionalize our restaurants."
Just 30 minutes before opening, the last of the construction workers walks out the door. The kitchen staff is in full swing prep mode and the front-of-house is getting ready for the first customers to walk in the door. Seated at the bar, Hanna and Jim Seibert review Holy Taco's staff schedule on a laptop, then hop to another tab to tinker with the branding on their receipts.
A lot can happen in a week. Holy Taco not only remodeled and expanded the entire bar area, they also launched a brand new point-of-sale system with a host station and three server stations. The team didn't miss a beat. Smooth operations and detailed data help Hanna and Clayton Lee keep their eyes set on the future, trusting that the tacos will follow.
---