According to Software's Advice Review Insight Competitive Comparison, SpotOn scored better than Square, Clover, and Toast as the best small business POS, based on real user reviews of functionality, ease of use, value for money, and customer support.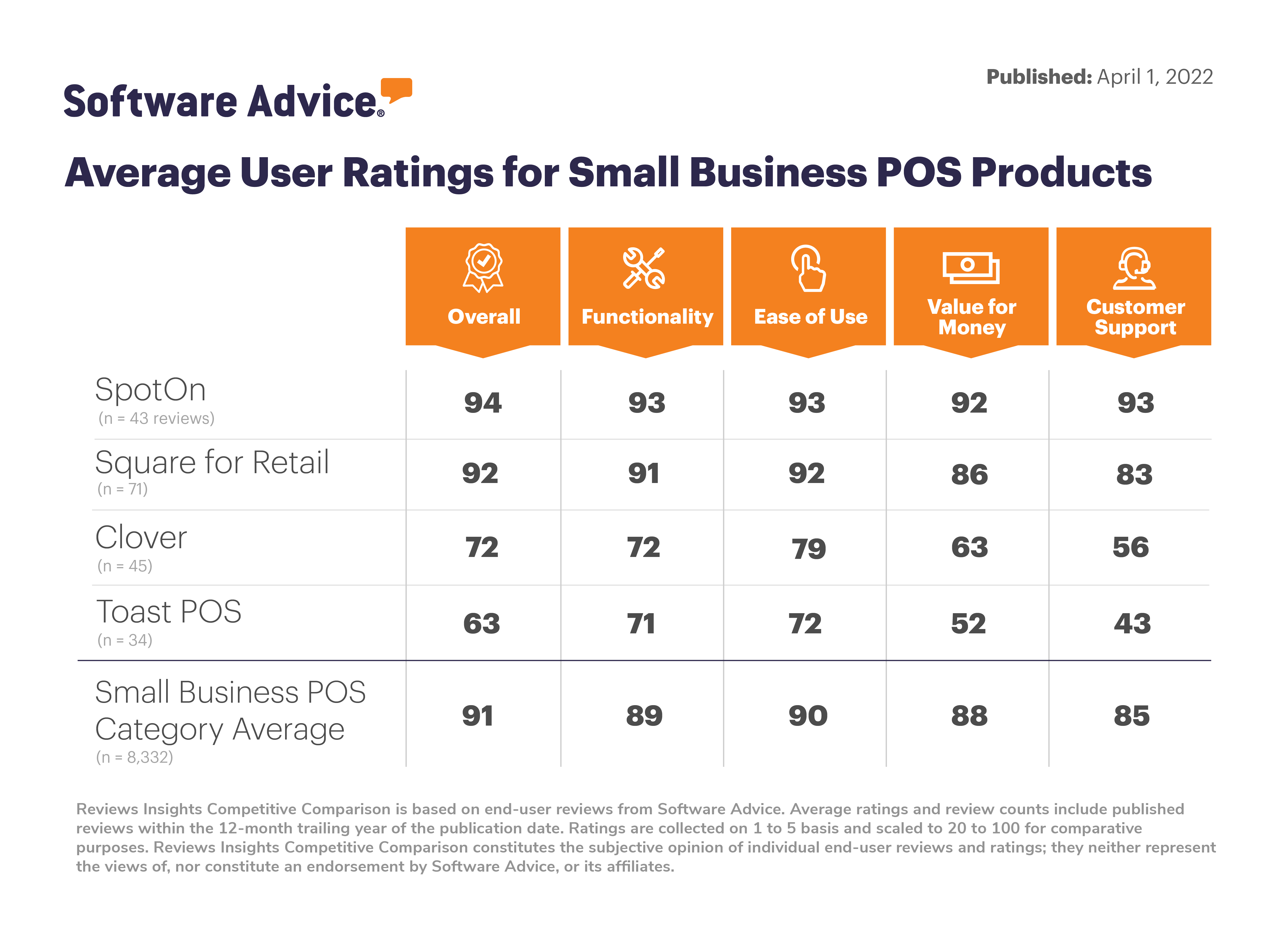 SpotOn vs. Square.
Powered by real user reviews, the Software Advice competitive comparison ranked SpotOn with an over score of 94, edging out Square's score of 92. SpotOn also scored higher than Square in every individual category, with the most significant differences in "customer support" with a 10-point difference and "value for money" with a 6-point difference.
Ranked 3rd and 4th in Software's Advice Review Insight Competitive Comparison, Clover and Toast point-of-sale had overall ratings of 72 and 63, respectively, based on real user reviews.
SpotOn works with you and for you.
As a small business owner, you're always looking for ways to save time, manage the little things easier, keep employees happy, and provide the best possible experience for customers. SpotOn is here to help by creating a custom solution that combines the software and payment solutions that make sense for your business.
"Showing up for our clients in a way that reflects and respects their reality has been the key to our success, and we're honored to see that reflected in the recognition." -Kevin Bryla, Head of Customer Experience, Capterra competitive comparison announcement
Tech built for small businesses.
Consumer preferences and behavior can change rapidly, even within a year. A smart POS solution allows you to consider new revenue opportunities, be more flexible, and get better insights to make decisions to run and grow your business.
At SpotOn, we'll work with you to create a custom solution that combines the point-of-sale software and payment solutions that make sense for your business—whether you need simple mobile payment technology or a fully-integrated management system. And if those needs evolve and your business grows, we not only have the existing technology to support you but are constantly innovating to help you future-proof your business.
Best-in-class service.
As a business owner, you have to take care of every little detail, and it can feel like you're carrying the world's weight on your shoulders. We're here to help. Our team will make sure your point-of-sale is customized to your needs with tools to run your business. Plus, you can count on our team of experts 24/7, who are here whenever you need them.
Custom point-of-sale or payment terminal build
Personalized setup and training
Ongoing 24/7/365 support included
Local service representative
Honest pricing with no hidden fees
Add more tools as you grow
In this day and age, a good POS system does more than just process transactions. Navigating through the options can be challenging. But technology doesn't have to be too technical or difficult to learn. Real users highly regard ease of use and functionality, so keep them in mind when comparing SpotOn vs. Square and all the other modern POS options available to you.