If you run a restaurant, bar, or brewery, and are looking for the best point-of-sale system, you've probably heard of SpotOn mentioned alongside Clover, Toast, Square, and others.
As one of the fastest growing companies in the field, SpotOn has quickly turned into an allstar teammate for restaurant operators, managers, and staff. Thanks to its easy use and personalized support, SpotOn's become the highest rated company between all Clover competitors in the restaurant industry.*
Let's take a little look at the differences between SpotOn POS vs Clover POS systems so you can make an educated decision about which solution makes the most sense for your restaurant.
About SpotOn Restaurant POS
SpotOn is a software and payments company that's quickly garnered a reputation for providing powerful yet easy-to-use technology to run and grow your business. Known for its flexible, cloud-based technology and personalized support, SpotOn offers an end-to-end platform to accept payments, boost revenue, streamline operations, and create exceptional guest experiences. SpotOn's integrated product set for restaurants includes point-of-sale, online ordering, labor management, QR order & pay, waitlist & reservations, marketing & loyalty, and comprehensive reporting.
With over 2,000 employees, many of whom have worked in hospitality for years, SpotOn provides intuitive technology that "works the way you work," and backs it up with a 24/7 support team who make sure it always does—with fairness, flexibility, and a personal touch.
About Clover POS systems
Clover is a point-of-sale company providing a range of cloud-based features for different types of retail and hospitality businesses. As a part of their POS platform, Clover also offers billing, invoicing, analytics reporting, and much more for their clients.
Clover vs SpotOn | Capterra comparison chart
It's never easy to compare different point-of-sale solutions, especially if they offer features that might seem similar to the untrained eye. That's why we've analyzed real user reviews from Capterra, a trusted online service helping organizations find the right software solutions for their operations.
When comparing Capterra scores for SpotOn vs Clover, SpotOn ranks as the top-rated restaurant POS system, with an overall score of 88, compared to Clover's score of 78.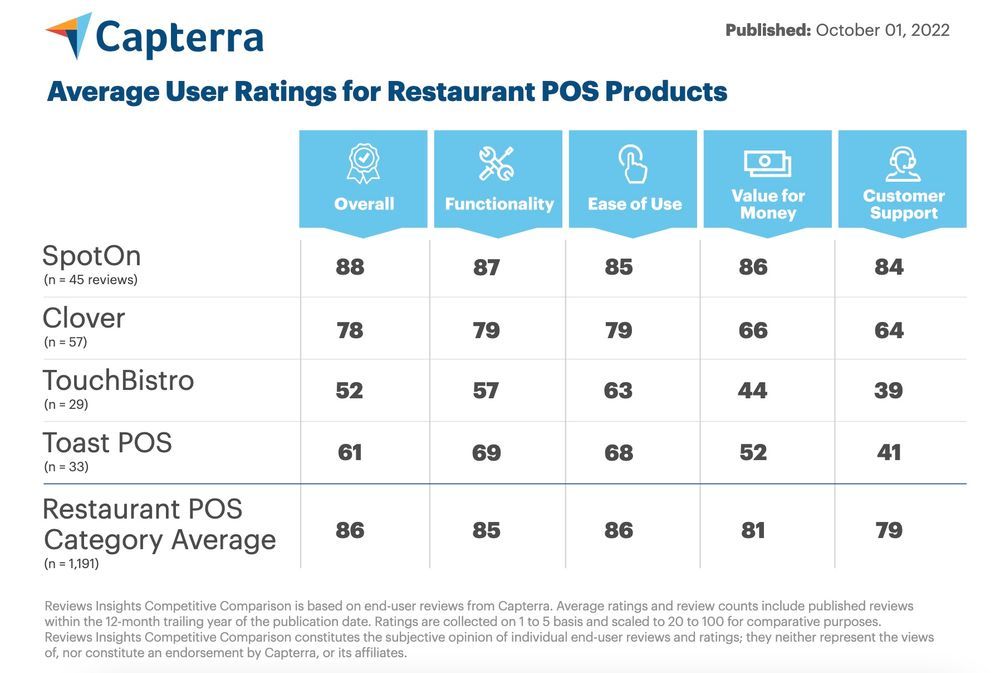 Functionality
When comparing point-of-sale system functionality, SpotOn has a score of 87, which ranks much higher than Clover's 79. Users love how SpotOn Restaurant POS is customizable to their workflows for both the front-of-house and back-of-house, as well as the easy-to-understand and customizable reporting. Users also appreciate the integrated software solutions that all work together, such as handhelds, QR order & pay, online ordering, waitlist & reservations, digital loyalty, and labor management.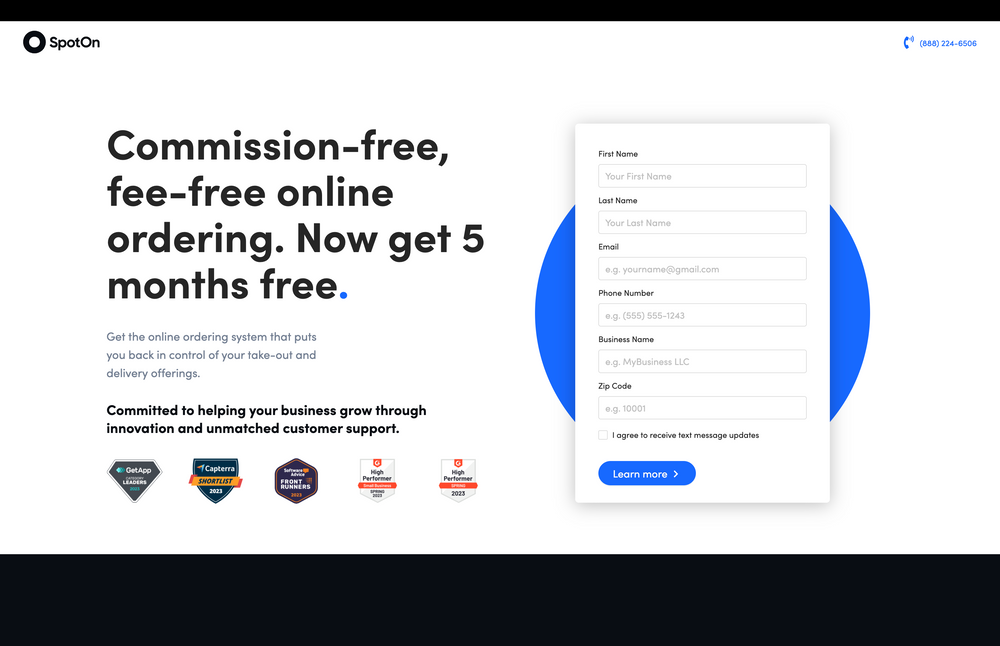 Get 5 months of free online ordering
With SpotOn, you get a commission-free online ordering system that puts you in control of your takeout and delivery offerings.
Learn more
Ease of use
When it comes to how easy the systems are to use for clients, SpotOn once again scores higher than Clover, with a score of 85 compared to Clover's 79. SpotOn users note that it is quick and easy for staff to learn and that it helps save managers time by making back office changes and real time menu adjustments on all stations immediately, including across multiple locations.
Value for money
For value, SpotOn's is again on the top, with a score of 86, 20 points higher than Clover's Capterra score of 66. Many user reviews have reported that they've switched to SpotOn from other point-of-sale companies thanks to SpotOn's transparent pricing and lack of junk fees. One Capterra user review even stated they saved nearly $3,000 in online commission fees by switching to SpotOn point-of-sale.
Customer support
Once again, SpotOn outscores the competition when it comes to customer support, scoring a 84 compared to Clover's 64. According to user reviews, SpotOn's high ranking stems from the 24/7 support team. Many users state that their support contact exceeded their expectations by helping them tailor SpotOn software to fit their individual needs.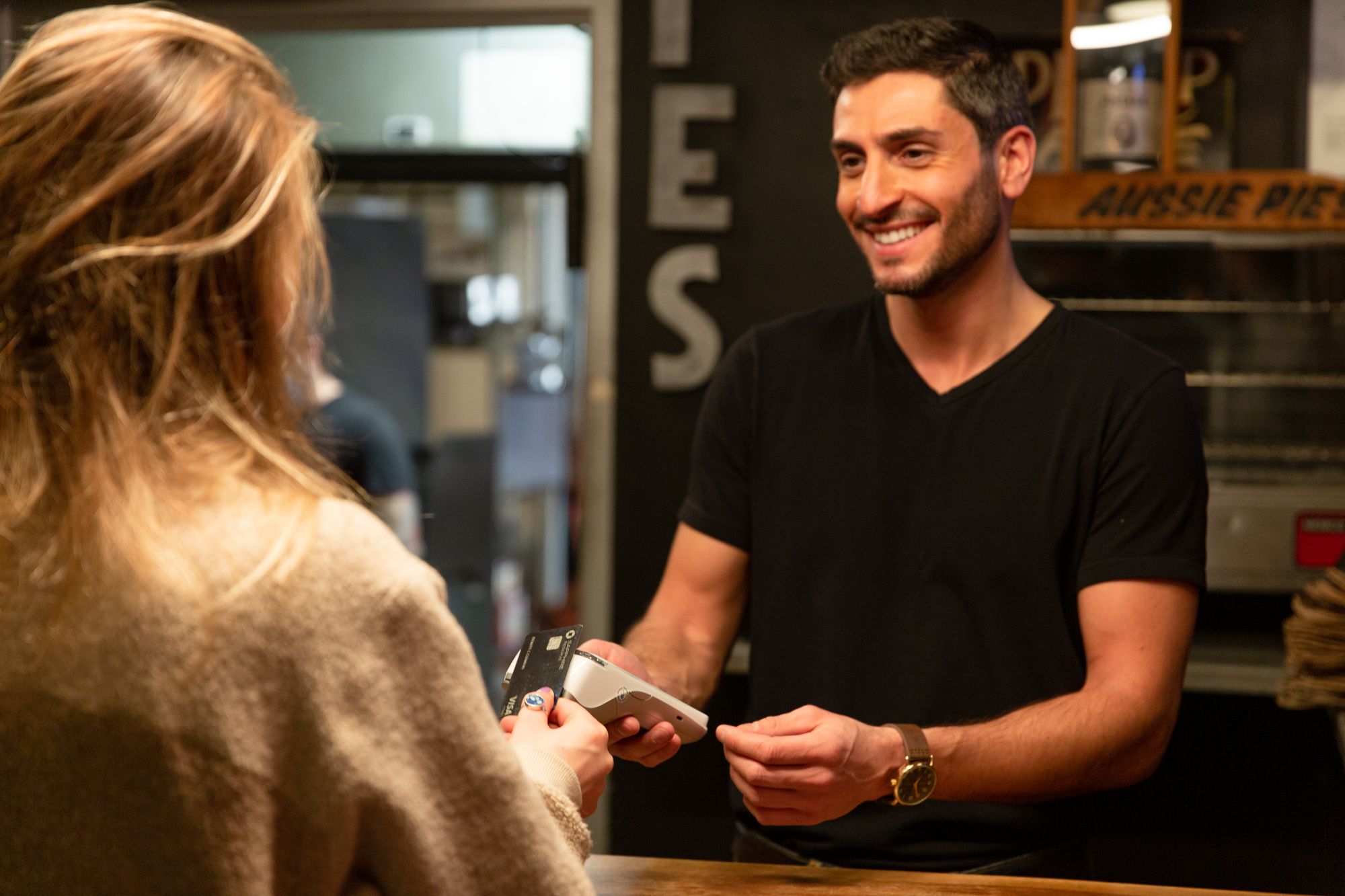 Clover POS system: overall strengths
According to Capterra reviews, users find that the Clover POS system works well for smaller, low-volume businesses, and is a great option for mobile payments and basic credit card processing. Many users have also enjoyed Clover's POS simple POS layout and design.
Clover POS system: overall weaknesses
One of the major complaints by Clover users surrounds their poor customer support and service. Some users have also had difficulty with back-of-house connectivity and KDS support as well. Alongside these complaints, users have also written about Clover's hidden fees and difficult third party app integration.
SpotOn gives you more than Clover
As a restaurant operator, you're dealing with rising costs, fickle customers, and a labor shortage that seems to go on forever. But you're not alone. SpotOn's team is here with flexible solutions and personalized support to help you tackle whatever challenges come your way.
SpotOn's CMO & Head of Customer Experience, Kevin Bryla, explains in Capterra's competitive comparison how "it's an incredibly challenging time to run a restaurant, so we're focused on simplifying business for operators—delivering strong, stable tech that is easy to use and makes staff training simple; building integrations or partnerships that streamline operations; answering the phone when our clients need us."
Curious how SpotOn compares against other Clover competitors? Check out the comparisons below to discover more.
To talk to our team and learn more, just fill out that form below.

* This content is provided for informational purposes only. All claims are based from Capterra's Reviews Insight Competitive Comparison, which is based on end-user reviews. Average ratings and review counts include published reviews within a 12-month trailing year of the publication date. Considered reviews were limited to reviewers from North America. Ratings are collected on a 1-to-5 basis and scaled to 20 to 100 for comparative purposes.