COVID has changed the way we dine, and outdoor dining, parklets, and patios are here to stay. With winter fast approaching, many restaurants are rethinking the outdoor dining experience for their guests. As a recent article in PYMNTS.com explains, this includes improving the overall outdoor dining ambience with better seating, more efficient heaters, and new menu items that are designed to warm diners from the inside out. That's only part of the story, though.
The more difficult challenge is figuring out how to make outdoor dining profitable when margins are already razor thin. The ordinary process of taking orders and payments suddenly becomes a logistical challenge when you're talking about interacting with guests in a parking lot pavilion or in a parklet on the street next to your restaurant. This becomes doubly challenging when dealing with the ongoing labor shortage. Luckily, new restaurant point-of-sale technology is solving for both problems.
Handheld POS devices.
With SpotOn Serve, your restaurant can improve the quality of guest service, while simultaneously maximizing your staff  to boost throughput. With a handheld device, servers are often able to double the size of their sections while also increasing average ticket price and tip amounts.
Key features:
Real-time POS integration to send orders directly to the kitchen or bar
4G wireless connectivity for uninterrupted operation beyond the range of indoor Wi-Fi
Multiple pay-at-the-table options for guests, including Apple Pay and Google Pay
Integrated deal and loyalty reward redemptions
Best for:
Full-service restaurants looking to maintain a high-touch dining experience
QR code and mobile ordering.
QR codes have made a comeback in a big way with mobile ordering. Available with SpotOn Restaurant point-of-sale, QR code ordering puts guests in control of their ordering and payment experience by using their mobile phone. It also enables your restaurant to serve more guests, even with a small front-of-house crew.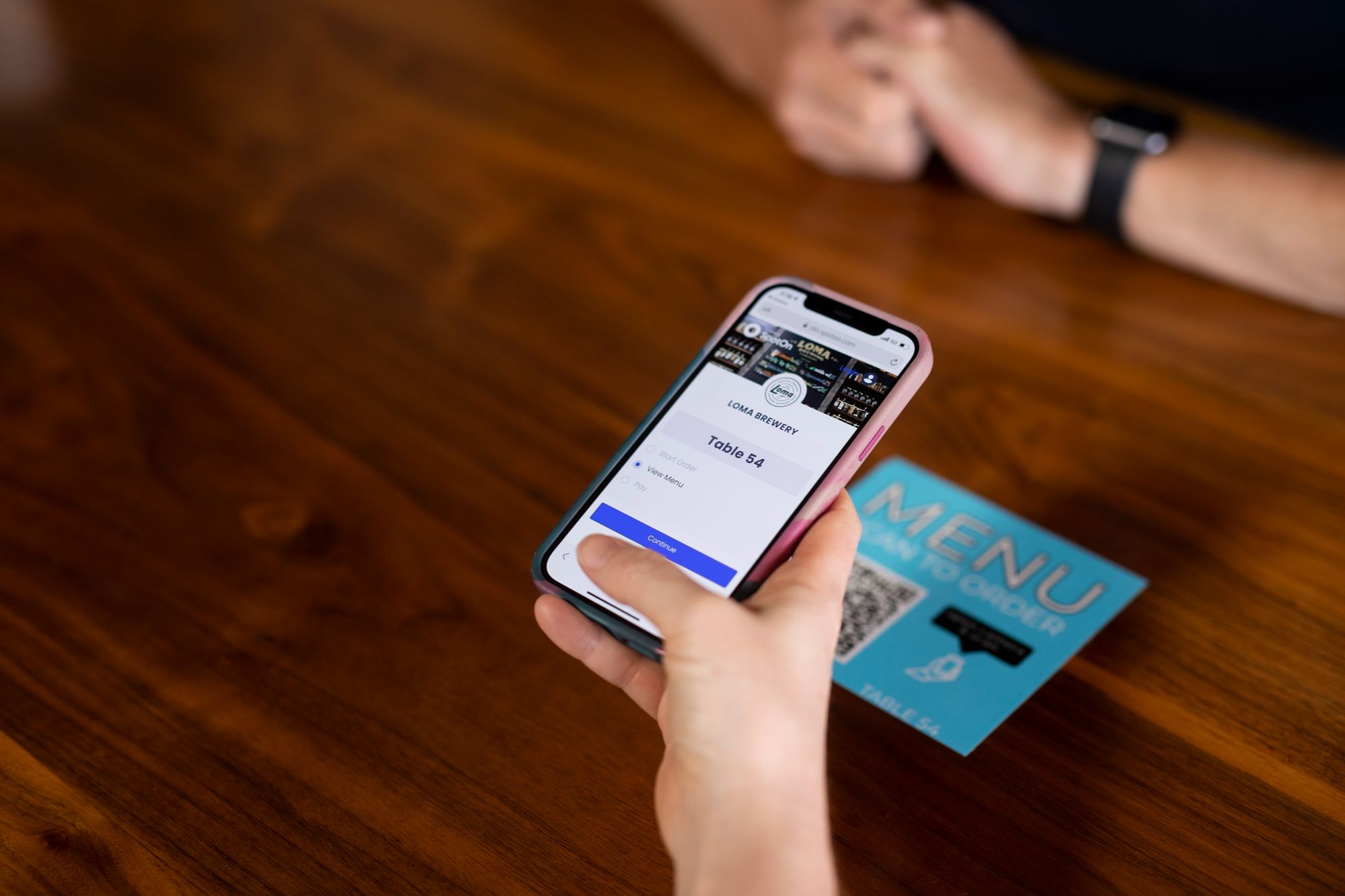 Key features:
Quick and easy ordering experience for guests right from their phone, no app needed
Real-time POS integration to send orders directly to the kitchen
Built-in mailing list builder so that every guest who places an order automatically gets added to your built-in marketing dashboard
Seamless loyalty reward enrollment and redemptions
Best for:
Fast-casual restaurants, bars, brew pubs, tasting rooms, and any restaurants with large outdoor dining areas
Kitchen displays.
Kitchen display systems (KDS) help speed up kitchen operations by automating how tickets are sent to the kitchen. With orders coming in through screens rather than one ticket, your kitchen team can eliminate yelling out orders. Orders go to their appropriate station screens, so station cooks on the line know exactly what they're making rather than sifting through a giant order to find what they're responsible for.
Key features:
Real-time POS integration
Display options to show between 6 and 20 tickets at a time
Left and right scrolling capabilities
Bump bar to easily send and retrieve orders
Best for:
Restaurants with high volume kitchens
Advanced restaurant reporting.
With local ordinances and guest habits in constant flux, having usable data at your fingertips is more important than ever. Advanced restaurant POS reporting gives you the real-time insights you need to improve margins with menu auditing and fine-tuning your operating hours and staffing.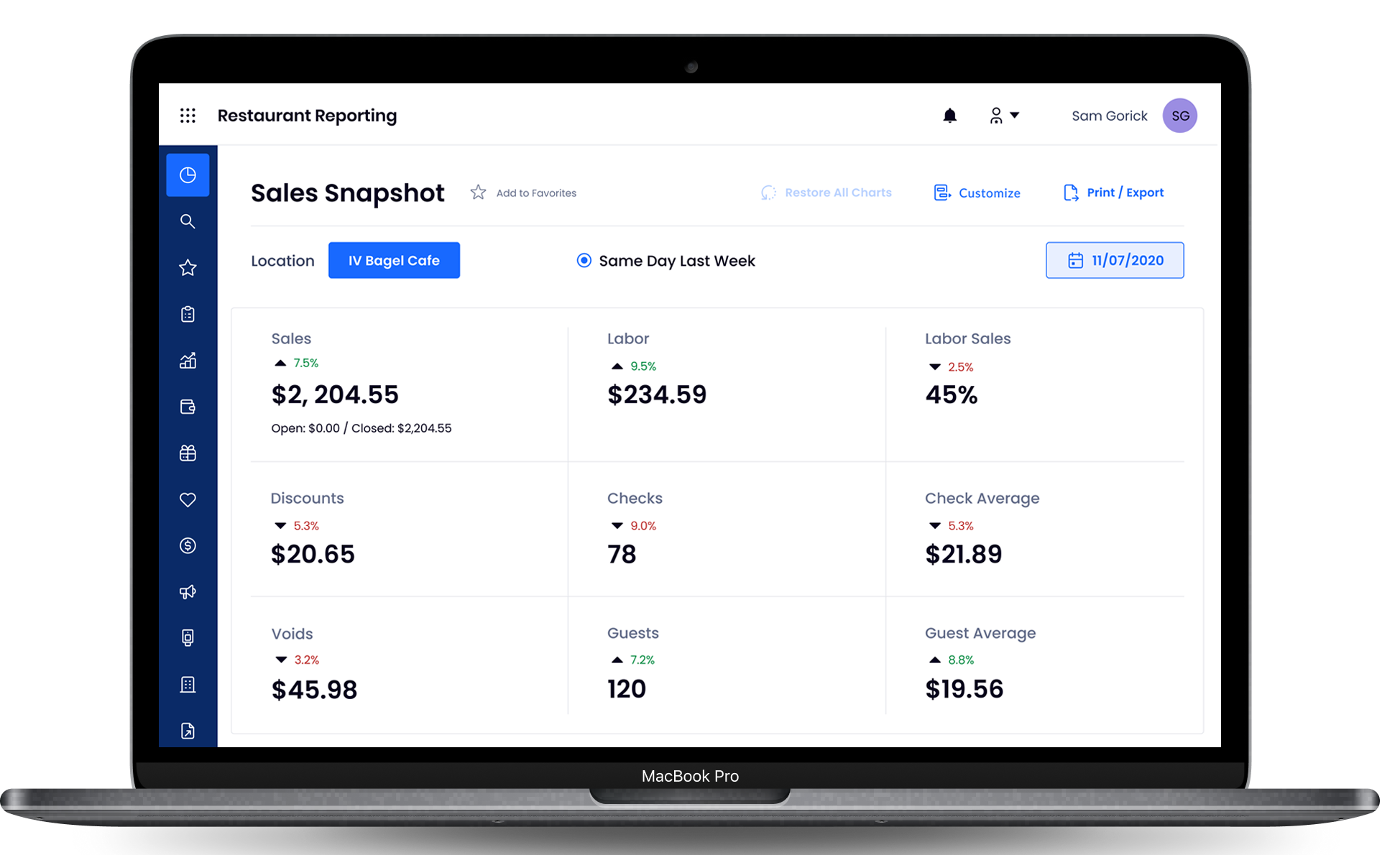 Key features:
Cloud-based reporting that's easy to access anywhere anytime
75+ fully interactive reports
Enterprise reporting across multiple locations
Manager alerts and subscriptions
Best for:
---
No one knows how exactly dining trends will continue to evolve, but integrated restaurant technology is making it easier to adapt and future-proof your restaurant.