New suite of hardware designed in collaboration with real restaurateurs
Three new devices emphasize flexibility with multiple configurations to meet evolving needs of modern restaurants
Upgraded point-of-sale launches as more than 40% of restaurant operators plan to increase investments in technology to increase productivity
SAN FRANCISCO — May 22, 2023 — SpotOn, the top-rated software and payments partner for restaurants, today unveiled the new SpotOn Restaurant, which combines the #1 rated restaurant point-of-sale software with a suite of proprietary, patent-pending hardware designed by SpotOn to flex to the unique needs of each restaurant. The new SpotOn Restaurant was built for efficiency, reliability, and ease of use, making it easier for restaurant staff to deliver a seamless experience for their guests.
As a majority of restaurant operators describe their restaurant's technology as lagging rather than leading*, SpotOn set out to build a suite of premium hardware to meet the evolving needs of a modern restaurant. This includes the 15.6" Station, the 10" Counter, and the 6.5" Handheld, designed with input from highly-respected restaurant owners and operators in SpotOn's Restaurant Advisory Council.
We put a lot of focus on helping to streamline service, making it easier for staff to deliver better, faster, more personalized service to their guests.
"The industry is evolving quickly, so it was critical that we worked with our clients and Restaurant Advisory Council members to design a suite of hardware that responds to the real needs of the modern restaurateur," said Bryan Solar, Chief Product Officer of SpotOn. "With their collaboration, we designed devices that are sleek and subtle with the flexibility to adapt to the unique needs of each environment. We also put a lot of focus on helping to streamline service, making it easier for staff to deliver better, faster, more personalized service to their guests."
Station, the 15.6" point-of-sale features a large, ultra-durable HD touchscreen with a slender design that makes it quick and easy for servers to input orders from large menus with many modifiers while maintaining a small footprint and discreet design. The Station is offered in multiple configurations, including an attached or detached guest-facing display, base payment reader, or side-mounted payment reader, all featuring contactless and dip payments technology.
Counter, the 10" point-of-sale is ideal for counter-service restaurants and cafes with limited counter space and smaller menus. The Counter offers contactless and dip payments technology and an optional guest-facing display to help improve speed and accuracy.
Handheld, the 6.5" mobile point-of-sale features an 18% larger touchscreen display designed to increase the speed of service and comes with a leather hand strap for easy handling. The Handheld features integrated contactless and dip payments technology, enabling seamless tableside payment with a screen that automatically flips to face the guest. Operators can choose to include a laser scanner for loyalty sign-ups and redemptions.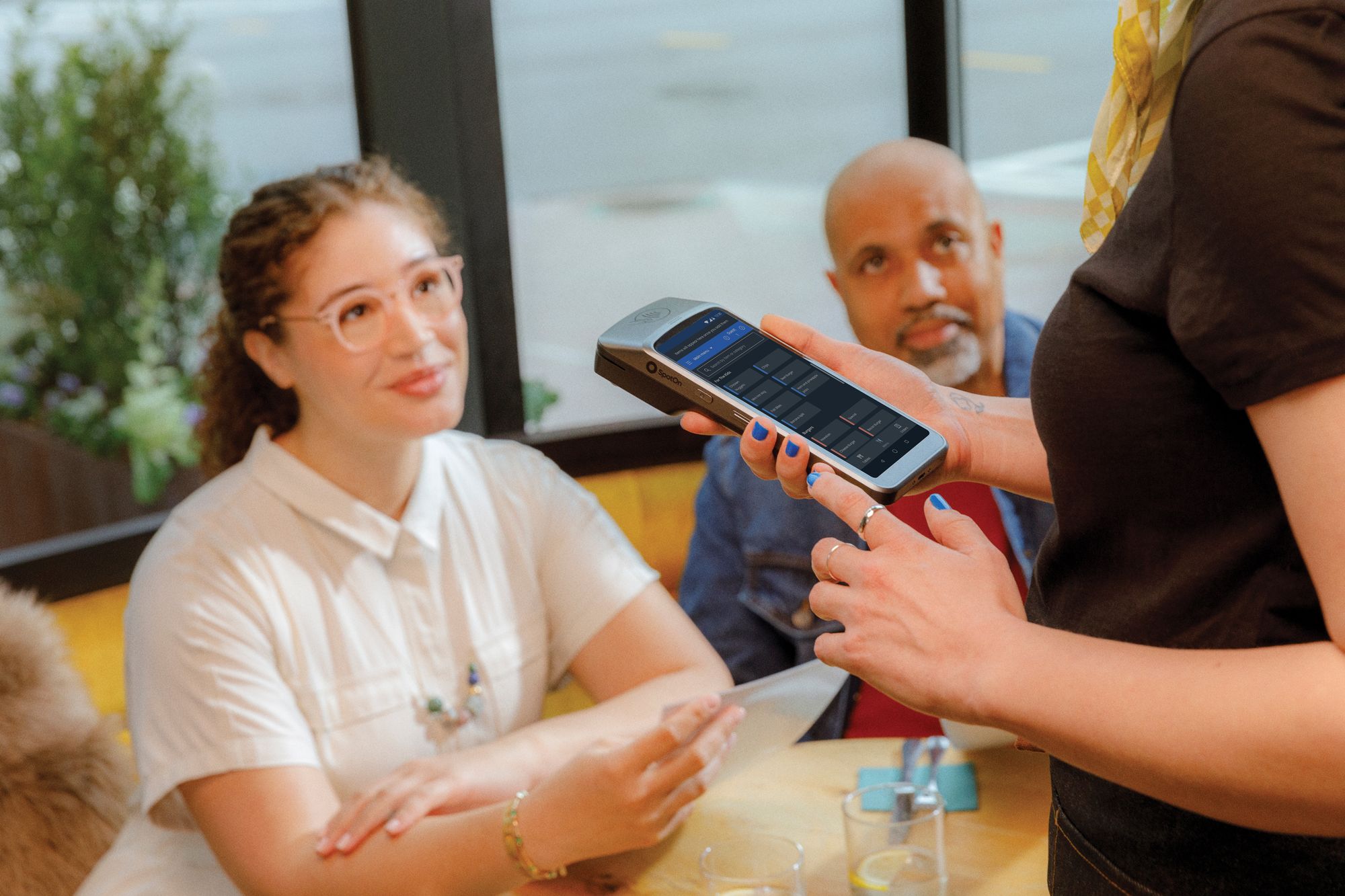 Based on input from its clients and advisors, SpotOn prioritized efficiency, reliability, and ease of use for restaurant staff and guests alike. Other important factors cited by clients and built into the hardware include device footprint, screen size, durability, and a discreet, streamlined design.
Greater Speed & Efficiency
As restaurants continue to face rising labor costs and narrow profit margins, 58% of operators say using technology and automation to help with the current labor challenges will become more common in their segment*. SpotOn's guest-facing display on the Station and Counter gives restaurants the ability to boost order accuracy, speed up checkout, and build a guest database through loyalty sign-ups and redemption. The new Handheld helps servers turn tables faster with a larger screen that simplifies menu navigation, plus an ergonomic design and tilt feature for quicker bill presentation and payment.
Increased Reliability & Durability
The design of SpotOn Restaurant allows for direct connections between all devices, increasing successful processing and decreasing transaction time, while the new hardware features high-definition touch screens designed for the toughest restaurant environments with an IP54 rating - providing protection against drink spills and dust. In addition to upgraded hardware reliability, SpotOn Restaurant has an industry-leading customer support team, including a local account executive and an implementation team to set up the technology right from the start. SpotOn clients also have access to 24/7/365 support from real people ready to troubleshoot questions - day or night.
Improved Ease of Use
With 89% of operators citing labor costs as a concern* and a consistent 5-6% hospitality quit rate+, restaurant technology must be easy to use and quick to learn for new staff. SpotOn complemented its intuitive software design with a 15" inch screen on the Station, making it easier than ever to quickly navigate complex menus and modifiers. Following input from clients, the Handheld was designed to be 6% smaller with an 18% larger screen for easier handling. The Handheld user interface has also been upgraded to group menu items for easier navigation, enable search, view floor plan, and check table statuses.
The upgraded SpotOn Handheld with larger screens will make a major difference in speed and accuracy.
"When you're operating high-volume restaurants, every minute counts," said Benson Wang, Owner of Palm House Hospitality and member of SpotOn's Restaurant Advisory Council. "The upgraded SpotOn Handheld with larger screens will make a major difference in speed and accuracy, making it easier for our team and giving them more time to focus on our guests."  
SpotOn will begin rolling out its new SpotOn Restaurant hardware in Q4. As part of the rollout, SpotOn is partnering with FIS to become a payment facilitator, providing more end-to-end control of payment processing for its clients. This will also open up tokenization, giving SpotOn clients a more in-depth view of their customer's preferences and purchasing habits to provide a more personalized experience.
As more than 40% of operators* plan to ramp up investments in equipment or technology to increase productivity, the new SpotOn Restaurant will be available to help restaurants streamline operations, cut costs, improve staffing efficiency, and deliver a great guest experience.
About SpotOn
SpotOn is one of the leading software and payment companies with comprehensive, cloud-based technology for businesses of all types and sizes. Known for its rapid innovation and personalized support, SpotOn offers an end-to-end software and payment platform to streamline operations, improve the customer experience, and increase profit. From seamless and efficient point-of-sale systems to integrated management solutions built for the fast-growing enterprise, SpotOn builds technology that "works the way you work" and backs it up with a 24/7 team of experts who make sure it always does—with fairness, flexibility, and a personal touch. SpotOn has 2,000 employees, including one of the strongest product and technology teams in the combined software & payments industry. For more information, visit www.spoton.com.
###
Media Contact:
Megan Palmer
mpalmer@spoton.com
410-262-7349
Media resources available here
*The National Restaurant Association State of the Restaurant Industry Report, 2023+U.S. Bureau of Labor Statistics Quits levels and rates
---