With rising labor and food costs, along with the growing trend of guests seeking more budget-friendly options, restaurants, bars, and clubs face a never-ending challenge to find a balance. The National Restaurant Association's 2023 State of the Industry report indicates that labor costs account for approximately 30-35% of a restaurant's total revenue.
On the other hand, the same report also shows that 67% of consumers would rather spend money on an experience over purchasing an item from a store. Bottle service is a great example of the type of experience that guests are willing to pay extra for. A popular trend in the nightclub industry and major travel destinations like Las Vegas, offering bottle service can make a lot of financial sense for other types of hospitality businesses, including bars, breweries, and full-service restaurants that host special events or other exclusive experiences.
But is bottle service worth the extra effort—and additional staffing? Let's take a look at how you can set up bottle service to generate additional sales without overspending on additional labor costs with the help of technology.
What is bottle service?
Bottle service means providing private table service at your hospitality business. It's most widely used at nightclubs and bars to create an exclusive VIP treatment with a minimum spend amount. Instead of having to order drinks at the bar or counter like other patrons, customers can instead purchase bottle service and have a server attend to them right at their table.
Bottle service typically includes a table reservation, a full bottle of liquor, mixers (such as club soda, cranberry juice, orange juice, tonic water, energy drinks, etc.), and a dedicated host. However, you can customize bottle service packages however you want. You can create preset packages with a set number of bottles at a fixed price, or it might make more financial sense to set a minimum spending amount and let guests order what they want—including appetizers and food—just like they would with any other type of table service.
The key is to make your bottle service package enticing to guests. By booking bottle service, they can avoid long waits at the bar, secure a prime table location in your venue, and receive dedicated attention from your staff. It creates a sense of exclusivity and allows them to have a unique experience, making them feel like valued VIPs.
How does bottle service work?
At a bar, brewery, or club, instead of ordering at the bar like other patrons, VIP guests can have their own reserved area and a server who takes their orders and bring them stuff.
At a full-service sit-down restaurant, this type of service is more common for special events or live music, where a preferred seating area is reserved for VIP guests, along with a designated server and menu designed just for them.
How much does bottle service cost? What should the minimum spend be?
The price you charge for bottle service can vary. Typically, establishments determine a minimum spend amount that ranges from a few hundred dollars to several thousand dollars, depending on the venue and the group size.
Another key factor to consider is the variety and quality of alcoholic beverages you'll offer. Higher prices are expected, especially with brands with perceived prestige. You can also charge a minimum gratuity for your serving staff, waive gratuities altogether, or let guests tip as much as they want.
What's the difference between bottle service and table service?
The terms bottle service and table service are largely interchangeable. "Bottle service" is more widely used when the focus is on alcohol sales, while "table service" suggests that other food and beverage options are available. In both cases, there's a dedicated server to help create the VIP service customers crave.
How do guests reserve bottle service?
It's entirely up to you, but most clubs that offer bottle service require advanced reservations. Many also require an upfront deposit or require patrons to prepay for their bottle service package.
4 keys to ensure your bottle service sales outweigh increased restaurant labor costs
Because bottle service requires having servers, it's important to ensure that the cost of staffing additional labor doesn't outweigh the added revenue you generate from alcohol sales. There are many factors to consider, but here are the 4 key aspects to get right before getting started with bottle service.
1. The ambiance & concept
Ensuring that bottle service fits seamlessly into the overall vibe of your restaurant or club is essential. Consider what day of the week you'll be offering bottle service and what the primary draw will be.
Will it only be on weekend nights? Fridays? Will you be featuring live music? A DJ? A standup act? If so, you'll want to ensure your VIP tables are positioned near the stage or DJ booth.
Alternatively, you may have an area such as a balcony or intimate private dining room that is already a perfect VIP location. Pairing those areas with an exclusive menu and minimum spending amounts could be enough to entice guests, particularly if you're already running a popular concept.
Whether you're running a sleek and modern lounge or a sophisticated fine dining restaurant, the atmosphere should complement the luxurious experience of bottle service. Cohesion between concept and offering is the secret to a memorable experience.
2. Knowing what your VIP customers want
It's important to understand your audience to provide a great VIP experience. In addition to talking to your staff, use sales data reports from your bar POS or restaurant POS system to make informed decisions about what your bottle service includes.
What items are your best sellers?
What is your true cost for individual drinks and a single bottle?
What is the average spend of your top customers?
With this information, you can engineer your menu and determine a price point for purchasing bottle service that makes sense for your customer base. Create and personalize special offers and curated selections that will cater to your guests' needs while simultaneously boosting sales and enhancing the overall bottle service experience.
Once you know what they want, next figure out how to let your loyal regulars know about bottle service. If you have a customer database, sending a marketing email can be highly effective (more on that later!). You should also train your bartenders and staff to tell customers you now offer bottle service and how to book early.
3. Staffing your venue correctly
Your team needs expertise in bottle service, which will ensure the service is flawless and exceptional. They should be able to pour champagne and other types of liquor with finesse and make knowledgeable recommendations. Their service is crucial to provide VIPs the exclusive treatment they expect, so it's essential to provide proper training and maintain their satisfaction through efficient scheduling, fair tip distribution, accurate payroll, etc.
If you run a full-service concept, choose your top-performing servers for bottle service. If you run a bar or club, you may want to look into hiring experienced servers or cross-train your bartenders in table service. The goal is to find the right team members who can work efficiently and make VIP guests feel special.
4. Empowering your team with tech
Bottle service is more than popping bottles and hosting a special occasion. It's about creating a seamless and unforgettable experience for your VIP customers. And with affordable labor in short supply, technology can be the missing piece to bring it all together. Consider the following tech to empower your team to be fast, efficient, and provide top-notch service.
Marketing is essential to spread the word about your service. Use email campaigns and social media to attract potential customers and create buzz. Create compelling content that showcases the exclusivity of your service.
A digital reservation system is also important to streamline the booking process and ensure a smooth operation. It allows customers to book their VIP experience in advance, eliminates the hassle of long wait times, and ensures a dedicated spot for them. You can also require customers to pay a deposit or minimum spending amounts upfront, if you want. Equally important, it enables you to forecast headcount and plan your inventory accordingly.
If you're offering full table service, handheld POS devices are game-changers, allowing quicker service and shorter wait times. Your servers will be able to cover more tables and send them directly to the bar or kitchen. VIPs will love getting their orders promptly, giving them more time to enjoy their experience (and purchase more drinks). Plus, handhelds are great for closing the tab, reducing the risk of errors, speeding up the payment process, and allowing customers to conclude their bottle service experience with ease.
Strategically adding bottle service to your offerings can help enhance your establishment's reputation and set it apart from others. It allows your customers to enjoy an experience specially designed for their enjoyment, and you can increase sales. It's a win-win for both the customers and your restaurant's profitability.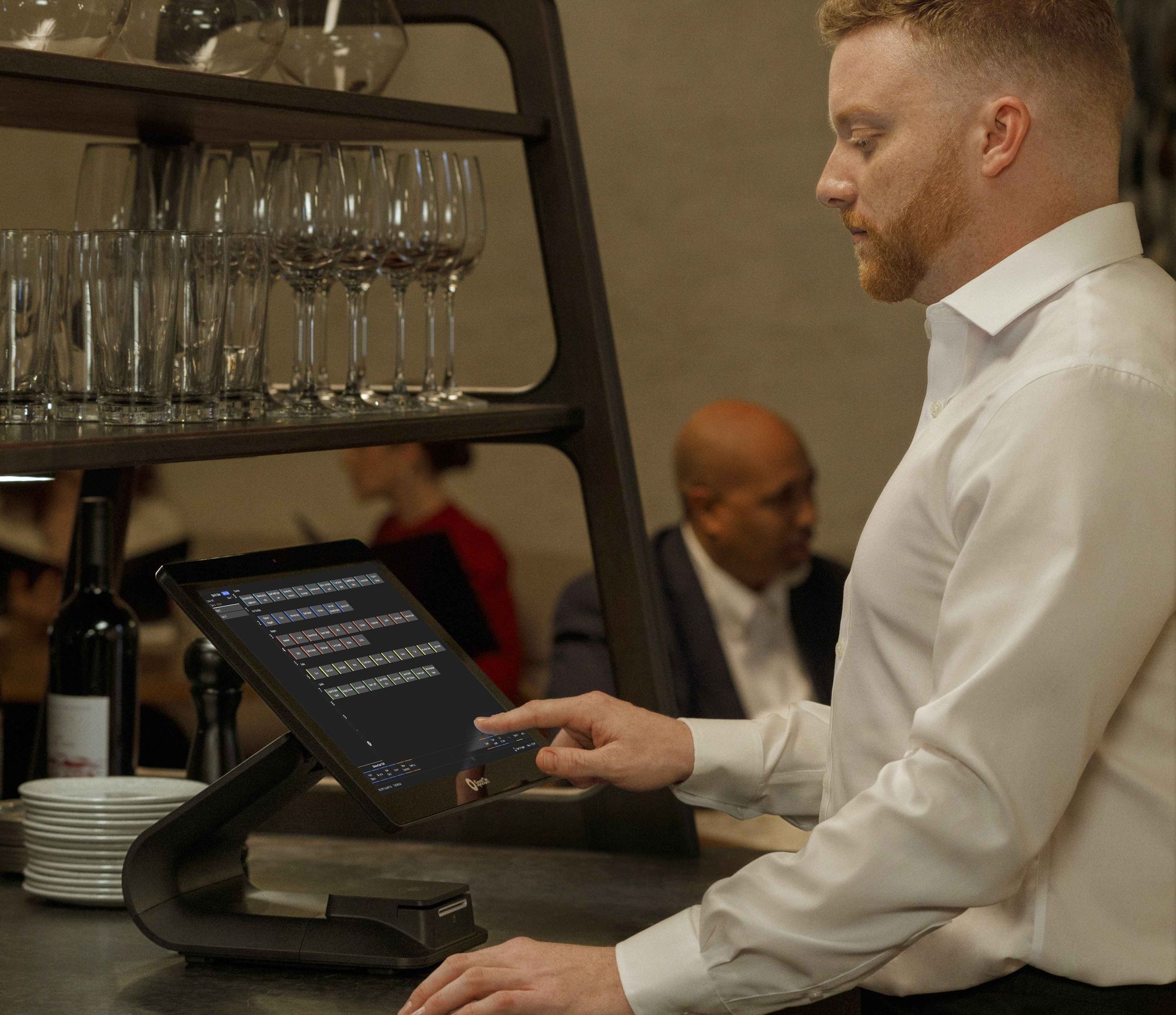 Let's see how we can help
Meet one-on-one with one of SpotOn's tech experts. No high-pressure sales tactics. Just a casual conversation to find out if we make sense for your restaurant.
Get a demo