There's no denying that staying connected with your customers pays off. How so? Repeat customers spend 67% more than new customers, on average, and email marketing continues to be one of the most effective ways to give your customers that friendly nudge they need to visit more often. But when you run an independent restaurant, the challenge has traditionally been, how do you build your mailing list in the first place?
How to build an email list for marketing
The easiest way to build your customer mailing list is to leverage the tools built into a cloud-based restaurant point-of-sale like SpotOn Restaurant that functions as an end-to-end restaurant management system. These tools allow you to easily collect guest email addresses at every touch point—both in-store and online—and then automatically imports them into an online customer database. From there, you can easily send email marketing campaigns to your entire list or segments of customers to drive repeat business and build customer loyalty.
7 ways to build your customer mailing list with POS technology
In the past, building a robust customer mailing list often meant having a sign-up sheet at the host stand or a fishbowl to collect business cards. From there you had to manually type email addresses into a spreadsheet or your marketing software. Thankfully, today's modern restaurant POS systems give you more sophisticated tools to create your restaurant customer database in far less time. Here are seven ways to do just that.
1. Importing your existing customer list
If you already have a customer mailing list, get started by importing that list into your email marketing database. Typically, you can import your mailing list as an Excel or CSV spreadsheet.  Click here for directions on importing customers into your SpotOn Dashboard. From there, take advantage of the tools below to automatically capture email addresses.
2. Online ordering & QR ordering
With a first-party restaurant online ordering system that's integrated into your POS, you not only cut out third-party commissions but also collect and keep your guest data. Every online order that's placed collects the customer's email address and imports it into your customer database. The same is true if you're using QR ordering for guests who dine-in, since it runs on one integrated system.
3. Reservations & waitlist
Similar to online ordering, a digital restaurant reservation platform can help you collect the email addresses of every party that books a reservation or adds themselves to your waitlist. Whether they book through your website or Google (through a Google Business Profile integration), your guests can confirm their place and you can retain their information for future email campaigns.
4. Digital receipts at the point-of-sale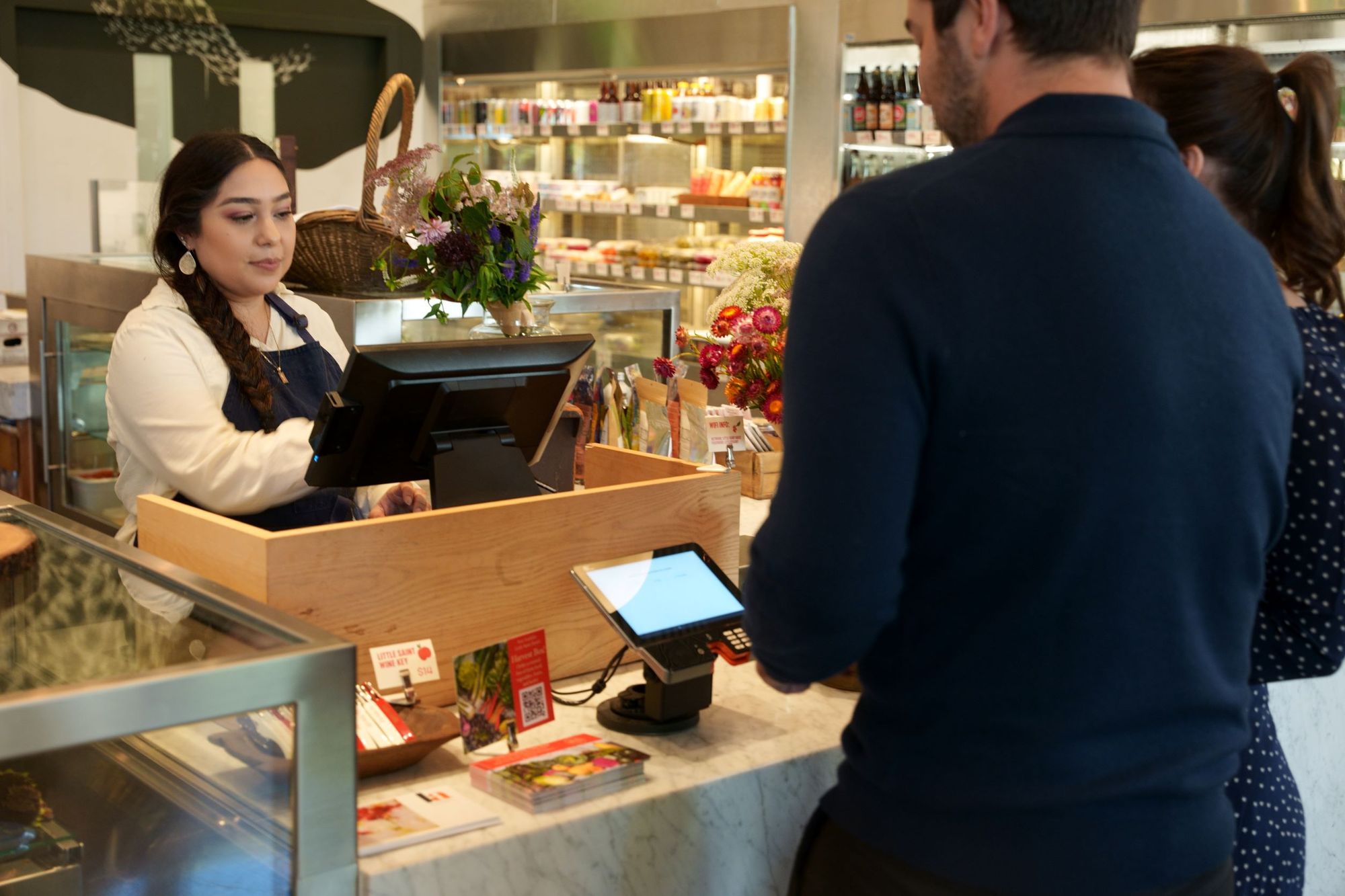 As consumers look to reduce the amount of unnecessary paper in their lives, offering digital receipts is an easy way to collect guest emails while acknowledging guest preferences. For full-service restaurants, using handhelds is a win-win. Your servers can not only take the order at the table to speed up service, they can also ask the guests to pay, tip, and provide their email address for their receipt all from the handheld device. For counter-service concepts, having a customer-facing display for your point-of-sale can accomplish the exact same thing. The key to success in both scenarios is training your staff to encourage guests to type in their email address to get a digital receipt.
5. Guest Wi-Fi
If you offer free Wi-Fi to your guests, you can configure it so that it's "gated" and ask guests to submit their email address to log in. It's a simple, low-effort way to build your customer mailing list that many larger chain restaurants use. Just make sure to consult with an IT expert to ensure your internal WI-Fi network is secure.
6. Digital loyalty rewards program
Most people view loyalty programs as a way to encourage repeat visits with freebies and discounts, but customer loyalty software is also one of the best ways to build your restaurant customer database. The moment a new guest enrolls in your program, their email address also goes into your email marketing system, meaning you can also connect with them about special events, seasonal menu items, and anything else you want them to know about.
7. Invoices and mobile & online payments
If your restaurant does catering or offsite events, this is another opportunity to build your mailing list. By using the tools that come with a virtual terminal or mobile POS system, you can run one-time payments online (or from your phone) and collect email addresses to send a digital receipt. You can also send invoices or set up recurring payments from a computer, and every new customer you set up automatically gets imported into your customer database.
---