Email marketing is vital for connecting your small business with customers. Whether you're welcoming a new customer to your rewards program or inviting a regular to an exclusive event, email is one of the most effective methods of communication for securing and nurturing customers.
The problem? Your customers' inboxes are getting flooded with a massive volume of daily emails, most of them unnoticed. And when it comes to email inboxes, your unread emails are either at zero or 10,000. For those whose inboxes look like the latter, it can be especially difficult to break through the noise of endless spam and promotions to deliver a meaningful message. That's why following email marketing best practices is vital in reaching your target audience.
We know crafting a stand-out email can seem daunting at first, but SpotOn is here to help. We'll walk you through the do's and don'ts of email marketing for small businesses so you can ace the process, improve your open rate, and grow your customer base. And once you feel confident in your email marketing abilities, you'll be ready to show them off with SpotOn Marketing, marketing software designed to help you grow your customer base and keep them coming back.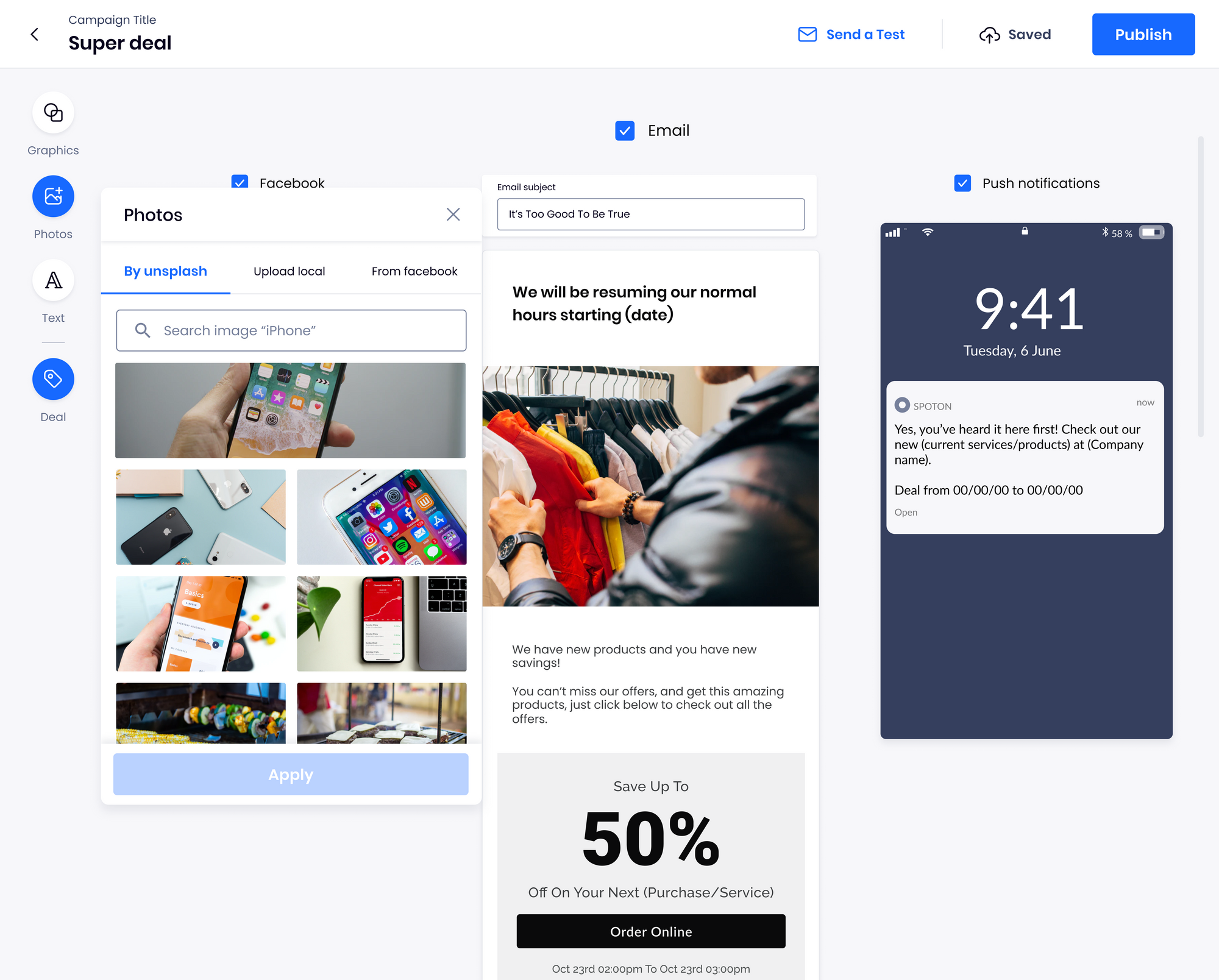 The "Do's" of email marketing for small business
1. Grow your email list organically
You may have the best deals in your industry but if your email contact list doesn't know who you are, your emails will go unopened. Having a solid, receptive email list is so important in improving your open rate. That's why the best way to grow your email contact list is by reaching out to those who have already expressed interest in your small business. Whether that's through direct sign-up, word of mouth, a friend of a friend, or advertisements, these types of leads will be much more likely to engage and turn into loyal customers.
At SpotOn, our online ordering, ecommerce, reservation, appointment software, and point-of-sale solutions for restaurant and retail are already designed to help you automatically build your customer list at every meaningful customer touchpoint.
2. Write an eye-catching subject line
Picture this: You're walking down the street and stroll past a store with an amazing window display. It's colorful and gives you a taste of what's inside the store without being too flashy or promotional. You're intrigued, so you enter the store to see what else they have to offer.
You want your subject line to do the exact same thing. This is your chance to grab your customers' attention as they're scrolling through their inboxes and entice them to open your email. Here are the keys to a good subject line:
Be descriptive
Add personalization
Avoid spam words
Keep it between 30 – 40 characters
Include an eye-catching emoji
Basically, you want to tell customers what's in it for them without being too salesy. The best way to do this is to keep the subject line short, sweet, and succinct. And while we encourage emoji usage, we suggest you use them sparingly.
3. Use imagery
Once your customers open your email, you'll want to keep them there so they can discover the latest promotions from your small business. One of the most important email campaign best practices for achieving that is including a visual, whether that's an image or graphic. SpotOn Marketing allows you to search stock photos according to what your email is about, or you can upload your own branded image. Either way, the process is quick and easy.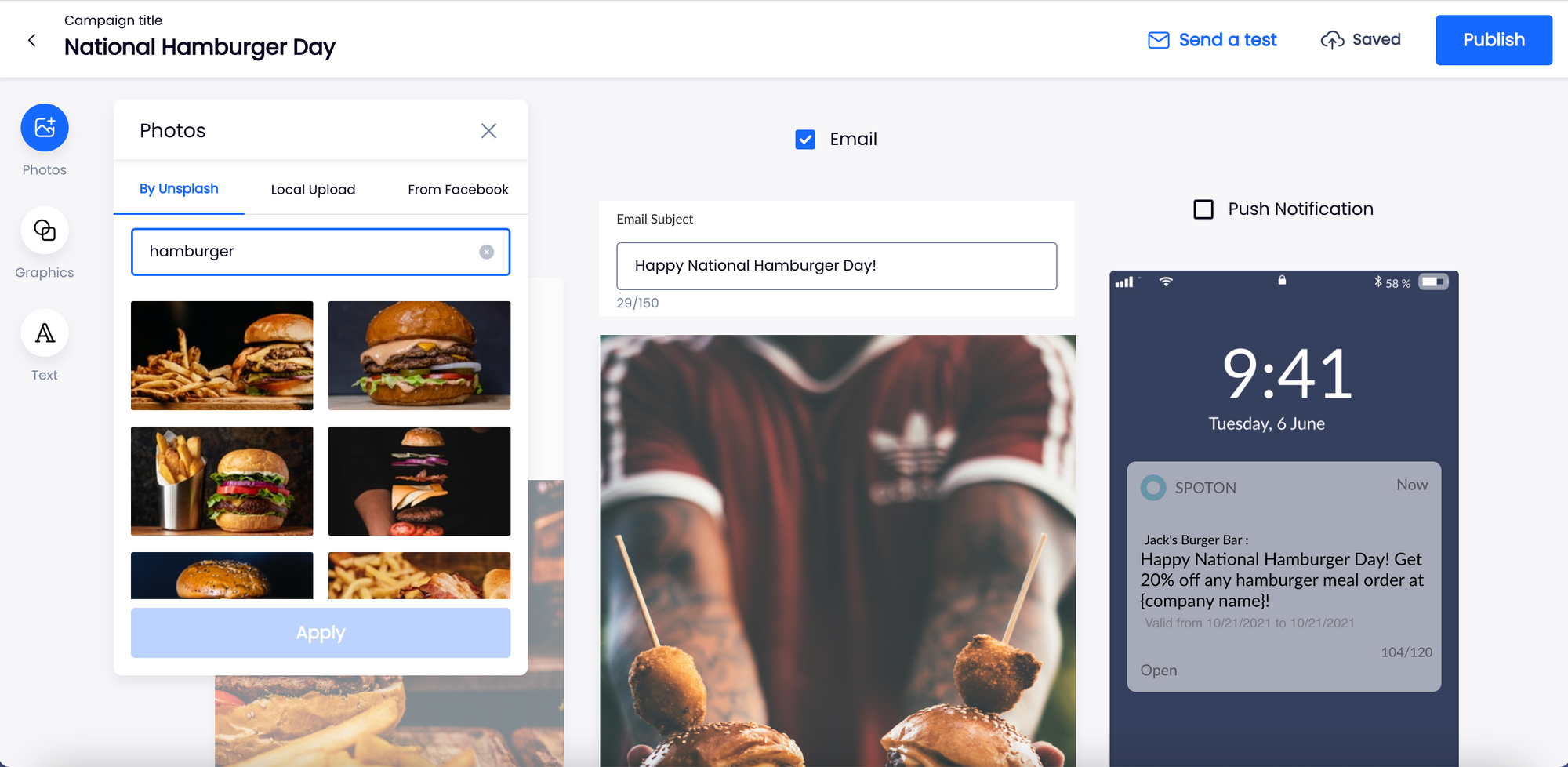 4. Keep the copy short and sweet
We know you have an incredible story about how your small business came to be, but writing it out in the body of your email probably isn't the best way to share it. The body of the email is your opportunity to tell your customers exactly what they need to know in as few words as possible.
SpotOn Marketing also allows you to play around with font styles, colors, emojis, and numerous email marketing templates tailored to the message that you want to communicate. This gives you the chance to be playful in language and in the visual element to keep your readers engaged.
5. Include a CTA
Including a CTA, or Call to Action, at the end of your email gives your customers the opportunity to take action. Whether you want them to claim a deal, order online, make a reservation, or complete a purchase, directing them to a separate landing page helps them to become a qualified lead—aka a sale.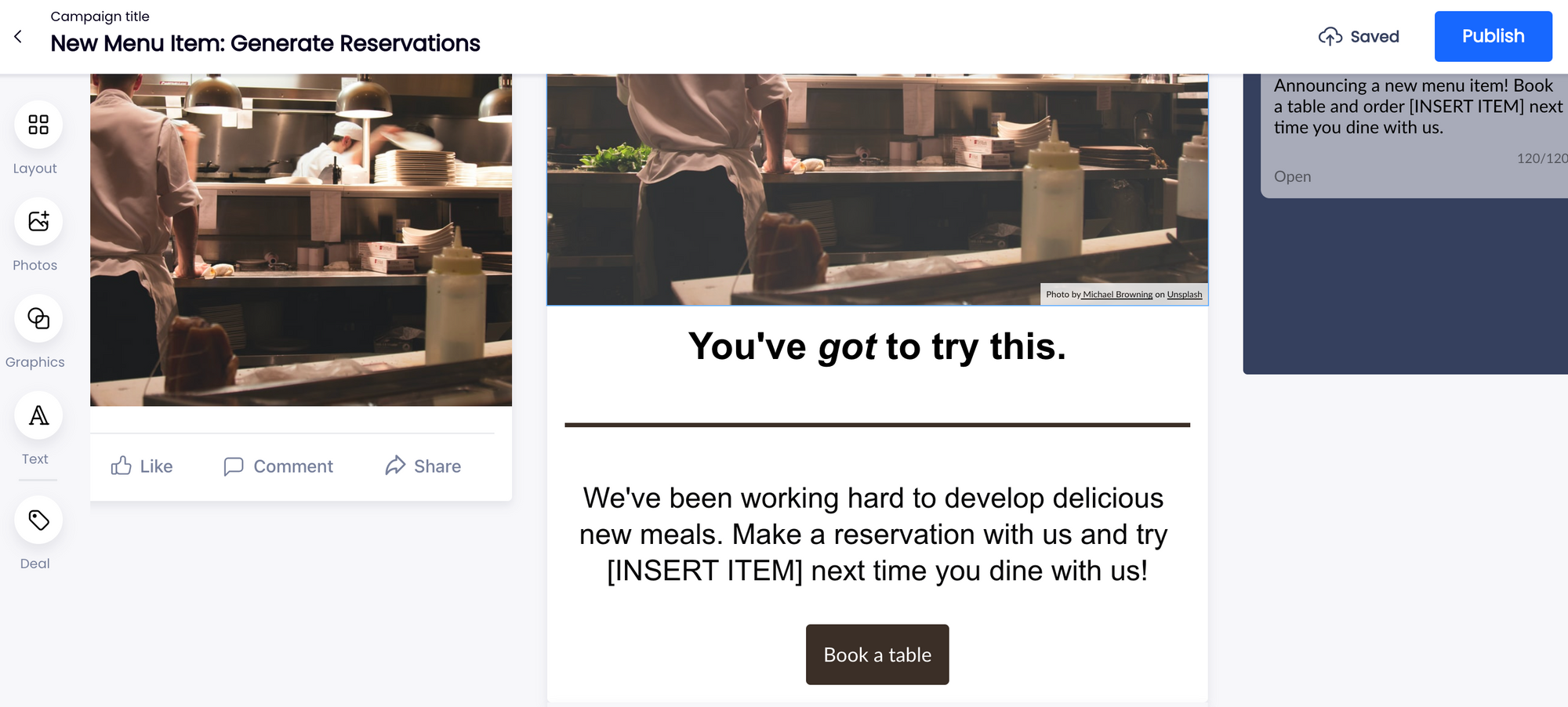 6. Experiment with send times
There are multiple windows throughout the day that prove to be most successful in increased open rates. We recommend experimenting with email send times so you can discover what works best for you and your customers. SpotOn Marketing has a scheduling feature, which will give you the flexibility to try different times and set your campaign up for success.
The "Don'ts" of email marketing for small business
1. Don't purchase an email list
We know it's tempting to buy a pre-existing list and send messaging about your awesome, small business to as many people as possible. The more people who see your emails the better, right? Unfortunately—in this situation—wrong. Sending a mass email to people who haven't opted in is the fastest way to land in a spam folder. It's best to start small and grow from there.
2. Don't include screenshots
It's easy to screenshot your menu, services, or recent Facebook promotion and drop it in your email to save yourself time, but this takes away from the purpose of the email itself. Try to extract the important information and type it out in the email, then gate the rest of the content behind the CTA. (If you absolutely MUST include a screenshot, remember to crop it.)
3. Don't forget to proofread your email
Once your email has been sent, there's no turning back. Make sure to double-check for typos, blurry images, broken links, and other errors before reaching out to existing and potential customers.
4. Don't send at obscure hours
And finally, while you should experiment with sending hours, we DON'T recommend sending an email in the middle of the night. Morning and afternoon is usually best, but it can depend on the day or type of campaign. Remember to pay attention to what time zones your audience lives in! Our email marketing tool allows you to segment your audiences, and organizing them according to geography could be key.
Email marketing for small businesses can be tricky, but following these email best practices can help you run successful campaigns . Now that you know the basics, you're ready to dive in and start building in SpotOn Marketing.
---