One thing you learn from working in restaurants: there's no pleasing everyone. But that doesn't mean it isn't worth a try. Whether you're launching a brand new concept or are overdue for a refresh, it can be hard to pinpoint exactly how to improve the ambiance of your restaurant. Whether you're just looking to tweak your restaurant seating layout or adapt your concept into a full service restaurant, start with an idea you're passionate about. As long as you're placing the guest experience front and center, your concept will be winning over potential guests in no time.
1. Make a good first impression
From your web presence to the exterior of your restaurant, you have an opportunity to shape what your guests think of you before they even walk through the door. This starts with building a beautiful and easy-to-navigate business website that houses your menu, contact information, and integrates with your reservation or online ordering platforms. Nothing encourages second thoughts like an outdated website with unattractive photos.
Along with foot traffic and website traffic, potential guests might come across your restaurant on popular review sites, like Yelp, Google, and TripAdvisor. Reviews are huge. When you're in a new city and deciding between two taquerias, it makes sense to choose the one with the higher star rating. Make sure you're the restaurant with the higher star rating. Using review management software, you can monitor your reviews, encourage happy guests to leave feedback, and gracefully respond to negative feedback.
Finally, there's the physical exterior of your restaurant. Even if you're located within the confines of a strip mall or shopping center, you can make your business stand out and feel inviting. Create a front-of-house that welcomes guests in, through consistent design choices and friendly staff.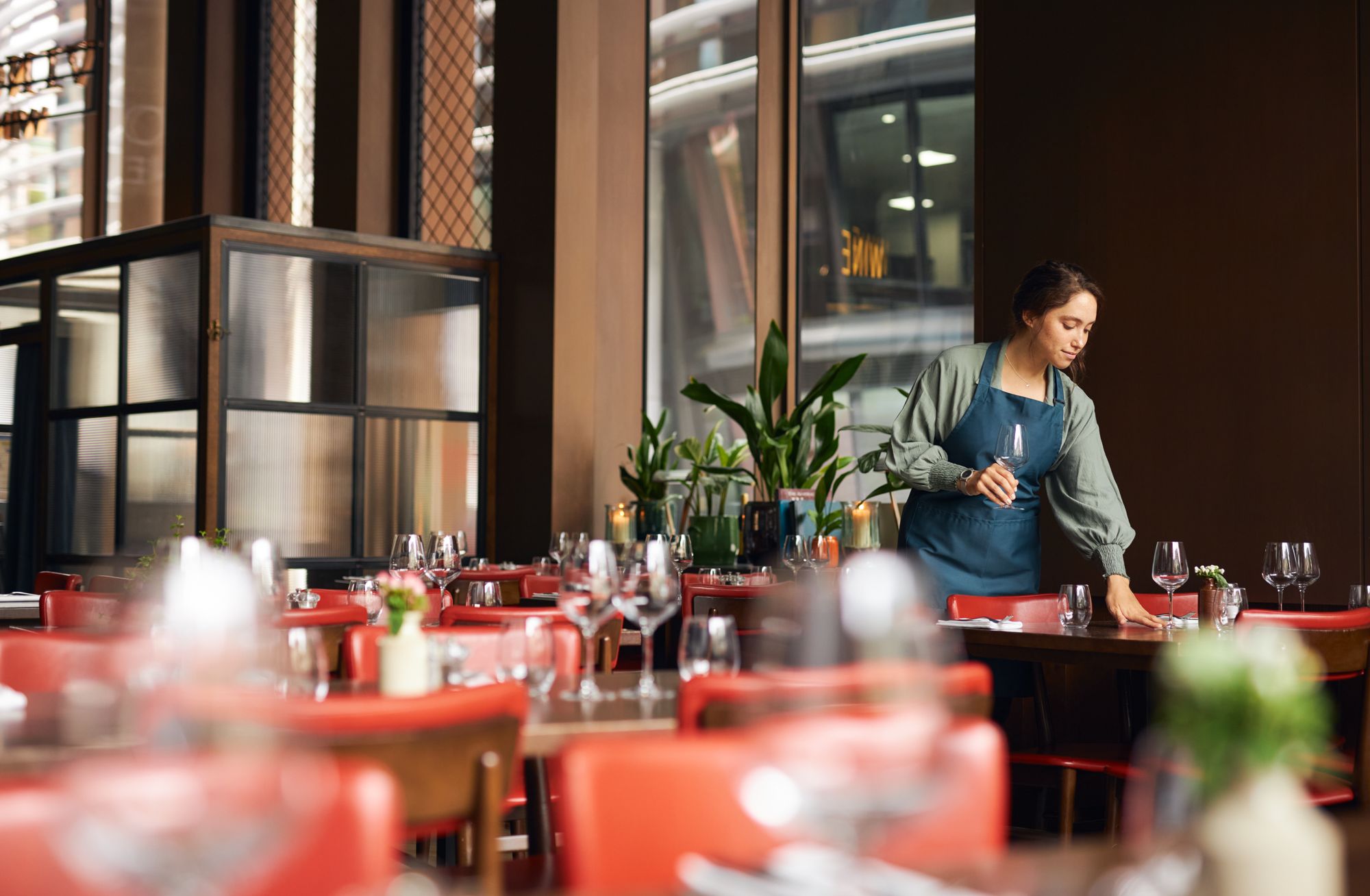 2. Craft a thoughtful menu
A great menu experience is more than just the food and drink options. Once you've pinned those down, design your menus to showcase your most popular and profitable items. If you're offering physical menus, ensure they're up to date and the prices are accurate. Inaccurate menus can lead to disappointment when an item is no longer available and upset guests when price increases aren't communicated. To avoid reprinting menus, consider offering your menu via QR code. This lets you sidestep dirty menus and outdated information, and cuts down on your overhead costs.
3. Create a memorable ambiance
Restaurant ambiance can't be ordered from a catalog or shipped to your doorstep with the garlic and onions. It can be tricky to describe, but you know it when you see it. The simplest way to create restaurant ambiance is to choose a theme and stay consistent. Your music selection, the decor, lighting, and even the staff dress code (if you have one), all contribute to your restaurant's ambiance. Dining in a sit down restaurant is an immersive experience—think of it like visiting Disney World, where every detail is carefully considered and aligns with a theme.
4. Deliver excellent service
Nothing contributes more to your restaurant's ambiance than excellent service. The best servers are the ones you're never asking for or telling to go away. Service is personal, attentive, and customized to the guests' needs. When I go to a restaurant, my favorite thing is talking to service staff and asking what they like to eat. I want to order what the line cooks working the grill want to order. Make sure your staff is well versed in your menu, knows what's popular, and recommends items because they're really good—not necessarily because they're expensive. Prioritize a connection with the guest over pushing sales. Keep water glasses filled and crumbs swept. Hospitality is showing folks you want them to be there.
Hospitality is showing folks you want them to be there.
The other element of excellent service is nailing the timing. Misquoted wait times set the wrong tone—it's why I used to dread working the host stand. Your host should be able to quote accurate wait times with a restaurant reservation system and waitlist app. When guests are seated, servers can increase their efficiency with a handheld pos system that reduces steps required for ordering, meaning guests get their food and drinks faster. With an intuitive handheld like SpotOn Serve, it's takes no time at all to get your staff trained and ready to use tech as a tool and not a crutch. Anything that helps servers get those initial drinks and appetizers in faster is a no-brainer.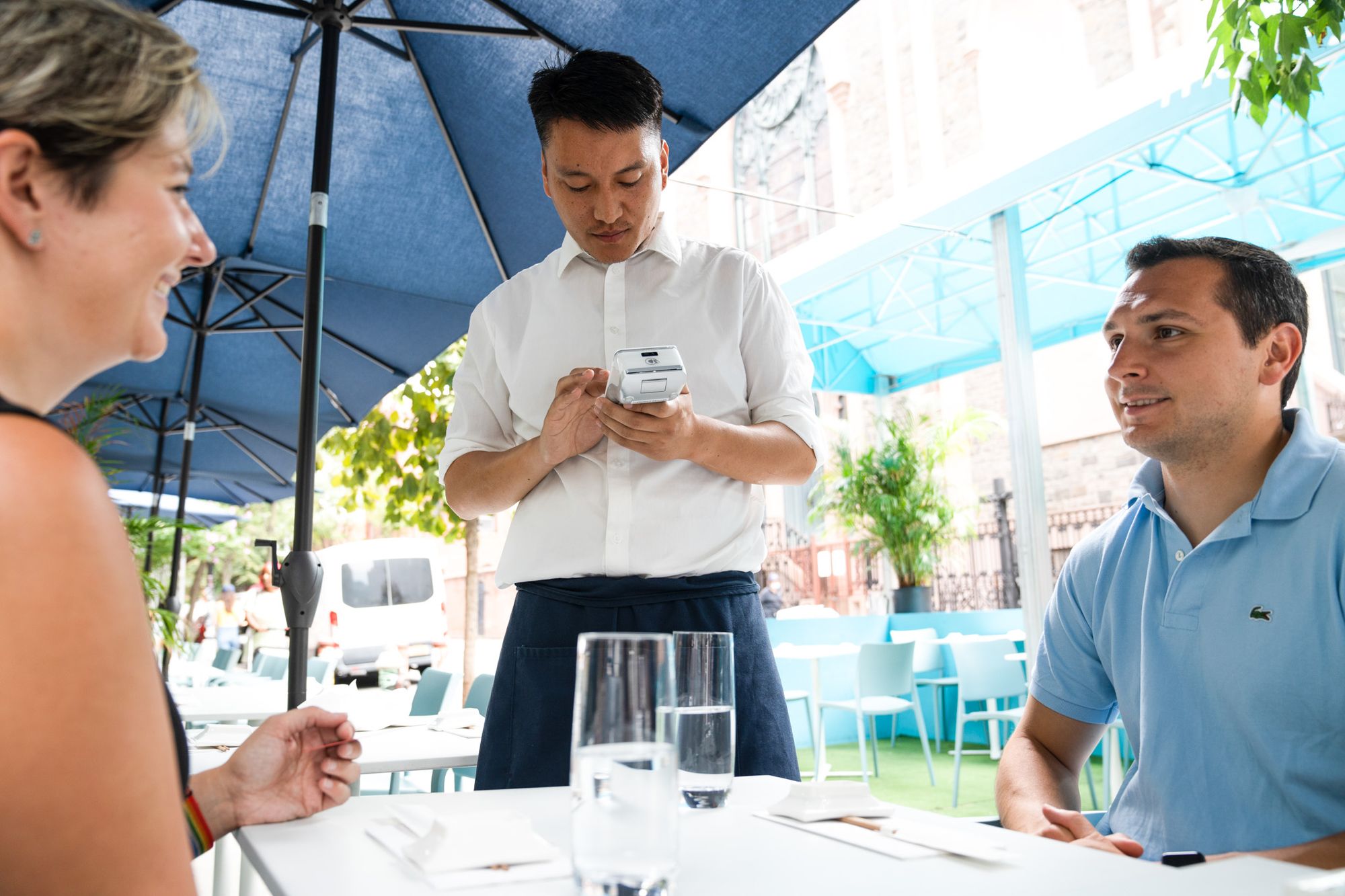 5. Streamline the payment process
You can have a phenomenal meal, then spend 10 minutes waiting for the check, and it ruins the whole experience. Or, maybe you're splitting the bill and the process gets messed up and takes forever. A great restaurant POS makes the payment process smoother and helps ensure your servers handle check-out quickly and competently. More and more sit down restaurants are implementing QR codes so guests can scan and pay with their phones. It's worth considering, since it takes pressure off of the server, setting them up for a successful shift especially during peak hours. Streamlining the check-out process is also key to increasing table turns, a must for any full service restaurant looking to turn a profit.
---