After a brutal couple of years of rising costs and labor shortages, restaurants everywhere are looking for ways to reduce their expenses to stay alive. The latest stats out of the National Restaurant Association's 2023 State of the Restaurant Industry report state:
💡
92% of restaurants cite higher food costs as a significant challenge
💡
62% of operators report being understaffed to meet customer demand
💡
47% expect competition from other restaurants to be more intense
How are restaurant's offsetting these operation costs?
According to the report, most are upping prices and changing menus. About half are cutting staff hours, while a third are letting employees go altogether. Roughly 40% are holding off on expanding their restaurant. And a little over 10% are doing away with delivery apps because of high commissions.
But cuts like these can be reactive, creating the potential to drive away guests. For instance, changing the ingredients of a popular menu could cause big spenders to eat elsewhere. Or getting rid of delivery apps may force your online patrons to go to your competition.
You don't want that.
Instead of raising prices, slashing hours, or eliminating services, we're going to focus on how you can leverage tech to more efficiently give your guests what they've come to expect. Let's dive in.
1. Let guests order directly from you online
COVID ushered in the era of online ordering. And it's here to stay. In the 2023 National Restaurant Association report, 66% of consumers say they are more likely to order takeout than they were before the health crisis. And 55% claim it's essential to the way they live.
💡
55% of restaurant goers say takeout and delivery is essential to the way they live.
When the pandemic hit, delivery apps like DoorDash, Uber Eats, and GrubHub, made it easy for restaurants to get online. But commissions between 15 and 30 percent made it nearly impossible for restaurants to make a profit.
So how can you offer online ordering at a lower cost? Through the point-of-sale.
Advanced POS software—like SpotOn Order—enables you to have your own online ordering menu that's connected to your website and Google for a low flat monthly fee. Using online ordering POS software in conjunction with delivery apps is a great strategy for cutting fees while still meeting your guests' online cravings.
Delivery apps provide visibility by showcasing you on their platforms and cater to new guests who aren't familiar with your restaurant. And online ordering through your POS captures guests looking for you on Google and lets regulars order right from your site. And with 55% of consumers preferring to order directly from you, you're sure to see a drastic reduction in expenses.
💡
55% of all adults prefer to order directly from a restaurant instead of a third-party app.
2. Focus your menu on what guests love
Let's face it. Raising prices is usually the first thing owners do to combat high restaurant costs. But this can only go so far. When prices are too high, sooner or later guests walk.
Instead, focus on creating a profitable menu centered around your guests. This requires data. You need to know how much of each item is selling over any given period of time, what time of day they're selling, and which items your guests are pairing together most often. Your POS product mix report should give you clear insights into this information.
Then determine how profitable each item is by comparing cost with menu price. With this data you can create a menu engineering matrix to see what your best and worst performers are.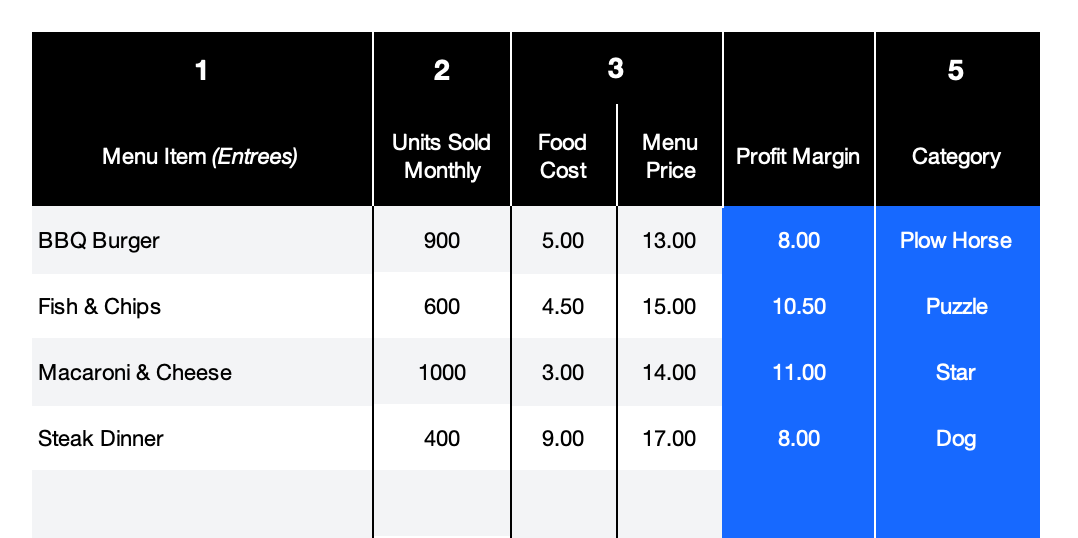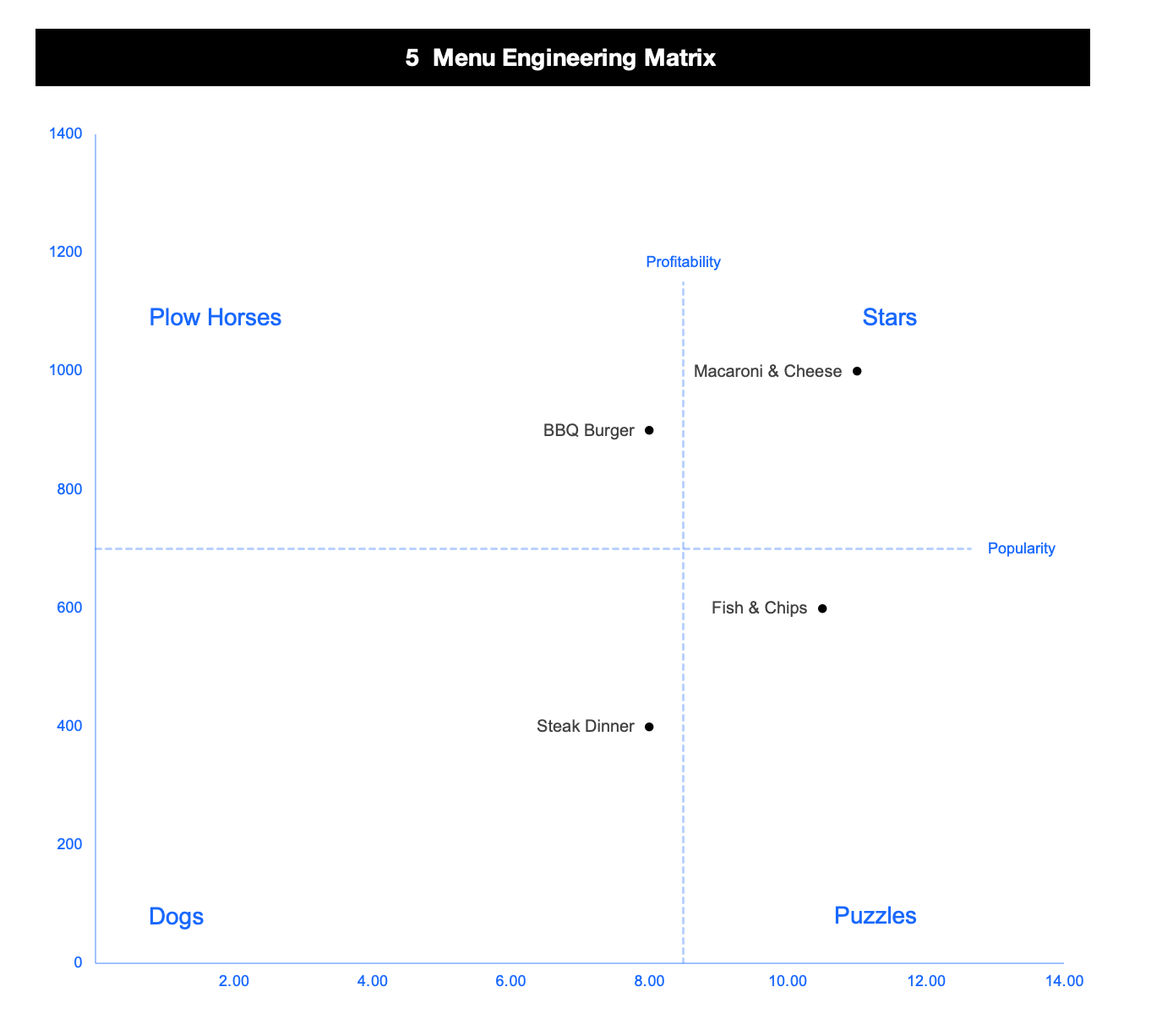 Don't change menu items that are both popular and profitable. These give you key insights into what your guests expect from you. Find out what guests are pairing with them, and consider making those combinations new menu items.
Get rid of menu items that aren't selling and are expensive. By simplifying your menu, you can focus on quality, reduce food cost and waste in the kitchen, and make it easy for your guests to order faster. Triple win.
3. Replace printed menus with digital menus
If you rely on a printed menu, you know how much work and how expensive it is to replace them when there's a mistake, your prices change, or they're looking worn.
Perhaps you even hold off modifying your dishes or prices because you only change your menu once every quarter—and subsequently you lose money when a sudden food cost hike hits you.
Not with digital menus.
They give you the freedom to modify any item in real-time. Guests can access your online menu through their phones with a QR code placed at tables or at the entrance of the restaurant.
Not only will you never run out or need to replace digital menus, but you can also share more information about each menu item—such as images, allergens, ingredients, and whether or not an item is sold out.
If you're thinking about switching to digital menus, consider offering both printed and digital menus for a period of time to make the transition smoother for your guests. Teach guests how to access your digital menu first, and only provide them with a printed menu if they request it.
Once you make the switch, your guests will be happier with more information and you'll see big savings as you are able to modify your menu whenever you see fit.
4. Schedule your staff with sales data
In times past, knowing how busy your restaurant would be on any given day was for the most part guesswork. Managers would schedule staff according to the average level of business of that particular day of the week. And if it was slow, they would cut staff early. But oftentimes, this left you paying your staff to stand around and wait for guests to show up.
With a rising minimum wage and a smaller labor pool, every year it's getting more expensive to keep people on the clock. Restaurant owners are now taking a hard look at how they schedule their employees to offset these increasing restaurant operating costs.
The latest labor management software enables restaurants to schedule their employees using sales data for similar days in past years so they can accurately predict how busy they will be before they schedule staff. And by setting labor spending limits, owners can ensure managers are staying within their set labor budget every time a schedule is published.
Because restaurants are such people-oriented businesses, using tech to ensure your staff is busy while on the clock is a proactive way for you to trim unnecessary labor spending and keep you on track for profit.
5. Connect with guests to increase repeat business
While most restaurants have hundreds of guests that love what they're all about, very few are staying connected with them in a meaningful way. Consider the following questions:
Are you capturing new guests' emails and phone numbers when they visit your establishment?
Do you have a way to show off your featured specials or announce your holiday events?
Can your guests earn points and redeem rewards every time they visit your restaurant online or in person?
Are you responding to guests when they give you feedback on Google, Facebook, Yelp, and TripAdvisor?
If you answered "no" to any of these, then you're missing out on opportunities to get your current customers back into your doors or onto your website. That's because 80% of restaurant consumers say they would like to participate in a loyalty reward program, as reported by the National Restaurant Association.
💡
80% of restaurant consumers say they would like to participate in a loyalty reward program
POS marketing software like SpotOn Loyalty and SpotOn Marketing makes it easy for your restaurant to automatically capture customer data, offer loyalty rewards, and engage with your guests online after they've visited your restaurant. And because getting repeat business is 5 times cheaper than acquiring new customers, you'll be driving more business with less spending.
Take on rising restaurant costs with integrated tech
The bad news is that 90% of operators say inflation poses a significant challenge to their restaurant. And it's not going away anytime soon.
However, there's good news too. 67% of consumers say they would rather spend money on an experience rather than purchasing an item from a store. That means there's no shortage of guests.
Now thriving operations are using tech to meet guests expectations, provide better experiences, and profit even more in the rapidly changing landscape of the restaurant industry.
---