With the arrival of spring, SpotOn is offering data-driven insight into restaurant menu trends taking shape across the U.S.
In the kitchen, chefs are celebrating the best of spring produce with sweet, savory, simple, and complex applications of seasonal ingredients
Spring-inspired beverage names are putting a popping up in bar programs
Restaurants are leveraging upcoming holidays and celebrations with special offerings, catering, and takeout and programming
Over the last month, restaurants have been busy preparing for a new season with new offerings that celebrate the season's harvest and holidays. According to SpotOn data, in the last 30 days, we've seen the following spring menu trends with our restaurant clients: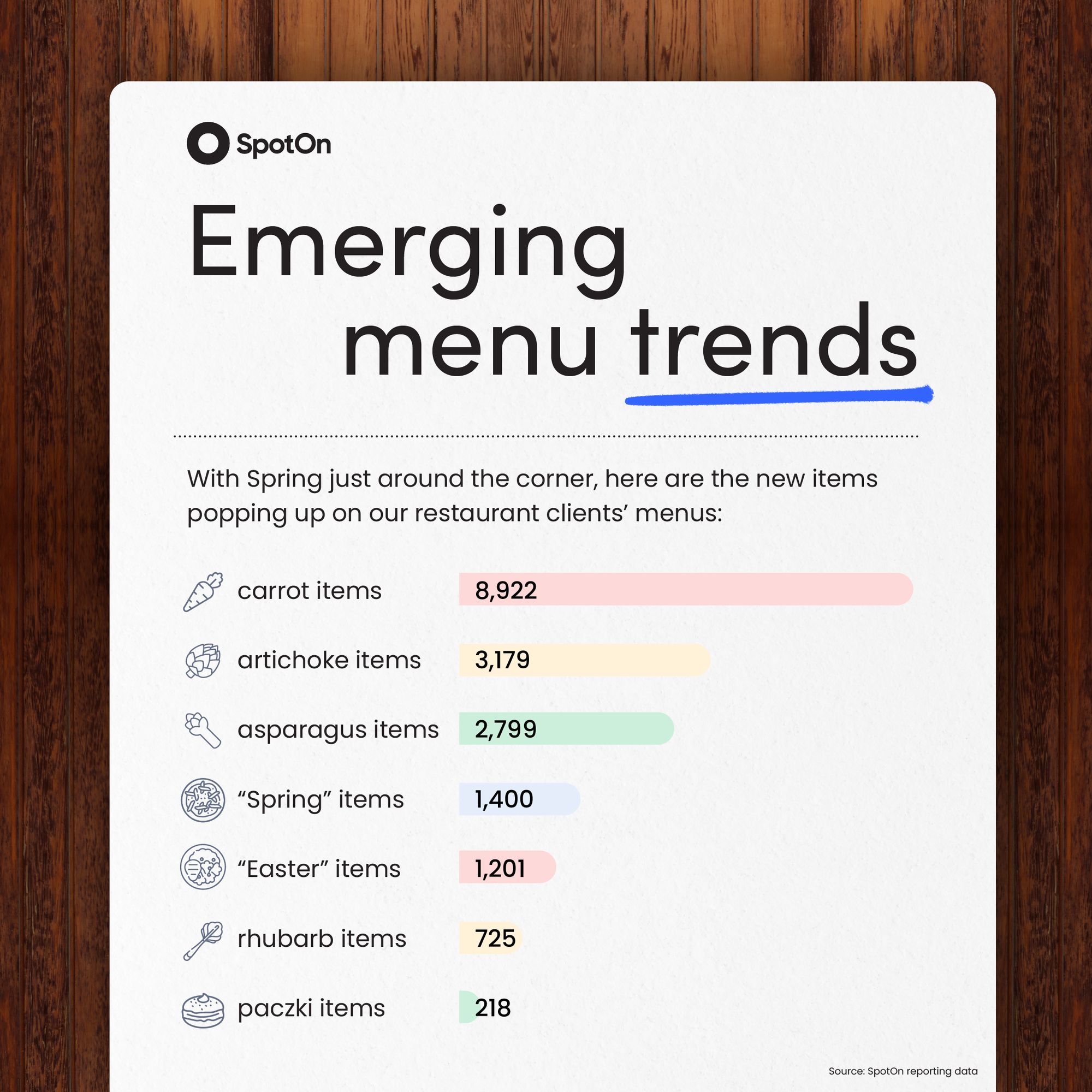 Spotlight the season
Restaurants are letting the simplicity of quality ingredients speak for themselves.
Spring salads are sprouting up everywhere, including Blue Barn in the San Francisco Bay Area, Cedar & Sage in El Paso, and all the way to Double Zero Pizza in Boston where you'll find a Sweet Lemon Spring Salad.
Carrots are a standout in both sweet and savory offerings including Carrot Cupcakes at Majani Vegan Soul in Chicago and Little Beast in Reston, VA to Carrot Huarache at Ember in Austin and Heirloom Carrots at Joe Muer Seafood in Detroit.
Chefs are finding new ways to celebrate the Asparagus in crepes at Babette in Berkley, CA, in risotto at Kinzie Chophouse in Chicago, in ratatouille at Chet's Dallas, and even an Asparagus Sausage Pasta from Matarello Cooking Lab in San Diego.
With spring comes the return of the artichoke, and we're seeing new interpretations across the country including Walnut Grill's Artichoke Chicken Wrap in Charlotte, Artisan's TableFried Artichoke Caesar in Orlando, Supernova Vegan's Artichoke Scramble in Portland, OR, Bar Sprezzatura's Whipped Artichoke Panini or Pizza in San Francisco, and The Salty Brigade Kitchen's Artichoke Tacos in Santa Monica.
And we can't overlook rhubarb's staying power, from riffs on the classic strawberry rhubarb combination in tart, macaron, and margarita form to a Rhubarb Cloud at Adalina in Chicago, and a bevy of cocktails including a Rhubarb Gin Sour from Paper Plane in Atlanta and Strawberry Rhubarb Frose at El Five in Denver.
Cheers to spring
Restaurants are having fun with playful names and concoctions on their bar menus.
The most popular name? The Spring Fling popping up on menus from coast to coast. We found over 300 added in the last 30 days including at The Tipsy Pig and The Hideout Kitchen in the San Francisco Bay Area, Duggan's Irish Pub in Royal Oak, MI, Koko Ni and Zepplin Station in Denver, Fire Stone Wood Fired Grill in Dothan, AL, Lucius Q in Cincinnati, OH, and La Industria & Saint Irene's in Tualatin, OR
Watch out for other spring drinks like the Spring Fever Royale at Dallas BBQ locations in New York, and the Spring Sunrise mocktail coming to Plant City Food Hall in Providence, Rhode Island.
Spring holidays = additional topline revenue
When it comes to spring holidays, restaurants are offering takeout and catering options like Blue Canyon Kitchen's Holiday Package boasting ribs and sides. One thing that has changed is operators are catering to a more price-conscious consumer with variety in offerings like a $75 Easter Meal Deal at Servatti Highland Heights.
Collectively, the data shows that restaurants are being nimble in adapting their menus, not only to the changing season but also to changing guest preferences. SpotOn is proud to empower restaurant operators with the technology they need to make this possible, including comprehensive data insights into their product mix and sales, as well as the ability to make real-time menu changes to their restaurant point-of-sale across multiple locations from a cloud-based dashboard.