Over half of consumers say takeout and delivery are essential to the way they live, according to the 2023 State of the Restaurant Industry report. For restaurants, that means a busy phone line and shoddy packaging just won't cut it anymore. If you're opening a new restaurant or considering renovations, it's time to invest in your takeout and delivery operation. Enter: the walk up window.
Running a successful takeout and delivery operation is a big coup, but it still comes with its headaches. Whether you have partnered with a third-party platform or have direct online ordering, pick ups can disrupt the flow of service in your restaurant. Delivery drivers can clog your entranceway, or, even worse, get in the way of the hot pans coming out of your kitchen.
You need a smoother way to hand off orders to guests and delivery drivers without interrupting the on-premise dining experience. It's time to consider the walk up window. A walk up window is a window (or door, in some cases) separate from your main entrance where customers can walk up to place a to-go order or pick-up. This helps you avoid crowding around your main entrance and gives delivery drivers a clear pick up location. While it's not a solution for every restaurant and depends on what your physical space (and landlord) will allow, adding a walk up window can help you serve more customers and streamline your takeout and delivery operation. The post-pandemic staying power of takeout and delivery has led many restaurants to consider operating a walk up service window—so many that the Chicago City Council recently passed an ordinance making it easier to add one.
The walk up window gives you another tool in your restaurant adaptation toolbox, allowing you to operate with more flexibility and potentially capture more foot traffic. While it can come with some caveats, like limits on liquor sales and operating hours, a walk up service window can lead to smoother operations and a better guest experience. Here are 3 tips to ensure your walk up window is a success.
Keep your walk up window operation simple
A walk up service window is supposed to make your operations smoother, not more complicated. If you're planning on taking orders at the walk up window, opt for tech that fits the physical space and staff needs. This could mean choosing a customer-facing display or even a handheld POS to speed up the order- and check-out process and minimize clutter.
Make sure there's a good location for take-out and delivery orders, with a heat lamp or refrigeration if necessary. Orders should be easily accessible to make the hand off process as speedy as possible.
A walk up service window is a great opportunity to experiment with a limited menu, offering only items that travel well for take-out meals. Start by assessing which menu items would be most profitable while still traveling well, and build your menu from there. It's also a good idea to identify a few potential upsell items, like drinks or pre-packaged dessert items, to both satisfy your guests' cravings and boost average check size.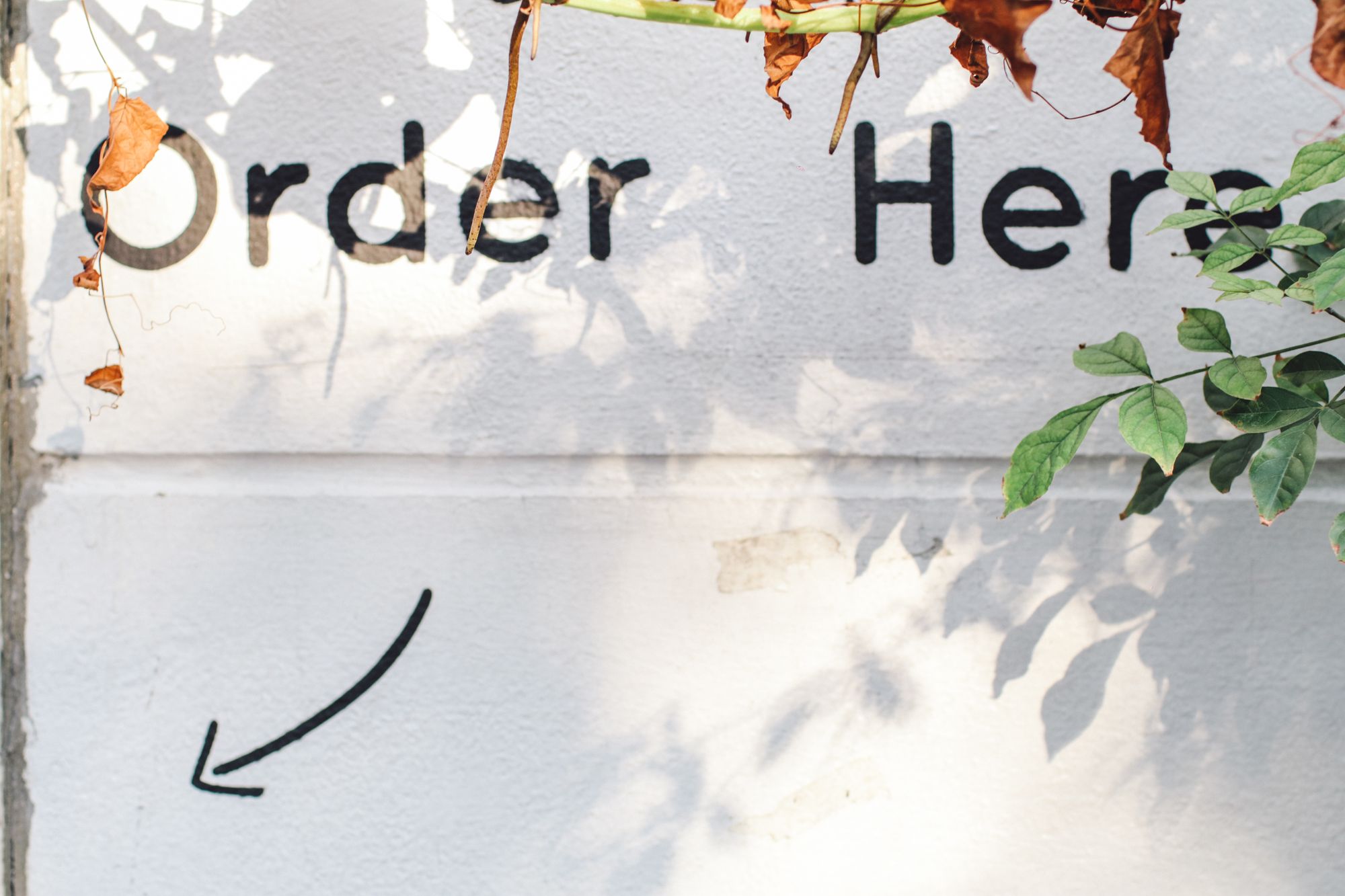 Get creative with signage
To ensure a more convenient take-out and delivery process, your walk up window has to be noticeable. Depending on how much available space and leeway you have to change the building façade, put up some clear signage that identifies your restaurant's name and a phrase like "carry out" or "to go" to identify the window's purpose. Perhaps find a local artist to maximize your curb appeal. Also consider including your take-out menu, hours, and a QR code if you're offering online orders.
Walk up window signage should fit with the overall design of your restaurant. In order to create a memorable ambiance, you want the entire experience to feel cohesive and authentic to your brand.
Optimize staffing
Hiring is a challenge. When you're opening a new restaurant, or expanding your concept into a walk up window restaurant, you want to build an efficient team that will set your new venture up for success. Operating a walk up service window doesn't necessarily mean adding another person to your payroll. First, identify your busiest take-out and delivery hours (or, if you're already in operation, use sales reports to forecast). Limit walk up window operations to your peak hours. You can always extend your hours if you're expecting high foot traffic, or if there's a nearby street festival or during summer weekends.
Another way to optimize staffing for your walk up window is to flex your existing staff, assigning a food runner or additional server to run the walk up window when needed while also helping out on the floor during down time. Don't forget to include a tip jar or cashless tipping option, so the staff member running the walk up window gets rewarded too.
If your location allows for a walk up service window, it can be a powerful tool for making your take-out and delivery operation smoother and capitalizing on foot traffic. The past few years have reinforced the mantra "Adapt or die" when it comes to the restaurant industry. Meeting the needs of your off- and on-premise guests simultaneously is no easy feat, but with the right technology and a thoughtful restaurant layout, your restaurant can almost be in two places at once.
---