Diversity, equity, and inclusion is more than just what you say. It's what you do. That's why we're putting the small talk aside and investing in a future with more diversity and representation in tech.
In honor of Black History Month, SpotOn is donating to CodeCrew, a majority Black-founded and operated nonprofit headquartered in Memphis that aims to increase diversity, equity, and inclusion in the technology field. We spoke with Deputy Executive Director Kela Jones to learn more about their mission.
Tell us what you're all about.
Kela Jones: CodeCrew's mission is to educate and mentor those most underrepresented in tech to become tech innovators and leaders through practical, hands-on computer science training and programs. To date, we've taught more than 4,000 K – 12 students to code through summer camps, after-school programs, in-school electives, and other events. Of the students we serve weekly, 91% are Black and Latino, and 47% identify as female.
We also offer a hands-on bootcamp for adults looking to get into software development. The incoming average annual salary for new program participants is $15,000. Upon completion of our six-month bootcamp and placement in a full-time tech career, that average increases to an average of $55,000. We're not just teaching our alumni a new skill—we're setting them up for a life-long career.
How did you get started?
Kela Jones: When one of our local community centers was updated to include a computer lab in 2015, we were presented with an opportunity to activate the space with computer science programs like mobile app development, robotics, and video game development. This was a chance for students to learn real skills that could spark a lifelong interest in computer science.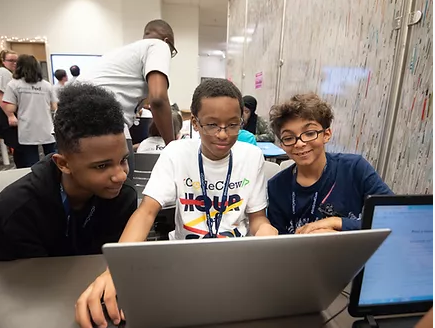 CodeCrew started at that community center with one summer camp for 20 kids. Now we're serving over 2,000 per week. By investing in computer science education for all ages, we're giving kids and adults the tools and skills to not only gain employment down the line but also create new and innovative technology that benefits everyone.
What skills do students learn in your programs?
Kela Jones: We rotate topics to keep our programs engaging and have covered everything from video game development and robotics to app building and web development. Depending upon the program our students might learn Java, Python, Unity, Scratch, and more.
What would you tell tech companies about the students that you serve?
Kela Jones: Recruiting from and partnering with us. Hiring graduates from CodeCrew is a crucial step to diversifying in tech. Tech companies absolutely need diverse talent at their tables. Our students bring unique experiences and insights into programming that you can't achieve without diversity. When you look at artificial intelligence, for example, some of the programs powering self-driving cars can't recognize pedestrians with darker skin tones. That's putting Black and Brown people at risk if the car isn't acknowledging them as pedestrians to be avoided, and it's creating potential liabilities for the company. By intentionally investing in diversifying talent, you will ensure that your employees are building technology for people that look like them. That's what real inclusion and representation means—creating tech for everyone.
Where can we learn more?
Kela Jones: Check out our website to learn more about our programs and how you can support computer science education for all.