2022 was the start of a much-anticipated journey as I joined the SpotOn leadership team as their Chief People Officer. And as you can imagine, I was filled with nervousness and excitement for this new adventure and fresh start.
I was immediately attracted to SpotOn when first meeting Zach Hyman and Matt Hyman, because of the culture they've built prioritizing empathy, humility, and Heart & Hustle. I got the sense that the leadership team truly put people first, not only in their words but also in their actions. This has become more evident in my interactions with SpotOn employees who not only care about their co-workers and leadership team but more importantly SpotOn.
I witnessed the mutual care and respect shared amongst the teams, from personal shoutouts on Slack to an outpouring of support and gratitude to fellow colleagues during an All-Hands meeting at which I was honored to experience a Happy Birthday serenade by close to 1,500 SpotOn team members. It's not so often that you experience being part of an organization where genuine appreciation and recognition are shared so openly and with such frequency, between and across multiple regions and teams. This week, as I continued my listening/immersion tour, I was filled with such a sense of appreciation that I have come to a place that is not only doing so many things right but where I am empowered to work with this team to make things even better. Can't get much better than that!
On February 1st, I got a call that SpotOn was honored by BuiltIn with two 2022 Best Places To Work Awards. Specifically, SpotOn earned a place on the Los Angeles and Chicago lists. If you're not familiar with the BuiltIn Best Places to Work Awards, they evaluate companies of all sizes—from startups to those in the enterprise—and honor both remote-first employers as well as companies in the eight largest tech markets across the U.S. What a validating moment to realize that BuiltIn sees a growing company that is expanding its technology, its workforce, and its empathetic ethos.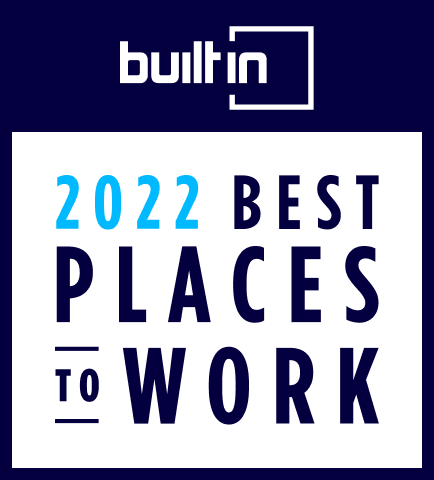 As we enter a new month, that nervous energy I had going into this role is dissipating, and all the excitement and passion for what's to come is growing stronger every day. I certainly didn't need an award to validate this shift in my career, but I must admit, it feels good to know that professionals in the tech industry look at our company and see what I see—a sincerely human approach to delivering technological solutions and business impact.
We are faced with choices every day, and the days when we make career decisions can be scary and daunting. As I reflect on my decision to join SpotOn, nearly thirty days into my new post, my feeling is this: I am so grateful to be here, and I know that I made the right decision.
For anyone out there who is looking to start, or grow, a career in technology, and is considering SpotOn as the next stop on their career journey, visit our Careers Page to learn more about open opportunities. And my inbox is always open, so please feel free to reach out to me or any of our recruiters to have a virtual coffee and learn more about what we do and how you might fit in. Who knows, maybe SpotOn is the best place to work for you? We'd certainly love to find out.