Magalara "Lulu" Safi was 17 years old when her father drove her and her five siblings in his taxi cab to a tiny vacant storefront. For nearly two decades he'd driven people from point A to point B. That day, he drove his children to his dream. With $20k to invest, the family was going to open an Afghani kabab restaurant.
One of the first restaurants in that Oakland neighborhood, Kabab Union City shared the family's Afghani culture through cuisine. Lulu and her brothers and sisters grew up waiting tables, mom cooking in the kitchen, and dad greeting the guests warmly. Over the years, the hole-in-the-wall grew into a neighborhood institution, and eventually expanded to include two more restaurants.

Lulu loved watching the restaurant's patrons discover new flavors, and found herself wishing that she, too, could experience the joy of tasting someone else's history. Especially Mexican food. Unfortunately, most of the food in the area was not halal, or permissible according to Muslim dietary laws, to which the family adhered. As the neighborhood grew with restaurants, Lulu met the delicious smells of tacos and burritos wafting from the kitchens with one question: halal?

In 2018, at 25 years old, Lulu decided to connect the dots between faith and food, partnering with a chef of Mexican heritage to open Maya Halal Taqueria on 14th Street in Oakland. It became the first halal Mexican restaurant in the Bay area. In accordance with halal guidelines, the restaurant does not serve pork or alcoholic beverages, and all meat is certified halal. The restaurant has become a hidden gem, both for Muslims and foodies.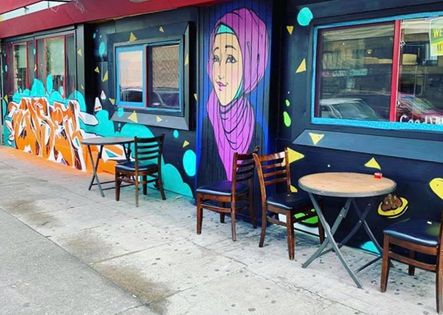 Like many restaurateurs, though, Lulu struggled as business contracted during the COVID-19 pandemic, and has been working through the growing pains of ramping business back up at lightning speed. So when Maya Halal Taqueria was recently chosen as the winner of a new POS system and $25,000 SpotOn grant on Guy's Restaurant Reboot, a live event to support aspiring restaurateurs and help local restaurants bounce back from the pandemic, she was beyond grateful.

"People love the food and the vibe, and are so excited to hang out and eat again. I could not be happier!" says Lulu. "I'm so thankful for everyone who has helped me along the way, like the Restaurants Care Foundation (RCF) and Alycia Harshfield from California Restaurant Association," adding, "I'm just so grateful and excited to make the experience even more special with some updates I couldn't have afforded without this SpotOn grant and Guy Fieri."

From that taxicab ride her father took her on all those years ago, Lulu knows the difference $25k can make when it comes to a dream. The young restaurateur, who was in Mexico gathering inspiration when she found out she was a winner, plans to use some of the grant money to expand her refrigeration and keep more fresh tomatoes and avocados on hand (saving time from all those grocery runs). Lulu also has visions for improving her outdoor space, including adding swings, inspired by her trip to Mexico, and a new awning. What she's really excited about is adding a long mocktail fresca bar with high stools.

The mocktail bar will likely be set against the backdrop of the restaurant's signature mural of a beautiful young woman wearing a hijab and enjoying chips and guacamole (Lulu herself). The mural, the halal steak tacos, and mocktail bar will all be beautifully emblematic of how Maya Halal Taqueria merges Lulu's heritage as a young American woman of Afghani descent growing up in California.

"The mocktail bar is going to make Maya Halal Taqueria more than a great place to get halal Mexican food," Lulu explains. "It's going to make it a chill hangout with a vibe that's welcoming to everyone, including Muslims who can't drink alcohol. I can't wait!"