Growing up in West Seattle, Rob Hanlon started his Junior year of high school without a roadmap. He was getting C's and D's and racked up a suspension, which was the last straw for Rob's mom. He was grounded. He couldn't spend his Thanksgiving break outside hanging around with his friends. Instead, he was on involuntary sous chef duty for his mom's Thanksgiving meal. The intended punishment quickly became a revelation. Among the stuffing, green beans, and turkey, something clicked into place for Hanlon. He graduated high school and enrolled in culinary school, excelling with straight A's and multiple scholarships and opening a West Seattle restaurant named Angelina's that he operated with a friend for 10 years. During that time, he continued his studies with a hospitality degree at the University of Las Vegas Nevada (alongside fellow alumnus Guy Fieri).
Hanlon had been bitten by the hospitality bug. So when he came across SpotOn in late 2020, his ears perked up. As a SpotOn Account Executive, Hanlon uses his restaurant know-how to help other business owners operate more efficiently, and with less hassle.
"My restaurant experience is helpful," says Hanlon. "I understand restaurant lingo and know to ask questions like: how is your profit margin trending right now? Are you working with any integrations to help grow your profit margins? What did you guys do during Covid? I know what was important to me when I had my restaurant."
What was important to Hanlon, and continues to guide his work, is creating a vibrant local business community in his hometown of Puyallup, Washington. Hanlon soon became involved in the Puyallup Chamber of Commerce and met Robert Kaelin, owner of Elements, a coffee and frozen yogurt shop on Puyallup's main street. They became fast friends and Puyallup's dream team for making the city the best place to own a business.
So, when the friends learned that a fellow Chamber of Commerce member—a café and specialty grocer, British Bites—was struggling due to a stalled shipment, they jumped at the opportunity to lend a hand. Hanlon coordinated a three course menu, even preparing the entrée himself. "For British Bites to have the Chamber of Commerce and SpotOn wrap their arms around, and during a difficult time, it's huge," says Kaelin, who was born and raised in Puyallup and feels pulled to serve his community.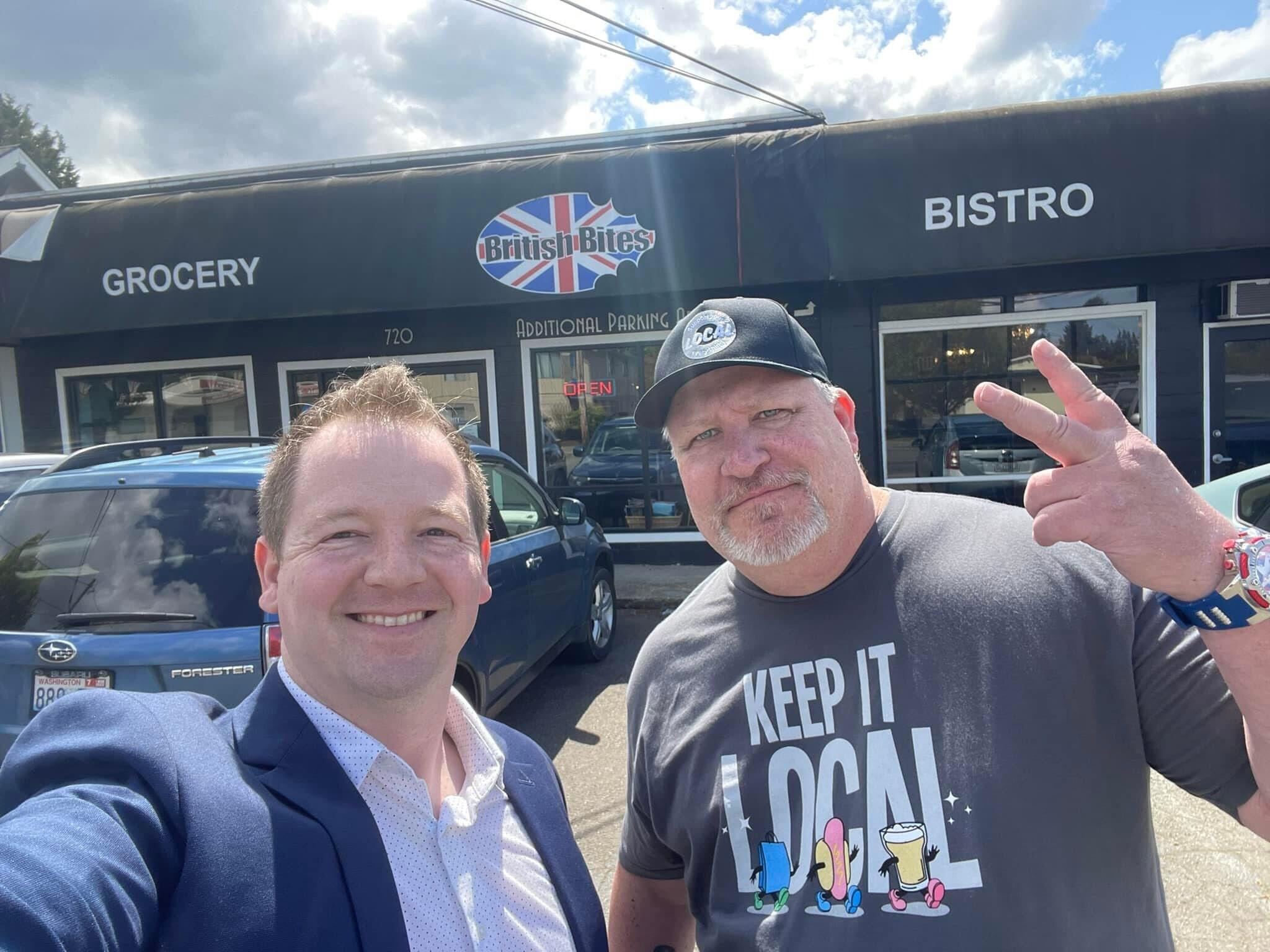 Between Hanlon's chef skills, Kaelin's event planning expertise, and the local band scheduled to perform, they had a fundraiser. Three of Hanlon's local SpotOn clients (Elements, Fat Zach's Pizza, and Top Down Brewing) signed on to sponsor. When the day came, the weather was perfect and Hanlon's bangers and mash were prepared to perfection. They sold out of tickets—175 people showed up and, by the end of the night, there wasn't a banger (or mash) in sight. Hanlon and Kaelin helped raise over $4,500 for British Bites and the event was a huge success.
Helping out businesses in need is Hanlon's raison de être. "I'm not just a sales guy. I see people in my community that frankly need our help and I think: Where do we go with that? How do we help them?" says Hanlon. On a busy Saturday at Topdown Brewing Company, Hanlon's first SpotOn client, he jumped in to help pour beers and run service. If you need him, you can find him walking around town, talking to people in the community, wearing shorts and a SpotOn t-shirt. He leaves the polyester suit and plastic binder at home, preferring "trusted advisor" over "salesman."
One testament to Hanlon's impact on the local business community is Robert Kaelin, his fundraiser co-host. Hanlon helped Kaelin switch Elements to SpotOn Restaurant POS, which has helped Kaelin gain deeper insights into his business with detailed reporting, offer commission-free online ordering, and roll out a hugely popular loyalty program.
"Having Rob as my account executive has been awesome," says Kaelin. "Switching to a new point-of-sale system is a learning curve—he has just been on the ball for us with every single thing that we needed to take care of. You don't get that kind of customer service with a lot of companies. Rob has just been there, which is awesome. Leaps and bounds above the usual customer service experience."
Connecting local businesses with intuitive tools to manage, track, and promote their business comes easily to Hanlon. "I feel confident backed by SpotOn customer service, and knowing that we are the best out there," says Hanlon. "It's my job to let people know we're here, you have other options. No contracts, no hidden agendas, everything's transparent."
As Hanlon knows from firsthand experience, running a business is a balancing act of risk and reward. It doesn't hurt to have the entire local business community (and SpotOn) on your side.