You've probably heard or seen of a mysterious dark mode while browsing through the menu options on mobile apps and websites. With just a simple tap or click on your phone or tablet, you can switch to dark mode, changing the bright menu colors to a sleek, black background with a calming, lighter text. It's a good little trick to keep in mind since a ton of companies beyond Apple and Google are also starting to implement dark mode in their software.
Dark mode, however, isn't just for Snapchat, Facebook, or mobile devices. It can also be implemented on point-of-sale handheld devices. As a restaurant operator, switching to dark mode on your handheld can help you sculpt the guest experience towards your own brand and image, allowing some extra functionality most people wouldn't expect from a simple change in color.
---
Save battery and energy
While this might be one of the more obvious benefits, it's always important to remember how dark mode can help save battery life for extended periods of use. On the technical level, dark mode preserves battery by not forcing LED screens to illuminate the most energy-intensive light available. That means when a screen uses a ton of colorful light all at once, the device is forced to use up more of its battery by working a little harder.
Although some people feel that dark mode might not make much of a difference in the long run, it's still useful to know if you're stuck in a pinch. For example, if you're selling at an outdoor event, you wouldn't want to worry if your handheld would lose all its power.
Just remember, dark mode might affect visibility in brighter areas, so be sure to stay in the shade if you're operating during the day. And if you're still worried that your outdoor sales haven't reached its full potential, check out these useful tips on maximizing your outdoor dining situation to stay one step ahead of the weather.
---
Blend your devices into the background
Switching to dark mode can also help change the way guests experience your overall business, especially if you're worried how your tech might interrupt their dining experience.
Let's say you have a fine-dining restaurant that relies on crafting an intimate atmosphere. Enabling dark mode could help keep guests in an inviting mood since the darker menu design isn't slapping their eyes with a harsh white light. You wouldn't want your point-of-sale to be brighter than your candlelights, would you?
Of course, dark mode isn't only for fine-dining restaurants. If you're running a music venue or a bar that serves drinks for late night concerts, keeping your handheld device in dark mode can even help create a more unified guest experience. Given how dark mode keeps light usage to a minimum, guests won't be distracted from the experience or their drinks.
---
Increase comfort and visibility for everybody
According to a survey report from the American Optometric Association, 58% of adults experience vision problems from working with digital devices. This discomfort also extends to staff interacting with point-of-sales devices all day long, as well as guests trying to take a break from their screens.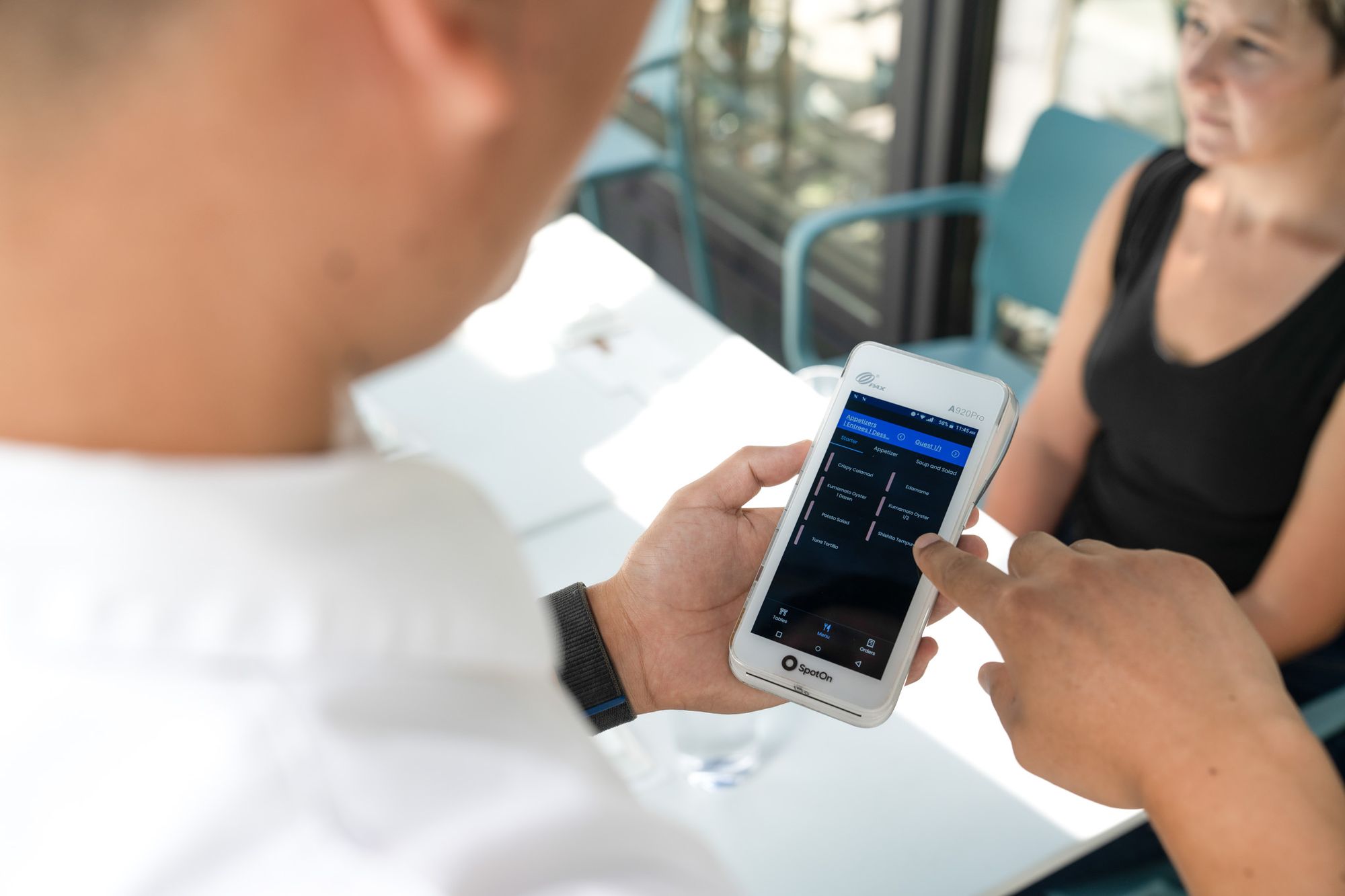 By enabling dark mode, you can help calm that digital eye strain to boost everyone's overall comfort. Staff won't feel like they're being bombarded with intense light everytime they look at the screen. They'll have an easier time placing guest orders, all while making sure the device handler can stay focused with the order. And as we mentioned above, guests won't feel like they're being distracted from their own dining experience since dark mode is ideal for most lighting situations.
Do you have a handheld SpotOn Serve point-of-sale device you want to switch to dark mode? Check out our easy guide below to easily switch between light and dark mode at a moment's notice.
---
Beyond having the option to switch to dark mode, SpotOn clients also get a ton of other benefits and tools to help craft their business to its best potential. With SpotOn, you can streamline operations, reach new guests, and even get smarter data needed to reach the next level of success for your business.