Have you ever noticed a new review of your business pop up on Yelp, only for it to disappear a few days later, and asking yourself, "Why was my Yelp review filtered?" If so, you're not alone, and may be a victim of Yelp hiding reviews.
Why does Yelp hide reviews?
Reviews disappear all the time due to Yelp's review filter, which is designed to remove spam and fake reviews. This is a good thing when the reviews that are filtered out actually are spam, but what about when the filter removes legitimate reviews, particularly reviews that are positive? As it turns out, those reviews aren't actually gone, and if you follow these steps, you might be able to get those positive reviews out of the filter and back onto your page to boost your business's ratings.
1. Find the Yelp "Not Recommended" reviews on your page
To get started, go to your business page on Yelp and scroll down to the bottom of the first page of reviews. You should see a line of gray text that says "other reviews that are not currently recommended." Click on the gray text and it'll expand the page to show you a video, "Why Does Yelp Recommend Reviews?" and then below it, all of the hidden filtered reviews.
If you like, watch the video to get a better understanding of how the filter works. In short, Yelp's software filters out reviews that seem unreliable, based partly on how active the reviewers are in the "Yelp community." In other words, a review might simply get hidden because the reviewer hasn't written many reviews and doesn't have a lot of Yelp friends.
2. Identify recent reviews from legitimate customers that are positive
Just because you can take action to get reviews out of the filtered section doesn't mean you want to unhide all of them. The negative reviews, for instance, are better off where they are in the filter where they don't affect your overall rating.
Rather, your goal should be to identify any recent 4 or 5 star reviews that appear to be written by legitimate visitors to your business. These are the reviews you want to target, with the idea being to get them out of the filter by taking action to show the Yelp filter that the customers who wrote them are active Yelp users.
3. The tricky part: identifying and connecting with those users
Yelp doesn't make it easy to interact with filtered reviews. If you're logged in through the standard user app, you can't click on the user profiles or even rate the reviews as "Useful." To  engage with hidden reviews you've identified, you need to be logged in to your profile on "Yelp for Business Owners" here: https://biz.yelp.com. (If you haven't already, you will need to claim and set up your Yelp business profile.)
Once logged in to your business profile, you can go to the filtered reviews you've identified and interact with them. Start by leaving a public comment thanking the customer for their review. Next, click on the customer's name to go to their profile page. On the customer's profile page, you can take various actions: add them as a friend, follow their reviews, compliment them on their reviews, and then click over to their reviews.


Take a minute to respond to several of their reviews, including the review of your business. For each review, interact with it by tagging it as either Useful, Funny, and/or Cool—whichever is most relevant—to show the Yelp algorithm that the reviewer is a valued member of the Yelp community.
4. Be proactive to prevent new reviews from getting filtered out
Step 3 can be a bit time consuming and frustrating. While still worthwhile, particularly if your business doesn't yet have a lot of reviews, your main strategy moving forward should be to make a point of being proactive with any new positive reviews that are posted to ensure they don't get filtered out in the first place. Here's how to do just that.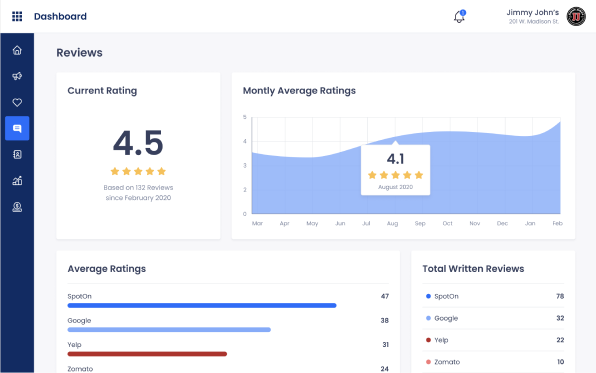 Closely monitor your business page for new reviews since the Yelp filter kicks in within 1 - 2 days. Review management software, like those included with every SpotOn business account, can be a huge help here, since they alert you by email or mobile notification the instant you get new reviews.
Comment on positive reviews immediately, thanking the customer for visiting and writing a great review.
Mark positive reviews as "Useful" and "Cool" and feel free to ask your employees to do the same.
If you want to go step further, add the customer as a friend, and again, feel free to ask your employees to do the same.
Follow those actions, and not only will you be taking the necessary steps to prevent the reviews from getting filtered out, but you'll also be interacting with your customers in an engaging, positive way that will help turn them into loyal regulars.
---
Learn how SpotOn's seamless point-of-sale and software solutions make it easy to manage your online reviews in real-time so you can take action to protect your online reputation.