It's the most wonderful time of year for every food lover when Restaurant Week 2023 finally comes to your city. And for restaurant operators, it means eager guests will return to old and new restaurants nationwide for some fantastic meals at a discounted rate. While the restaurant industry will always have dedicated followers who'll dine out no matter what, Restaurant Week 2023 is also great way to reel in new guests who'd never imagined dining at your restaurant.
Unfortunately, there are some changes in the restaurant industry that make it difficult to bring in new customers while keeping operations running like clockwork. According to the 2023 State of the Restaurant Industry Report, published by the National Restaurant Association, over 90% of restaurant operators are still struggling with the rising cost of food alongside more competition and rising labor costs.
The silver lining? Restaurant owners can overcome these rising costs by implementing some simple solutions to get new guests through the front door while keeping costs low. From simple changes to your menu to implementing different marketing efforts and making the most of your restaurant point-of-sale system, here are some simple tricks to sure your restaurant won't fall behind this Restaurant Week.
1. Earn profit with the perfect restaurant menu
Everyone loves a menu that gets the essence of your restaurant down to the bone. However, even if you build a menu for Restaurant Week that could be admired in a museum, you'd still need to make sure your menu items stay loyal to your restaurant's branding. It wouldn't make sense to include fries on a sushi restaurant menu, so why spend valuable resources and time plotting that out for your restaurant and kitchen?
Before Restaurant Week kicks off, look at your best sellers and their unique flavors to see why guests feel encouraged to order those dishes above others. Even if there are other options for a good meal, planning your restaurant's menu is a great way to stand above competitors with similar products and services. You can even use various social media platforms to gauge how excited guests become for certain meals. It's a great way to get both dedicated followers and casual scrollers to discover your best dishes in real time beyond the usual traditional marketing efforts.
2. Save time and money with online ordering
Since guest behaviors will always change, your restaurant will sometimes need to adjust operations to meet their different needs. While some changes seem overwhelming, the easiest and most reliable change any restaurant can implement is an online ordering system. Online ordering will always offer a consistent stream of income stream while saving you tons from delivery app commission fees. This consistent stream is perfect for Restaurant Week since it gives your guests more ways to order and enjoy some good food without worrying if there's a place for them to sit at your restaurant.
Even after Restaurant Week has ended, online ordering helps you keep a steady pace for fulfilling to-go orders. The steady stream of online ordering will also ease up your restaurant during its most hectic moments, especially when your front-of-house staff's busy dealing with a loaded dining room. Just remember to keep some parking for curbside pickup drivers to make sure your parking lot won't feel overloaded.
3. Change up your online marketing campaign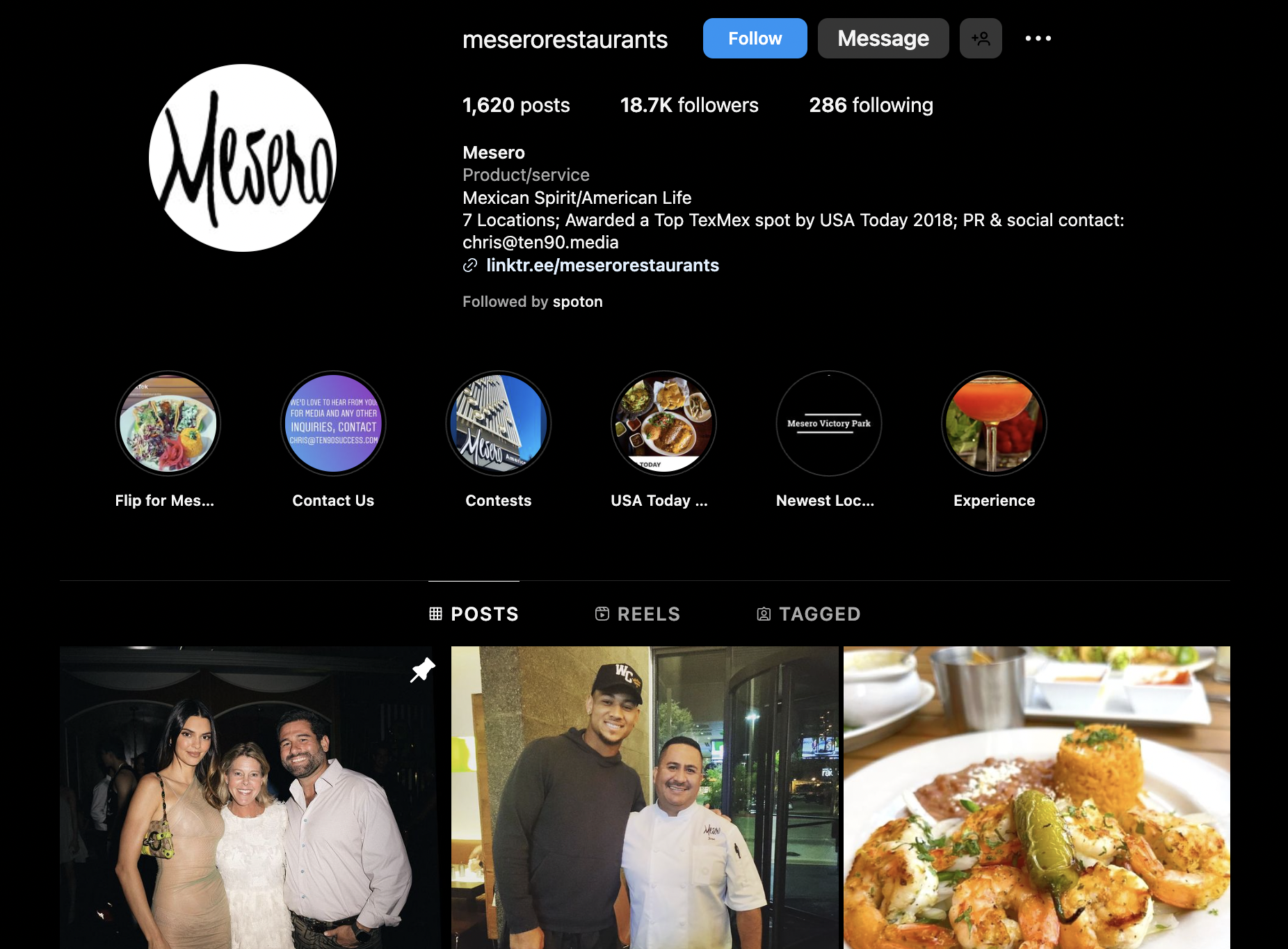 Even though we'd would love to see Restaurant Week celebrated as a national holiday, not every potential customer knows that participating restaurants are offering special discounts for that week. That's where a strong social media marketing campaign comes in. By setting up your restaurant's social media platforms, interacting with followers, and posting content about Restaurant Week, you help build put your name out there for future guests to discover as they casually scroll on their smartphones.
You can even include unique promotions and contests based on the season—such as these fall marketing ideas—on social media, with a fun campaign like offering a photo contest for guests. All they need to do is take a photo and tag your restaurant on Instagram to win a free dessert or some other small reward. Since some social media sites promote your posts based on how many likes and comments they receive, these interactions are a great way to reach beyond your target audience as well.
Don't forget to claim your business page on different review sites. According to SpotOn's free guide to restaurant marketing, utilizing your Yelp and Google Business profiles are a simple and effective way to interact with hungry guests searching for something to eat during Restaurant Week. Similar to your social media platforms, when you have control over your restaurant's online presence, you have control over your restaurant's reputation as well.
4. Implement a loyalty reward program
Now that you've done all the marketing work to get guests dining for Restaurant Week, try implementing a loyalty reward program to get them back for a second meal some other time. Loyalty programs are a great way to reward guests that show their dedication to your restaurant by offering little rewards for their multiple visits. It's a great way to show appreciation for their patronage. Food trucks and other quick service restaurants can implement the classic free drink for a tenth purchase. Table service restaurants can offer unique menu items for guests who've signed up on a loyalty program.
And when you utilize your restaurant POS system, you can even use loyalty programs to build a comprehensive customer database. This database has a ton of use for your restaurant beyond Restaurant. You can see your most successful menu items, build email lists for a future email marketing campaign, all while your top guests are rewarded for their loyalty.
5. Streamline operations with the latest tech
Restaurant Week will bring always bring in a huge crowd, which might overwhelm your staff if you aren't prepared with the best tech. The last thing anyone wants is to fall further and further behind when there's a long waitlist of hungry guests eager for a bite. That's why, with the right restaurant point-of-sale system combined with labor management software, you can get more accomplished in your day, all while without feeling drained from one single task.
A restaurant point-of-sale system is more than a glorified cash register, credit card reader, and receipt printer. With SpotOn's POS system for restaurants, you get a full utility belt of tools to use and serve your guests, all while saving you extra money. You get instant reports of your sales data, easy labor management software for your restaurant staff, automated reservations for easy table management, and more at your digital fingertips.
---
Explore restaurant week in your city
Now that we've covered some tips to help prepare for Restaurant Week, here are the dates to some popular Restaurant Weeks throughout the country.
When in NYC Restaurant Week?
While multiple cities celebrate Restaurant Week at slightly different times of the year, they all tend to fall within the same time of year. In New York City, Restuarant Week typically lasts an entire month. According to the New York City official tourism site, NYC Restaurant Week 2023 ran from July 24 to August 20.
No need to worry if you missed NYC Restaurant Week Summer 2023. New York City is also planning a month-long Restaurant Week in the wintertime as well. NYC Restaurant Week Winter 2024 will run at the start of the year from mid-January to mid-February, so be sure to mark it on your calendars.
When is Boston Restaurant Week?
Boston Restaurant Week 2023, also known as Dine Out Boston, typically takes place in the month of August. This year, Dine Out Boston took place between August 6-19, ranging two weeks as compared to New York City's longer Restaurant Week.
Similar to NYC Restaurant Week, Dine Out Boston will return next year in the spring of 2024. If you missed Boston Restaurant Week 2023, you can expect the Spring Boston Restaurant Week to take place on March 12-25.
When is DC Restaurant Week?
Unlike Boston and New York City, Restaurant Week 2023 in Washington DC is only a week long, running from August 28 to September 3 each year. DC Restaurant Week takes place in the winter and the summer seasons. The full list of restaurants and times for DC Restaurant Week 2024 have yet to be announced, so make sure to keep a close eye on various restaurant food guides and blogs.
When is Houston Restaurant Week?
Much like Restaurant Week in other cities, Houston Restaurant Week tends to take place during the end of summer. This year, Houston Restaurant Week ran from August 1 to September 4 for the summer season. Unfortunately, Houston Restaurant Week occurs only once a year, so eager guests looking for a discount meal will need to wait until 2024 for great deals on restaurants.
When is Chicago Restaurant Week?
Chicago Restaurant Week takes place at the start of the New Year, running for about two weeks. This year, Chicago Restaurant Week 2023 ran from January 20 through February 5. However, Chicago Restaurant Week does not occur during the summer months, unlike the other cities. That means hungry diners will have to wait until 2024 for a discounted meal. Thankfully, there are also other smaller restaurant weeks in the area at a later time. The Northwest Chicago Restaurant Week, which typically runs between March 3-12, is a great chance to catch some great meals at a a discount.
When is San Francisco Restaurant Week?
San Francisco Restaurant Week runs twice a year, in both the spring and fall seasons. For spring 2023, San Francisco Restaurant Week ran from April 14-23, lasting about a week. For the 2023 fall season, Fall San Francisco Restaurant Week typically begins at the start of November, running for about two weeks. This year, San Francisco Restaurant Week 2023 will run from November 3-16.
When is Los Angeles Restaurant Week?
Los Angeles celebrates Restaurant Week twice a year in the spring and fall seasons. For the spring, Los Angeles Restaurant Week typically takes place from April 28 to May 12. LA Restaurant Week for fall 2023, however, takes place over the course of a month, occurring from October 6-20.
When is Portland Restaurant Week?
While Portland no longer celebrates an official Portland Restaurant Week, also known as Portland Dining Month, there are still plenty of restaurants and occasions to dine out at a discounted rate.
The Downtown Beaverton Restaurant Week, located southwest of Portland, takes place from September 21 until October 1. There's also Portland Brewery Dining Month, where different breweries throughout Portland offer discounted prices on their food and drinks items. The Portland Brewery Dining Month usually takes place for the entire month of March.
When is Dallas Restaurant Week?
Dallas Restaurant Week primarily takes place between August 7-13, but some restaurants still offer meals at a discounted rate throughout the entire month as well. According to the DFW Restaurant Week website, some restaurants offer discounts throughout the rest of the month, and ending on September 3.
When is San Diego Restaurant Week?
San Diego Restaurant Week takes place twice a year in the fall and winter seasons. For the fall, San Diego Restaurant takes place between September 24 to October 1, lasting about an entire week. If you miss that opportunity for great food, San Diego Restaurant Week will return a few months later, during January 15-21.
When is Charlotte Restaurant Week?
Charlotte's Restaurant Week, also known as the Queen's Feast Restaurant Week, takes place twice a year. During the months of January and July, guests can expect discounted dinners for a 10-day long celebration of Charlotte restaurants. The Queen's Feast Restaurant Week recently took place from July 21-30. The next Charlotte Restaurant Week will take place in mid-January, with exact dates to be announced soon.