Guy's Restaurant Reboot is the newest primetime special from famed chef, restauranter, and Emmy Award-winning TV host Guy Fieri. As an official sponsor of the show, SpotOn is proud to team up with Guy and an amazing team of guests to support aspiring restaurateurs and help local restaurants bounce back from the pandemic.
Airing on June 12, 2021, the show will feature a series of "Behind the Counter Conversations" with culinary icons, presented by SpotOn, as well as celebrity cooking segments and musical performances. Additionally, Guy Fieri will be awarding over $300,000 in grants to eleven aspiring restaurateurs—including $25,000 donated by SpotOn to the Help Rebuild Restaurants Grant and a free SpotOn Restaurant point-of-sale system to all eleven winners to support them as they open their restaurants.
"SpotOn has been fighting for restaurants from the start of the pandemic, with innovative new technology, waived software fees, and free assistance during both rounds of the Paycheck Protection Program," says Kevin Bryla, Chief Marketing Officer and Head of Customer Experience at SpotOn. "We're thrilled to be part of Guy's new special to continue helping existing restaurants adapt and thrive, and help new restaurants get started on the right foot with best-in-class tools for running a successful restaurant."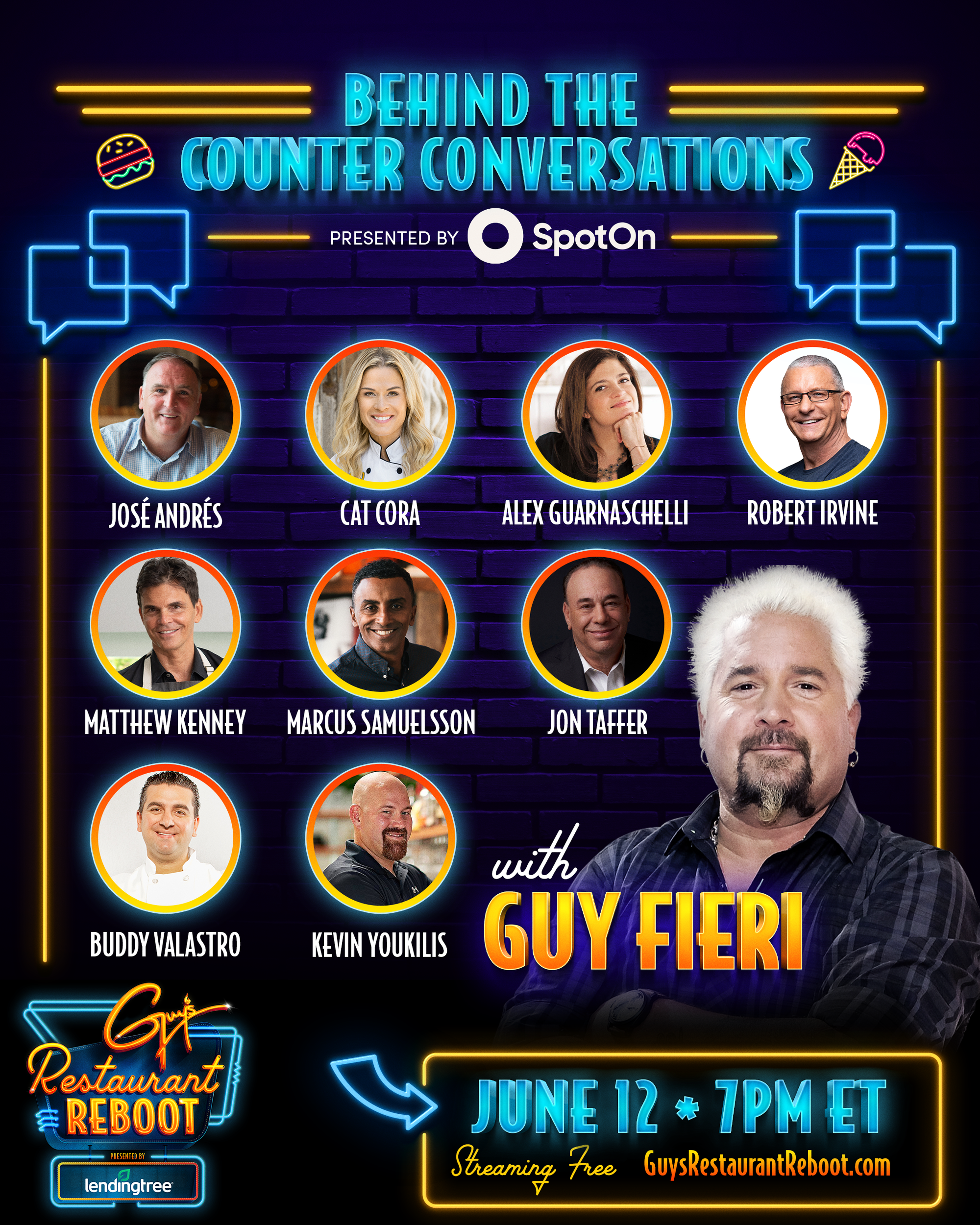 The highlight of Guy's Restaurant Reboot for most restaurant operators will be the "Behind the Counter Conversations," a series of roundtable discussions with Jose Andres, Cat Cora, Jon Taffer, Buddy Valastro, Alex Guarnaschelli, Antonia Lofasa, Robert Irvine, and SpotOn Restaurant Advisory Council members Mathew Kenny and Kevin Youkilis. During each segment, host Guy Fieri and the guests will discuss the challenges facing restaurants and how to overcome those challenges, particularly by utilizing new technology.
Catch Guy's Restaurant Reboot on June 12, 2021, at 7pm ET / 4pm PT as a free live-stream via Guy's Facebook page, or on YouTube, Twitch, TikTok, Twitter, LiveXLive, and GuysRestaurantReboot.com.
To learn more, visit www.SpotOn.com/Guy.