In the 1980s Darrell Wollschlager worked at Big Al's, a 12 foot by 12 foot pit beef stand on route 40 in Rosedale with a bunch of other teenagers. He could barely see out of the window, and earned just $20, but he didn't care. It was fun!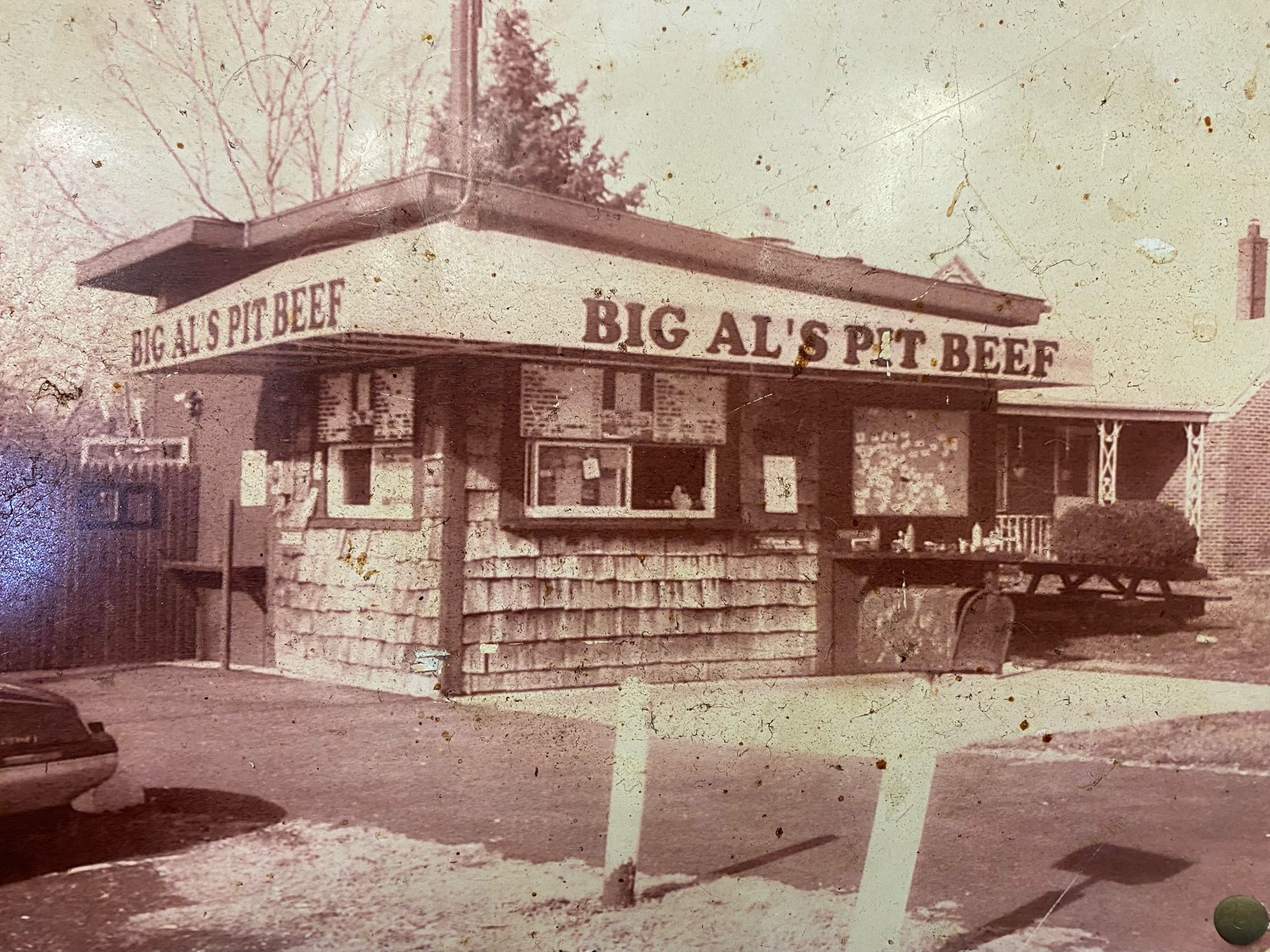 If you're not familiar with pit beef, Chesapeake Bay Magazine's Rafael Alvarez describes the iconic Maryland sandwich best: "The turf to the crabcake surf, a pit beef sandwich is simple: a fresh hamburger-sized roll; top or bottom round beef cooked slowly over smoke from the wood of a fruit tree and flame from briquettes; a slice of raw onion; and the condiment of one's choice, traditionally horseradish and a squirt of barbecue sauce."
After his teenage stint behind the pit, Darrell spent a few decades working a string of jobs in roofing, construction, and meat packing, while playing in his band. At 40, the realization that he didn't want to spend the rest of his life on a roof in 100 degree heat, and that rock and roll stardom might not become a reality, Darrell took stock of his skills and made the decision to start his own butcher shop.
It was during the buildout of that shop that his wife, Jen, reminded Darrell of his teenage years selling pit beef, and suggested he open a pit beef stand in the parking lot while he prepped the butcher shop to open. Sure, it would be a lot of work on top of the construction and buildout. But it would be fun! So Darrell set up a pit, propped up a table, borrowed a slicer, rented a fryer.
"I didn't even advertise. I just let the smoke roll across the neighborhood, calling to people," Darrell recalls. Within two days, 200 people had passed through that parking lot for a taste of his pit beef. "I decided to scratch the butcher shop idea and turn the space into a pit beef joint."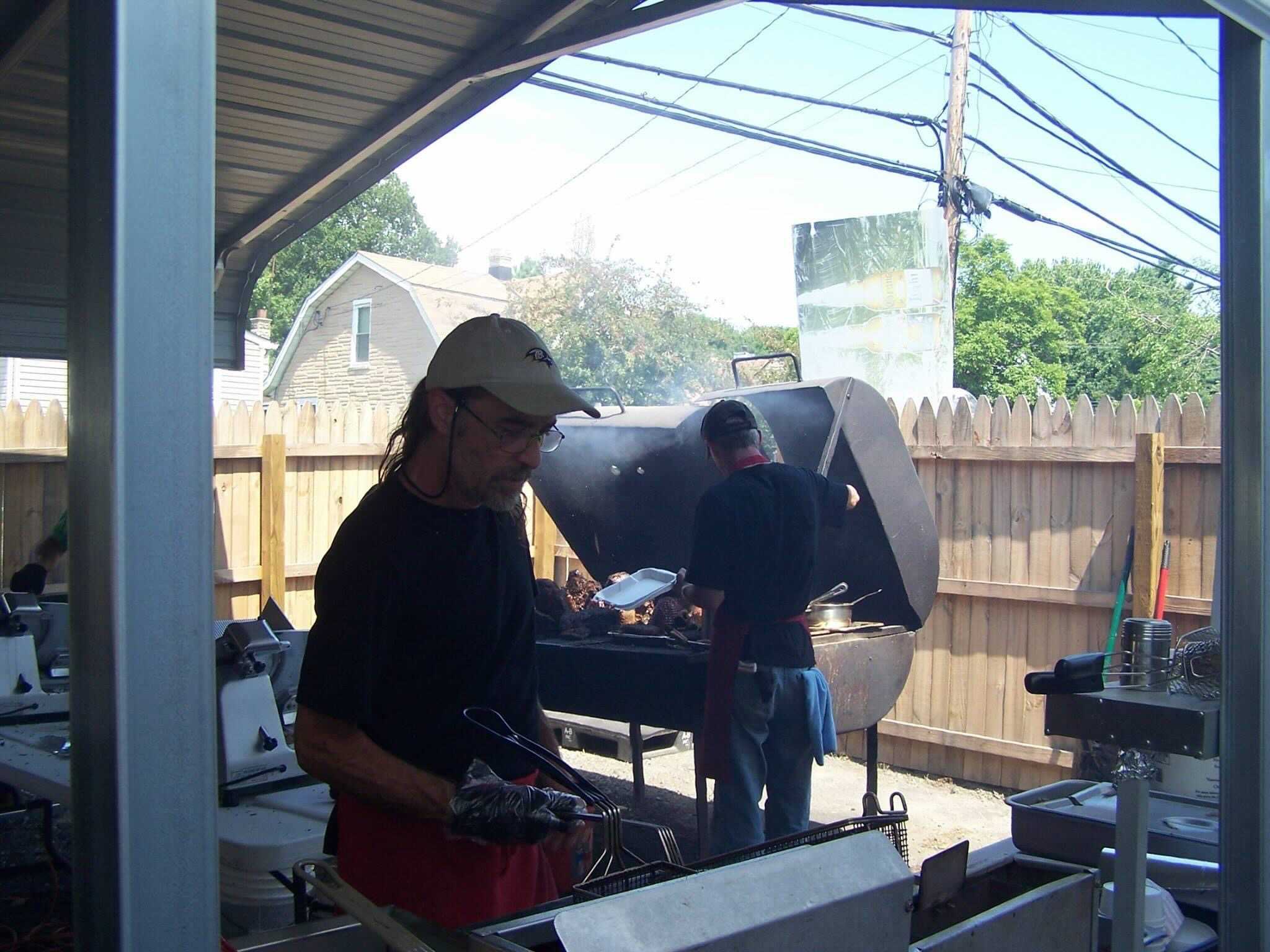 That was six years ago. If you ask Darrell about how it feels to be living his dream of having a pit beef stand, he'll very matter of factly let you know that owning a business—specifically a restaurant—was always Jen's dream. For him, he just wanted to work for himself, and enjoy working with a team. And if you ask him about the art of crafting the perfect pit beef sandwich—which many believe Cruiser's Pit Beef has done—he'll chalk it up to DNA rather than talent.
"I thought everybody was good at this. You know, beef cooked over fire is literally in our DNA from caveman times. Honestly, I keep it as simple as possible. We use charcoal, water, and beef," Darrell says. But as journalist Rafael Alvarez says of pit beef, pit beef is "easy to produce and easier to screw up."
Over the last six years, Darrell and Jen have done well with Cruiser's Pit Beef. And though the pandemic hit them hard, they were able to stay open by closing for one extra day per week—which meant not having to let go of any staff. While many other local restaurants shuttered during the pandemic, they continue to weather the storm.
"It's difficult, you know, because you you need to raise your prices when you go from paying $17 for fryer oil to $40 overnight," Jen explains. "And all goods are rising in price unpredictably. But you can't raise your own prices so high that customers stop coming. And you can't keep them so low that you're not making any money. You have to keep going because you put everything that you possibly have into it—all your money or your time or your effort. You can't just shut down. You've got to figure out ways to keep going. It's our livelihood, you know what I mean?"
One thing that's helping Darrell and Jen keep going is the $5,600 they just found out they won as part of SpotOn's "Tip the Real MVPs" campaign. In honor of the 56th "Biggest Football Event of the Year," SpotOn added $5.60 to every order made through their online ordering platform on game day, and selected one restaurant at random to receive $5,600.
"It was such a welcome surprise during what have been really hard times for all restaurants," Jen says.
So how will they use the $5,600? Darrell would like to invest in a new food truck to handle their catering business with companies like Amazon and Under Armour that have flocked to the old Bethlehem Steel Plant neighborhood in the last decade. Jen thinks they should use the money to upgrade their hood ventilation system.
"Yeah, it gets a little smoky in here," Darrell laughs, adding, "But that's part of our charm! You come in hungry, you leave full and smelling of charcoal."