Jen Lesniak, Sr. Director of Consumer Products has been recognized by Hospitality Technology (HT) magazine with a 2022 Top Women in Restaurant Technology Rising Star award. The award confirms what the SpotOn team has known to be true from Day One—Jen is a phenomenal leader and strategist who is only just beginning to have a big impact on the restaurant industry.
We sat down with Jen to talk about her career path, her leadership approach, and 2022 technology trends.
Why did you decide on a career in restaurant technology? What led you down this career path?
Jen Lesniak: My husband and I love to eat out at local restaurants and we've made friends with many of the owners. Through the years, I've heard and experienced, first hand, how technology wasn't meeting their needs. I'm a problem-solver by nature, and I've spent most of my career in consulting helping businesses in a wide range of industries turn complex processes into simple experiences for their customers. When I was ready to leave consulting, there was this natural opportunity to bring together my passion for the restaurant industry with my ability to remove points of friction for customers.
I love working on technology that simplifies, streamlines, and elevates the experience independent restaurant owners want to deliver to their guests.
What aspects of technology are you particularly passionate about?
Jen Lesniak: I'm passionate about leveling the playing field, by giving independent owners and operators—like the restaurateurs my husband and I have befriended over the years—the tools and resources they need to deliver consistently engaging, memorable experiences to their guests at every touchpoint. I'm about democratizing the tools and resources that are usually only available to larger companies. I love working on technology that simplifies, streamlines, and elevates the experience independent restaurant owners want to deliver to their guests. If you really want to hear me "nerd" out on what I love about technology in this space, I am almost embarrassingly passionate about solving ambiguous, complex problems, and uncovering which experience-enhancing technologies will keep customers coming back for more.
What restaurant technologies are you most excited for in 2022? Where do you see the future of restaurant technology headed?
Jen Lesniak: We are living in wild times and I think that the most exciting silver lining from the pandemic has been the rapid acceleration of digital technology. Much like we saw in retail many years ago, restaurant technology is going through a massive digital transformation, fueled by the pandemic. The amount of technology adopted in the last 12 – 24 months is what you'd typically see in a span of several years. It's happening at a break-neck pace and it's incredibly exciting. This is largely due to the fact that customer expectations have dramatically shifted when it comes to the role mobile devices play throughout the dining journey. They now expect to be able to use their phones to do anything from ordering to paying for added convenience and safety. The table stakes have changed and restaurant owners are doing everything they can to add or enhance their technology to meet those changing customer needs—from adding technology to support mobile ordering, pickup and delivery, to on-demand reservations and digital waitlists with greater transparency, to contactless payments, digital menus, and loyalty programs.
There are so many directions the industry is broadening to encompass—from AI to QR codes to the rise of digital wallets, crypto, and NFTs.
In 2022 and beyond, mobile devices are poised to play an even more pivotal role in evolving the dining experience. I expect to see more immersive and collaborative experiences, as well as a diversification of methods used for personalization. We'll see technology built to tailor the experience to each specific guest's preferences and needs. There are so many directions the industry is broadening to encompass—from AI to QR codes to the rise of digital wallets, crypto, and NFTs. These have been trying times, for sure, but the innovation coming out of the struggles is super-charged and I'm so excited to be part of this moment in history!
What accomplishment within your career are you most proud of?
Jen Lesniak: Just before I started at SpotOn, a small—but mighty—team of five talented people worked on an urgent initiative to drive our online ordering product SpotOn Order to market. Small businesses were in dire need of technological solutions to stay in business in the early days of the pandemic, and I'm proud of the work that scrappy team was able to do to provide a quick solution for small businesses to help them when they needed it most. With that dire need met, I had the honor of joining and leading that team in a slower, more methodical exercise of re-envisioning the SpotOn Order product. We took a step back to consider how we could make SpotOn Order the best it could possibly be based on the needs of our clients and the behavior of their customers. In a short period of time, I was able to hire new talent to add to our team, re-envision the product, and launch a brand new version that was industry-leading, stable, and high-performing. Conversion increased over 30%. While I'm enormously proud of that success, the pace of the innovation was the most exciting part for me. I am grateful to our incredible team for their hard work, ingenuity, and collaboration in support of our clients.
What does it mean to you to be nominated for and win a Women in Restaurant Technology's 2022 Rising Star award?
Jen Lesniak: I am absolutely thrilled to be receiving this award, especially considering what my female colleagues in restaurant tech have accomplished this year. I'm overwhelmed with gratitude to have been nominated and beyond honored to have been selected.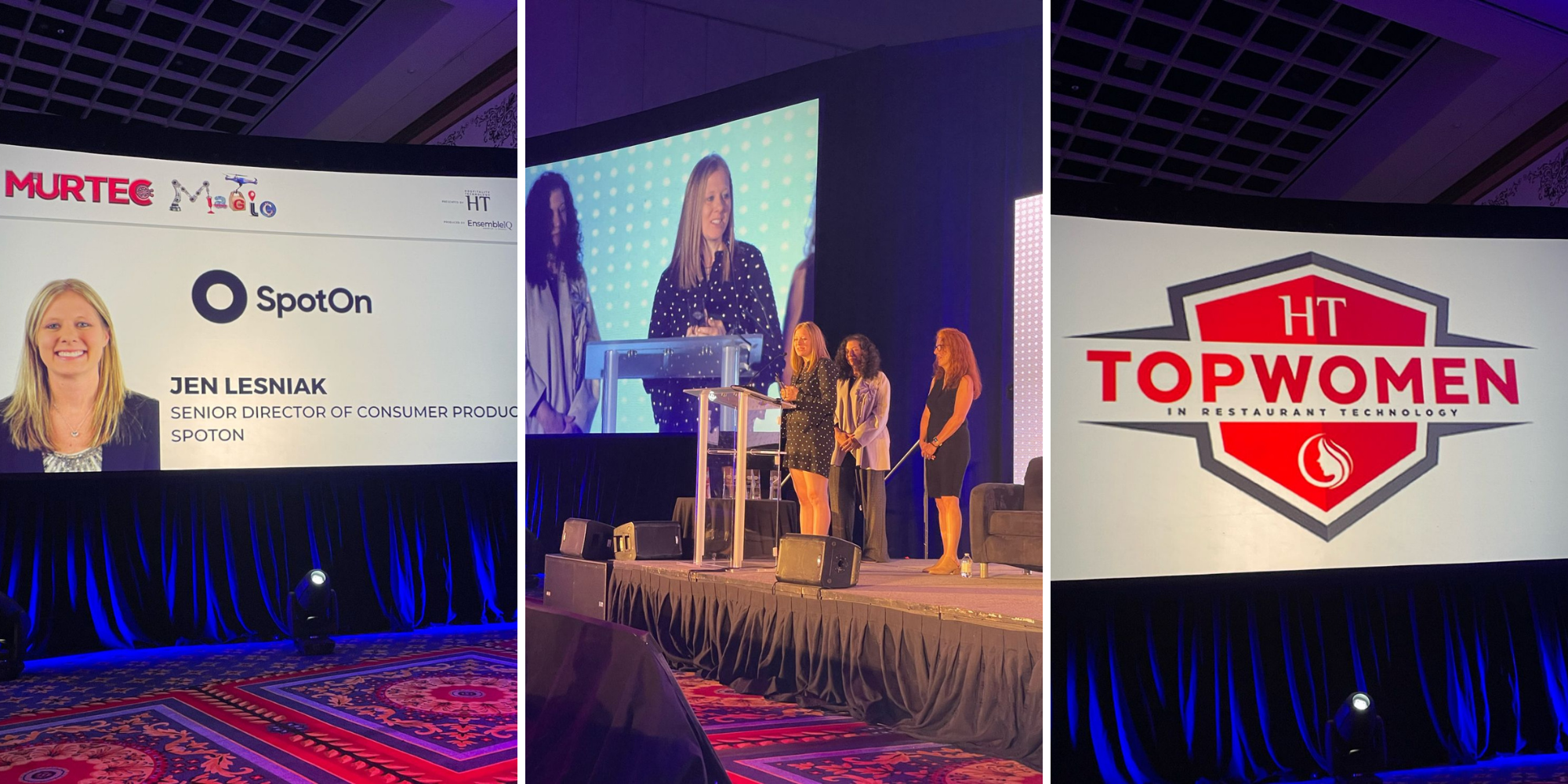 To be honest, the spotlight is not a comfortable place for me! So, I'd like to use this moment to shine a light on the other women on my team who were crucial to the product's success, including Kirsten Gale and Ren Stone. This award is a good reminder of how important it is to accept praise with grace (I'm working on that!), and as women—and humans—in the restaurant technology industry, to build each other up every day.
ABOUT THE TOP WOMEN IN RESTAURANT TECHNOLOGY AWARDS
In their sixth year, the Top Women in Restaurant Technology Awards aim to recognize and honor a diverse array of females in the foodservice technology industry, from restaurants and technology suppliers, who are reimagining how things are done in restaurants while demonstrating excellence in leadership, inventiveness and skill. The 2022 Honorees will be recognized in three categories including: Rising Star: Presented to women from any level of an organization, less than five years' experience in the industry, who have demonstrated leadership and are already making a mark in foodservice technology at an early stage in their careers; Innovator: Presented to women who are forward thinkers and who have executed on tools and strategy to transform the foodservice technology space in a positive manner by creating or deploying emerging technologies that reimagine how things are done while paving the way for future technologies; and The Lifetime Achievement Award: This award is presented in recognition of a lifetime (no less than 15 years) of service and accomplishments in the foodservice technology industry.