Mother's Day is just around the corner. And the National Restaurant Association says 45% of consumers plan to eat out or order online that day. That makes it the busiest and most profitable holiday of the year for restaurants everywhere.
💡
4 in 10 consumers will eat out or order online on Mother's Day.
A good number of consumers (27%) want the full-service experience. But with restaurants being so jam packed on the actual day, many people (18%) will opt for take-out and delivery. That's why we compiled this list of Mother's Day restaurant ideas for both in-house and online experiences. Let's get into it.
Showcase Mother's Day themed items
The National Restaurant Associations reports that 46% of guests are looking for special Mother's Day items. So, to get you inspired, our first 6 ideas are focused on your menu, which can be updated in your restaurant POS in advance.
1. Create unique cocktails
Go beyond the mimosa. Give moms something different with Mother's Day spring cocktails like Miss Elena, Fleur de Paradis, and Earl Grey Marteani. And be sure to offer a mocktail version for mothers who don't drink.
2. Offer special desserts
Cheesecake, lemon curd, and tiramisu top BBC's Mother's Day dessert list. Step outside of your usual sweet offerings and create 1 or 2 desserts featured only on Mother's Day.
3. Expand your kids menu
Mom wants to eat out with her family. Consider including popular kids items like pancakes and waffles for breakfast. Or chicken fingers, mac and cheese, or kid-sized burgers for lunch and dinner.
4. Have a Mother's Day brunch
If you normally serve breakfast and lunch, or just lunch, consider opening a bit earlier and offering a special Mother's day brunch. French toast, omelets, and eggs Benedict are some popular items you could add to the menu.
5. Give moms the surf and turf
A few years back the National Restaurant Association found that moms want to splurge on their special day with seafood, steak, and ethnic cuisine. Foodandwine.com delivers some tasty surf and turf recipes to get you inspired. Adding more expensive items like these are a great way to increase revenue.
6. Pair it with wine
It's no secret that women prefer wine over beer. To dazzle your Mother's Day guests at dinnertime, create wine pairings for your most popular entrees, a selection of cheeses, or even some chocolate delicacies.
Shower moms with complimentary gifts
It only takes a little gift to make moms feel special. According to the National Restaurant Association, 44% of guests are hoping for a free add-on for mom when they go out to eat on the big day. Here are some Mother's Day Restaurant ideas for gifts that'll both surprise and delight moms.
💡
44% of guests are hoping for a free add-in for mom, such as a special cocktail, dessert, flowers, or chocolates
7. Offer a complimentary drink
If you have a popular well drink with low costs, you could offer a complimentary one to moms without breaking the bank. Light and refreshing drinks like mimosas, Bellinis, and sangrias are perfect for such occasions and are sure to please.
8. Give out free flowers
Moms love flowers. Roses, carnations, and tulips top the list of the best flowers for Mother's Day. You could have your hosts hand out flowers when moms arrive or put flowers on tables and servers could let guests know they could take one for each mom when they leave.
9. Get them back in with a gift card
Celebrate mom and drive repeat business by giving out gift cards. Consider creating a Mother's Day themed gift card in the amount of $5, $10, or $25. To ensure that they're not a free-for-all, servers could hand out one gift card per table (or per mom) after dine-in guests have paid the check.
10. Hand out complimentary sweets
Looking for an easy way to delight moms? Have your pastry chef walk around with a tray of chocolate-dipped strawberries, truffles, or bite-sized tarts. In fact, you could prepare a variety of mini desserts that'll make every mom's taste buds sing.
11. Offer a gift basket with restaurant merch
If you're looking to go all out on Mother's Day, put all the suggested items above in a gift basket, add a branded mug or t-shirt, and give one to each mom on their way out. When the guests coming in see the moms going out, they'll wait even longer for a table at your restaurant.
Give special Mother's Day promotions
When consumers dine out on Mother's Day, 41% are looking for some kind of discount. Here are a few Mother's Day marketing ideas for restaurants so you can be top of guests' minds on May 14th.
💡
41% of guests looking for a Mother's Day discount at restaurants
12. Offer bottomless or discounted drinks
On Mother's Day, some restaurants like to offer mimosas or sangrias at $5 a glass. And if they really want to draw in the crowd, they'll strategically implement bottomless drink promotions paired with brunch. Just be sure your state doesn't have a ban on discounted alcohol.
13. Create a prix fixe menu
Prix fixe menus, also known as fixed-price menus, are a popular option for Mother's Day. By offering a set selection of courses for a preset price, you allow guests to sample a variety of dishes. Fixed menus not only make the choice easy for your guests, but they promote your best dishes.
14. Leverage social media
Get creative on Facebook, Pinterest, and Instagram. Have moms share a funny story, photo, or video of their kids or classic family event and give them a $5 promo code for their entry. Or make it a contest and award a free meal for 2 for the top submissions. It's a Mother's Day promotion everyone will remember.
15. Hold a raffle
Enter every Mother's Day guest into a drawing for prizes mom will love—like a gift card to the mall, a visit to a salon, or a session at the spa. Promote your raffle on social media a couple of weeks before Mother's Day and announce the winner the day after.
16. Offer extra loyalty points
If you have a loyalty rewards program, give additional loyalty points to moms for just being moms. Or offer more points for Mother's Day items that you want to promote on the day. You could even have special rewards like a drink, dessert, or merch that can only be redeemed on the day.
Create a family-oriented atmosphere
On Mother's Day, guests don't only want deals, but they want to be in a festive environment. Show them you care, by creating an inviting atmosphere that makes mom the center of attention.
17. Decorate your restaurant
The best impression is a great first impression. Decorate your restaurant with red, white, and pink balloons and flowers to enchant your guests. Put flowers in stable white porcelain vases at tables and hand out heart-shaped helium balloons when patrons leave.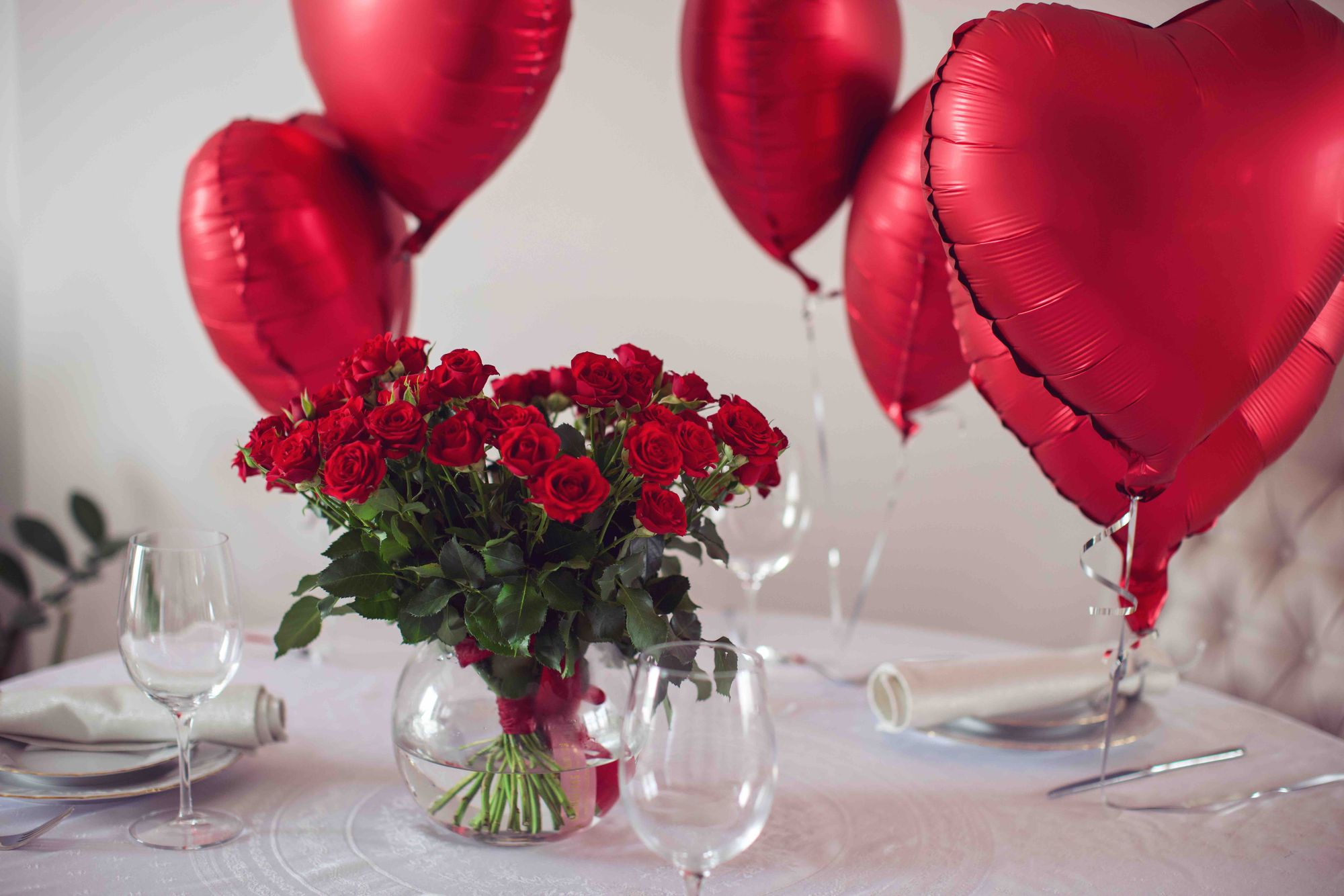 18. Play music dedicated to mom
Make a Mother's Day themed playlist that matches your restaurant's style. You could choose between popular classical pieces moms will know or classic songs dedicated to moms everywhere.
19. Hire a balloon artist or magician
Sometimes the best Mother's Day present is happy kids. Hire a balloon artist to make animal shapes while guests wait for their food. Or a magician can entertain kids with close-up magic at tables or a bigger show in a section of your restaurant.
20. Feature live music
Nothing livens up a restaurant atmosphere like a band. Hire a local band to play all the Mother's Day favorite tunes. Or encourage moms to come forward and make requests. Either way, live music is sure to be a hit with everyone.
21. Give kids a project
Keep kids busy at the table. Create Mother's Day themed activity sheets with coloring pages, sudoku puzzles, crosswords, and word searches. Or you could give kids blank greeting cards so they can make their own unique card for mom. Just be sure to have enough crayons, markers, or coloring pencils for everyone.
Make it special for online guests
Many people avoid going out on Mother's Day because it is the busiest restaurant holiday. But they still want to enjoy your food. Get the most out of the day, by offering these guests specials through online ordering.
💡
18% of consumers plan to order takeout or delivery on Mother's Day.
22. Offer breakfast-in-bed delivery combos
Create 3 takeout-only meal combinations that are geared specifically for mom's breakfast in bed. Think french toast with bacon, and orange juice. Or a seasonal omelet with a specialty coffee drink. It could even be a signature vegetarian or vegan breakfast that travels well.
23. Provide a family picnic package
Create a family picnic to-go package that guests can come by and pick up on the way to the local park. Mom's will appreciate not having to cook and they'll get some extra time with their family.
Make this Mother's Day your best yet
With the hospitality industry back in full gear after a challenging couple of years, this Mother's Day is projected to be bustling for restaurants of all types. And when you wow your guests with new Mother's Day promotion and marketing ideas, they'll take note. Not only will you be giving your guests an experience to remember, but you'll also be driving future business for years to come.