As cities and states begin to re-open for business, SpotOn clients are changing their operational and technology models to provide contactless ordering and payment options for their guests. Consumer behavior has already shifted significantly to digital and mobile channels, as evidenced by Mastercard's recent announcement of a 40% growth in contactless transactions globally.
SpotOn's enterprise platform has been a mobile-first solution since its founding and is deploying its NFC, mobile, and online ordering capabilities now more than ever.
Here we'll take a look at the entire ecosystem of contactless technologies that SpotOn offers to enterprise businesses, from digital ordering and contactless payments to fulfillment and delivery.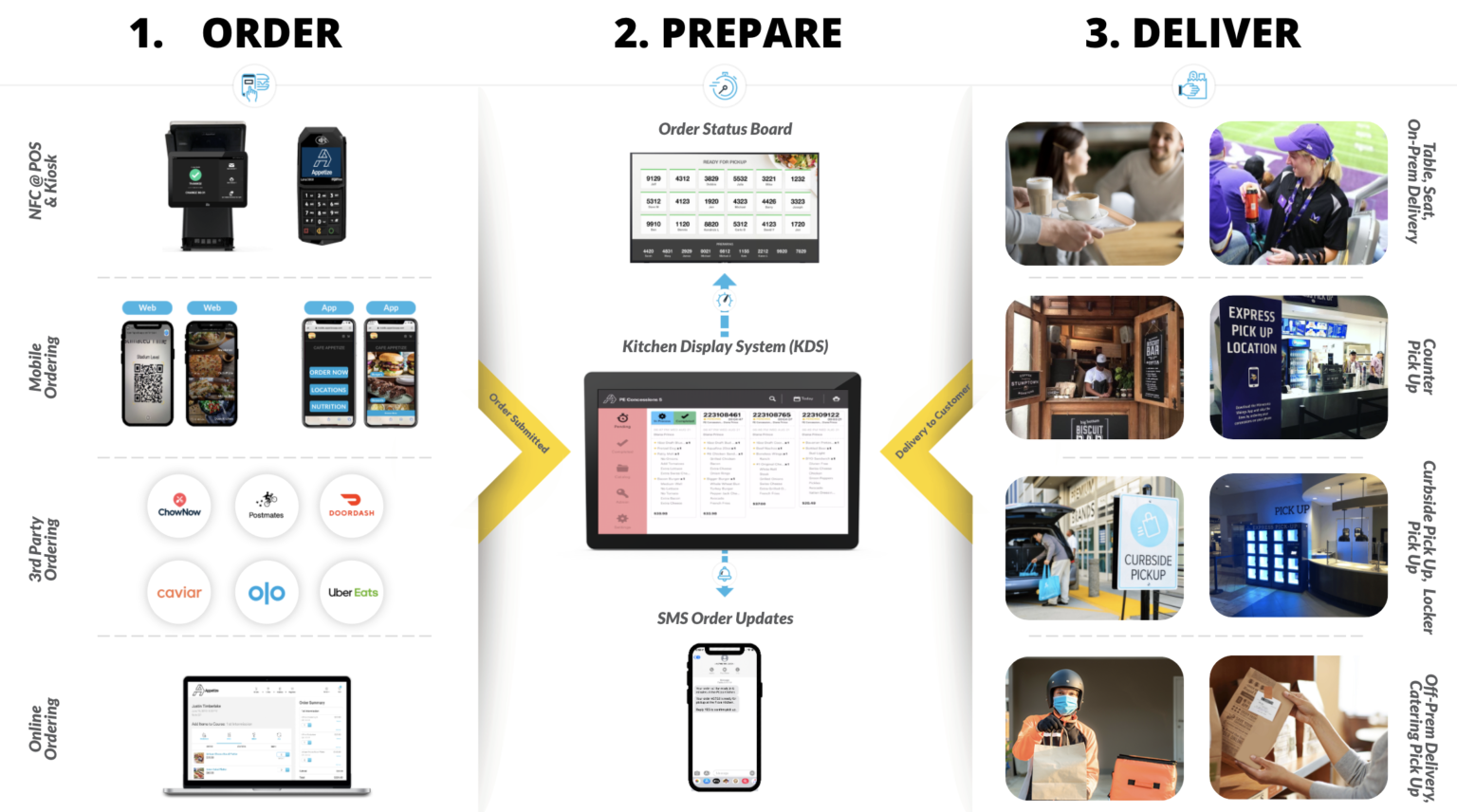 Order.
Contactless Payment (NFC)
With the recent influx of credit card companies shipping NFC-enabled tap-to-pay cards and more consumers using mobile wallets like Apple Pay, Google Pay, and Samsung Pay, enterprise businesses need to be ready for a world with less physical cash. SpotOn POS terminals, handheld devices, and kiosks are all equipped with payment terminals with Near Field Communication (NFC) to accept contactless payments, allowing transactions to be completed without the cashier or guest passing anything back and forth.
Mobile Web
In 2019 and 2020, many SpotOn enterprise clients chose to augment native app experiences with app-less technologies through mobile web ordering. With SpotOn's mobile web platform, guests use their own devices to place orders without having to install any apps. This full-featured ordering system can be accessed by simply pointing the camera of a mobile phone at a QR code and following the phone's on-screen prompt. SpotOn enterprise mobile web solution enables four concepts: Virtual Kiosk, Virtual Waiter, Virtual Hawker, and Virtual Drive-Thru.
Virtual Kiosk
Place QR codes on signs at entrance doors, on counters, and on walls to enable guests to use their own device as a "virtual kiosk" to place orders. QR codes can be customized to an individual restaurant or stand or can be set up to present a choice of locations to order from, for food courts and other large facilities.
Virtual Waiter
Place QR codes on tables to allow guests to view menus digitally, eliminating the need for printed versions. You can also allow guests to order directly from the mobile menu, with options for delivery to the table or for customer pickup.
Virtual Hawker (Venues)
Place QR codes at each seat. This allows guests to place orders using their own devices and without having to leave their seats. Available ordering options can be grouped by section. This can also be configured for customer pick up or for in-seat delivery.
Virtual Drive-Thru (Restaurants)
Place QR codes on signs at each parking spot, allowing customers to order from their car using their own device. This can be configured for customer pick up or delivery to their location. This method reduces drive-thru lines and increases volume.
Mobile API
The SpotOn Interact Mobile API allows app developers to embed food, beverage, and retail ordering inside your branded, native mobile app. Guests can order from any specific location—whether a suite, table, or seat number. SpotOn powers these experiences at some of the world's largest stadiums and theme parks today.
3rd Party Delivery
SpotOn's entprise solution enables major third-party delivery services—including Postmates, DoorDash, UberEats, and others—for your guests to order pickup and delivery. Orders are submitted directly into the SpotOn Kitchen Display System, eliminating the need for multiple tablets or re-keying of orders. As orders flow in from customers, sales figures are reconciled in SpotOn Connect. Menus are also controlled through one source so changes can be made quickly and easily.
Online Ordering
SpotOn Interact Online Ordering enables campuses, entertainment complexes, and attractions to offer pre-orders of food, beverage, and retail to their guests. Operators can set up meal packages, platters, and other catered offerings for uncongested pickup anywhere on site.
Prepare.

Kitchen Prep and Customer Notification
As an omnichannel platform, SpotOn consolidates all orders regardless of the method in which they were placed into a single unified system. Devices designed for staff productivity are integrated directly with customer communications, ensuring that guests are kept up-to-date and reducing congestion and crowding at pickup locations.
Kitchen Display System
Digitally route orders to the kitchen through the SpotOn KDS. Track order progress from order receipt through preparation and to delivery completion.
Order Status Boards
With new virtual ordering methods and limited staff interaction, communication will be a key component of customer satisfaction going forward. Order status boards display the current status of orders and notify customers when their order is ready. These screens can be placed anywhere, including at pick-up locations, by entrances, and in parking areas to keep customers informed and to help avoid waiting and congestion.
SMS Order Alerts
Keep customers up-to-date on their order status through SMS text alerts, sent automatically as their order is being prepared and when it is ready for pick up.
Deliver.
SpotOn supports a number of pick-up and delivery options. This includes counter-based pickup, curbside pick up, and delivery, as well as integrations with 3rd party delivery services and secure locker providers.
Learn more about SpotOn's commerce solutions for high volume enteprise businesses here.