Some call it fast food. Others call it quick service. But no matter the label, everyone in this category is focused on pushing out good food as quickly as possible.
You could be a burger joint staking your claim to the best fries, milkshakes, and of course, burgers on this side of the nearest major river. Or you could be serving up some fast crispy chicken deliciousness with a side of biscuits, coleslaw, and super creamy mac and cheese. Or, perhaps, you're showing off a speedy version of a popular ethnic cuisine from the Mexican, Asian, or Middle Eastern culture.
And maybe amid all this fast business, you've noticed that even though your team members are moving quicker, your profit margins seem to be staying right where they've always been—in single-digit territory.
If this is the case, you're not alone. In 2019, an IBISWorld report pinned the average restaurant profit margins at 6.2%, with counter-service operations faring a little better than full-service establishments. However, that "better" may only be 1 or 2 percentage points higher.
And wherever your fast food restaurant profit margins are, you may have found yourself settling for single-digits for far too long.
What if it didn't have to like this? What if you could discover new ways to nudge those profit margins up incrementally, by a quarter, half, or percentage point at a time?
Well, the truth is, it's not just possible, it's plausible.
Why are quick-service restaurant profit margins so low?
Profit margins for quick-serve restaurants are directly affected by 3 major expenses—the cost of goods sold (COGS), labor, and overhead expenses—also known as "The Big 3." If these expenses go up more than your average restaurant revenue, your profit margins drop.
Because fast-food establishments take advantage of counter-service (like fast-casual), labor costs are lower than traditional full-service establishments. But with food costs and minimum wages rising, many quick-service restaurants have struggled to make a dent in their profit margins over the past decade.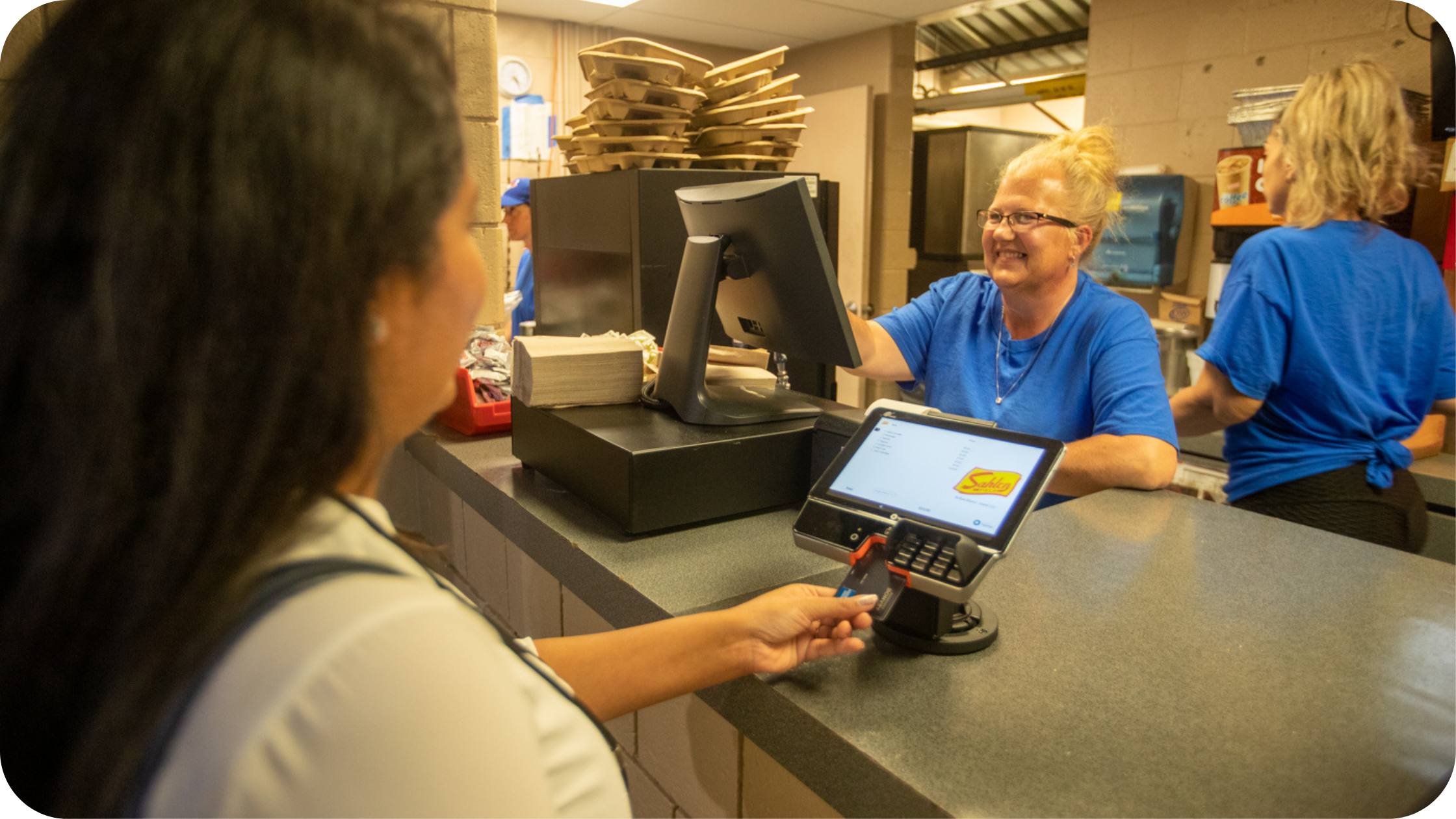 Then COVID hit.
And even though the pandemic didn't impact quick service as much as other segments, this fastest restaurant category wasn't wholly immune to its shockwaves. That's because continual issues with the supply chain sent food costs to new heights. And as quick-service restaurants pivoted to online ordering, they were instantly hit with hefty commission-based fees from third-party delivery platforms.
So, what about those fast-food restaurant profit margins? They've finally surpassed pre-pandemic numbers, but they could still be better.
And with a bit of investment in the right tools, they could be much better.
How to increase restaurant sales (and decrease costs) in quick service.
Fast-food restaurants can obtain higher profit margins by doing 2 things: increasing revenue and decreasing expenses.
This article, part of our "Points of Profit" series for restaurants, breaks down how quick-service establishments could make this happen by gradually adding specific features to their tech stack.
Technology has the power to boost fast-food sales by expanding an online presence, increasing throughput, and expediting the ordering process. On top of that, it can reduce costs by cutting out unnecessary fees and eliminating waste.
And as you implement each of the steps below, you'll be able to push your quick-service restaurant into the digital age and, conceivably, into double-digit profit margins. Let's get rolling.
1. Get more exposure and guests by harnessing the power of Google.
When people are on the go and hungry for fast food, they turn to Google to find their next place to eat. In fact, of the 64,000 searches done every second on Google, restaurant and food queries consistently land in the top 20 searches. And when you consider "fast food near me" is searched more than 200,000 times each month, it's clear fast-food operators must be very good friends with Google if they want new customers to find them. That's why every quick-serve establishment should have a Google My Business (GMB) page—a free business profile on Google. And more importantly, they need to keep every option in GMB continually updated, so they show up in specific searches like "best bbq burger near me."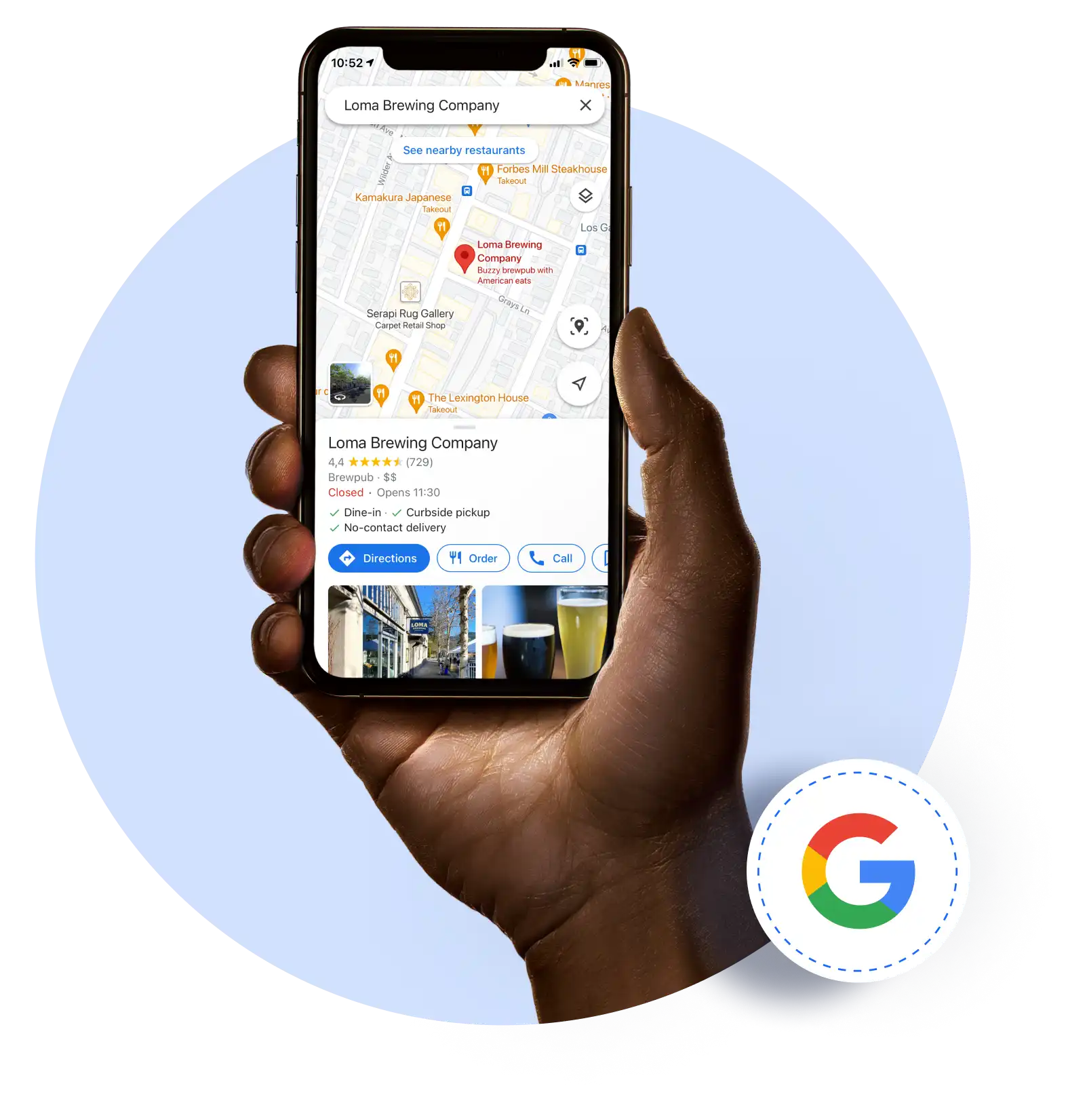 A Google My Business profile will also help you:
Display your menu and offer online ordering from your GMB page
Show images of your menu when your restaurant appears in searches
Manage your reputation on Google by responding to customer reviews
Keep guests updated on holiday hours, menu items, and other information
94% of diners base their decisions of where to eat by reading reviews.
Solution: Google My Business through SpotOn
Because SpotOn has a unique partnership with Google, quick-service restaurants using SpotOn Restaurant point-of-sale can create a Google My Business profile in just a few minutes (instead of several days.) With this integration, your fast-food location can:
Automatically sync your Google menu with online ordering on your website
Get notified when reviews are posted on Google so you can respond quickly
Keep menu pricing, descriptions, and images updated from one dashboard
2. Stop paying commission-based fees when guests order online.
If third-party delivery platforms control your online ordering, you could be incurring commission-based fees upwards of 30% on every order—even when customers pick it up themselves. And while these platforms may provide online visibility, they'll often still charge you when repeat customers order from your restaurant through their site. The solution? Get an online ordering menu (with a flat fee) that's connected to your website. And by weaning your customers off of delivery platforms, you'll have the potential to curb commission-based fees and raise your profit margins. What about delivery? Jump to the Solution section below to see how SpotOn handles this.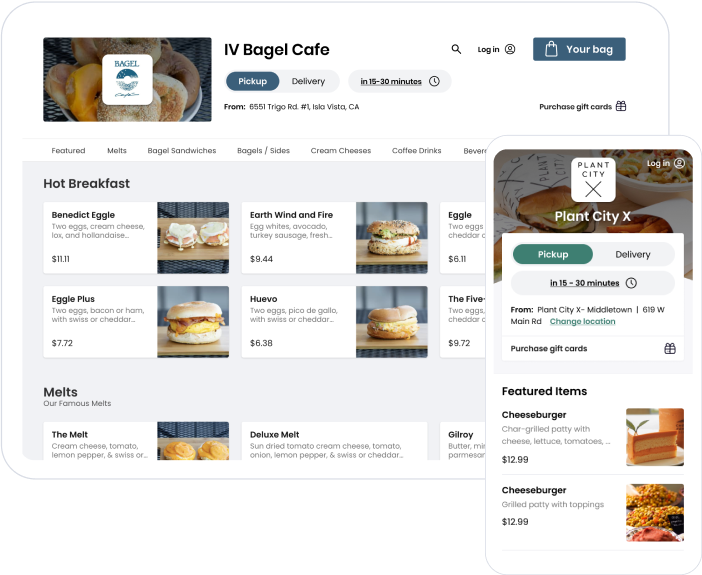 With your own online ordering menu, you can:
Avoid commission-based fees of third-party platforms and keep more profit
Collect your online guests' data so you can send them promotional emails
Extend your data-collecting reach to discover what's selling online and who's buying it
40% of customers prefer to order directly via a restaurant's own branded website or app.
Solution: SpotOn Order & Delivery + Order with Google
SpotOn Order is an online ordering platform where SpotOn engineers do the heavy lifting of building your online menu system. With it, you can accept unlimited, commission-free orders for pickup through your website and the SpotOn consumer app for iPhone and Android for a flat monthly rate. And delivery? Through a unique partnership with DoorDash, SpotOn Delivery replaces commission-based fees with low flat per-order rates when customers choose delivery instead of pickup, with the ability to pass on as much of the cost as you like to customers.
Other features of SpotOn Order include:
Pacing options that control incoming orders based on kitchen capacity
Integrations so you can fulfill online orders through various channels
The ability to automatically import new guests into your customer database
Integrated digital loyalty rewards (see item 5 below for more details)
3. Trade out your printers for a kitchen display system (KDS).
Think back to all the times printers failed you. The paper went red when you were in the weeds, and a cook had to scramble to the supply room to get more. Or worse yet, it ran out entirely, and the chit printer persisted in pushing out invisible orders. Maybe the ink on the tickets gradually got fainter, and your cooks squinted for a week until someone changed out the ribbon. Or what about that time a bunch of tickets fell off the rail and found their way into the secret sauce. These scenarios never happen with a KDS. With it, your kitchen can keep track of orders and push out food faster without printer disasters. And this new level of efficiency turns out to be excellent news for your fast-food restaurant's profit margins.
Connecting a KDS with your restaurant POS system allows you to:
Speed up and streamline communications between the counter and the kitchen
Unify and prioritize orders from many channels—delivery, pickup, and onsite
Keep cooks organized by displaying queue times and the earliest orders first
Trim budgets and reduce waste by eliminating thermal paper and ink ribbons
"With the KDS screens, we saw a decrease in food production time from 12 minutes down to just 8 – 9 minutes. The KDS screens also allow us to have a better labor spend per hour. We can run what used to be a six person line with only four cooks." –Hillary Holmes, General Manager, Von Elrod's Beer Hall and Kitchen, Nashville, TN
Solution: ChefTab Kitchen Display System (KDS) integration with SpotOn
SpotOn's kitchen display system integration harnesses the power of our cloud-based POS to seamlessly funnel orders from in-store and online to the kitchen, and can help your fast-food establishment by:                                  
Instantly displaying orders from counter stations, online menus, or QR codes
Highlighting modifiers and other important order information with color-coding
Automatically adjusting lead times for dine-in versus online ordering to manage the flow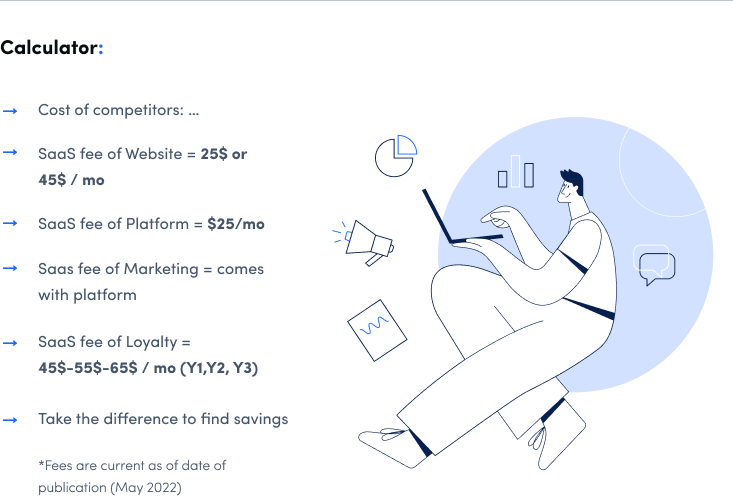 4. Let guests skip the line and order from their phones with QR codes.
It's 12:30, and your lunch rush is on. A guest steps into your fast-food restaurant with the hopes of ordering your famous BBQ bacon cheeseburger (or whatever you're famous for.) But they've only got 10 minutes. Then they see the 5-person line at the counter and a slow-ordering customer at the front. Nope. Just as they turn around to leave, a sign on the door catches their attention. It says, "Craving a faster way to order? Skip the line and place your order here." A QR code is just below these words. They think, "I'm hungry. Let's try it." Two minutes later, their order is in and paid for. Five more minutes pass, and it's up. They grab their order and walk out with three minutes to spare. When this scenario is multiplied, so is your potential for higher profit margins.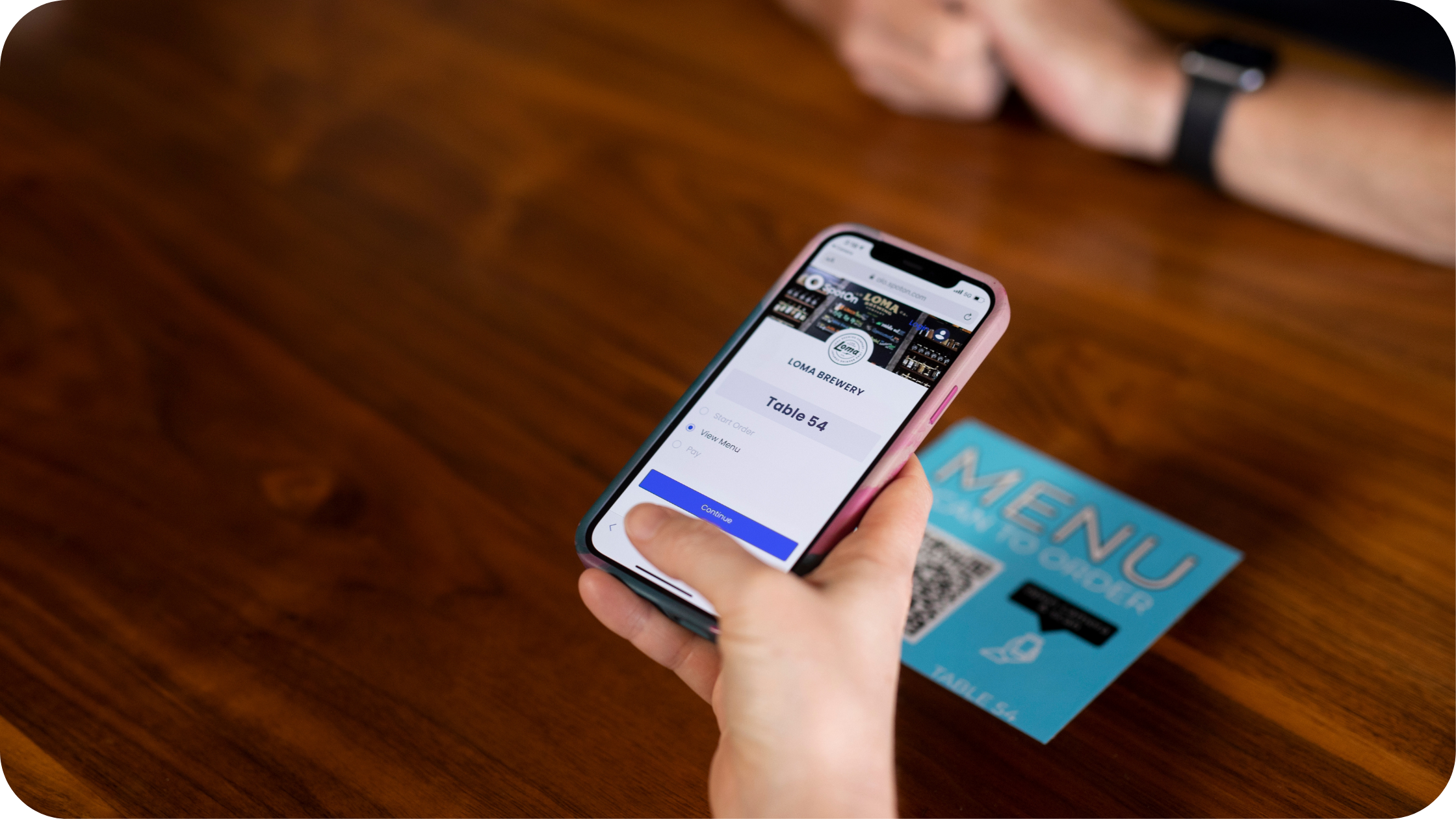 Ordering from QR codes is simple and fun. Here's how it works:
1. With their phone, a guest scans a QR code placed anywhere in your restaurant
2. From your online ordering menu, they can customize and place their order
3. The guest pays for their order (from their phone) and picks it up when ready

After using QR codes for 12 months, SpotOn clients saw a 3% increase in check averages and a 9% increase in total sales.*
Solution: SpotOn QR
SpotOn QR runs on the same system as SpotOn Order online ordering, providing QR codes for fast-casual restaurants that can be placed anywhere—on doors, at tables, even on your packaging. These codes integrate seamlessly with SpotOn's suite of restaurant products and provide access to an online menu where guests can order and pay instantly. SpotOn QR codes help you:

Boost sales by providing a faster way to order with automatic upselling
Save on labor by allowing guests to order and pay without a staff member
Keep your guests updated on current prices through a digital menu
Maintain safety in establishments by providing a contactless way to order
5. Keep guests coming back with loyalty rewards.
New customers are 5 to 25 times more expensive to acquire than keeping existing ones. And creative promotions and incentives (along with your mouth-watering food) make guests excited to visit your restaurant again and again. Imagine if your customers could come in on a random day of the month and get their favorite meal at half price. Or, what if they could earn points towards a complimentary meal for 2. Or maybe, they could enter a lottery for the chance to name your next hot menu item. The sky's the limit. And when you engage your guests with rewards, great things can happen for your business and your profit margins.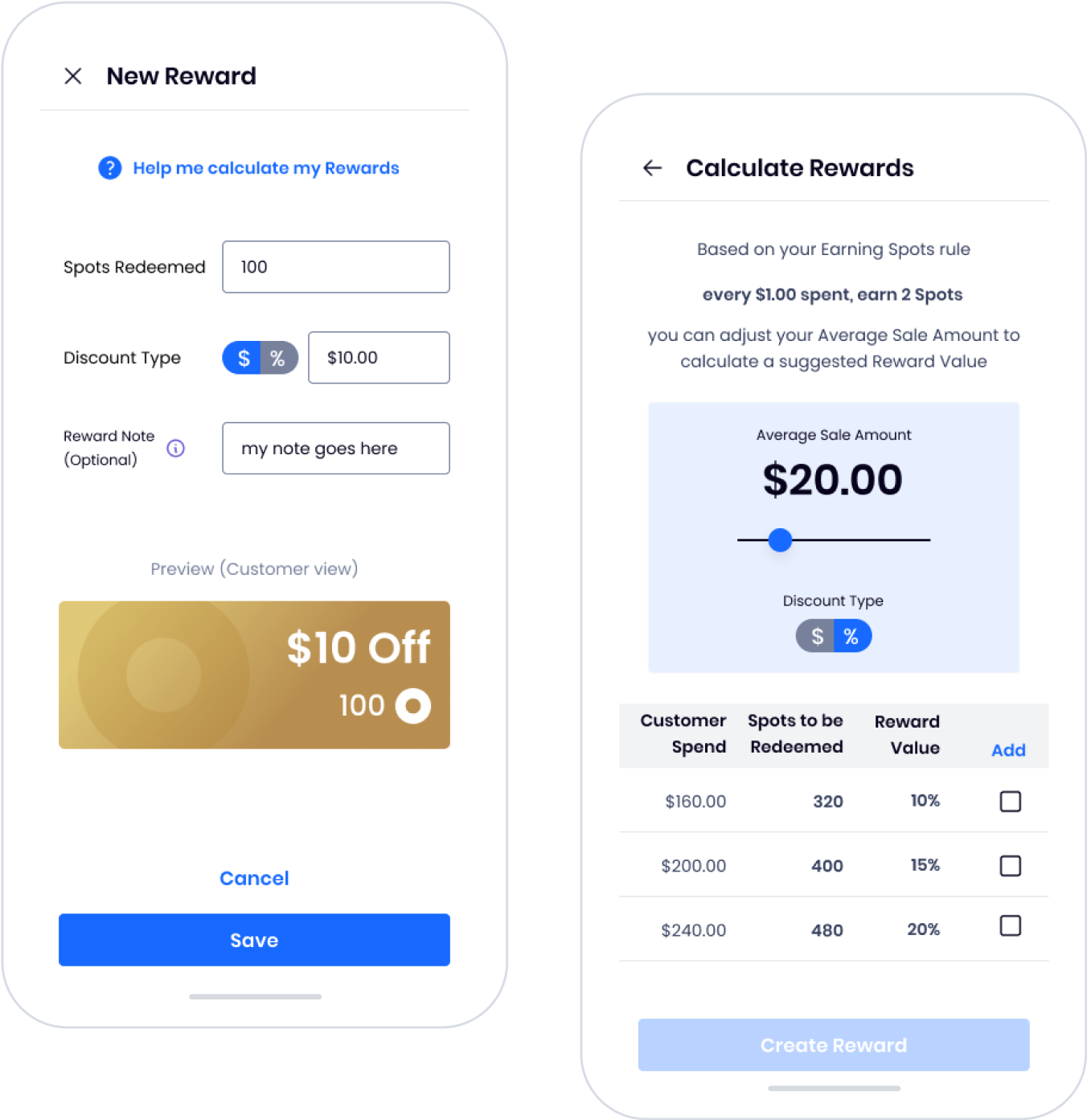 Check out these stats from SpotOn restaurant clients in 2021*:
50% of campaigns sent by restaurants in 2021 brought additional revenue on the day of the deal
Restaurants saw an average increase of $650 extra dollars on deal day
SpotOn's top 3 restaurants sent 18% more campaigns and saw a rise of 24% in sales
Solution: SpotOn Loyalty
SpotOn Loyalty is a customizable loyalty rewards program that makes it easy for quick-service establishments to engage with guests by giving restaurants two ways to reward participants—by visit or by how much they spend. And when they take these actions, guests rack up Spots (points) towards any reward you want to give them. SpotOn Loyalty also enables you to:
Send automated deals by customer type with customizable templates
Build your social media presence by awarding Spots for likes and shares
Track all loyalty through a dashboard so you can know what's working and track ROI
6. Make decisions from anywhere with cloud-based reporting.
Your fast-food data moves fast. And to follow (and react to) the trends that are happening in your quick-service restaurant, you've got to be able to tap into accurate real-time data at a moment's notice. How much revenue did your fries bring in this week? This month? What was the hottest item on the menu over the 3-day weekend? At what point in the day are you selling out of your signature chicken fingers? Which team members are your top performers? How many hamburgers did you sell the last 4th of July? Getting answers to your questions means that you can be prepared for your busiest days, discontinue menu items that aren't selling, and take whatever action you need to steer your quick-service restaurant towards more profits.
When thinking about your restaurant reporting data, consider these factors:
Anything you want to know should be easy to get and easy to understand
Your data should be in the cloud so you can access your reports from anywhere
In-house and online data should be integrated, giving you an accurate bird's eye view
Solution: SpotOn Restaurant
SpotOn Restaurant, integrated with SpotOn Order & Delivery, SpotOn QR, and SpotOn Loyalty, provides quick-service owners with a powerful restaurant reporting tool that allows them to see data across their operation—all from a centralized dashboard. SpotOn's reports also offer graphs and charts, so in-house and online trends from every department of your establishment are easy to monitor.
SpotOn's reporting tool comes with these features:
75+ interactive reports to give you the full scope of your information
Alerts that keep managers updated on critical financial thresholds
Remote access to cloud reports so you can get real-time data anywhere
Fast-track higher profit margins in fast food.
The future of quick service can be found in the technology that engages with guests online and accelerates the fulfillment of orders. And the fast-food establishments that embrace this technology today will be the ones that grow their profit margins tomorrow.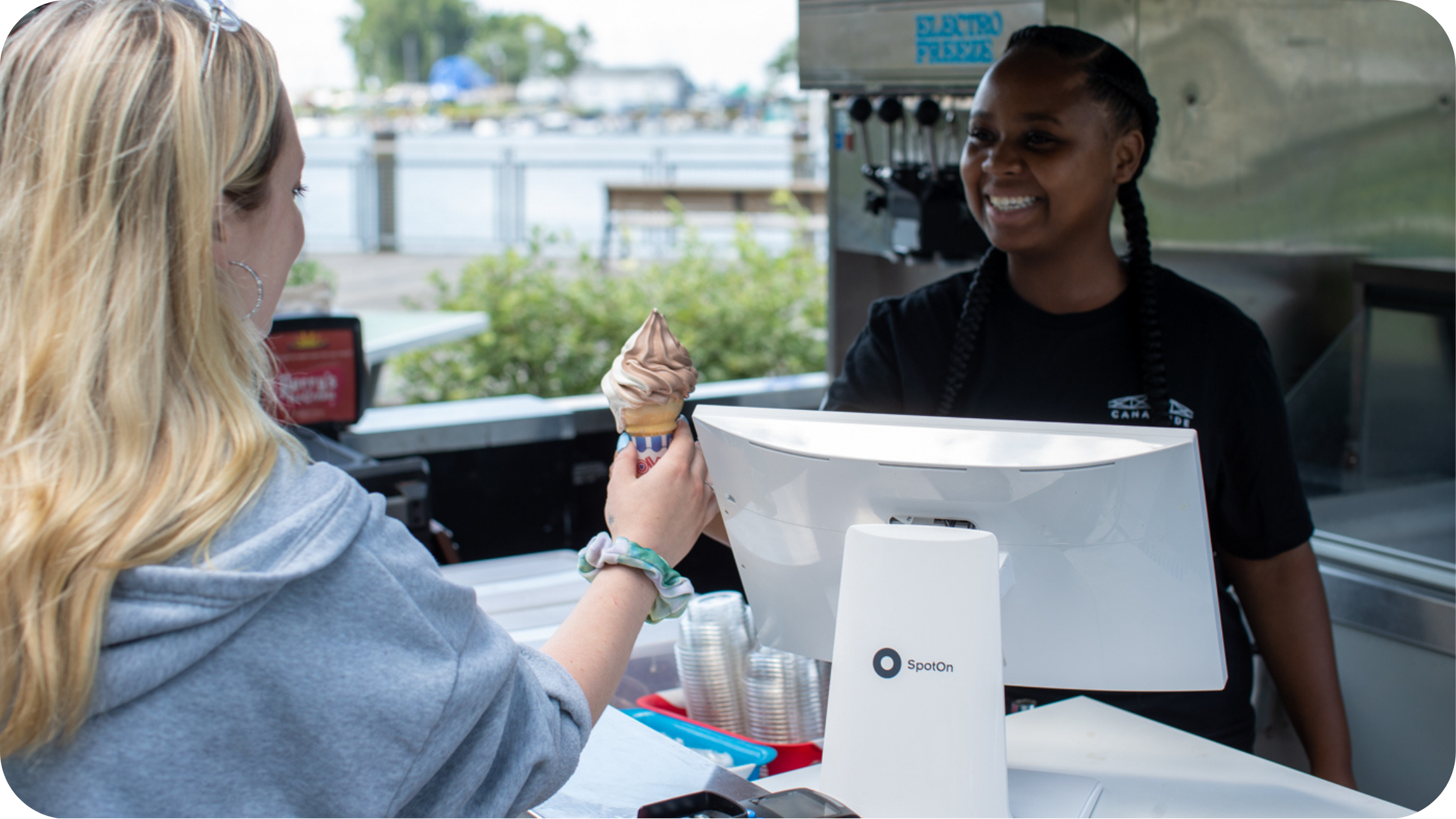 To learn more about how your quick-service restaurant can take your margins to the next level, check out SpotOn's comprehensive profit margin white paper—Maximizing Profits. And while you're at it, try out our restaurant profit margin calculator and find out how much new revenue you could be generating with the latest technology.
At SpotOn, we've built a complete suite of products designed to increase sales and lower costs for quick-service restaurants. And they're flexible, so you can implement what you need when you need it. Add a new tool, add to your bottom line. A half-a-point here, two points there. Month after month, the points of profit add up.
And ultimately, you'll see the impact beyond your bottom line. It'll be in the new store you can open up, the managing team you can hire, or the vacation you can finally take. Because that's the real point of profit.
---
*Fees are current as of date of publication (May 2022). Statistics for SpotOn clients are averages based on available data for restaurants using SpotOn products over the course of 2021.