To successfully reopen your business with social distancing guidelines in place, you can't afford to allow ordering to become a bottleneck.
Recent data clearly shows that guests want to use their phones and mobile ordering options more than ever, with food delivery apps seeing a 70% increase in orders and an online grocery delivery startup Instacart seeing a 500% rise in volume.
Mobile ordering is a simple solution for restaurants and retail businesses to implement. It provides guests with a convenient new ordering option and removes bottlenecks. And with a "virtual kiosk," mobile ordering doesn't need to be limited to off-premise applications.
A virtual kiosk allows guests to instantly access mobile ordering on their smartphone. It uses QR or Quick Response Codes—a surprisingly easy-to-use technology—to bring guests directly into the ordering site.
How to enable Virtual Kiosk.
The first step to enable a virtual kiosk is to set up an online or web-based mobile ordering site. SpotOn offers two options to do this:
SpotOn Order for independent and midsize restaurants, and
Interact Web for enterprise level businesses
The reason for using a web-based system as opposed to an app is it allows customers to interact with your brand without downloading or installing anything on their phone. It also allows you to use QR codes to take guests directly to the ordering site with no additional steps. It is this QR-enabled experience that is at the heart of a virtual kiosk.
QR Codes are designed to be recognized by the camera on a smartphone. By opening the camera app and pointing the camera at a QR Code, the phone will automatically ask if you would like to go to the ordering site. Clicking OK will take you directly there. See how easy this is for yourself by pointing the camera of your phone at the QR code below.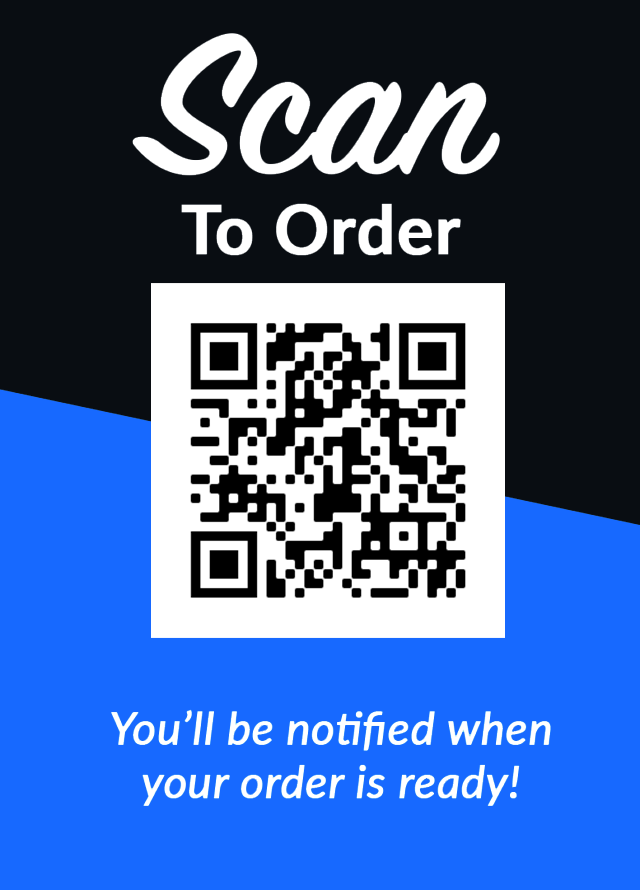 This simple method of using QR codes to enter your ordering site can be transformational for your business. Like kiosks, think of this as a self-service option that you can provide to your guests so that they don't have to wait in line or touch a screen.
It is recommended that you put signs on entrance doors and in ordering areas, and that you include simple instructions for guests unfamiliar with QR codes. Sample instructions are below:
Open the camera app on your phone and point the camera at the code
Follow the prompt on your phone to open our mobile ordering site, and place your order
Pick up your order at the counter when your number is called
Improve your guest experience with a virtual kiosk.
A virtual kiosk provides an easy way for customers to place orders without having to wait in line and without having to interact with anyone. This is particularly beneficial during peak rush periods. By placing signs at entrances, guests can avoid congested ordering areas and can conveniently place their order from outside.
Another advantage to a virtual kiosk is that it allows guests to browse menus, make selections, and place orders at their own pace. There is no pressure from others waiting in line, and there is no staff member idly waiting for the guest to make up their mind. SpotOn client LSU saw order sizes increase by 16% at their self-service kiosks because of this, and studies of web versus in-person ordering have shown similar results.
Once an order is placed using a virtual kiosk, it's important to communicate with the customer. Guests want to know where their order is at every stage of the process and how long it will be until they receive it.
This type of communication has been shown to greatly improve customer satisfaction, with companies like Dominos using it as a competitive advantage over rivals.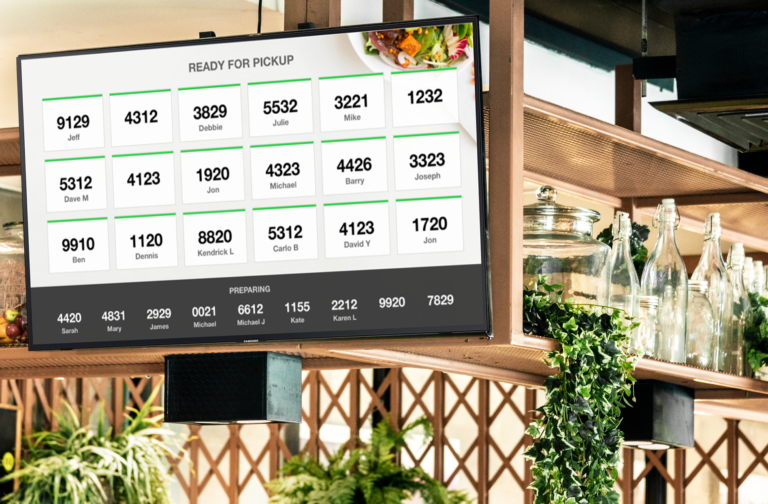 SpotOn accomplishes this using SMS text alerts to customers, and for enterprise businesses, a kitchen display system integrations that notifies guests as their order moves through the fulfillment process. We also offer order status boards that allow guests to check the status of their order and to see where it is in the queue, so they are always kept informed.
Where can you use SpotOn's virtual kiosk?
Our virtual kiosk can be used anywhere. In a restaurant or store, you can place signs with QR codes at entrances, at the counter, on the wall in ordering areas, or in dining or shopping sections.
If your business consists of multiple restaurants, concession stands, or stores, our virtual kiosk can be used in a variety of ways. QR codes can be placed at each location that takes guests directly to the menu for that particular location. Alternatively, you can use QR codes that take guests to a directory of available locations that they can select from. This list of locations can be restricted to certain groupings to limit the choices of what is available in the immediate area. How you configure these different options depends on your business.
To give you an example, imagine an amusement park or stadium with a food court containing several restaurants and additional bars, restaurants, and stores in other areas.
Your virtual kiosk options would include:
At the food court, you can place signs in common areas that take guests to a directory of restaurants available to order from in the food court
You can also place signs at each individual restaurant in the food court that go directly to that restaurant's menu
Outside of the food court—perhaps at the main entrance—you can use QR codes that pull up a directory of every available location throughout your business
In different sections of the park or stadium, you can use QR codes that only show restaurants and stores in that particular section or area
If you are interested in discussing best practices for how to set up a virtual kiosk at your business, we are here to help. Learn more about our online and mobile ordering solution for independent and mid-size restaurants here, and more about our solution for enterprise businesses here.