Whether you're the general manager of a small local eatery or an HR professional for a multi-location fast-casual chain, there are only so many hours in the workday. And at the end of a busy shift, the last thing you want to do is tackle a to-do list of scheduling and tip shares. In a 2021 survey, more than a third of managers report spending 3-10+ hours per week creating and managing schedules—time they could be spending on coaching staff, engaging with guests, or with family as part of a fulfilling work-life balance.
With SpotOn Teamwork, you can spend less time on labor management and increase operational efficiency in the process. See how an intelligent labor management tool like SpotOn Teamwork can help ensure team members are paid accurately and on time. And when your employees have a good experience, it often trickles down to the guest experience, creating a positive environment and business culture that people want to return to again and again.
1. Scheduling made simple.
Seasons change, leaves fall, and your staff turns over by saying farewell to seasonal team members and onboarding new employees. With SpotOn Teamwork, multi-location scheduling means you can easily borrow staff from one location to cover a shift at another.
Find all your employees' schedules in one place and easily adapt staffing based on employee availability and demand per location. Access detailed POS sales data from anywhere to create data-driven schedules and keep labor costs under target.
2. Fast, accurate tip payouts.
Is it enjoyable getting to the end of a 12-hour shift where you played server, busboy, and host, and then having to thumb through dollar bills to count your employees' tip share instead of going home? Didn't think so. Save time and ensure your staff gets paid swiftly and accurately with tip distribution tools. Customize tip pooling to your restaurant's needs, even with the most complex rules. SpotOn Teamwork automatically divides tips in minutes, making your close-out a little shorter and your night a lot easier. Plus, with the employee app, your staff gains visibility into the tip share process, so they know when to expect their payout every shift.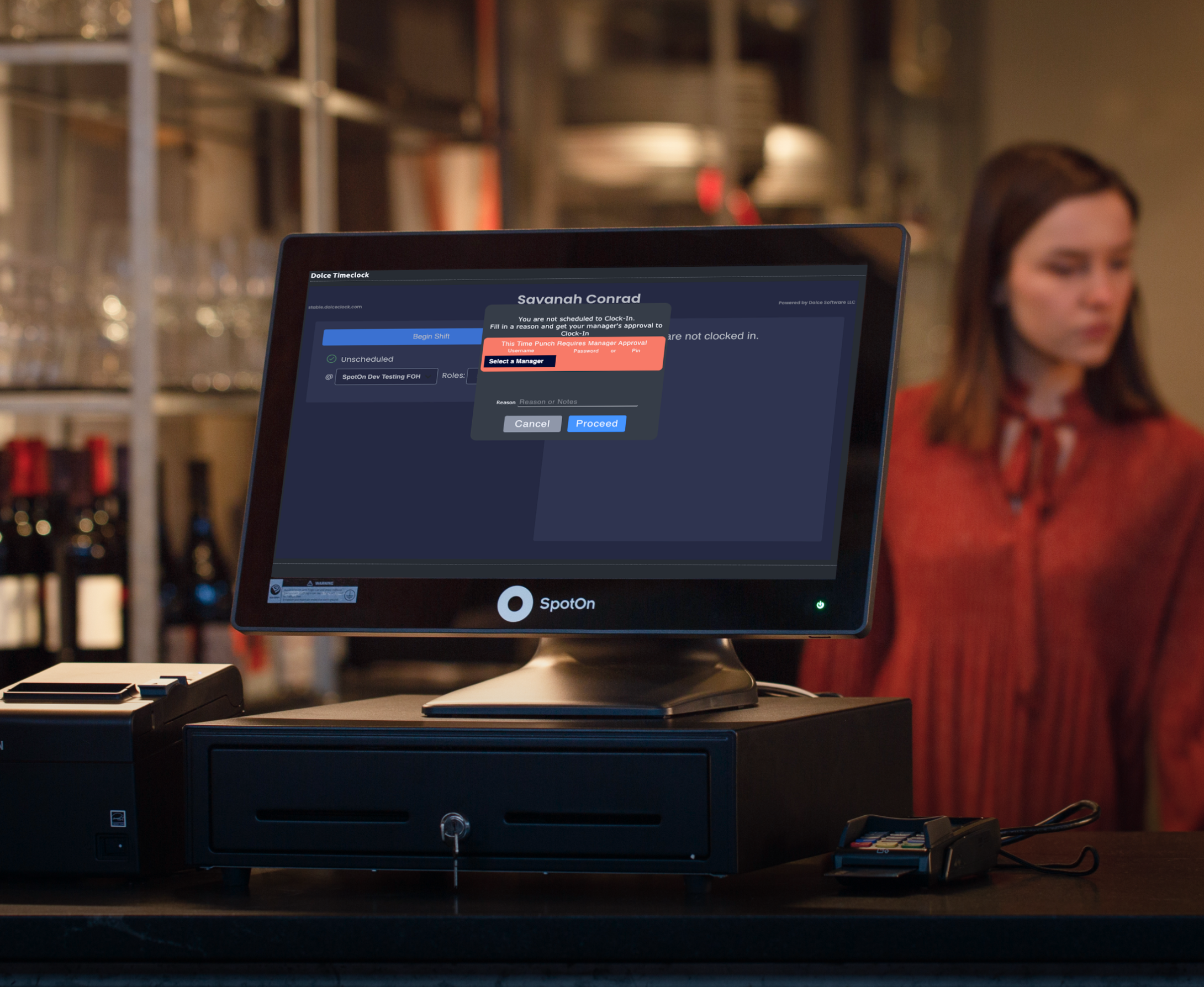 3. Smooth payroll integration.
When your systems work in sync, it saves you time and energy. SpotOn Teamwork integrates with most major payroll platforms, making it easy to transfer tip shares and employee hours. Automating operational tasks, like payroll and labor management, minimizes the risk of human error and miscounting. Ditch the tabs and tabs of spreadsheets and see how automating admin tasks can save you hours per week. Not to mention–your accountant will love it.
4. Transparency with an employee app.
Other than pay, the top two reasons hourly employees quit a job are lack of schedule empowerment and poor communication with their employer. Avoid these common management traps without adding more items to your to-do list or spending hours accommodating staff schedule changes. SpotOn Teamwork makes your employee lives' easier by centralizing PTO and sick time requests, schedule changes, and communication all in one platform. The shift schedule is easily accessible from anywhere via the app, so your employees won't have to consult a piece of paper or email buried deep in their inboxes. Employees can swap shifts within the app, and with smart shifts, you can be sure your shifts aren't under- or over-staffed, and everyone is compensated fairly.  
5. Easy clock-ins and clock-outs.
Start your shifts on the right note with a simple POS clock-in that syncs with SpotOn Teamwork. Stay compliant with clock-out questions that confirm employees have taken their mandatory breaks or temperature checks. When you create a staff profile in SpotOn Teamwork, it automatically updates on your POS, so you can save time adding new employee information and keeping existing information up to date.