Every savvy business owner knows that one in every 10 clients is likely to cancel their appointment last minute or no-show without notice. Cancelled appointments mean up to 3,000 hours of wasted productivity for small businesses. That's a significant amount of time that you could spend engaging loyal customers and expanding your business. It's a frustrating source of lost revenue and staff productivity. Thankfully, by setting up your appointments software with built-in booking tools, you can reduce no-shows by up to 90%. Specifically, you can minimize your cancellation rate and ensure your business is operating as efficiently as possible with prepayment, required deposits, and a cancellation policy. Here's how to set it up.
Ask clients to prepay.
When customers pay up front, they're more likely to show up. Get covered in advance for labor, overhead, and any material expenses. When booking an appointment within SpotOn Appointments, simply toggle the "Require Full Pre-Payment" switch on. Enter your customer's credit card details and don't worry about missing out on revenue.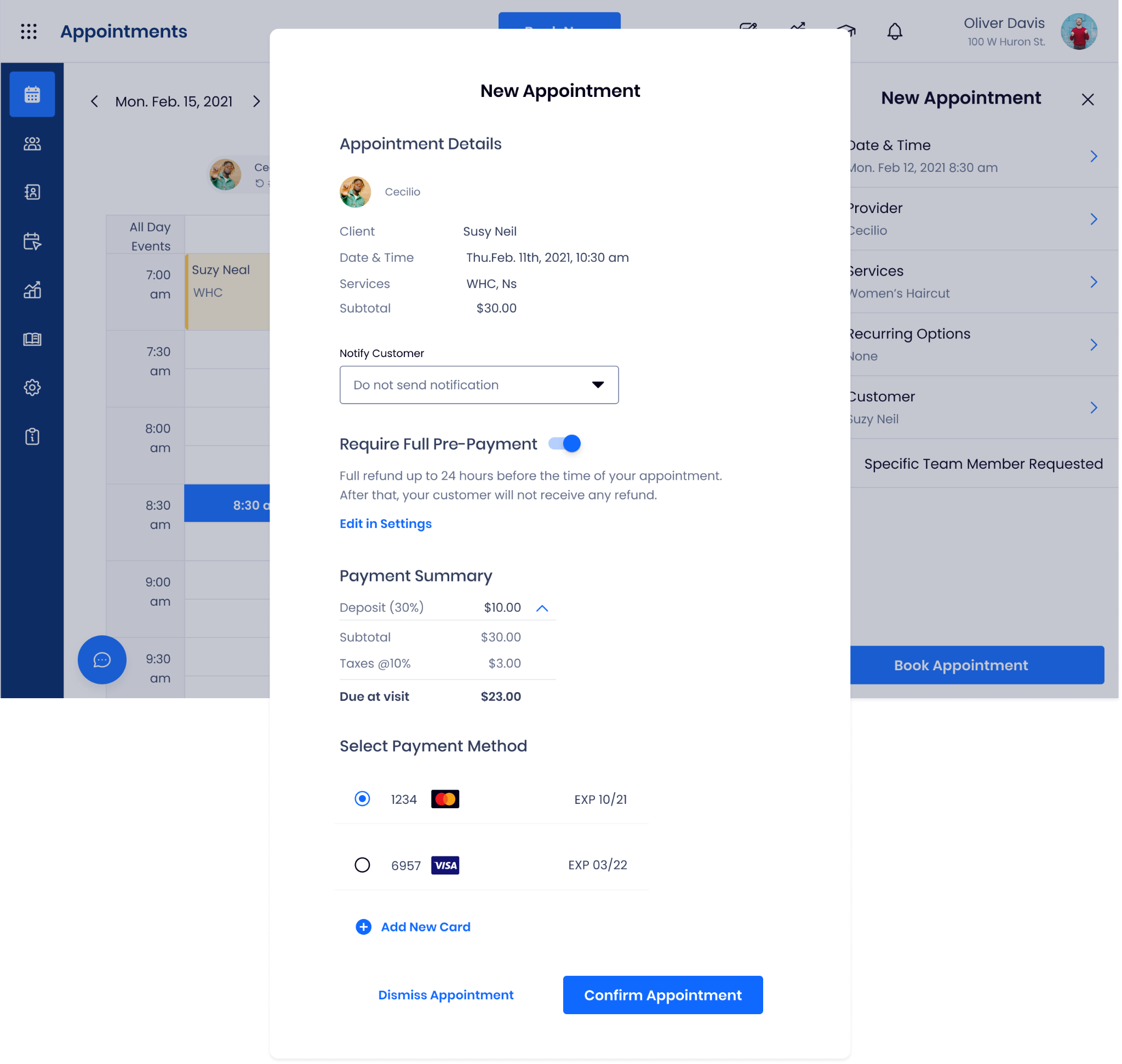 Require deposits.
Rather than require full prepayment, you can require customers to pay a percentage of the appointment price ahead of time. Save time by retaining your customer's card on file and partially recoup costs from no-shows. Set a deposit amount that covers the cost of materials or staff time needed to prepare for the appointment.
Set a cancellation policy.
Business can be unpredictable, but your online bookings don't have to be. Prevent last-minute cancellations by setting a clear cancellation policy that incentivizes guests to keep their appointments. Require that guests pay a percentage or full cost of the appointment if they give less than 24 hours notice.
Foolproof your booking process with custom requirements that are proven to reduce no-shows. All three of these settings are easy to configure within SpotOn Appointments, so set it and forget it.