Pop-up restaurants have taken the culinary world by storm. While the concept of a "temporary restaurant" has been around since the 2000s, it was around 2015 that pop-up restaurants got on the map as an affordable alternative to breaking into the traditional brick and mortar restaurant industry. The pop-up restaurant concept soon became known for showcasing unique dining experiences.
Then the pandemic happened, and the pop-up restaurant concept became even more popular—by necessity. With shutdowns and reduced indoor seating limiting capacity (and profit margins), many operators turned to opening a pop-up restaurant. By embracing the pop-up concept, restaurants maintained their presence and provided unique dining experiences while adhering to safety guidelines.
Pop-ups proved to be a versatile and resilient strategy, offering customers a taste of their favorite establishments in a new way. And for their part, guests who were tired of eating at home, were thrilled to find a pop-up location near them.
Today, with different challenges to overcome in the food industry, pop-up restaurants have become more than just a trend. According to the 2023 State of the Restaurant Industry report from the National Restaurant Association, 64% of consumers say restaurants are an essential part of their lifestyle, even in our inflationary times. Operators have found that the pop-up restaurant business model can be a great way to meet the continued consumer demand, while also growing their brand. Even Netflix has opened a up restaurant in Los Angeles.
The key is to provide attractive concepts and food guests can't replicate at home. With lower overhead costs and shorter commitments, a pop-up restaurant can offer a lower-risk opportunity to experiment and adapt to changing circumstances, making them indispensable tools for survival and success in the ever-evolving restaurant industry landscape. But what exactly are they? And do pop-up restaurants make money? Let's dive in.
What is a pop-up restaurant?
A pop-up restaurant is a temporary dining establishment that emerges and disappears for a determined time, often in unexpected locations like rooftops, art galleries, retail stores, abandoned buildings, etc. Oftentimes, providing a one-of-a-kind culinary experience, pop-up restaurant operations attract both food enthusiasts and curious diners alike. Pop-up restaurants offer chefs and restaurateurs an opportunity to try out new menu ideas together, showcase their talents, and forge deeper connections with their guests.
How do pop-up restaurants make money?
Pop-up restaurants can generate profits in different ways, depending on their concept, permanent location, and target market. Some of the typical revenue streams include:
Ticketed events. At pop-ups, you can attend ticketed dining events by reserving tickets beforehand. These events feature multi-course meals, themed dinners, chef collaborations, or unique dining experiences. The ticket prices usually include the cost of the meal and additional services.
Menu sales. Pop-up restaurants offer a limited menu that focuses on signature dishes or specialties. Guests place orders and pay for their meals on-site, similar to a traditional restaurant.
Partnerships and collaborations. Running pop-up restaurant provides opportunities and flexibility to partner with other businesses, like breweries, wineries, or food vendors, to enhance their experience. These collaborations will result in shared profits or revenue-sharing agreements.
Catering and private events. Pop-ups can also provide catering services for private events, corporate functions, or parties. The menus are customized based on the client's preferences and charge a fee for the entire service.
Why open a pop-up restaurant?
Pop-up restaurants operate on a temporary or limited-time basis, which allows you to minimize costs associated with long-term leases and overhead expenses. Thanks to the exceptional flexibility that pop-ups offer restaurant owners, they enable the exploration of new restaurant concepts, menus, and business models.
By leveraging creativity, unique experiences, and strategic partnerships, pop-ups can generate revenue and create a sense of urgency and exclusivity in a temporary location that attracts potential guests. Plus, the upfront investment is generally lower than that of a stationary restaurant, rendering it more attainable for aspiring restaurateurs.
8 steps for starting successful pop-up restaurants
When planning your pop-up concept, take a similar approach as you would to opening a restaurant. Here are 8 steps to help ensure your success:
1. Come up with a pop-up restaurant concept
A well-developed concept with a distinct restaurant style is essential for a pop-up restaurant. It helps drive the pop-up's success and helps establish a memorable and standout presence. Your pop-up should offer diners something different and exciting.
To create a unique and unforgettable experience, your pop-up restaurant concept can be based on a specific cuisine, theme, collaboration, or culinary innovation that provides a fresh and enticing proposition. Researching current trends and local market demands ensures your concept aligns with your potential guests.
Also, make sure you have a clear goal in mind for your overall brand. Here are some factors to consider:
Is the pop-up an offshoot of an existing restaurant you operate, with a smaller, more focused menu? If so, how will the pop-up compliment your current concept and help you grow your brand?
Are you considering opening a ghost kitchen? If so, a pop-up restaurant could be a great way to get in front of customers for the first time, and an opportunity to teach them how to order takeout and delivery from you in the future through your online ordering system.
is the pop-up shop meant to primarily be a test kitchen or incubator for trying out new recipes and/or new chefs or cooks? If so, make sure to think through how you assess menu items and your pop up restaurant team.
2. Find the perfect pop-up restaurant location & equipment
Choose a location that is unique or goes with your pop-up restaurant concept. Think about art galleries, abandoned buildings, or private residences. Consider collaborating with existing restaurants and businesses or utilizing temporary venues. There are also often opportunities for temporary restaurants to rent space at an existing food hall or food court.
Whatever you decide, ensure that you have the space to accommodate your desired layout, guests, and kitchen equipment. As for equipment, prioritize functionality, mobility, and cost-effectiveness. Also, remember that the quality of the equipment you acquire will ensure smooth operations, efficiency, and the ability to deliver exceptional food.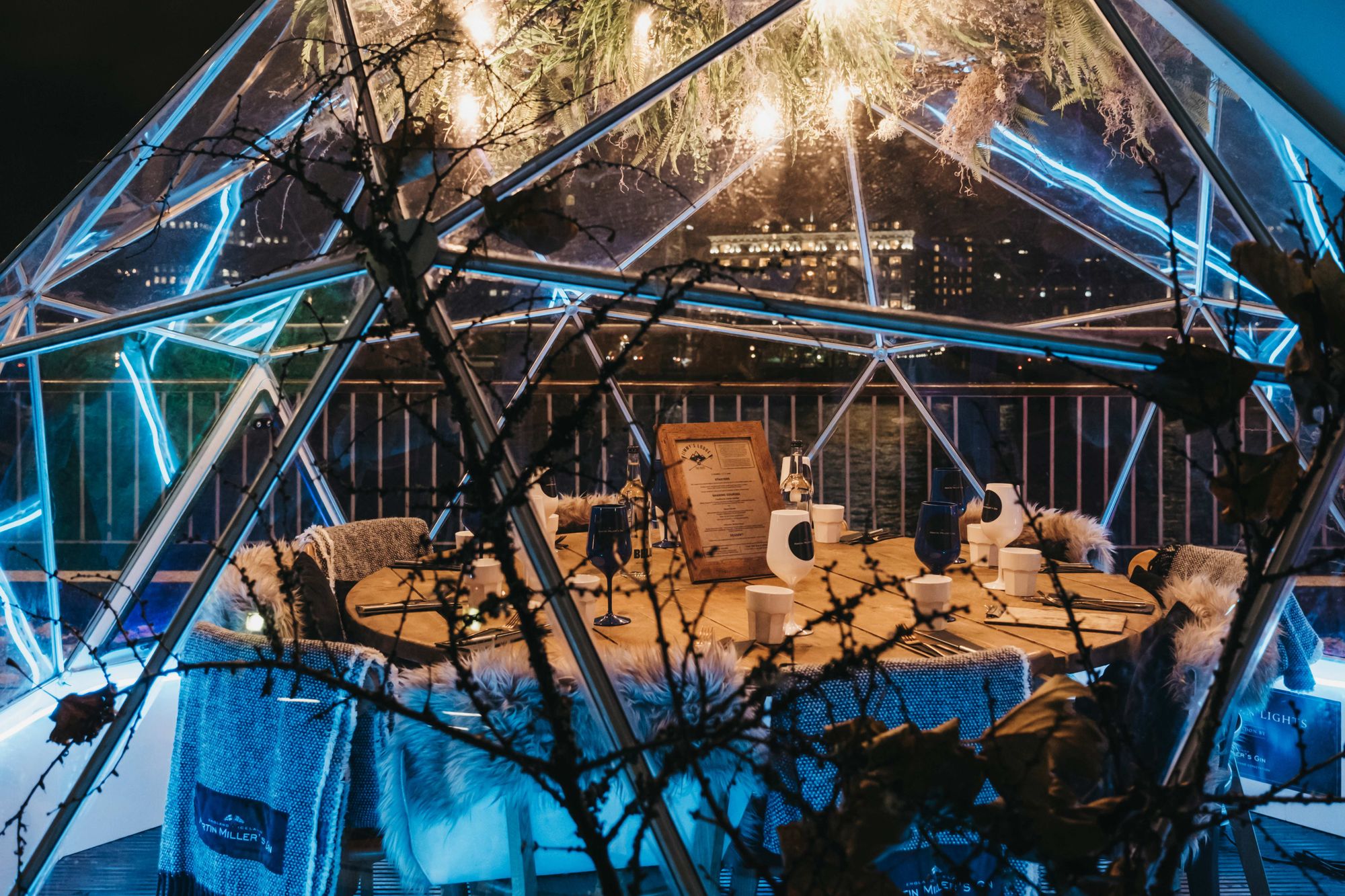 3. Create a pop-up restaurant business plan
Similarly to opening a traditional restaurant, having a roadmap is essential. Creating a business plan for opening a pop-up restaurant is essential for your success. It helps you define your goals, the type of guest you are planning to attract, the menu, marketing strategies, and financial projections.
To create one, start by researching the market, understanding your competition, and identifying your unique selling points. Develop a budget, outline your concept (that you already have designed), and create a marketing plan. This is necessary not only to have an organized process for start-up costs but a way also to effectively showcase your pop-up restaurant idea to stakeholders, banks, or investors.
A solid business plan provides direction, helps secure funding, and increases your chances of running a profitable pop-up by mapping out revenue and food and labor costs.
4. Get proper licenses and permits for pop-up restaurants
Getting proper licenses and permits for opening a pop-up restaurant is crucial to operate legally and avoiding potential penalties. This includes complying with health and safety regulations, alcohol licensing, zoning laws, etc.
Research the specific requirements for your location and concept so you can apply for the necessary permits. If necessary, reach out to your local government agencies, such as health departments and licensing boards, to help you understand the permits restaurant licenses that you need (these can include food, live entertainment, and even sign permits). Your local chamber of commerce or small business networking group can also be a great resource.
Have your documentation prepared, complete your applications, and pay any fees that are required. Working with the appropriate authorities and following the correct procedures will ensure a smooth operation for your pop-up restaurant.
5. Invest in the right tech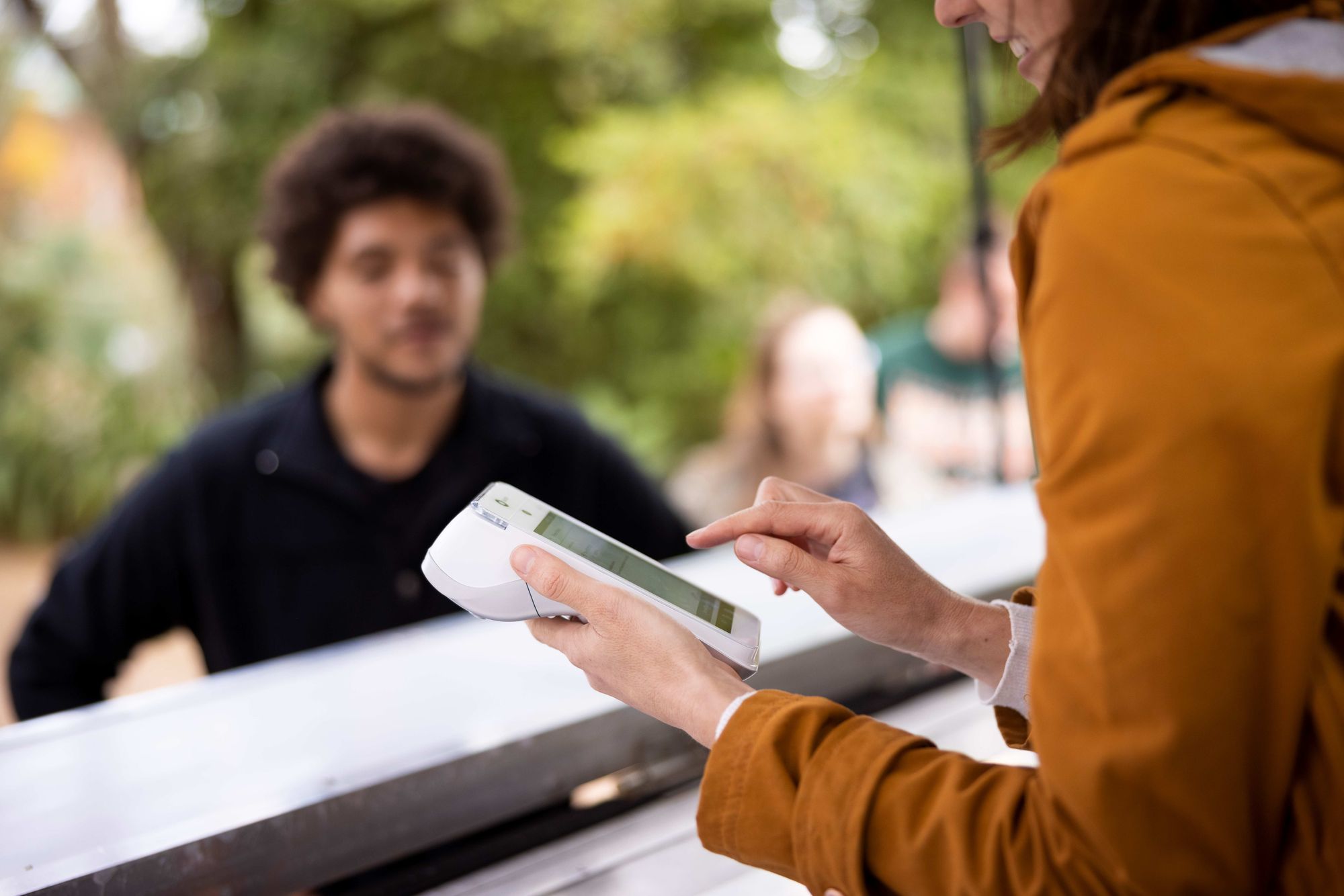 Investing in the right tech for pop-up restaurants is vital for operational efficiency and guest satisfaction. Because at the end of the day, your goal is to serve food—and make it easy for guests to pay. Here's a list of some tools that are currently available to help you run your pop-up:
Embracing tech that enhances the guest experience and improves the restaurant costs and backend operations will set your pop-up restaurant up for success.
6. Plan your pop-up restaurant menu
Planning a menu for pop-up restaurants is important because it helps establish your brand, attract the right guests, and maximize profitability. The menu is not just a list of food items. It represents your pop-up's commitment to the guest experience.
Craft a well-balanced selection of dishes that can help showcase your concept, cater to your desired guests, and use cost-effective ingredients. Consider factors like seasonality, food trends, and the unique preferences of your guests. Use the market research you have from the business plan to identify your target audience, collaborate with talented chefs, and test your menu to ensure it delivers on flavors, presentation, and value.
If you already operate an existing restaurant or are considering expanding, engineering the menu is a great way to move forward. It requires analysis of data from your point-of-sale system and makes it easy to identify which menu items are actually making you a profit.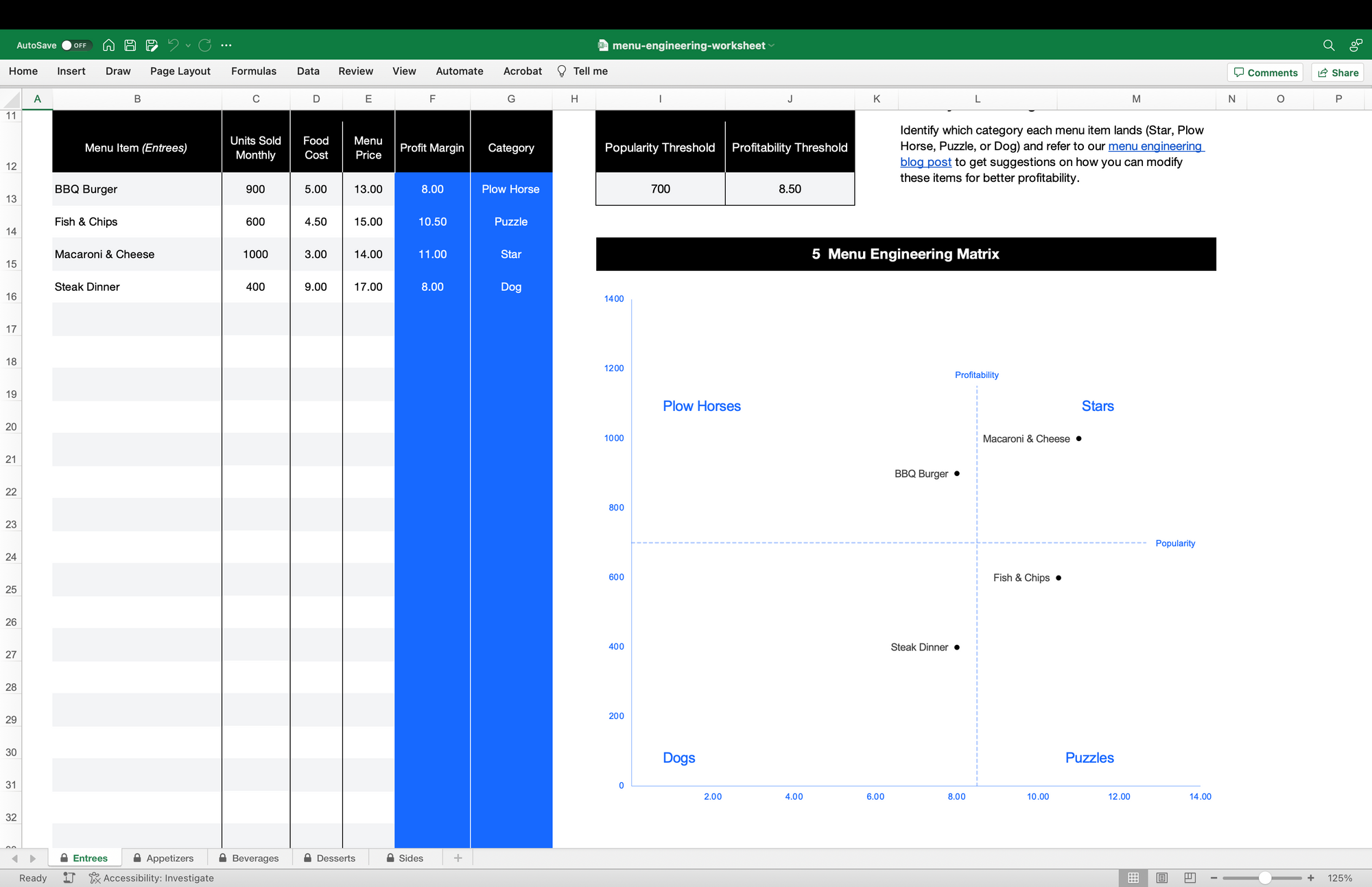 Menu engineering worksheet
Download our free menu engineering worksheet and discover how to make your menu more profitable.
Download
7. Create a marketing plan to generate buzz
To successfully launch a pop-up restaurant, it's important to create a marketing plan that will attract customers and generate buzz. Start by identifying the type of guest you are trying to reach out to and craft a marketing strategy that includes social media, email marketing, and local partnerships.
Before opening your pop-up restaurant, offer exclusive promotions and host pre-launch events to create anticipation. Once you have opened your doors, use eye-catching visuals, captivating descriptions, and customer testimonials to generate more buzz and keep your current guests engaged.
With an effective marketing plan and social media presence, you will drive foot traffic and build excitement for a successful pop-up restaurant experience.
8. Gather feedback and make changes accordingly
Seeking feedback after opening your pop-up restaurant is crucial for continuous improvement and customer satisfaction. It allows you to identify strengths, address weaknesses, and refine your offerings. Also, keeping in touch with your guests can help strengthen your relationships.
Encourage guests to provide feedback on their favorite review sites, then utilize review management software to make it quick and easy to monitor reviews. This will enable you to listen actively to guest input, show appreciation, and take constructive criticism to heart. Use this feedback to make necessary adjustments, enhance the customer experience, and build a loyal customer base. By implementing changes based on guest preferences and experiences, you can ensure they will follow you wherever you and your pop-up go.
As with any other new restaurant concept, opening a pop-up restaurant can be a challenge, for both new and established restaurant owners. But with the ongoing popularity of these temporary restaurants, along with much lower operating costs, they can be a great way to launch a new concept or generate additional revenue for your existing restaurant.