With Halloween right around the corner, everybody's starting to talk about their favorite costumes and movies on social media just to get into the spooky spirit. While there are plenty of ways to promote your business this October, consider crafting a few Halloween themed posts that incorporate hashtags unique to the holiday. Combine a bit of creativity and your brand voice with a well placed Halloween hashtag and you could get some extra outreach to new customers scrolling along their social media feeds.
When you include Halloween themed hashtags on your posts, other users also searching with those hashtags will have a higher chance of finding your business. That can especially be useful for small and medium sized businesses that don't want to scare away potential guests looking for a treat this October. So if you're stumped on the best Halloween hashtags to use, no need to worry. We've got some easy tips on how to discover and incorporate new hashtags in your social media posts for this Halloween.
What are hashtags?
Even if you aren't familiar with hashtags, you've most likely seen them being used on different sites like Facebook, Instagram, and Twitter. Hashtags can best be defined as words or phrases included in a post to help connect them with other posts also using the same words or phrases. The most important part of a hashtag is the '#' symbol placed in front of the word or phrase. Without that little '#' symbol, social media sites won't even bother connecting it to other posts and images utilizing the same hashtagged words and phrases.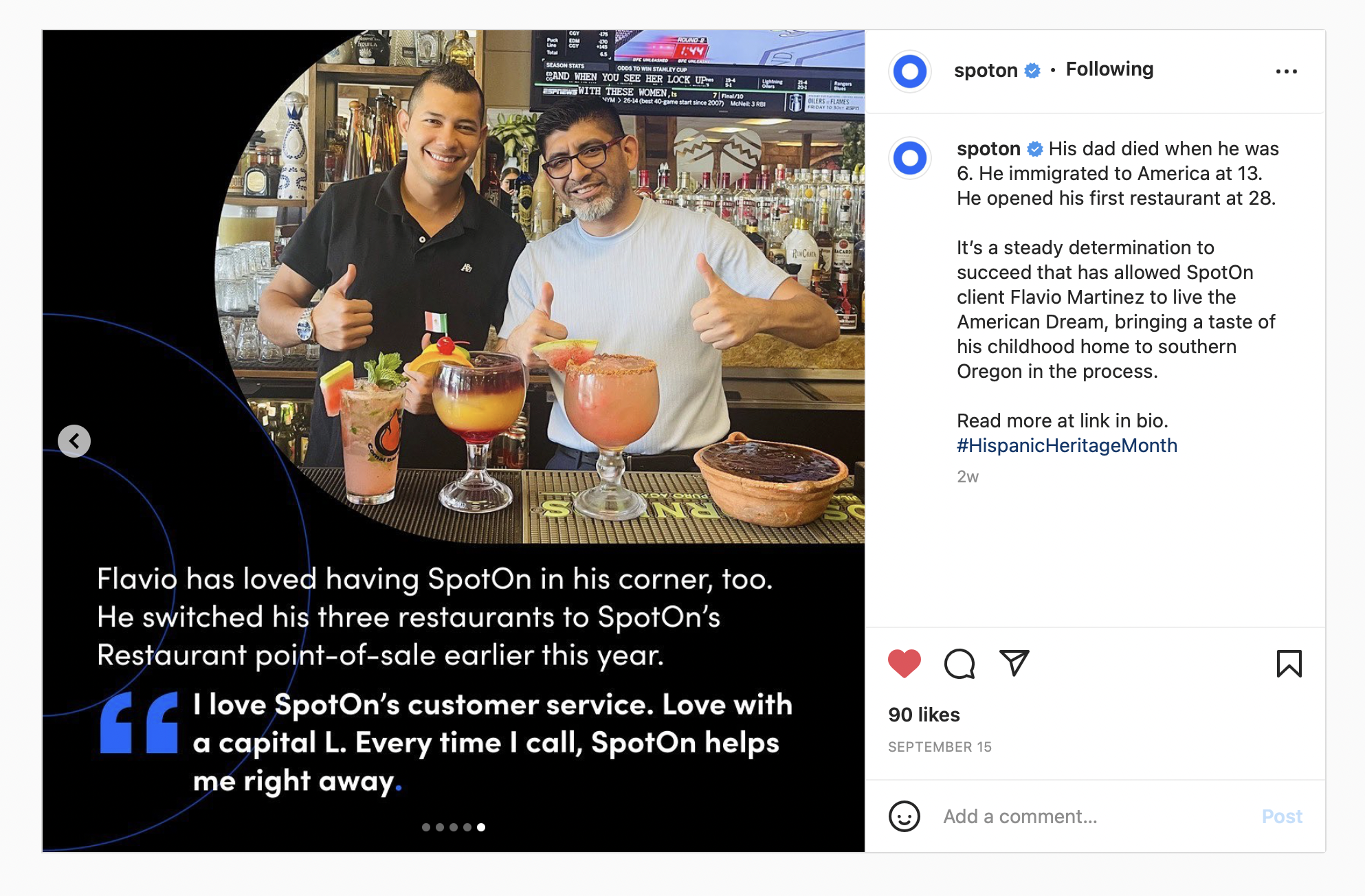 As you can see in the photo from our Instagram, we've featured SpotOn client Flavio Martinez with #HispanicHeritageMonth included at the end of the post. Now anybody searching for Hispanic Heritage Month on Instagram will see our photo in their newsfeed search results. The photo will also be featured alongside other posts using that hashtag.
Organically use hashtags in context.
When writing hashtags for social media, especially around Halloween time, it's important to know how to include them organically so the reader isn't distracted from the meaning of your overall post. Since the main words and phrases of your photo will be marked with a '#' symbol before their first letters, most users include hashtags at the end of the post as a small list. The small group of hashtags should be as simple as a grocery list, where you write out the major objects, trends, and anything else you feel relevant to your social media post. Going back to the image above, you can see that we included #HispanicHeritageMonth at the end of the post just so people know they can click on it after reading the caption. Just remember not to go too overboard with hashtags. The last thing you want is for people to associate a messy catalog of '#' signs and words with your business.
And if you want to include multiple words under a single hashtag, do not include space between each words, like with #HispanicHeritageMonth. The multiple words don't need to be capitalized either, but sometimes including capitalized letters will make it easier for people reading the hashtag.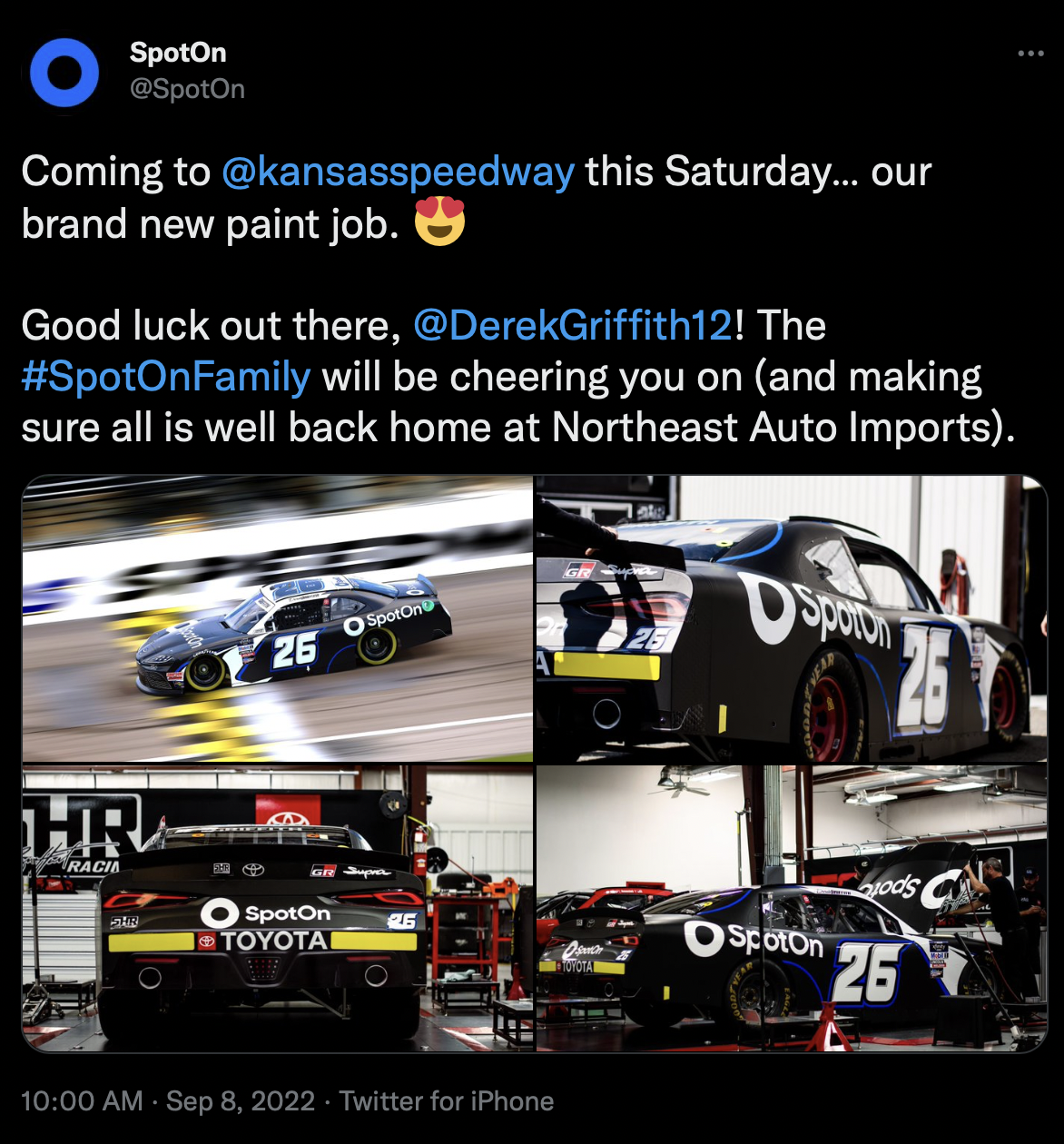 You don't even need to have a giant list of hashtags at the end of your caption. Many posts also include hashtags as an organic part of the caption itself. If you look at the photo from our Twitter, you can see that we placed the #SpotOnFamily hashtag in the middle of the sentence. This helps save space in your post, while also making it easier for readers to quickly discover the hashtag.
Did you know? Certain social media sites, like Twitter or Instagram, let you use hashtags for emojis as well! You can do single emojis (#🎃 or #👻), a combination of emojis (#👻😨🥐), or a combination of words and emojis (#🧛trickortreat🍬).
Don't be afraid to get creative with how you craft your social media posts. As we all know, the way you present your business to customers can make a huge difference, whether you're engineering a clever social media post, a profitable menu, or a fun birthday rewards program.
Include location and industry-specific hashtags.
On top of including Halloween hashtags, which will reach a large audience, you'll want to use additional hashtags that help bring in a target audience specified to your business. Include a hashtag indicating what type of business you run and your city or town, or better yet, include a hashtag that does both. While this may seem obvious, it's important to remember how you can still be creative in the way you craft these hashtags towards Halloween as well.
For example, a cupcake shop in Delaware could use the hashtag #DelawareCupcake or #DelawareDesserts alongside Halloween related hashtags to help get large scale exposure, all while attracting local customers looking for a tasty bite. Of course, getting too specific with your hashtags might only categorize your post with other posts barely seen by a few users, so remember to mix it up with a strong balance of generic and specific hashtags.
An example social media post might look like this:
We've got some scary desserts this #Halloween for those brave enough in the #Delawaredessert scene. Stop by and try our chocolate croissants too. We promise this #Delawaretreat won't try to trick your taste buds.

#🧁 #🎃 #HalloweenCupcake #DelawareEats
---
Get started with these Halloween hashtags 2022.
Now that you've received a crash course in how and where to implement hashtags for any social media post you've got planned, check out the list below for some of the most popular hashtags being used to hype up this upcoming Halloween on sites like Facebook, Twitter, and Instagram.
#Halloweenfood #Halloweenspirit #Halloweenlover #Halloweeneveryday #Halloweenlife #Haloweentime #Halloweenobsessed #Halloweencountdown #Halloweenparty #Halloweencake #Halloweentreats #Halloweenbaking #Halloween🎃👻🕷
Don't let these popular hashtags stop you from getting creative and making your own. You can even check how many posts are using a specific hashtag by searching for them in the search bar on most social media sites.