Based on Capterra's Review Insight Competitive comparison for retail POS products, real POS users ranked SpotOn as the best POS system for retail. Our seamless point-of-sale edged out Clover, Square for Retail, and Lightspeed Retail by scoring highest when it comes to functionality, ease of use, customer support, and value for money.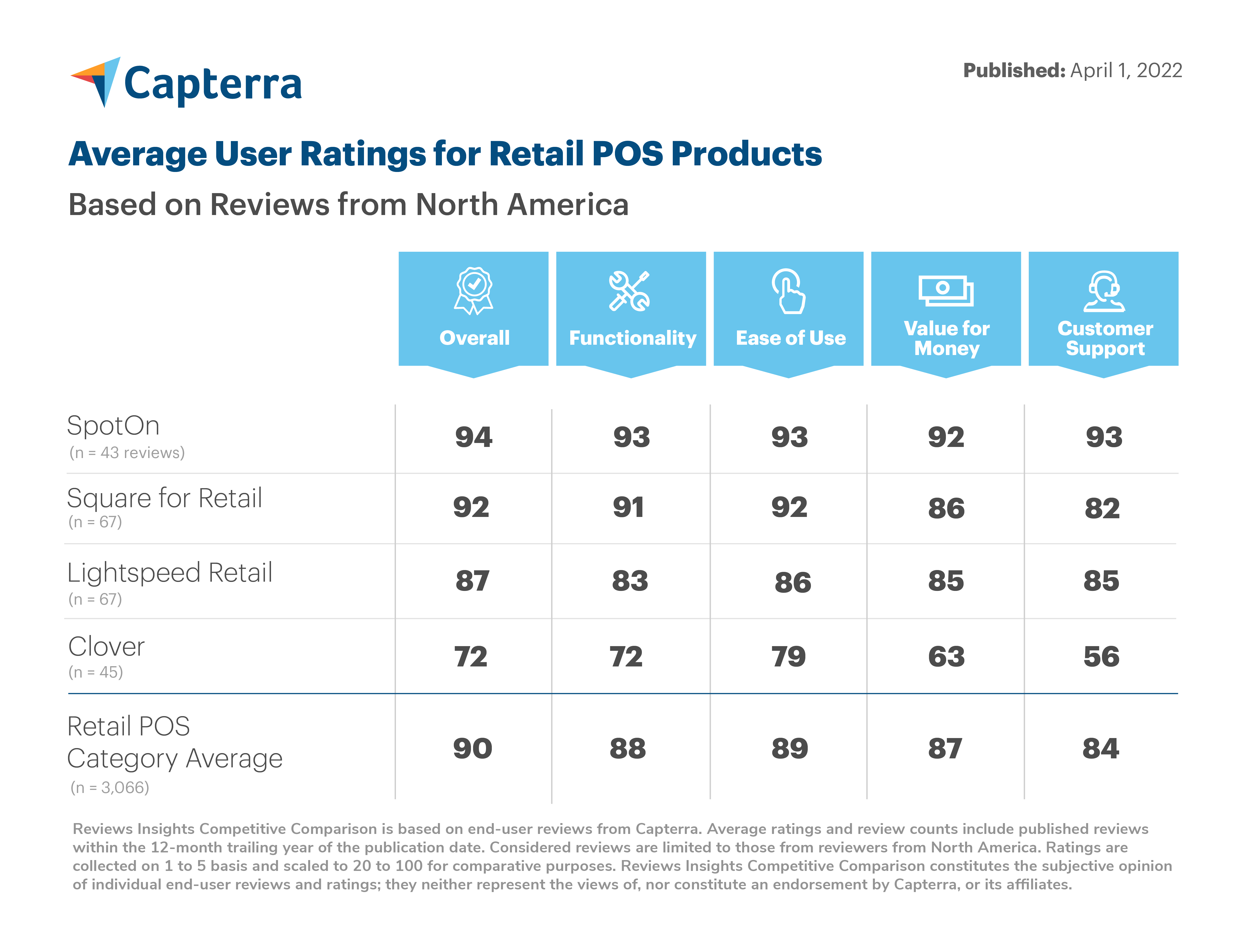 SpotOn vs Clover.
Real point-of-sale users scored SpotOn above Clover with an overall score of 94 compared to Clover's 72. SpotOn also scored higher than Clover in every individual category measured, most notably "value for money" and "customer support."
Clover point-of-sale ranked fourth in the competitive comparison for POS products, with an overall user rating score of 72, trailing behind SpotOn, Square for Retail, and Lightspeed Retail in all categories. SpotOn was the only company to score above 90 for customer support.
Get the top-rated technology and support your business need to succeed.
With its ability to combine online and in-store inventory under one platform, SpotOn Retail is well equipped to provide businesses of all types—including auto shops, salons, and professional services—tech that works the way they work.
Our Head of Customer Experience said it best in our Capterra competitive comparison announcement, "We build our technology and put our clients at the center of everything we do, asking, 'Will this make life easier? Will it drive revenue? Will it streamline admin? Will it solve a problem when they need it most?' We're focused on simplifying business for operators—delivering strong, stable tech that is easy to use and makes staff training simple; building integrations or partnerships that streamline operations; answering the phone when our clients need us."
We know the challenges are never-ending for business owners, but want you to know our team is here to help you overcome whatever comes your way. We're ready to support you with intuitive, flexible solutions and the level of personalized service and support you deserve.
Point-of-sale solutions that work the way you work.
Success is about more than just running your business—it's about running your business on your own terms. That's why our retail solutions are designed to work the way you work while boosting efficiency, growing revenue, retaining staff, and creating better experiences for your customers.
From online and in-store shopping to discounted shipping options, and everything in between, we've got you covered. Best of all, our tools work hand-in-hand with one another, helping you save time and money while getting better data and insights to run your business. Add a tool, add to your bottom line.
Best-in-class service.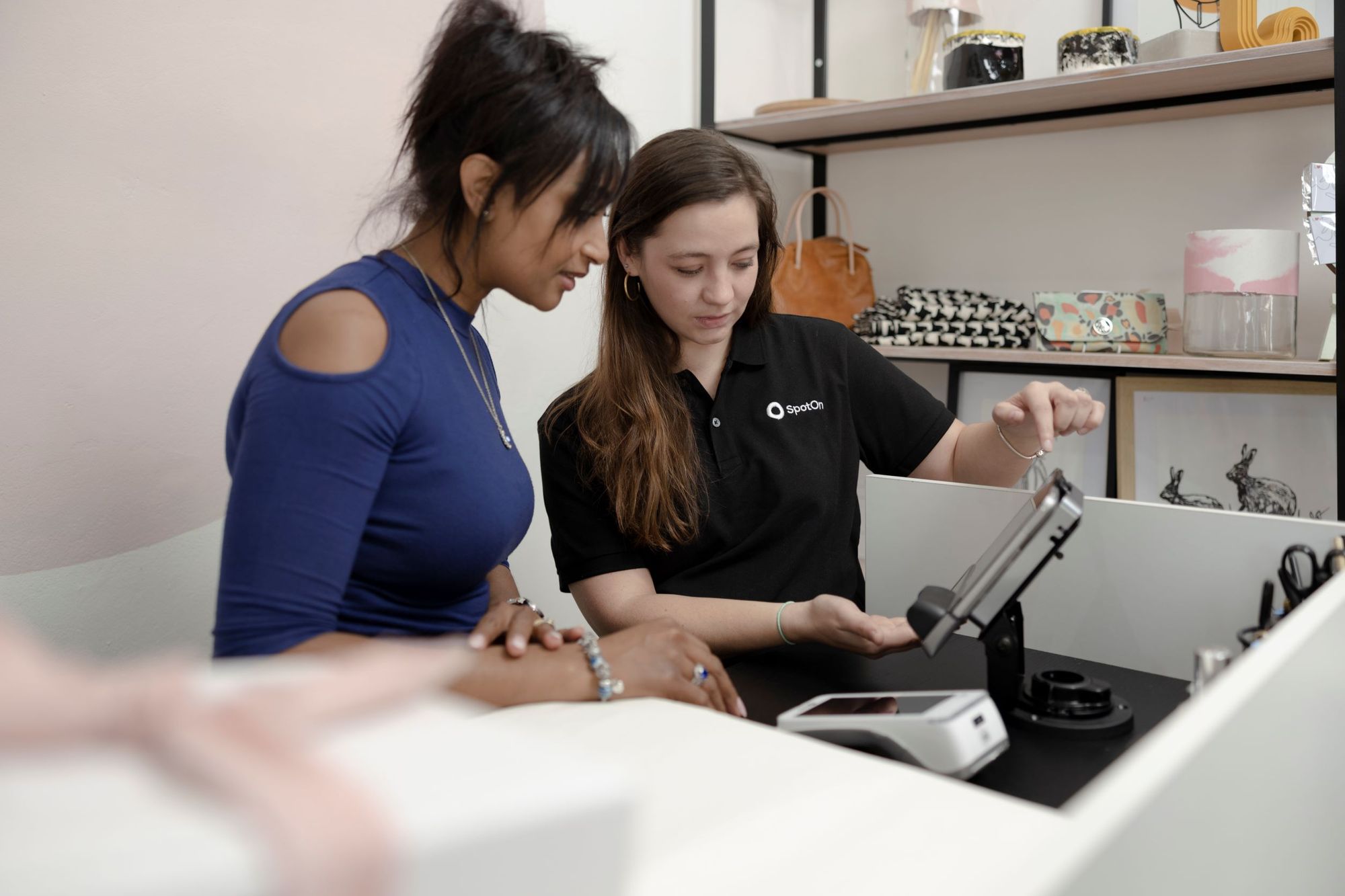 Transitioning to a new point-of-sale system in your retail business can be overwhelming. That's why our team is here to help you every step of the way. We'll ensure your point-of-sale and any additional software or integrations you need are customized to your business's unique needs. And our 24/7 team of experts will continue to be by your side to do the heavy lifting and ensure your system always works the way you want it to.
Custom point-of-sale and catalog build
Personalized set up and training
Ongoing 24/7/365 support included
Local service representative
Honest pricing with no hidden fees
Add more tools as you grow
Researching and deciding on the right point-of-sale for your retail business is an important decision that can change how your entire business runs. But when comparing SpotOn vs Clover, or any of the other great point-of-sale options out there, don't just take our word for it, choose the partner that real users rank at the top of the list, SpotOn Retail.