Nestled in Chicago's swanky Gold Coast neighborhood, Adalina is an Italian restaurant with a purpose. Purpose in their menu, where rack of lamb and grilled fish shine alongside fresh, handmade pasta. Purpose in their tech stack, where they have consolidated multiple platforms into one tech partnership. And purpose in their approach to staffing and labor management, creating data-informed schedules and automating the clock-in process.
Among Adalina's staff, there is a culture of caring. Beyond being servers, dishwashers, line cooks, the team at Adalina are people outside of the restaurant. "We want to create a safe environment and show our staff we care about them," says Adalina General Manager Peter Lopez. "We care about their personal lives, too."
With labor management software, Adalina's managers can spend less time in the back office approving shift changes, creating schedules, and reviewing clock-ins. It frees up more time to cultivate a culture of caring. That means asking about people's weekends, providing 1:1 coaching, and giving employees more flexibility and visibility when it comes to their schedule.
See how Adalina gets it done with these six scheduling tips.

1. Prioritize ease of use

People are the backbone of the restaurant industry. Excellent service happens as a result of people equipped with the right skills and tech to do their job well. These people come from all different backgrounds, education levels, and tech-savviness. Any technology that actually makes these peoples' lives easier takes those differences into account.

For Adalina, it was a priority to find tech that would be easy to use for staff members of all ages. It matters not just behind-the-scenes, when staff members are independently viewing their schedule and swapping shifts, but on the floor. Uncomplicated restaurant point-of-sale technology means orders get in faster and servers get back to connecting with their guests.
2. Automate clock-in enforcement

Many aspects of labor management require a personal touch. Feedback, coaching, annual reviews all take time, forethought, and face-to-face interaction. Monitoring clock-ins do not. Adalina uses automatic clock-in enforcement to ensure employees are clocking in no more than 5 minutes before or 5 minutes after their shift time. Outside of that window, clocking in will require manager approval.
Keeping this process automated means Adalina can keep their labor spend tighter and ensure employees aren't mistakenly clocking in early. Plus, when it comes time for review, GM Peter Lopez saves 45 minutes to an hour per week, not having to go through every single clock-in and make adjustments.
3. Consider the weather
Chicago can feature all four seasons within one week. No one knows that more acutely than Lopez. In the summer, Adalina offers a spacious patio—valuable real estate when the sun is shining, less favorable in a summer thunderstorm or the first chill of fall. Beaming or gloomy weather can impact walk-ins and even encourage reservation no-shows.
With a labor management tool that syncs with local weather reports, Lopez can staff accordingly. It means no excessive staffing during poor weather, adding to Adalina's labor spend and leading to an inefficient use of their staff member's time.
4. Past sales predict the future
You could parse the tea leaves to see the future. Or, you can review your past sales and forecasted sales through accessible reports. Sales reports can help you get an empirical sense of the peaks and lulls of your dining room, confirming those gut feelings that happy hour only picks up on Thursdays and the brunch shift really starts at 11 am, not 10 am.
For Lopez, monitoring sales by hour doesn't just help ensure that busy dining times are adequately staffed. It has helped him make critical decisions regarding the time Adalina isn't open for guests.
"The past two years, this tool has definitely helped us," says Lopez. "From January through April, when it's a slow time here in Chicago because it's winter and nobody wants to come out, we used the tool to realize we weren't getting enough business between 9 and 10. We were bleeding money through labor, not making enough money through sales. So we cut that one hour early and it's saved us roughly a thousand dollars in labor from all the back of house employees."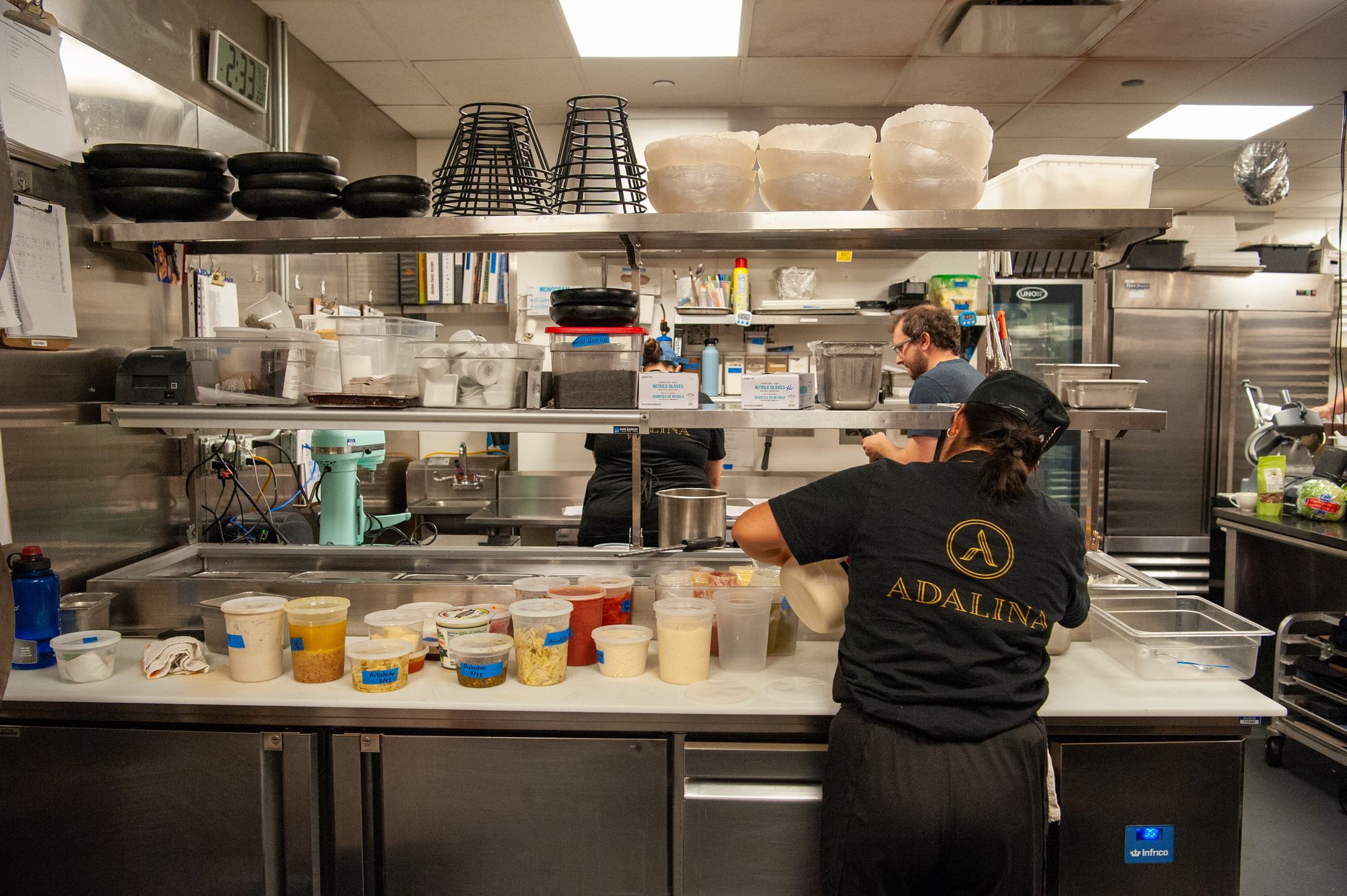 5. Always stay compliant
It's not the most glamorous or exciting part of running a restaurant, but compliance is important. Taking federal, state, and local labor laws into account when creating and distributing schedules can save you headaches, and potentially liability, down the line. The first step is maintaining awareness of changing regulations. State restaurant associations can be great resources for learning about changing compliance rules and how to adhere to them. And if you're in a state that allows tip crediting, you'll want to make sure you're compliant with the 80/20 tip rule.
In Chicago, the Fair Workweek Ordinance means employee schedules must be posted 2 weeks ahead of time. With SpotOn Teamwork, Lopez has a record of when schedules are posted, as well as who made the schedule and who posted it. Lopez also sees notifications regarding changes to the minimum wage, so he can be sure to adjust pay rates.
6. Swapping shifts should be easy

No matter how carefully you finagle the jigsaw puzzle of staff schedules, there is always a sick day, family emergency, or last minute trip that comes up. Life happens. Static schedules written on paper or cemented in a PDF document can be subject to constant revisions creating confusion. Plus, juggling multiple forms of communication and sending messages via text, email, and in-person leave a convoluted paper trail.
But with SpotOn Teamwork, Adalina's staff can drop, pick up, or swap shifts—and communicate with each other—all within one employee app. Managers can approve scheduling changes and ensure everyone is working the right amount of hours, helping avoid overtime.

Restaurant management doesn't have to be herding cats. The right tools can help managers make decision that benefit the restaurant's bottom line, as well as their employees' paychecks. Streamlining communication takes away the guesswork and back-and-forth involved with distributing and modifying schedules. For Adalina, it means a more sustainable business, happier staff, and many more bowls of fresh pasta.
---