Every restaurant wants to build the perfect menu that brings guests back for another bite. Unfortunately, with so many changes in the restaurant industry each year, restaurant owners sometimes need to adjust menu prices to keep operations profitable. And when there's a change to menu designs and prices, there will always be some concern over potential backlash from guests. Restaurant owners don't want to lose guests, especially over factors that go beyond their control.
While you can't control high ingredient prices and rising labor costs, you can control how your restaurant compensates guests for those menu changes. According to a recent Restaurant Dive survey, restaurants are implementing clever strategies to lessen the impact of pricier food items. And the good news is, it's working—guests aren't getting scared off by higher menu prices…when done right.
From creating low-cost alternatives to adjusting your ingredients, we've got several strategies that any restaurant can implement to make sure a change to higher prices won't impact the overall guest experience.
1. Engineer a menu to reflect profit & popularity
Pricing for restaurants can get a bit tricky if you're only looking at the best ways to increase sales and maximize profitability. That's why you should focus on planning a menu that incorporates a variety of price ranges so your restaurant profits grow no matter what.
Even with different restaurants that serve a wide variety of guests, there are still some simple ways to approach pricing a menu that won't feel like you're cutting corners. If you know your general clientele chooses a meal because they adore the flavors, try engineering your menu to showcase that popular food item alongside similar tasting but cheaper options. It'll give guests a decent alternative if they ever feel put off by a higher price point.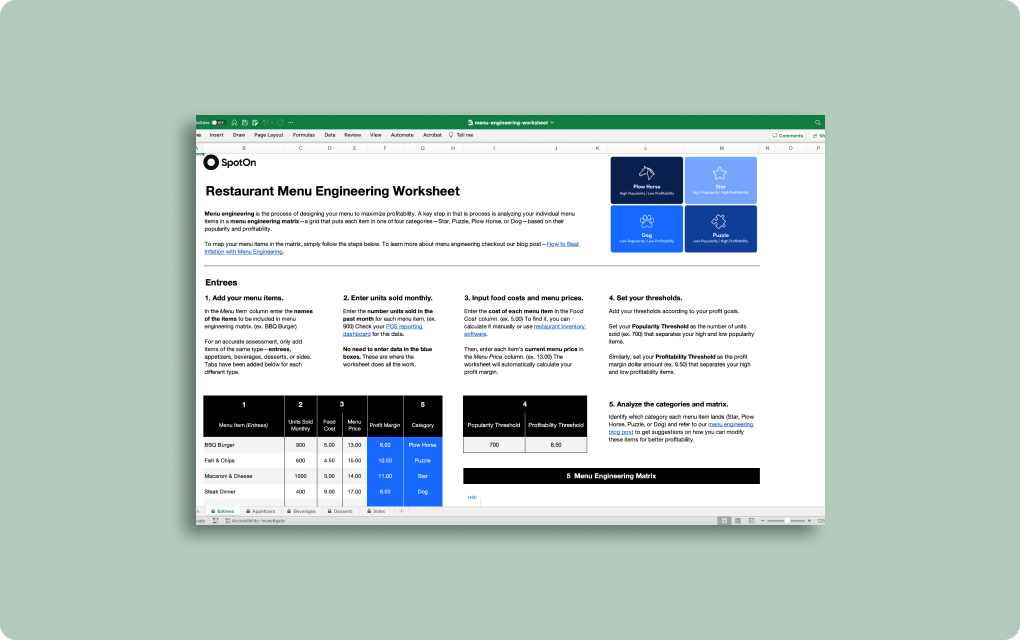 Restaurant Menu Engineering Worksheet
Make your menu more profitable by evaluating the popularity and profitability of all your menu items.
Download the Excel worksheet
2. Adjust other restaurant costs alongside your menu
While calculating menu costs might seem like a tedious chore, you can consult your profit and loss statement to help adjust your menu beyond changes to prices and portion sizes. In particular, the cost of goods sold (otherwise known as the COGS) will be your best friend in this situation. By knowing how much it takes to produce a single food item on your menu alongside your total sales and other restaurant expenses, you can then easily adjust different aspects of your restaurant's pricing to provide a greater guest experience.
You can even get creative by designing a menu that utilizes the same ingredients for multiple dishes. This will help to keep costs down while respecting their bottom line as well. Why buy green peppers for just one dish when you can use them as ingredients in three other meals?
3. Offer special deals and unique discounts
Since guests love to see special deals on their favorite foods, you can include specific discounts to balance out the price increases on your menu. Take a moment to see which menu items would sell a bit more if you offered them at a discounted price. These special menu items will incentivize curious diners to try something new. And when you utilize your point-of-sale system's instant reports, you can easily explore the exact data about which dishes would still profit after those discounts.
On top of using your restaurant point-of-sale to explore the best food items for a special discount, try hosting different discount nights for guests beyond your typical client base. Try holding a senior citizen's happy hour or offer a more lax night for families with discounts for children. Bars can include different pricing methods with a zero-proof alcohol menu. Even fine-dining restaurants can implement creative special deals and discounts, such as a special holiday menu or a parent's night out.
Think about the range of clients you typically reach and the best ways to capture their interests. Don't hesitate to use social media to spread the word about certain discounts. Using your Instagram and Facebook pages will catch the attention of hungry guests looking for a bite while scrolling through their phones. Don't forget to also claim your Yelp profile and Google Business page to keep your online presence going strong.
---
While changes to your restaurant menu aren't easy, they're a vital part of surviving as a business. With all the costs and responsibilities needed to run a restaurant, the last thing any restaurant manager needs is another reason to stress or worry. Thankfully, these changes don't need to act like some final decree to your restaurant's success. By engineering a menu based on the most profitable items, adjusting other restaurant costs (including your restaurant tech), and offering special discounts for various types of guests, your restaurant can still prioritize a great guest experience.