When searching for meal options, guests might be looking for a specific cuisine, like Korean BBQ or Italian, all while keeping a close eye on Yelp reviews and table reservations. Of course, every restaurant manager and diner knows that these are all important factors to consider, but let's not kid ourselves. The National Restaurant Association reports that 84% of guests prefer going out to eat instead of staying home. That means guests are checking the menu to help them decide whether they'll go to a new restaurant or get some fast food drive thru.
It doesn't matter if you run a new Chinese restaurant or a local cantina with the best margaritas in town. A menu isn't only a simple list of restaurant food items that can be recreated on a restaurant POS system. A well planned menu is the embodiment of your restaurant's brand. It acts as a sign to your commitment to the guest experience, all while honoring the authenticity of your food. However, if you're opening up a new restaurant, menu development might not feel as intuitive as boiling water. That's why we've compiled 5 tips to help you master the art of menu planning. All you need is a pencil, paper, a creative mindset, and the right restaurant POS tech.
1. Stay aware of restaurant trends
Some new restaurant owners think that menu planning is all about the visuals. Unfortunately, there's more to a menu than meets the eye. Sure, you can search for a ton of menu design ideas online, maybe even use a Canva menu template to plan a new restaurant menu, but it won't really help you attract the right guests in the long run. You've got to draw guests in with an enticing array of restaurant food items that match their exact desires.
And to make sure your new restaurant menu stays true to its brand and the type of food being served, SpotOn recommends following different newsletters exploring restaurant trends within and outside your dining style. These newsletters cover a range of topics, such as menu planning, social media campaigns, and comparisons to different restaurant POS systems. Since you'll have the knowledge of how your industry is working and the direction it's heading, planning a menu will soon feel more instinctual than ever.
If you find a few favorite restaurants, feel free to give them a follow on social media as well. It's basically a free subscription to their restaurant's brand and image, which you could use to inspire your restaurant's social media accounts.
2. Collaborate with restaurant staff
Most new restaurants are so busy trying to perfect the dining experience, they don't realize their restaurant staff possess libraries of knowledge just from working in the hospitality industry. Since they've seen it all, restaurant staff know which food items will have guests savoring the meal for days and which restaurant point-of-sale would make their lives a lot easier.
Don't be shy. Ask for their feedback and opinions. Restaurant staff have a good sense about which restaurant menu items work well with guests, which ones can be altered a bit after some more menu planning, and which to get rid of entirely. With their insight into your menu development process, you should also listen to find solutions that'll make their jobs easier as well. Are they overwhelmed by taking too many orders? Try doling out handheld POS devices to streamline the ordering process.
3. Engineer your menu for profit & taste
So far, we've covered some planning tips that'll make your menu act like an advertisement luring in guests for another meal. While crafting restaurant menu items are the bread-and-butter of a successful restaurant, you should also plan your menu to boost restaurant profits as well. However, making your menu profitable goes beyond simply increasing the price of your food. You'll need to take a look at the right data from your point-of-sale, and be willing to make some changes when necessary.
Since you're running a business at the end-of the day, you already know you need to focus on profits and earn more than you're spending. That doesn't mean you need to do it alone. Thankfully, we've put together a blog on menu engineering and created a free menu engineering worksheet to help seasoned and new restaurant owners pivot their menu for profit and taste.
4. Make your menu flexible & easy to access
It's never easy to be flexible and open to change, especially when you're an eager new restaurant operator just trying to make a menu that'll last the test of time. Even if it might feel like you're pivoting your entire identity, changes to your restaurant menu shouldn't be seen as the worst thing in the world. If anything, they're the growing pains needed to refine your restaurant into the exact establishment you've always imagined.
Of course, having a flexible menu doesn't only rely on changing your restaurant items. It's also about creating different ways to view your menu as well. Alongside the traditional paper menus you hand out to guests as they're seated and digital menus displayed on a screen, QR codes can make your menu more flexible than ever. With QR codes and other ordering options, any guest with a smartphone can easily peruse your menu at any time and place, sometimes before they're even seated at a table.
5. Utilize your point-of-sale reporting data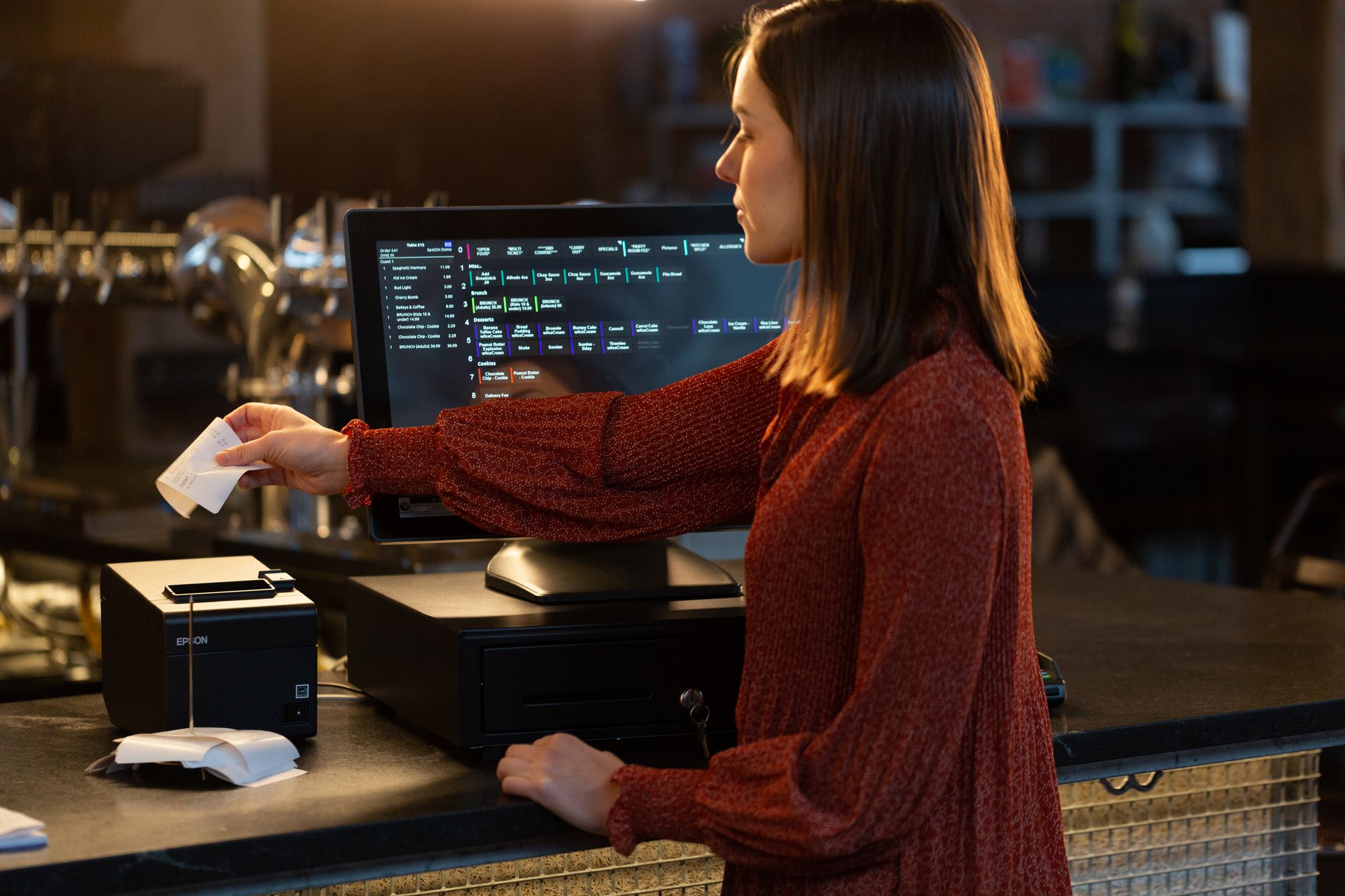 On top of streamlining operations and making life easier for restaurant staff, your point-of-sale system is also your most valuable tool when planning a new restaurant menu. Since a strong point-of-sale can give you instant reports, you'll have the exact data you need, right when you need it. Curious to see how many sales you're making an hour? Trying to monitor how many employee sales are specifically being made?
Instead of toiling hours of your work day crunching the numbers, instant reporting from your point-of-sale will bring more time back into your day so you can get to everything else demanded by a new restaurant. And with SpotOn Reporting, you get more than a glorified spreadsheet. From different product mix reports to daily sales recaps and more, SpotOn Reporting acts as the tool belt you've always wanted, equipped with everything needed for success.