It isn't easy finding the right point-of-sale system for your restaurant, especially when there are so many different options available on the market these days. On one hand you have your modern point-of-sale systems that were born in the cloud like SpotOn, Toast, Square, and Clover. On the other, you have the older legacy POS providers transitioning to the cloud, including NCR Aloha POS.
As one of the fastest growing tech companies in the field, SpotOn's point-of-sale system for restaurants has quickly become a favorite among restaurant operators, staff, and managers. With personalized support and intuitive features, SpotOn delivers exceptional value and consistently outscores NCR Aloha POS in real user reviews.*
To help you choose which solution could work for your restaurant, we've compared the benefits and differences between SpotOn vs NCR Aloha POS across several important categories, including ease of use, customer support, features, and value for money.
About SpotOn POS
SpotOn is a software and payments company that's quickly garnered a reputation for providing powerful yet easy-to-use technology to run and grow your business. Known for its flexible, cloud-based technology and personalized support, SpotOn offers an end-to-end platform with the goal of helping small businesses and restaurants accept payments, boost revenue, streamline operations, and create exceptional guest experiences. SpotOn's integrated product set for restaurants includes point-of-sale, online ordering, labor management, QR order & pay, waitlist & reservations, marketing & loyalty, and comprehensive reporting.
With over 2,000 employees, many of whom have worked in hospitality for years, SpotOn provides intuitive technology that "works the way you work," and backs it up with a 24/7 support team who make sure it always does—with fairness, flexibility, and a personal touch.
Reviews of SpotOn across trusted review sites like Capterra, G2, and Trustpilot have earned SpotOn solutions numerous accolades as front-runners, category leaders, and high performers.
About NCR Aloha POS
NCR Aloha is one of the oldest point-of-sale systems on the market, and therefore well-known by experienced hospitality workers. However, according to Nerdwallet, based on recent reviews, the company is "struggling to keep up with the rest of the industry."

Like other POS solutions on the market, Aloha POS allows you to place orders, run payments, manage employees, and perform various other business-related tasks. Aloha POS is most often praised for its user-friendly interface and the ability to handle complicated orders.
Aloha POS vs SpotOn POS | Capterra comparison
Choosing the right POS system is essential for your restaurant's operations, but it's not always easy to compare restaurant POS solutions with similar offerings. To help provide an unbiased comparison, we've analyzed real Aloha reviews and SpotOn reviews from Capterra, a trusted online service that helps organizations find the right software solutions for their operations. Specifically, we've analyzed the overall review score for SpotOn and Aloha, as well as specific scores across four categories that Capterra tracks: ease of use, customer support, features, and value for money.
*Results current as of 06/02/2023 based on average score of all Capterra reviews for each respective company
The overall Capterra review scores for SpotOn vs NCR Aloha POS show that SpotOn has both more user reviews and a higher average score than Aloha. As of the time this article was last updated (06/02/2023), SpotOn had a 4.4 star rating based on 238 verified user reviews, while Aloha had a 3.7 star rating based on 82 verified user reviews.
Ease of use
When it comes to ease of use, SpotOn has a rating of 4.4 stars, while Aloha POS has a rating of 3.7 stars. Capterra reviewers claim that SpotOn offers a simple yet powerful point-of-sale solution. In particular, users love that SpotOn is quick and easy for staff to learn and that it helps save managers time by making back office changes and real time menu adjustments on all stations immediately, including across multiple locations.
Customer support
More than any other category, SpotOn outclasses Aloha when it comes to customer support, with a 4.4 average score for SpotOn compared to Aloha's score of 3.2. SpotOn users love the personalized implementation and training, quick response time, having local sales reps to meet their needs, proactive support after installation, and overall transparency in communications.
Features
When it comes to features, SpotOn has an average Capterra review score of 4.4 compared to NCR Aloha's score of 3.8. SpotOn users rave about the customizable workflows and how it has helped them streamline their operations and gain better data insights with intuitive reporting.
Value for money
In terms of overall value for money, SpotOn once again ranks higher on Capterra than Aloha. SpotOn ranks with 4.4 stars while Aloha sits at 3.3 stars. This higher SpotOn rating is in part due to reviewers noting SpotOn's transparent pricing, especially after having other POS providers constantly increase their fees.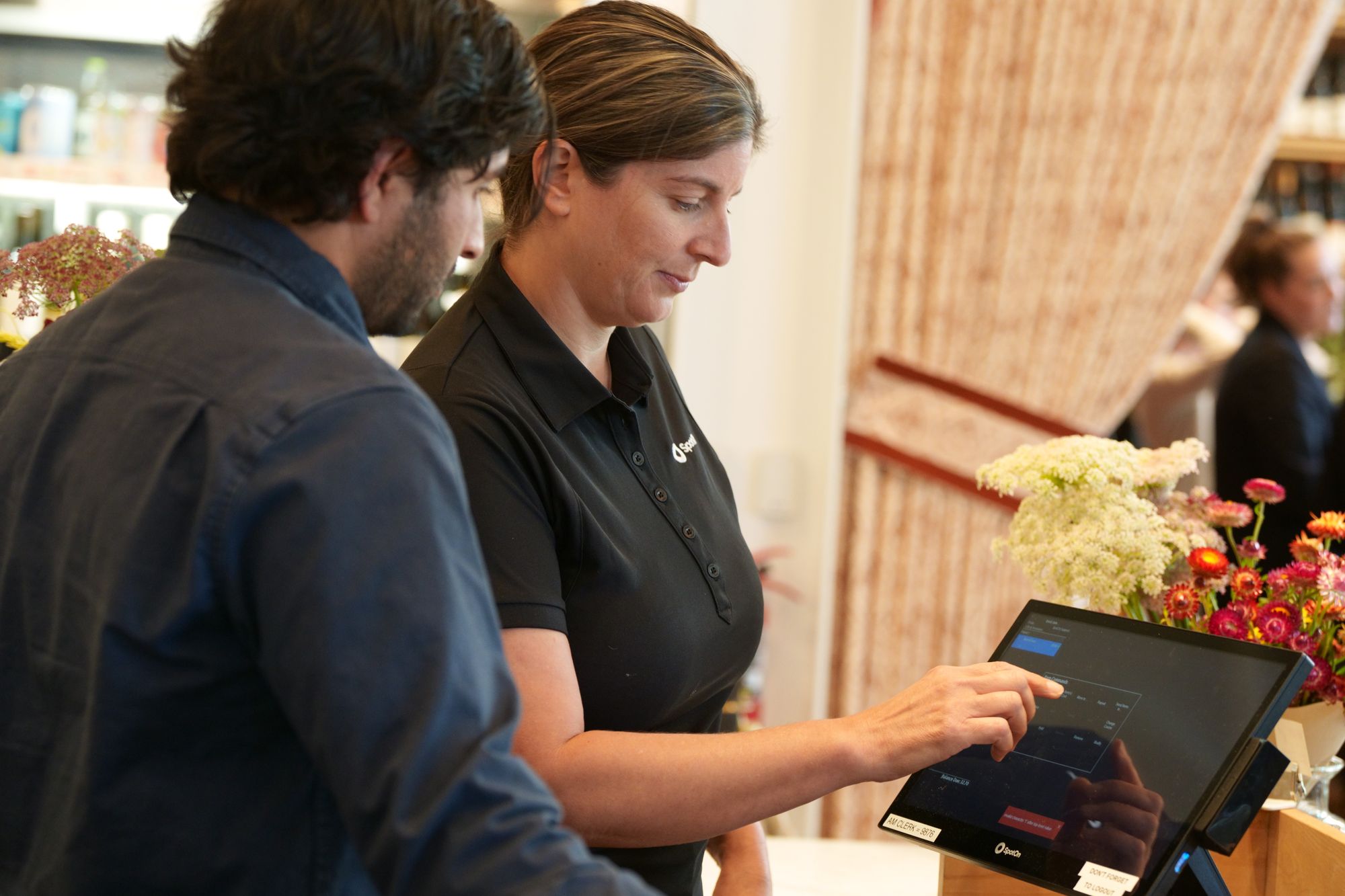 Aloha POS system: overall strengths
According to Capterra reviews, Aloha provides familiarity and name recognition for many teams. Users also like the user-friendly menu navigation and have reported positive installation experiences.
Aloha POS system: overall weaknesses
The biggest complaint from Capterra reviewers is that Aloha restaurant POS has poor customer support. Any subpar support can be particularly troublesome with reviewers reporting that Aloha has had system issues, can be slow and difficult to update, and can have long-term contractual issues that make it difficult to upgrade.
Intuitive tech backed by personalized support—SpotOn
Running a restaurant isn't easy work. On top of handling guests and their evolving demands, restaurant managers need to worry about their staff, rising restaurant costs, and much more. Thankfully, SpotOn is here to help with flexible solutions and personalized support to help you grow. Learn more about SpotOn's integrated restaurant solutions here, or click below to talk to schedule a consultation with one of our experts.
*This content is provided for informational purposes only. All claims are based  on average Capterra ratings from verified user reviews. Ratings are collected on a 1-to-5 basis.